Reviews

I was intrigued by this item - there's really nothing like it on the market anywhere else. I'm mostly pleased with the item for that reason alone. The colour is very interesting, as is the slide mechanism. The edges of lids are sharp when opening, so not suitable for clumsy idiots...like me, although I'll learn! Ordered 17 June and posted on 7 July. Advertised handling time is 3 - 5 days. Jason sent one email on the 29 June to advise my item was going out the door the next day or so. It was posted a week and half later. Communication about this could have been improved. On arrival, packaging was intact but I found damage to the item. When I contacted him, Jason assured me he'd never send out a dinged product. Is it unique? Yes. Does it hold pills? Yes. Is it worth the $100+ I paid? No.

A beautiful little piece of craftsmanship. The magnetic latching mechanism is addictive to fiddle with and the profile of the pendant is slim enough not to feel bulky.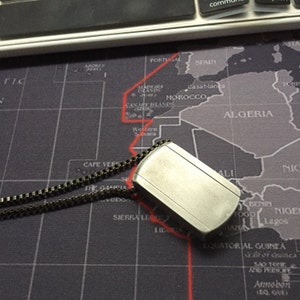 A+++ GREAT CRAFTSMANSHIP I dabble in metal smithing myself and was curious to see how these would turn out after seeing all the great reviews. I waited awhile for these and finally received them today. The wait was worth it seeing how good the quality was of the little case! There is a strange smell inside (most likely from the finish material) but a little acetone aired out should do the trick. I'll be modifying the inside with some sort of soft plastic or wax to fit my pills so not a huge issue. It fits 8x 20mg tablets stacked which was way more than I expected! * In the Picture: I decided to swap out the beaded 'dog tag' chains with my home smithed boxed chains and they fit through the loops securely and perfectly. Thanks again THREX! I will definitely be recommending/buying from your shop again. Regards, AP
Shop policies
Last updated on
March 12, 2013
Payment
Electronic payments like credit cards or Paypal are of course preferred, but I will accept checks, gold, or barter from other sellers.
Shipping
I normally ship USPS 2-3 day priority mail and will send you a note with a tracking number.
Refunds and Exchanges
Satisfaction Guaranteed - If you don't like your item or it fails to perform, send it back within 30 days for a full refund or replacement.