Reviews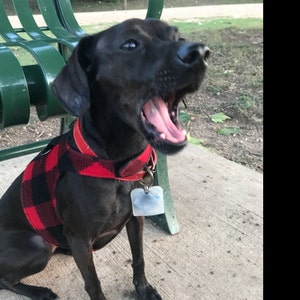 Ouzo has some anxiety to the manhole, dunno why, maybe she can detect underwater or something. This custom Velcro harness is not only super stylish, easy to put on, but also calms her. :) thank you!

Great onesie, well made and arrived on time! Ro & Judy do a brilliant job!
Shop policies
Last updated on
September 12, 2016
Hi, Here is some information regarding Dog Coat and Pajama sizes that may help you to find the right size for your dog: All measurements in Length are from Neck to Base of Tail. Chest measurements are behind the front legs at the widest part of the chest.

Measuring:
We realize that not everyone has a ruler or measuring tape handy, so here's what you do: Take a piece of string, use it to measure, and then put it against a standard like an 8 1/2 X 11" piece of copy paper. You can get a good estimate from there. Err closer to the larger estimate, and if it's very close, order the next larger size.


Sizes:
Pajama sizes are: Small: Length: 12-13"; Neck: 9-10"; Chest: 12-13"
Medium: Length: 14-15"; Neck: 10-11"; Chest: 14-15"
Large: Length: 16-17"; Neck: 12-13"; Chest: 16-17"

Coat Sizes are: XXS: Length: 6-8" (4-8 Lbs) XXS/XLong: Length: 10-11" (5-10 Lbs.) Neck: 10-13"; Girth: 12-18" (Length for XLong can be customized for your pet)
XS: Length: 10-12"; Neck: 10-14"; Girth: 16-18"
Small: Length: 14-16"; Neck: 15-20"; Girth: 20-24"
Medium: Length: 18-22"; Neck: 22-26"; Girth: 26-30"
Large: Length: 24-26"; Neck: 28-34"; Girth: 32-36"
Extra Large: Length: 30-34"; Neck: 36-40"; Girth: 38-42"
All coat sizes can be customized to your pet's exact measurements.

Harnesses: Neck Chest
XS 5-7" 8-10"
S 6-8" 10-12"
M 7-9 12-14"
L 8.5-10.5" 14-16"
XL 10.5-12.5" 16-18"
2XL 12.5-14.5" 18-20"
3XL 14.5-16.5" 20-22"
4XL 16.5"-18.5" 22-24"

Tee Shirts Length Neck Chest
XS 10-11" 8-10 12-13"
S 12-13" 12-16" 14-18"
M 14-15" 13-17" 16-20"
L 16-17" 14-18 18-22"

Please make sure of the size of your Pet before ordering. Send a convo if you have any questions or doubts. We don't do refunds for size issues but we will do exchanges where possible. You must measure your pet before ordering.

Convo us if you want a Custom Order. We will need Neck, Chest, Belly, and Length from Neck to Base of Tail. We will be able to quote a price once we get the measurements.
Accepted payment methods
Accepts Etsy Gift Cards and Etsy Credits
Returns and exchanges
.We do exchanges for size issues, but we do not do refunds. Please check your pet's size before ordering.
Shipping
At present, if you want expedited shipping you must let us know before you place your order and we will put the price on a Special Order for you.