Announcement As a fine jeweler for more than 30 years, my goal is to elevate Sea Glass Jewelry beyond crafting, gluing and wire wrapping. Most of my pieces are cast, which allows me a greater freedom of design. I let the shape, color, and texture of the glass tell me what to do with it. I started collecting regularly in 2003 while living on the island of Kauai, Hawaii (1999 – 2011)
I've amassed a huge collection over the years, and continue to work with it.
I like to keep my designs very simple…only utilizing a few select elements rather than clutter things up with a number of different things.
I make everything that I sell myself, including the wire that I use, except some chains, and leather cord provided with pendants. As an artist, I could never buy components/findings and assemble them, and call it handmade.
I started working with metal while attending the Interlochen Arts Academy. Interlochen, MI. (78–81) and have worked with and for jewelers in MI., CA. and Hawaii for the last 30 years. As well as my jewelry, I'm also showing my copper work, and any other ideas I may have.
I do Copper fish sculptures ranging in size from 14"on up to 5 ft. –
Single fish, and what I call "Squadrons"… multiple fish sculptures that seemingly float on the wall. Most of the fish are "made to order" unless otherwise stated… I'm very good at reproducing these as accurately as the photos show.
With my jewelry…I make pieces specifically for Etsy… what you see is what you get.
Genuine Sea Glass pieces are not reproducible since they're each so unique.
As far as shipping goes… I prefer sending a piece of jewelry in a flat rate priority mail BOX…
Larger works, like my copper fish, go by UPS.
Thank you, again, for taking the time to check me out.
Aloha
Gary Anthony
AKA The JewelerAtLarge
Announcement
Last updated on
Dec 6, 2015
As a fine jeweler for more than 30 years, my goal is to elevate Sea Glass Jewelry beyond crafting, gluing and wire wrapping. Most of my pieces are cast, which allows me a greater freedom of design. I let the shape, color, and texture of the glass tell me what to do with it. I started collecting regularly in 2003 while living on the island of Kauai, Hawaii (1999 – 2011)
I've amassed a huge collection over the years, and continue to work with it.
I like to keep my designs very simple…only utilizing a few select elements rather than clutter things up with a number of different things.
I make everything that I sell myself, including the wire that I use, except some chains, and leather cord provided with pendants. As an artist, I could never buy components/findings and assemble them, and call it handmade.
I started working with metal while attending the Interlochen Arts Academy. Interlochen, MI. (78–81) and have worked with and for jewelers in MI., CA. and Hawaii for the last 30 years. As well as my jewelry, I'm also showing my copper work, and any other ideas I may have.
I do Copper fish sculptures ranging in size from 14"on up to 5 ft. –
Single fish, and what I call "Squadrons"… multiple fish sculptures that seemingly float on the wall. Most of the fish are "made to order" unless otherwise stated… I'm very good at reproducing these as accurately as the photos show.
With my jewelry…I make pieces specifically for Etsy… what you see is what you get.
Genuine Sea Glass pieces are not reproducible since they're each so unique.
As far as shipping goes… I prefer sending a piece of jewelry in a flat rate priority mail BOX…
Larger works, like my copper fish, go by UPS.
Thank you, again, for taking the time to check me out.
Aloha
Gary Anthony
AKA The JewelerAtLarge No items listed at this time
Reviews

Nice product and fast shipment.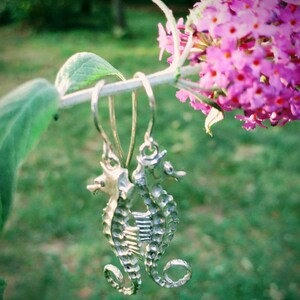 Thank you so much! These are perfect!!! 💝💝💝

BEST Birthday Present EVER!!! This is the most exquisite ring I've ever seen! Thank you for sizing it up--It fit like it was made for me. Your setting is so graceful & fluid...reminds me a bit of some Art Nouveau pieces I've admired in the past. The cobalt sea-glass has a such a wonderful patina! I can see that it was part of the bottom of a jar or bottle--the way it is thicker with a ridge on the one side. And the blue topaz is the perfect compliment. LOVE LOVE LOVE!!!
Shop policies
Last updated on
March 19, 2011
Accepted payment methods
Accepts Etsy Gift Cards and Etsy Credits