Announcement Get ready for a fantastical experience painting the universe with
color and beautiful recycled materials .
folks will turn their heads letting them think outside the box.
Leaving them with smiles and the inspired feeling.
that everything is possible. The purpose of upcycling is to reduce the carbon footprint we leave behind and to eliminate our dependence on manufactured goods, which both keeps unwanted items out of the landfill and creates a sense of independence from the system of consumerism
I like to paint with all kinds of fabrics.
it is a process of putting recycled materials together..
made of pure passion for recycling
RESPONSIBLE & FASHIONABLE REDESIGNED CLOTHING
Yoga leg warmers, upcycled Velvet Gypsy coats and jackets, upcycled hoodie poncho's, armwarmers, sweater hoodies,tshirt hoodies, magic dragonfly shawls , beaded vintage inspired Necklace Pouches, lacy fantasy jumpers, lacy t's ,upcycled mens' silk tie vests, bags, and hats.
Stay tuned for upcoming delights, ..all handmade and 100% recycled SAVE THE EARTH after all is my motto:
Don't forget to check out my other shops here on etsy https://www.etsy.com/shop/godseyewatching for antiques and collectibles and https://www.etsy.com/shop/CosmicPhotography for astrophotography original photos taken by my husband John
Announcement
Last updated on
May 16, 2018
Get ready for a fantastical experience painting the universe with
color and beautiful recycled materials .
folks will turn their heads letting them think outside the box.
Leaving them with smiles and the inspired feeling.
that everything is possible. The purpose of upcycling is to reduce the carbon footprint we leave behind and to eliminate our dependence on manufactured goods, which both keeps unwanted items out of the landfill and creates a sense of independence from the system of consumerism
I like to paint with all kinds of fabrics.
it is a process of putting recycled materials together..
made of pure passion for recycling
RESPONSIBLE & FASHIONABLE REDESIGNED CLOTHING
Yoga leg warmers, upcycled Velvet Gypsy coats and jackets, upcycled hoodie poncho's, armwarmers, sweater hoodies,tshirt hoodies, magic dragonfly shawls , beaded vintage inspired Necklace Pouches, lacy fantasy jumpers, lacy t's ,upcycled mens' silk tie vests, bags, and hats.
Stay tuned for upcoming delights, ..all handmade and 100% recycled SAVE THE EARTH after all is my motto:
Don't forget to check out my other shops here on etsy https://www.etsy.com/shop/godseyewatching for antiques and collectibles and https://www.etsy.com/shop/CosmicPhotography for astrophotography original photos taken by my husband John
Reviews

Soft and comfy. I Love the colors.

It will be difficult to find in Japan. This wonderful leg warmer!!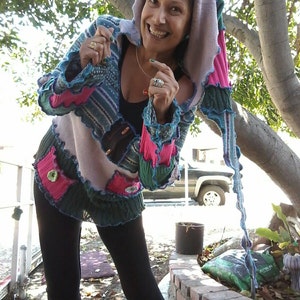 So comfy ! I LOVE it !!! Thank you ! I will be wearing it often ! The colors are great & the pink pops !!!!
About
My story and I'm sticking to it.......
Hello and welcome to my Etsy shop.....

My name is Nancy and I am a designer.

I was always in Iove with everything creative. From a very young age, I have had a passion for designing, creating and making things that are unique and one of the kind.

I have a grand passion to create something from other things.....repurposing something no one wants anymore to make it a thing of new beauty and use.

I am also a musician, along with my husband John. I play keyboards, guitar, flute and sing. We are the duo COSMIC MOXA and have been since 1970 . You can listen to our music and watch our original animated videos on youtube https://www.youtube.com/cosmicmoxa


I started this shop because I do craft fairs and psychic healing fairs etc. and also needed an online outlet for all the things I create.
Accepted payment methods
Accepts Etsy Gift Cards and Etsy Credits