Reviews
No reviews in the last year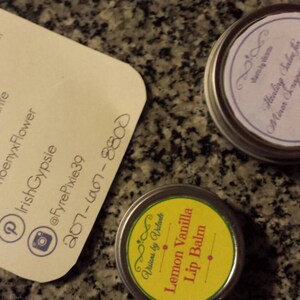 I have fibromyalgia sensitive skin. Especially my eye area. I'm also allergic to topical antibiotic ointments. This salve heals, protects, minimizes scarring and is made to order. So you're guaranteed a fresh product every time. I use it regularly if not daily when my eye area is having a flare up. Best salve I've ever used.

Arrived promptly. Beautiful packaging. I'm allergic to topical antibiotics I my turn to nature for relief. My eye area is very sensitive. This helps heal the breaking peeling and cracking of the skin around my eyes due to allergies. All natural ingredients. I most definitely recommend!
About
Creative, intuitive artist & empath. I'm a geeky redhead bringing my visions of peace, love, & happiness to you.
Ever changing am I. I finally took the leap to move my business forward and set a brand that I could own and that would continually evolve with me. After much debate, questions, and answers Visions by Volante was what I decided on. It's really weird having my name as my business as well. It works though because of how it ended up being worded. I can offer my tarot readings, energy healing, charms, potions, natural healing items, and charmed shiny baubles for you to wear.
You can find me on Facebook as well.

My wire wrapping started because I'd wanted to put a stone on the top of my staff that was made for me out of a willow tree branch. That staff still sits without a stone on it because i've not found the right one or a good enough way to keep it in. That was over 3 years ago now. I've come so far from those early days of wrapping.

So, please, feel free to wander the shop, ask questions and if there's a style you've got in mind that i don't currently have, i'd love to work with you on creating it!

Have a fantabulous day!
~Volante
Shop members

Accepted payment methods
Accepts Etsy Gift Cards and Etsy Credits