Announcement Passionate about wool as a fibre of possibilities, I make; animals, yarn, clothes, jewelry, bowls, bags, you name it I´ll MAKE it ;-)

In the Baltic sea outside the coast of Sweden there is a tiny island called Gotland...
famous for it's very intact medieval city with walls and all, it's wild ponies the Russ and it's two breeds of sheep: the Gute sheep with horns and the more refined Gotland sheep that delivers world famous hides of the silkiest grey.

I buy my wool from local breeders but sometimes I need f ex Blue faced Leicester wool and have to buy that from Great Britain. I am passionate about the material that wool constitutes and have been so for over 30 years. At the start I had my own sheep but now I am to softish to feel comfortable with culling the herd so I buy my wool instead and have horses in the fields;-)
To read more about my work with wool go to: www.wickedyarns.com!

I usually describe my self as a grey haired lady with hay in my hair and soil on the knees of my trousers (proud member of Mad Gardeners society) but most of all I usually have a knitting at hands and wool a bit everywhere.

The figure I use as an avatar is from a picture stone dated appr. 400 AD, it stands in a parish nearby on an old graveyard beside the "new" graveyard and church. It is unique in the world because no where else archaeologists have found a similar picture. I have been fascinated with this woman since I first saw her when visiting Gotland as young, now that I live here I feel I may actually have a right to use her picture as a symbol for my creativity.

Welcome to browse my creations!
Ulrika /Wicked yarns
Announcement
Passionate about wool as a fibre of possibilities, I make; animals, yarn, clothes, jewelry, bowls, bags, you name it I´ll MAKE it ;-)

In the Baltic sea outside the coast of Sweden there is a tiny island called Gotland...
famous for it's very intact medieval city with walls and all, it's wild ponies the Russ and it's two breeds of sheep: the Gute sheep with horns and the more refined Gotland sheep that delivers world famous hides of the silkiest grey.

I buy my wool from local breeders but sometimes I need f ex Blue faced Leicester wool and have to buy that from Great Britain. I am passionate about the material that wool constitutes and have been so for over 30 years. At the start I had my own sheep but now I am to softish to feel comfortable with culling the herd so I buy my wool instead and have horses in the fields;-)
To read more about my work with wool go to: www.wickedyarns.com!

I usually describe my self as a grey haired lady with hay in my hair and soil on the knees of my trousers (proud member of Mad Gardeners society) but most of all I usually have a knitting at hands and wool a bit everywhere.

The figure I use as an avatar is from a picture stone dated appr. 400 AD, it stands in a parish nearby on an old graveyard beside the "new" graveyard and church. It is unique in the world because no where else archaeologists have found a similar picture. I have been fascinated with this woman since I first saw her when visiting Gotland as young, now that I live here I feel I may actually have a right to use her picture as a symbol for my creativity.

Welcome to browse my creations!
Ulrika /Wicked yarns
Reviews

Absolutely beautiful and clean wool. Arrived quickly too.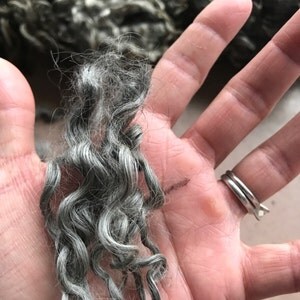 About
A true wool nerds confessions;-)
Passionate about wool as a fibre of possibilities, I make; animals, yarn, clothes, jewelry, bowls, bags, you name it I´ll MAKE it ;-)

In the Baltic sea outside the coast of Sweden there is a tiny island called Gotland...
famous for it's very intact medieval city with walls and all, it's wild ponies the Russ and it's two breeds of sheep: the Gute sheep with horns and the more refined Gotland sheep that delivers world famous hides of the silkiest grey.

I buy my wool from local breeders but sometimes I need f ex Blue faced Leicester wool and have to buy that from Great Britain. I am passionate about the material that wool constitutes and have been so for over 30 years. At the start I had my own sheep but now I am to softish to feel comfortable with culling the herd so I buy my wool instead and have horses in the fields;-)
To read more about my work with wool go to: www.wickedyarns.com!

I usually describe my self as a grey haired lady with hay in my hair and soil on the knees of my trousers (proud member of Mad Gardeners society) but most of all I usually have a knitting at hands and wool a bit everywhere.

The figure I use as an avatar is from a picture stone dated appr. 400 AD, it stands in a parish nearby on an old graveyard beside the "new" graveyard and church. It is unique in the world because no where else archaeologists have found a similar picture. I have been fascinated with this woman since I first saw her when visiting Gotland as young, now that I live here I feel I may actually have a right to use her picture as a symbol for my creativity.

Welcome to browse my creations!
Ulrika /Wicked yarns
Shop members

Shop policies
Last updated on
August 17, 2013
Selling things made with all your love for creating and life and in my case the wonder of Nature (giving the sheep a coat that we humans can have such great use of when the sheep does not need it any more;-) is not a thing I do to earn vast amounts of money. I would like to think I share the beauty I see when someone want to have something I have created. BUT I DO need to have some kind of income to be able to keep up my work.
The best deal is when both parties are happy when it's done, prices are put NOT thinking about how many hours I spend making the things, rather I set them at a level I feel is fair to both of us.
All my woolen items may smell of patchouli -oil since that is a very good repellent for wool moths! I do like the smell but if you do not just wash your item and air it outdoors a dewy day in the shade and the smell will vanish!

My home is a farm is also the home of a dog and two cats so I guess someone who is very allergic to such may not be comfy with my items.
Accepted payment methods
Accepts Etsy Gift Cards and Etsy Credits
Returns and exchanges
If you are not happy with the item please tell me so!
If you do regret your buy within 14 days after you received it, send me an e mail so we can agree on a solution. Please note that I cannot promise to cover the shipping cost either direction, AND that most of my items is One Off's!
Payment
Pay Pal is my preferred payment method, any costs that occur after the item has been shipped by me is the buyers responsibility!
Shipping
The shipping "with another item" is item specific! Please send me a note if you buy two or more different items and I will send you an invoice on the total!

If you want to have an insured shipment please contact me for a quote on the cost!

Remember that I do not take responsibility for fees or customs etc that may be charged by your country.
Additional policies and FAQs
I am always on the look out for new things to try to make, if you have an idea please contact me that we can discuss your needs!
email address is: ulrika [!at] wickedyarns.com