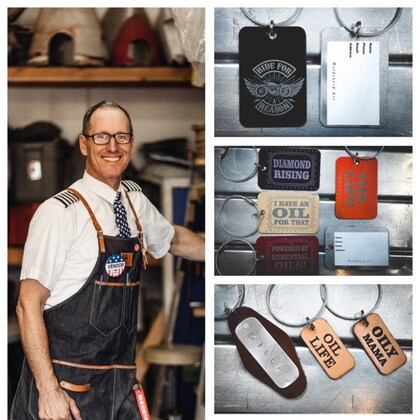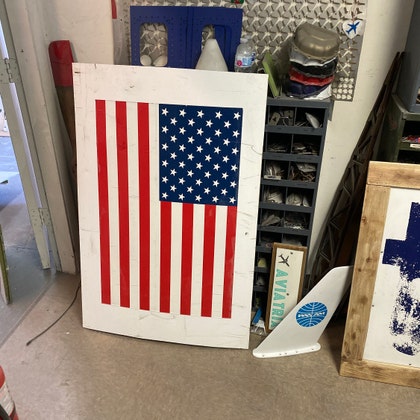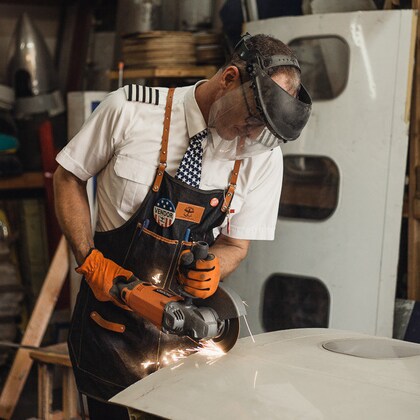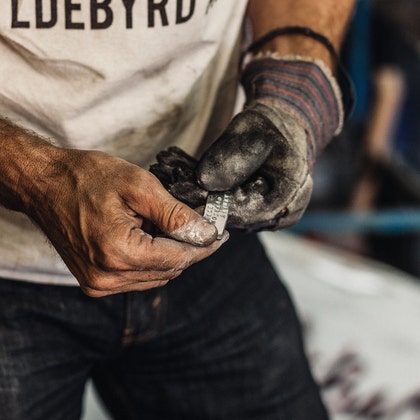 Announcement Welcome to Wyldebyrd Art, currently we are offering custom pieces starting at $600 with a minimum $300 non refundable deposit on all requests. We have offered personalization in the past however we are limiting that going forward. We have hundreds of items listed and please chose from what we have available for purchase. Our business model is to make items from the materials we have in the process that we can support. We have pioneered hundreds of aviation products that are now being copied around the world. Access to materials and parts are very limited. We do not keep a list of requests for materials in our future purchases. The expense and availability prohibits such a list in small quantities. Thank you
Announcement
Last updated on
Dec 18, 2019
Welcome to Wyldebyrd Art, currently we are offering custom pieces starting at $600 with a minimum $300 non refundable deposit on all requests. We have offered personalization in the past however we are limiting that going forward. We have hundreds of items listed and please chose from what we have available for purchase. Our business model is to make items from the materials we have in the process that we can support. We have pioneered hundreds of aviation products that are now being copied around the world. Access to materials and parts are very limited. We do not keep a list of requests for materials in our future purchases. The expense and availability prohibits such a list in small quantities. Thank you
The View from the Captains Seat
Lance Lockhart is the artist at Wyldebyrd Art, Etsy's number one aviation art store. With thousands of flying hours over decades in aviation the position of Captain gives him great insight and access to unique aviation items to create into art. As an aviation artist, Lance is the only full time airline pilot and aviation artist. The view from the Captains seat not only help provide inspiration to create more art, it also allows a behind the scenes look and connection into the airline industry as well as years of flying experience in many plane types along the way. Art from the Captains hand and world leader in aviation art. No other storefront or company has as many products, provides as much value and connects with their customers as both the subject matter expert, with the creative ability to make desirable products.

The shop usually ships items one or two days a week. The crew at Wyldebyrd Art are in the shop a couple days per week. Thanks
Shop members
Lance Lockhart

Owner

Elevating history to flight through connecting aviation artifacts from the Captains hands. Lance Lockhart, the owner of Wyldebyrd Art is a full time airlines pilot with decades of flying experience. Aviation inspired art.

Candy Harris

Assistant

Candy is an aviation enthusiast as well as an airline employee. Her insight and creativity are a great match for Wyldebyrd Art.
Shop policies
Last updated on
December 18, 2019
Welcome, this is artist and pilot Lance Lockhart of Wyldebyrd Art. Thank you for looking at my etsy store. My goal for the store is to provide unique aviation inspired items for a great price. There is no other store in the world that provides the range of items made from actual aircraft materials. With this range of selection it is with great excitement that I can share this with so many people.
Accepted payment methods
Accepts Etsy Gift Cards and Etsy Credits
Payment
All taxes charged are by processed and collected as required. I do not set the tax rates. Cancellations are only available within one hour of purchase. Thank you
Shipping
FAQ.

1. Local pick up is available only for items where the shipping cost exceeds $200. I do not offer local pick up at any other location than my studio by appointment only. If you order something and request local pick up outside of these parameters it will not be accepted. This policy is set because of the high volume of sales and my desire to keep each order organized and received promptly.

2. Oversized items. From the USPS website

Shape, weight, and size affect the price of parcels classified under Package Services. If you have a large, lightweight package or a very large package, instead of paying the normal postage price, you may be charged the Balloon Price or Oversized Price. In addition to these postage alternatives, a Nonmachinable Surcharge may be added to the price of postage if a letter or parcel must be sorted outside of the standard, automated process.

• The nonmachinable surcharge is applicable differently, depending on the item's mail class. That is the case because each mail class has different weight and dimension standards that allow the mailed item to be sorted through a machine. If a mailpiece is outside of that standard, then it cannot be sorted by machine and has to be sorted by hand. ◦ The nonmachinable surcharge can be applied to Parcel Select Destination Entry pieces, but not those already charged at the oversized price or charged with a special handling fee. No nonmachinable surcharge can be applied to Parcel Select NDC Presort and ONDC Presort parcels (for example, a Parcel Select NDC Presort parcel can weigh up to 70 pounds and not have the surcharge applied). The surcharge is applied when: ◾ A parcel is more than 27 inches long, 17 inches wide, or 17 inches high.

◾ A parcel is less than 6 inches long, 1/4 inch thick, or 3 inches high.
◾ A parcel weighs less than 6 ounces or more than 35 pounds, except if it is lightweight machinable.
◾ A parcel contains more than 24 ounces of liquid in glass containers, or 1 gallon or more of liquid in metal or plastic containers.
◾ It is an insecurely wrapped or metal-banded parcel.
◾ It is a can, roll, or tube, or wooden or metal box.
◾ It contains books, printed matter, or business forms weighing more than 25 pounds.
◾ It is a high-density parcel weighing more than 15 pounds and exerting more than 60 pounds per-square-foot pressure on its smallest side.
◾ It contains a film case weighing more than 5 pounds or with strap-type closures, except any film case the USPS authorizes to be entered as a machinable parcel.
◾ The parcel has characteristics (such as inadequate packaging) that could result in damage to the contents of the mailpiece, other parcels, or postal machinery if mechanical sortation is used.


• The balloon price can be applied to Parcel Select pieces that are large (greater than 84 inches, but not more than 108 inches, in combined length and girth) and very light (less than 20 pounds).

In these cases, the balloon price is the applicable price for that 20-pound Parcel Select item.
• The oversized price is used on Parcel Select parcels that are greater than 108 inches, but not more than 130 inches, in combined length and girth. Weight is not a factor as long as it does not exceed 70 pounds (no package can exceed 70 pounds).

For precise postage prices, click here to visit the Postage Price Calculator on USPS.com®.

Note: Some parcels may be subject to specialized prices.

3. From the UPS website for shipping calculations

How To Measure Your Package Size


To measure ground packages use the following formula:

Length + 2x Width + 2x Height

Step 1. Determining Length
•Measure the longest side of the package, rounding to the nearest inch. This is your length.

Step 2. Determining Girth (2x Width + 2x Height)
•Measure the width of the package, rounding to the nearest inch. Multiply this number by 2.
•Measure the height of the package, rounding to the nearest inch. Multiply this number by 2.
•Add these two numbers together. This is your girth.

Step 3. Add the length and the girth together. This is your package measurement.

Step 4. Weigh the package to obtain its actual weight.

What are the weight and size limits for shipping using UPS?

UPS has established specific weight and size limits for the packages that you send with all UPS services. The restrictions below only pertain to individual packages. There are no limits to the total weight of your shipment or the total number of packages in your shipment. Shipments larger than the limits listed below will require the use of our UPS Freight services or UPS Worldwide Express FreightSM.

•Packages can be up to 150 lbs.
•Packages can be up to 165 inches in length and girth combined.
•Packages can be up to 108 inches in length.
•Packages with a large size-to-weight ratio require special pricing and dimensional weight calculations.

Note: Packages that exceed UPS weight and size limits are subject to an Over Maximum Limits charge.

The limits listed above apply to most packages and destinations, but there are some variances because of different local restrictions in some countries.

4. What happens when a fixed shipping price listed doesn't match the actually shipping cost? At Wyldebyrd Art we try to offer the best and most accurate shipping costs known at the time of posting the listing. Many of the items are priced at a fixed cost. However shipping costs vary from coast to coast from our Arizona location. There are times when a quoted price is inaccurate. Our policy to is own the variance up to 10% of the purchase price of the item. If the shipping variance is over 10% a message will be sent to discuss the options. An actual shipping quote will be provided to verify with the customer the price reflected for shipping. Most of our items are also boxed professionally at a third party location. Locally at Power Postal in Mesa. Wyldebyrd Art factors in these packing costs into the shipping price provided.

5. Can I use my own FedEx of UPS account? Yes, the cost paid towards shipping will be refunded minus the cost of packaging the item. Since we have most of our items professionally packed at Power Postal in Mesa. When the cost of packaging is forward via invoice, this cost is deducted from the shipping cost paid and the remaining amount is refunded. This is a common practice for many customers who have an account and want to utilize it for their discount.

6. My package was damaged or lost. Typically each package is insured by Wyldebyrd Art either by third party or internally. It is the purchasers responsibility to follow either USPS, UPS, or FedEx policy for filling a claim. After the claim has been initiated and followed through Wyldebyrd Art will participate with the investigation. If externally insured the loss or damage will be covered by the insurance company, if internally insured after the claim loss it will be covered by Wyldebyrd Art. If the purchaser does not follow through with the claim Wyldebyrd Art will not cover the loss.

7. Is each item as pictured? Some listings are for one of ten and there are minor variances in items. For example when our stock is for 10 galley carts, the one sent will be of the same branding but may have minor variances. If it was a blue Air China cart, a blue Air China cart of the same size will be sent.

8. Why is shipping delayed? Wyldebyrd Art is run by Southwest Airlines Captain Lance Lockhart, his flying and personal schedule at times limits his ability to ship items until he returns home. During especially busy seasons larger items may take up to two weeks to process before shipping. Typically smaller items in stock ship weekly when available.

9. All orders will be given a tracking number. Tracking of packages is the responsibility of the purchaser. Wyldebyrd Art is not responsible for the speed or delays of the shipping provider during periods of high volume or acts of nature.

Thanks you
Additional policies and FAQs
If interested in wholesale or a consignment arrangement please contact Lance Lockhart at wyldebyrdart [!at] gmail.com
More information
Last updated on
Dec 18, 2019
Frequently asked questions
Custom and personalized orders
Customizing luggage tags is a minimum order of 15. Prior contact is required. Design charges may apply.
Custom and personalized orders
Being that I am an artist, customization or personalize orders typically have a specific vision from the customer. I often decline these as the work that goes into this doesn't acknowledge the value of my time or work. My shop rate as an artist is $600 min for a custom piece with a non refundable 50% deposit.
Do you polish the windows?
Only when offered in an Etsy listing already completed.
Wholesale availability
Yes, contact wyldebyrdart@gmail.com