Announcement Spring is around the corner.

As spring arrives I update my shop yearly with new and exciting adventures that I take on throughout the year. Last year allowed me to productively add a couple fishnet products that I will continue to offer; but this year in addition to the bed canopies and fishnet decor I am also adding some prints and photographs that I have taken over the year throughout the Blue Ridge Mountains, Appalachia, and the Blue Ridge Parkway. These photographs have been taken in North Carolina and Tennessee. They consist of Nature, Animals, Farming and old buildings.

I hope that you enjoy some of my prints and I look forward to helping you find the perfect addition to add to the beauty of your house to make it a Home.

As always please do not hesitate to contact me with any questions regarding items in my shop, as I try my best to work with everyone.

Thank you so much for viewing my shop.
Sincerely,
Jim
Announcement
Last updated on
Mar 8, 2017
Spring is around the corner.

As spring arrives I update my shop yearly with new and exciting adventures that I take on throughout the year. Last year allowed me to productively add a couple fishnet products that I will continue to offer; but this year in addition to the bed canopies and fishnet decor I am also adding some prints and photographs that I have taken over the year throughout the Blue Ridge Mountains, Appalachia, and the Blue Ridge Parkway. These photographs have been taken in North Carolina and Tennessee. They consist of Nature, Animals, Farming and old buildings.

I hope that you enjoy some of my prints and I look forward to helping you find the perfect addition to add to the beauty of your house to make it a Home.

As always please do not hesitate to contact me with any questions regarding items in my shop, as I try my best to work with everyone.

Thank you so much for viewing my shop.
Sincerely,
Jim No items listed at this time
Reviews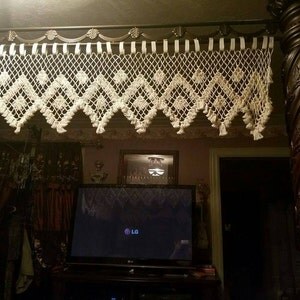 The canopy is beautiful. His work is very high quality. Great prices. Makes such a differents on my bed. He goes out of his way to get you what you want. Quick service. He gave me what no one else could. I had a different situation and he solved it.

Love Love Love this item!!! You will not be disappointed...I received quickly and it is amazing!!!!Jim is truly an artisan!

About
Hello,
My name is Jimmy.
I began making bed canopies or "tying knots" as we called it, when I was a young child in elementary school. Throughout school and my childhood I was fascinated with crafts and for the past 15+ years I have continued to make fishnet bed canopies.

When I began making the bed canopies, I was taught by my mother who was making these when I was born for a little extra income selling part of the canopies to another maker who completed the process.

After she taught me the art of tying I was on a mission to learn the entire process which came 5+ years ago and since then I began selling online and opened my ETSY shop in 2012.

As I continue to grow, I love to meet new people and customers through my shop. I thoroughly enjoy the satisfaction of knowing that they are happy with their purchase which will provide their bedroom and homes with years of beauty.
Shop policies
Last updated on
March 16, 2016
Hello, I have been making fishnet decor for several years now selling them to individuals that turn them into other items, however, after realizing the ease of posting online I decided to try posting some quality items here hoping to cut the cost for you by selling them directly from the maker to the customer and cutting out the middle man. In times like these when things are hard, quality items are hard to find and cost dearly; therefore, I asked myself why make people pay more? I appreciate you taking the time to look over my products and hope that you find them to be of high quality and that I can make them to suit your needs. Thank You for taking the time to look over my shop, I will try my best to please.
Accepted payment methods
Payment
For the custom orders I believe that communication is the key to success and I will remain in contact with you throughout the making process to let you know updates and let you know as soon as I can get you order completed and ready for shipment.

During 2014 I tried something that worked fairly well and believe I am going to stick with that. For custom orders, I just simply ask for a conversation letting me know what you are wanting. I will then make the order for you and create you a custom private listing from the conversations that we have. In the majority of cases requiring NO payment up front toward your order. However, once I get your order competed and your listing created, ETSY automatically emails you, as well as myself letting you know that you order is competed. Once that is done, I do ask that payment be received within 7 days after this email has been sent, once the 7 days is up I will still have the item but I will change the listing from private to public, where the item is available for anyone to see and purchase and the item has a chance to get purchased before you buy it. (I apologize for this but I did hold on to an order for a month waiting payment this past year) I will work with you should you not have daily internet access, and I understand things do arise; I just ask that you let me know and keep in contact with me so that I know you are still wanting your order.
We can hopefully work something out in special cases.


I currently have 3 styles of window valances and bed canopies that you can chose from when placing an order. For some reason I am unable to post images here, but they consist of a Single Diamond design, a Double Diamond design, and a Scallop Design. Send me a conversation for images of these. These different designs and images are posted with the bed canopy, but I can also make the window valances in those three styles as well.
Shipping
For items that I have in stock, they will be shipped within 1-2 days after I receive the payment. For custom orders I will make an attempt to send you weekly messages to let you know how the order is progressing and you will know as soon as they are ready for shipment.

Send me a message if you live out of the United States and I will check the shipping and cost of shipping if you are interested. I can only accept US dollars, but I will consider international shipping.
Refunds and Exchanges
I apologize but at this time I am currently unable to accept any returns for the products, but I will try my best to work something out should something become an issue. I can assure you that you will receive high quality work, with high quality thread.
Additional policies and FAQs
For the custom orders:

For custom orders you are more than welcome to view the custom order link and purchase a canopy through that link. By doing so I will immediate see it and begin working on your canopy as soon as possible. However, you may also feel free to just let me know what you are looking for and I will begin working on it and create you a custom link for your canopy that way as well.

For Custom Colors:

There are 60 colors that I can get in order to make your order.

I usually have white and natural colors readily available.

Thus far it has not been necessary and I have been able to process all of the orders within my time frame listed on the custom order links. HOWEVER, on custom colors that I do not have in stock it may be necessary to add an additional week to the order time due to it taking me 7-10 days to receive the thread. (I sincerely apologize for this extended period but I will do the best that I can to stay within the 2-4 week time frame.)

I hope to one day be able to stock many different colors but at this time I am unable to do so.

I look forward to hearing any requests as to size and colors that you may want in order to complete the elegant but heirloom look that you are wanting. I am also in the process of trying to get more styles made and pictures taken so that you can have a variety of styles to choose from for window valances and bed canopy designs.

Out of the 60 colors that I can order, there are numerous shades of: Blues, Pinks, Reds, Purples, Oranges, Yellows, Greens, Grays, Browns, and Blacks.

Feel free to pick out some colors via Great Northern Weavings website below; However, please make sure that the colors are the 8/4 Cotton Rug Warp as this is the size of thread need to make the canopies.

All of the colors are fast colors and do not fade during washing.

http://greatnorthernweaving.com/product-category/rug-warps/cotton-colors/

If you have any trouble at all viewing the link PLEASE let me know as I can double check and hopefully point you in the right direction.