Announcement Welcome to my unique and handmade bundle of joy. Here you will find handcrafted, one-of-a-kind, colorful and bold statement pieces. I also make sterling silver and gold filled wire wrapped beaded and gemstone jewelry. I take great care in creating each piece with tender loving care and impatiently await the inspired outcome. I now have over 200 items in stock and it's going to take me awhile to photograph and post them, so please be patient. I LOVE LOVE LOVE making jewelry. It's my happy place. Please take your time browsing and let me know if you would like anything custom made. I would welcome the pleasure.

ENJOY!

Oh, and if your interested in pretty, kitsch, felt jewelry, take a peek here:
http://www.funkyfeltflowers.etsy.com
Announcement
Last updated on
Aug 16, 2017
Welcome to my unique and handmade bundle of joy. Here you will find handcrafted, one-of-a-kind, colorful and bold statement pieces. I also make sterling silver and gold filled wire wrapped beaded and gemstone jewelry. I take great care in creating each piece with tender loving care and impatiently await the inspired outcome. I now have over 200 items in stock and it's going to take me awhile to photograph and post them, so please be patient. I LOVE LOVE LOVE making jewelry. It's my happy place. Please take your time browsing and let me know if you would like anything custom made. I would welcome the pleasure.

ENJOY!

Oh, and if your interested in pretty, kitsch, felt jewelry, take a peek here:
http://www.funkyfeltflowers.etsy.com
Reviews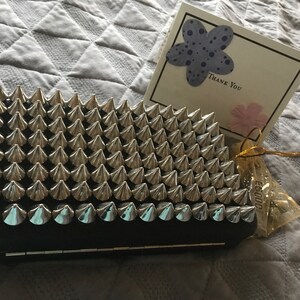 I love love this clutch. I'm a huge fan of spikes and I just had to have it! It was worth the money along with this awesome thank you note written with a broken wrist! Thank you! 🖤

I absolutely love this bracelet! The combination of the leather and the rose gold bling gives it a nice edgy look. I got it to layer with a black and gold rose watch, and it is perfect! It came very well packaged, along with a cleaning cloth and storage bag. The communication with the seller throughout the process was great. She really wanted to make sure the bracelet would fit. Once she found that my wrist was on the larger side, she added a couple inches to the bracelet just to make sure. It fits perfectly! I expect to wear this for years to come! I'm so pleased with it! Thanks!

About
IMAGINATIVE INSPIRATION
Jewelry is my happy place. I'm at such complete joy and peace when I am creating jewelry.

I first taught myself how to make jewelry a year and half ago when I bought myself a spool of silver craft wire. Wait, let's back up just a bit. The inspiration for the wire spool came from a pair of sterling silver wire art earrings that I bought on right here on etsy. When I received them, I was in complete and utter awe. And, being a crafter from the time I was 2 (I would literally make anything and everything), I thought, I could make these. And not only could I make these, I would LOVE to make these. So, I purchased a bunch of wire making jewelry books and a spool of silver craft wire, watched some Youtube videos and began to play around. It wasn't as easy as it seemed. At first the wire didn't want to comply and at the end of the day, all I had to show for my efforts were cut fingers. Eventually, though, with practice, the spirals formed and the wrapping evolved. I was starting to get happy, thus my happy place began.

Then, I started buying all sorts of colored beads, crystals and gemstones, and boy was I blown away! I became more interested in those than the wire. I was still interested in making wire art and wire wrapping, but I also started making colorful, bold fashion statement jewelry. The beads took on a life of their own! They led the way and I followed. So I guess you could say the jewelry sort of created themselves. The materials completely inspired me to just go with the flow, as they say. Sometimes I imagined the gems in an array and sometimes they just turned out in a certain way. I also liked to imagine how they would look on certain people. You know, different strokes for different folks. I like the one-of-a-kind look, not a manufactured one. One that's honestly and truly handmade. Made just for you. That's the goal. And, that's also what is so special about custom orders - the meeting of the minds. The customer (you) has a certain image in your head and I'll reflect some ideas off you based on your image. I think it makes for a wonderful collaboration, and something that you can be proud of when you wear it.

So most of the items in my shop are colorful, bold fashion statement pieces. I also make one-of-a-kind sterling silver and gold filled wire wrapped crystal and gemstone necklaces, earrings, bracelets and rings. I find, though, that there are many wonderful shops on etsy that sell this type of jewelry so that is why I like to create one-of-a-kind fashion pieces.

I make everything by hand in my tiny, cluttered, chaotic, yet organized "wokshop" (basically a round glass table) in New Yawk City. Yes, the Big Apple. Chaotic both inside and outside. Anyway, I make my jewelry with tender loving care, taking my time, paying attention to detail and using the best materials that I can purchase.

In real life, I'm an aesthetican and my work consists of doing facials, waxing, chemical peels and working with a variety of lasers. So I basically beautify people. Ironically, when I create jewelry, I'm beautifying people in a different way - physically instead of cosmetically. Either way, they're getting their beauty on. It's funny though, how things work out.

So that's basically my story in a nutshell. I hope my little background info gives you a little insight into who I am and where your jewelry is coming from. Enjoy browsing. I hope you find something that makes you smile. I know it made me smile to make it.
Shop members
Michele

Owner, Designer, Creator

Aesthetician, jewelry designer and creator, bulldog lover, intense exerciser, avid crafter, sugar fiend, skull fetisher, batty for Bar Method, Mensa candidate, motherless daughter, dancer, curser.

Mo'

Assistant, Company Keeper

Small all-white, black speckled ears English bulldog, chronic sleeper, snorer, snorter, cutest dog in the world, stubbornest dog in the world, wouldn't hurt a fly, assistant jewelry person, bestest friend, chronic sleeper.
Shop policies
Last updated on
December 6, 2015
Welcome Jewelry Lovers!
Thank you so much for stopping to look around my shop!
I LOVE making jewelry. I want to make you happy. Please feel free to ask me questions. I will do my best to answer you to the best of my knowledge. I would also love to work with you. If you'd like a custom order it would be my pleasure. Convo me and we will work together on it. It's time to see YOUR creativity shine!
Browse and enjoy!
Click here to return to shopping:
http://www.adventureinjewelry.etsy.com
Accepted payment methods
Accepts Etsy Gift Cards and Etsy Credits
Returns and exchanges
Your satisfaction is very important to me, so if you have any problems at all, please be sure to contact me immediately... I want you to be happy with your purchase!
Sometimes it's just a matter of me tightening a jump ring and the item is fixed, or I will even replace your item if it is defective. If that's not the case then I will accept all returns within 7 days of purchase. The item MUST be in the condition it was received and you must contact me prior to shipping it back. You are also responsible for return shipping costs. Please note that there are no returns for custom orders.
Click here to return to shopping:
http://www.adventureinjewelry.etsy.com
Payment
OK, here's the skinny on my payment & shipping:
♦ PAYMENT:
I accept all major credit/debit cards, thru Direct Checkout as well as PayPal.
♦ DIRECT CHECKOUT - you can now pay for your order directly with all major credit cards or bank debit cards.
♦ PAYPAL - through your funded account, or payments can be processed without having a PayPal Account by using your credit card or bank debit card there as well.
♦ Here's a great link for step-by-step help with Etsy's Checkout process;
http://www.etsy.com/help_guide_checkout.php
Click here to return to shopping:
http://www.adventureinjewelry.etsy.com
Shipping
I only ship within the United States because I just had encountered too many problems with lost packages via international shipping. I ship via USPS First Class mail usually within 1 business day of payment and will provide you with a tracking number.
Click here to return to shopping:
http://www.adventureinjewelry.etsy.com
Additional policies and FAQs
CARE GUIDE FOR HANDCRAFTED JEWELRY:
Q: How should I take care of my jewelry on a day-to-day basis?
- Make your jewelry the last thing you put on in the morning, and the first thing you take off at night.
- Remove when cleaning, swimming and taking a shower. The chemicals used during these activities could cause immediate tarnishing.
- Avoid direct contact with perfumes and lotions as they may also affect the finish.
- Remove when sleeping. Movement during sleep can cause stress.
- Wipe your jewelry clean with a soft cloth before returning it to storage to remove any body oils and dirt.
- Store your jewelry in a cool, dry place. An air-tight zip-lock polyethylene bag or an anti-tarnish cloth or bag is suggested; jewelry chests with anti-tarnish linings are also advised. Anti-tarnish paper is also available, and may be placed in bags with jewelry.
Q: How do I clean my jewelry?
- To keep your jewelry looking its best, periodically clean it in a mild soapy water mixture and a SOFT toothbrush. Rinse thoroughly with water and dry completely with a soft cloth.
- Never use paper towels or tissues to dry your jewelry as they contain fibers that can scratch.
- To remove mild tarnish from your jewelry, use a polishing cloth with mild cleaner embedded in it (the gray cloth included with your jewelry). If your jewelry has developed a patina, there are commercially available polishing pastes for individual metals. Always follow the manufacturers instructions carefully. Use the smallest amount of paste necessary and wipe in a back-and-forth (not circular) motion, using a soft cotton cloth to avoid scratches.
- Do not use jewelry cleaner on Swarovski crystals or pearls. They may diminish sparkle and color. Use plain water and a soft cloth on them. Remember, no paper towels - they may scratch.
With proper care, your jewelry will remain beautiful and wearable; it may even become an heirloom!
If you have questions or need assistance, please email me at: adventureinjewelry [!at] aol.com
Click here to return to shopping:
http://www.adventureinjewelry.etsy.com
Thank you for visiting my shop.