Announcement W E B S I T E S: www.darlajacksonsculpture.com / www.philadelphiasculpturegym.com
B L O G : www.darlajacksonsculpture.blogspot.com
F A C E B O O K: www.facebook.com/djacksonsculpture
I N S T A G R A M: @alfalfalovesme


A B O U T M E
__________________________________________________________________

I'm a sculptor living and working in Philadelphia. I make crazy animal sculptures that tend to be cute and dark at the same time. I like birds, peppermint patties and getting mail. I dislike slugs, zombies and not getting mail. I have a little lady and a business. I think they are both pretty awesome.

I N S T A L L M E N T S
__________________________________________________________________

If you're interested in purchasing a piece, but need to pay in installments, please contact me, and I'd be happy to set it up with you!

S H I P P I N G
__________________________________________________________________

Each piece is shipped within 3-4 weeks and will be packed by a professional art handler. If you should need the piece sooner, please contact me before purchasing.

I N T E R N A T I O N A L S H I P P I N G
__________________________________________________________________

I do ship internationally. Please contact me for prices.

U P C O M I N G E X H I B I T I O N S
__________________________________________________________________

APRIL 2016 Mine Moonlight, Museum of American Glass, Millville, NJ
___________________________________________________________________
All artwork and content ©2005-2016 Darla Jackson
Announcement
Last updated on
Apr 8, 2016
W E B S I T E S: www.darlajacksonsculpture.com / www.philadelphiasculpturegym.com
B L O G : www.darlajacksonsculpture.blogspot.com
F A C E B O O K: www.facebook.com/djacksonsculpture
I N S T A G R A M: @alfalfalovesme


A B O U T M E
__________________________________________________________________

I'm a sculptor living and working in Philadelphia. I make crazy animal sculptures that tend to be cute and dark at the same time. I like birds, peppermint patties and getting mail. I dislike slugs, zombies and not getting mail. I have a little lady and a business. I think they are both pretty awesome.

I N S T A L L M E N T S
__________________________________________________________________

If you're interested in purchasing a piece, but need to pay in installments, please contact me, and I'd be happy to set it up with you!

S H I P P I N G
__________________________________________________________________

Each piece is shipped within 3-4 weeks and will be packed by a professional art handler. If you should need the piece sooner, please contact me before purchasing.

I N T E R N A T I O N A L S H I P P I N G
__________________________________________________________________

I do ship internationally. Please contact me for prices.

U P C O M I N G E X H I B I T I O N S
__________________________________________________________________

APRIL 2016 Mine Moonlight, Museum of American Glass, Millville, NJ
___________________________________________________________________
All artwork and content ©2005-2016 Darla Jackson No items listed at this time
Reviews

I have such a personal connection with this piece. When I opened the package, it absolutely took my breath away. I was moved beyond words. I will treasure and cherish this bird always. Thank you Darla - your work is beautiful and incredibly touching.

OMG, I'm officialy in love with this sculpture! I can't stop touch it! It's so cute!!! :)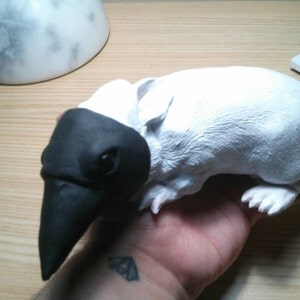 I've admired your art for years (am a huge fan of "All the times"). I am so excited to finally own a piece. "It started at a young age" is so detailed. I don't know whether I've ever loved an object more.
About
To me, making sculpture is like breathing...
I've always been someone who enjoyed making, but when I found sculpture, everything fell into place. I use animals to help me tell stories that are sometimes personal, sometimes universal. Each piece begins in clay, then gets a rubber mold and is cast in either plaster, resin or metal. Aside from making sculpture, I'm also making a space for others to make sculpture called the Philadelphia Sculpture Gym, which is a community workspace where anyone can come and have access to a wood shop, metal shop, mold making shop and foundry.
Shop members

Shop policies
Last updated on
May 23, 2013