Announcement Currently: Making and shipping in approximately 1 to 2 days
Shipping w/in the US is 2 to 4 days


Peas in a Pod pendant charms, necklaces, bracelets, and anklets.

Perfect gifts & presents for Mom * Grandma * Sister * Best Friend * Wife * Daughter * Co Worker * Cousin * Bride * Bridesmaids * Birthday * Teacher * Twins * Neighbor * Anniversary * Secret Santa * Just Because * or You!!!


INTERNATIONAL ORDERS: Please note that this holiday season, all of the international shipping rates include insurance on your parcel. If you have any questions about this, please contact me. Before making your purchase, please also review my policies, as you may have additional charges due to VAT, which can be verified by contacting your customs department. Thanks! Hilary



I hope to create the perfect personalized Pea Pod or Hand Stamped Necklace for you
or as a special gift from you.
Each pea pod has a story, and I hope to help you tell yours. . .

Ƹ̵̡Ӝ̵̨̄Ʒ My Pea Pod Story: Ƹ̵̡Ӝ̵̨̄Ʒ
I started designing my "Sweet Peas in a Pod" necklace while pregnant with my son. Not able to find the perfect "mommy necklace", I decided to make my own. After weeks of thinking and planning about my special mommy necklace and my sweet pea on the way, the "Sweet Peas in a Pod" necklace was born, and just shortly afterward, so was Gavin. Since then, both of my sweet Peas have grown and gotten more worldly.

I've been able to make the perfect pieces for brides and their bridesmaids, for best friends, sisters, twins, wives, daughters, grandmas, teachers, co workers, and of course, other special moms. It has been my pleasure and joy to be able to make the perfect mommy necklace for so many people, and I hope to be able to make a special piece for you!

Perfect for any women in your life

❤❤"like" us on facebook for a chance to be our next gift certificate winner, and to get updates on all of our promotions, news, and new designs!❤❤
Facebook.com/alovellydesign


***************************************************************************************************

Fan us on facebook at http://www.facebook.com/ALovellyDesign to get info on specials, deals, promo's and sales!

Please do remember that all orders are handmade When they are ordered, and are not prefab, so it will take a few days for me to make and send your special order.
______________________________________________________________________
Not sure which pea pod size is right for you? Check out the size guide:

I make the pea pod necklaces in two different sizes: regular and petite. The measurements for each (from the top of the loop for the chain to the bottom of the pod are:
Regular-
2 peas= 1 1/4"
3 peas= 1 1/2"
4 peas= 1 3/4"

Petite-
2 peas= 1"
3 peas= 1 3/8"
4 peas= 1 5/8"

The regular "peas are 8mm and the petite are 6mm.
_____________________________________________________________________
During the holiday season, please allow up to a week and a half for your order to be made and shipped. (Most orders do not require the full length of time to be shipped, so if you have a question about time, please contact me)

Please note: All info must be received before your order will be made and shipped. **Please check our shop announcements for all updates on delays.

**********Since most of the peas in a pod orders have been requested with the sterling silver cable chain- to make ordering a bit easier- your peas in a pod necklace will come on a sterling silver cable chain, unless specified otherwise. Just let me know if you would still prefer the snake chain!***************


Some of our great designs are being moved over here from AerieMountain.Etsy.com to make room for some really awesome new artwork, so make sure to check them out too!

Every piece of jewelry is hand made just for you, so it is customizable! If you would like me to make your piece in a different length or a different stone, crystal, or pearl, etc., just let me know and I'll do my best to make your piece perfect. Also, if you are looking to have a matching set, please let me know and I can make matching necklaces, bracelets, earrings, anklets, key chains and more!


Luminescent Beads: http://ny-image2.etsy.com/il_fullxfull.250321198.jpg
Lighting on Luminescent Beads: http://ny-image2.etsy.com/il_fullxfull.251751706.jpg
Swarovski Pearls: http://ny-image2.etsy.com/il_fullxfull.208637646.jpg
Crystals: http://ny-image0.etsy.com/il_fullxfull.143701108.jpg
Chains: http://ny-image1.etsy.com/il_fullxfull.252189281.jpg

Necklace Sizing Guide: http://ny-image3.etsy.com/il_fullxfull.189674695.jpg

SHIPPING NOTE: All packages will be mailed to the address that you supply here on Etsy (not on PAYPAL) Please be sure to add the correct address that you would like your package mailed to. Thanks!

We are currently not considering any blog reviews or giveaways. You may contact us if you would like, but please do not be offended if we decline or are delayed in responding. To make sure our costs stay as low as possible, the only "giveaways" we are participating in are our own. Thanks for your understanding!

~Hilary Lovell @ A Lovelly Design







PLEASE NOTE--
THESE ARE OLD ANNOUNCEMENTS (FROM THIS CURRENT YEAR), AND ARE MEANT FOR REFERENCE ONLY.
ANY NEW MESSAGES WILL BE RIGHT UP ON TOP OF THE PAGE :D

**Please Note: we apologize for any delays in shipment or messages. Hilary was unexpectedly hospitalized and welcomed her twins earlier than expected, and due to some complications, their stay at the hospital has been longer than anticipated. We will be messaging for her as quickly as possible and will be shipping out the orders she had completed. Thank you for your patience while they await discharge and transitioning home.


1/1/2015
Hello,
Please be aware that messages and shipping may be delayed. We experienced a sudden death in the family, so I will not be able to respond as quickly as I normally do. . .
Thank You for your understanding!

OUT OF THE STUDIO ANNOUNCEMENT
Please note- I will be out of the studio from 4/10/15 until 4/19/15. Orders placed during this time will be made and shipped upon my return, starting on 4/20/19.
I will have limited internet, so please expect and excuse delays in messages. I will try to respond as quickly as possible.
Thanks so much!
Hilary

Just as a bit of forewarning. . .
OUT OF THE STUDIO ANNOUNCEMENT!
Please note- I will be out of the studio from June 27, 2015 until July 12, 2015.
Orders placed during this time will be made and shipped upon my return, starting on July 13th. I will have limited to no internet during this time period, so please expect and excuse delays in messages (and of course mailing times also). I will try to respond as quickly as possible, but will be out of the country, so please expect a delay. Sorry for any inconvenience!
Thanks so much!
Hilary

7/11/15 I'm back!! It is great to be home and back to work. I will be responding to messages and getting orders made all weekend long. I also have some great new pieces I'm working on getting loaded into the shop-- so check back real soon! Thanks!

PLEASE NOTE: I WILL BE AWAY FROM MY STUDIO FROM 4/8/2016 UNTIL 4/17/2016. ORDERS PLACED DURING THIS TIME WILL BE MADE AND SHIPPED BEGINNING 4/18/2016
**SORRY FOR ANY INCONVENIENCE AND DELAY IN MY MESSAGES**

OUT OF THE STUDIO ANNOUNCEMENT
Please note- I will be out of the studio from 7/29/16 until 8/8/16. Orders placed during this time will be made and shipped upon my return, starting on 8/9/16.
I will have limited internet, so please expect and excuse delays in messages. I will try to respond as quickly as possible!
Thanks so much!
Hilary
Announcement
Last updated on
Apr 22, 2017
Currently: Making and shipping in approximately 1 to 2 days
Shipping w/in the US is 2 to 4 days


Peas in a Pod pendant charms, necklaces, bracelets, and anklets.

Perfect gifts & presents for Mom * Grandma * Sister * Best Friend * Wife * Daughter * Co Worker * Cousin * Bride * Bridesmaids * Birthday * Teacher * Twins * Neighbor * Anniversary * Secret Santa * Just Because * or You!!!


INTERNATIONAL ORDERS: Please note that this holiday season, all of the international shipping rates include insurance on your parcel. If you have any questions about this, please contact me. Before making your purchase, please also review my policies, as you may have additional charges due to VAT, which can be verified by contacting your customs department. Thanks! Hilary



I hope to create the perfect personalized Pea Pod or Hand Stamped Necklace for you
or as a special gift from you.
Each pea pod has a story, and I hope to help you tell yours. . .

Ƹ̵̡Ӝ̵̨̄Ʒ My Pea Pod Story: Ƹ̵̡Ӝ̵̨̄Ʒ
I started designing my "Sweet Peas in a Pod" necklace while pregnant with my son. Not able to find the perfect "mommy necklace", I decided to make my own. After weeks of thinking and planning about my special mommy necklace and my sweet pea on the way, the "Sweet Peas in a Pod" necklace was born, and just shortly afterward, so was Gavin. Since then, both of my sweet Peas have grown and gotten more worldly.

I've been able to make the perfect pieces for brides and their bridesmaids, for best friends, sisters, twins, wives, daughters, grandmas, teachers, co workers, and of course, other special moms. It has been my pleasure and joy to be able to make the perfect mommy necklace for so many people, and I hope to be able to make a special piece for you!

Perfect for any women in your life

❤❤"like" us on facebook for a chance to be our next gift certificate winner, and to get updates on all of our promotions, news, and new designs!❤❤
Facebook.com/alovellydesign


***************************************************************************************************

Fan us on facebook at http://www.facebook.com/ALovellyDesign to get info on specials, deals, promo's and sales!

Please do remember that all orders are handmade When they are ordered, and are not prefab, so it will take a few days for me to make and send your special order.
______________________________________________________________________
Not sure which pea pod size is right for you? Check out the size guide:

I make the pea pod necklaces in two different sizes: regular and petite. The measurements for each (from the top of the loop for the chain to the bottom of the pod are:
Regular-
2 peas= 1 1/4"
3 peas= 1 1/2"
4 peas= 1 3/4"

Petite-
2 peas= 1"
3 peas= 1 3/8"
4 peas= 1 5/8"

The regular "peas are 8mm and the petite are 6mm.
_____________________________________________________________________
During the holiday season, please allow up to a week and a half for your order to be made and shipped. (Most orders do not require the full length of time to be shipped, so if you have a question about time, please contact me)

Please note: All info must be received before your order will be made and shipped. **Please check our shop announcements for all updates on delays.

**********Since most of the peas in a pod orders have been requested with the sterling silver cable chain- to make ordering a bit easier- your peas in a pod necklace will come on a sterling silver cable chain, unless specified otherwise. Just let me know if you would still prefer the snake chain!***************


Some of our great designs are being moved over here from AerieMountain.Etsy.com to make room for some really awesome new artwork, so make sure to check them out too!

Every piece of jewelry is hand made just for you, so it is customizable! If you would like me to make your piece in a different length or a different stone, crystal, or pearl, etc., just let me know and I'll do my best to make your piece perfect. Also, if you are looking to have a matching set, please let me know and I can make matching necklaces, bracelets, earrings, anklets, key chains and more!


Luminescent Beads: http://ny-image2.etsy.com/il_fullxfull.250321198.jpg
Lighting on Luminescent Beads: http://ny-image2.etsy.com/il_fullxfull.251751706.jpg
Swarovski Pearls: http://ny-image2.etsy.com/il_fullxfull.208637646.jpg
Crystals: http://ny-image0.etsy.com/il_fullxfull.143701108.jpg
Chains: http://ny-image1.etsy.com/il_fullxfull.252189281.jpg

Necklace Sizing Guide: http://ny-image3.etsy.com/il_fullxfull.189674695.jpg

SHIPPING NOTE: All packages will be mailed to the address that you supply here on Etsy (not on PAYPAL) Please be sure to add the correct address that you would like your package mailed to. Thanks!

We are currently not considering any blog reviews or giveaways. You may contact us if you would like, but please do not be offended if we decline or are delayed in responding. To make sure our costs stay as low as possible, the only "giveaways" we are participating in are our own. Thanks for your understanding!

~Hilary Lovell @ A Lovelly Design







PLEASE NOTE--
THESE ARE OLD ANNOUNCEMENTS (FROM THIS CURRENT YEAR), AND ARE MEANT FOR REFERENCE ONLY.
ANY NEW MESSAGES WILL BE RIGHT UP ON TOP OF THE PAGE :D

**Please Note: we apologize for any delays in shipment or messages. Hilary was unexpectedly hospitalized and welcomed her twins earlier than expected, and due to some complications, their stay at the hospital has been longer than anticipated. We will be messaging for her as quickly as possible and will be shipping out the orders she had completed. Thank you for your patience while they await discharge and transitioning home.


1/1/2015
Hello,
Please be aware that messages and shipping may be delayed. We experienced a sudden death in the family, so I will not be able to respond as quickly as I normally do. . .
Thank You for your understanding!

OUT OF THE STUDIO ANNOUNCEMENT
Please note- I will be out of the studio from 4/10/15 until 4/19/15. Orders placed during this time will be made and shipped upon my return, starting on 4/20/19.
I will have limited internet, so please expect and excuse delays in messages. I will try to respond as quickly as possible.
Thanks so much!
Hilary

Just as a bit of forewarning. . .
OUT OF THE STUDIO ANNOUNCEMENT!
Please note- I will be out of the studio from June 27, 2015 until July 12, 2015.
Orders placed during this time will be made and shipped upon my return, starting on July 13th. I will have limited to no internet during this time period, so please expect and excuse delays in messages (and of course mailing times also). I will try to respond as quickly as possible, but will be out of the country, so please expect a delay. Sorry for any inconvenience!
Thanks so much!
Hilary

7/11/15 I'm back!! It is great to be home and back to work. I will be responding to messages and getting orders made all weekend long. I also have some great new pieces I'm working on getting loaded into the shop-- so check back real soon! Thanks!

PLEASE NOTE: I WILL BE AWAY FROM MY STUDIO FROM 4/8/2016 UNTIL 4/17/2016. ORDERS PLACED DURING THIS TIME WILL BE MADE AND SHIPPED BEGINNING 4/18/2016
**SORRY FOR ANY INCONVENIENCE AND DELAY IN MY MESSAGES**

OUT OF THE STUDIO ANNOUNCEMENT
Please note- I will be out of the studio from 7/29/16 until 8/8/16. Orders placed during this time will be made and shipped upon my return, starting on 8/9/16.
I will have limited internet, so please expect and excuse delays in messages. I will try to respond as quickly as possible!
Thanks so much!
Hilary No items listed at this time
Reviews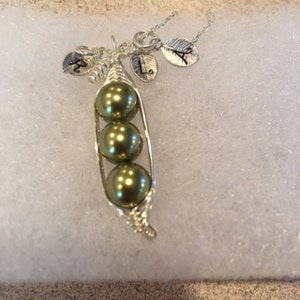 Better than I expected! Absolutely love it. Delivery was fast and I got just what I wanted.
About
A inspiration that has grown and grown . . .
I started designing my "Sweat Peas in a Pod" necklace while pregnant with my son. Not able to find the perfect "mommy necklace", I decided to make my own. After weeks of thinking and planning about my special mommy necklace and my sweet pea on the way, the "Sweet Peas in a Pod" necklace was born, and just shortly afterward, so was Gavin. Since then, both of my sweet Peas have grown and gotten more worldly.

My mom is a Master Gardener, artist, and small business owner, and the reason that the arts are such a big part of my life. She always had tools and materials for us to use and create with- a gift I could never repay her for. The Pea pod necklaces are also a tribute to her love of gardening and my love of her flowers.

A homebody by nature, I love nothing more than to hang out with my family. I love having my Mom, Dad, and many brothers and sisters living so close, so dropping by is a daily occurrence. (Being one of seven kids means having lots of visits) :)

I'm also a Firefighter and a certified Fire Service Instructor. My husband and son are also fire fighters-- Gavin is just a honorary "Junior Junior" though, since he hasn't quite hit the legal age to apply. We spend lots of time training and drilling, going to monthly meetings, and marching in parades. Being involved in the community is something we've always felt strongly about, and we hoped to impress upon Gavin the importance of helping others.

Over the last 5+ years, I've been able to make the perfect pieces for brides and their bridesmaids, for best friends, sisters, twins, wives, daughters, grandmas, teachers, co workers, and of course, other special moms. It has been my pleasure and joy to be able to make the perfect mommy necklace for so many people. . . .
Shop members
Hilary

Owner, Designer, Maker, Curator

Hi! I'm Hilary. I am the Lovell in A Lovelly Design. Those two hansom guys are my husband and son. I'm an active momma, artist, and fire fighter. . . . I LOVE doing what I'm doing!

Gavin

The Inspiration

Gavin is the fun and inspiration our my life. He is also the "box getter" and the "ribbon cutter" for the business.
Shop policies
Last updated on
June 26, 2015
Jewelry making is my hobby, passion, and life. I love the creativity of designing and the wonder of creating an idea into wearable art.

Each listing is a design starting point, so whether you love the design as it is, or would like to make it personal, we know you'll love the final creation!

We want our designs to not only be lasting designs you can wear and enjoy for years to come, but also want the materials to stand the test of time. For that reason, we use mostly sterling silver in our pieces. So keep it shiny or let it age, your jewelry is sure to be a success!
Accepted payment methods
Accepts Etsy Gift Cards and Etsy Credits
Payment
All payments must be with in 1 day, or please contact me otherwise.

I accept Paypal, master card, visa, money orders, and personal checks.

Paypal payments can be made to:
LovellyDesigns@ gmail.com

Credit Card info can be called in to:
Hilary @ (860) 379-8899

Checks or Money Orders :
Let me know if you will be using this method and I will forward mailing instructions
Shipping
All items will be gift boxed and bowed to make them ready for gift giving and also to protect them in shipping, and will also be packaged in a bubble wrapped package.

We will ship to the address that you enter on PayPal!! and you will receive a tracking number for your parcel.
PLEASE verify that the address you give us is correct. It saves us a bit of emailing time :) Thanks!

¤ ¤ ¤ ¤ ¤ ¤ ¤ ¤ ¤ ¤ ¤ ¤ ¤ ¤ ¤ ¤ ¤ ¤ ¤ ¤ ¤ ¤ ¤ ¤ ¤ ¤ ¤ ¤
Priority or Express shipping upgrades are available for an additional charge.
¤ ¤ ¤ ¤ ¤ ¤ ¤ ¤ ¤ ¤ ¤ ¤ ¤ ¤ ¤ ¤ ¤ ¤ ¤ ¤ ¤ ¤ ¤ ¤ ¤ ¤ ¤ ¤

All packages are shipped via USPS First Class, unless otherwise requested and arranged.

Insurance may be added to your item, but is not included in the shipping cost. ALovellyDesign will NOT be responsible for any lost or damaged packages during shipment. Please let us know if you would like to purchase shipping insurance before making your purchase, so we can adjust the listing for you.

We can not guarantee the delivery time on any orders.

International Buyers – Please Note:
Import duties, taxes, and charges are not included in the item price or shipping cost. These charges are the buyer's responsibility.
Please check with your country's customs office to determine what these additional costs will be prior to bidding or buying.
Refunds and Exchanges
We love our creations. Lots of time and effort have gone into making them unique and we want you to enjoy them as much as we do. If you are not satisfied, please contact us, so that we may either give you store credit or make reparations. ( item must be returned in original condition)

In the event of an item being returned, only the items cost will be given store credit.

We do encourage, but do not require you to purchase insurance for your package. We can not be held responsible for any losses, damages, etc, once your package has been delivered to the USPS. Please let us know if you would like to add insurance to your order.
Additional policies and FAQs
On all hand stamped items:
The items will be hand stamped exactly as you have typed (uppercase or lowercase letters) , in the font shown in the picture unless it is SPECIFICALLY requested otherwise.
(Most people automatically capitalize the first letter of a name while typing, even though that may not be how they would like their order to appear. Please be sure to type it as you would like it, or tell me specifically how you would like it)
If you would like a certain chain style (snake, cable) or a certain length (16" or 18"), please specify in the "note to seller" at checkout. If no style or length is indicated, we will include the chain that is most requested for a comparable item.
Care and wear of you jewelry:
Our jewelry is lovingly created with wonderful materials and are made to be durable, however some of the materials would prefer not to be handled roughly. Please treat your jewelry as you would any piece of fine jewelry:
*do not expose to water, heat, or chemicals.
*use polishing cloths to gently clean all metals
*put jewelry on after your makeup, perfume, and hairspray
** please note ** Luminescent beads are made with a special process using a patented metallic paint. They may chip or scratch over time due to normal wear and use. (For a more durable option, consider swarovski pearls)
--For jewelry containing pearls, protect them from scratches and perfumes and household chemicals, which can wear away the nacre or cause color change.
Should your jewelry need repair at any time, please contact us.
We would also love to create a one of a kind work of art for you. Please contact us with information with your custom order.
Additional Photos can be found here:
Luminescent Beads:
http://ny-image2.etsy.com/il_fullxfull.250321198.jpg
Lighting on Luminescent Beads:
http://ny-image2.etsy.com/il_fullxfull.251751706.jpg
Swarovski Pearls:
https://ny-image2.etsy.com/006/0/5984280/il_fullxfull.393507330_fyiy.jpg
Crystals:
http://ny-image0.etsy.com/il_fullxfull.143701108.jpg
Freshwater Pearls:
http://ny-image1.etsy.com/il_fullxfull.143701109.jpg
Stones:
http://ny-image0.etsy.com/il_fullxfull.160302256.jpg
Chains:
http://ny-image1.etsy.com/il_fullxfull.252189281.jpg
Necklace Sizing Guide:
http://ny-image3.etsy.com/il_fullxfull.189674695.jpg