Announcement Welcome to my shop!

***I am only accepting a limited amount of custom orders this year and my schedule is filling up super fast, so if you would like to get on the schedule for this year, contact me asap. I look forward to working with you!! Happy New Year!!***

*** If you would like to get on the schedule for a custom order, contact me to reserve your place on my calendar! If you do not hear back from me immediately, just know it's because I am super busy working on lots of dresses.....if you have ordered already, maybe I'm even working on yours! :) I receive so many emails a day, it sometimes takes me a few days to get back to you ...If you message me, just sit tight and know I will get back with you as quickly as possible! I appreciate you stopping by!! Thank you!!! xoxo
------------------------------------------------------------------------------------------------------------------------

I create beautiful wearable art made mostly from recycled and vintage materials. I pride myself in creating clothing and accessories that are not only beautiful and timeless, but affordable and comfortable, as well! If you have an idea that you don't see in my shop, contact me and I will be happy to help you come up with something you will feel amazing in! I love working with clients to design/create something just for them.....

If you purchase from me, please, please, please contact me upon receiving it if there are any issues..I can't help you if you don't let me. I, of course, want you to be happy with your purchase, so if you are not, please contact me first and let's see what we can do.

Most important: do not buy from me until you read my shop policies located here: http://www.etsy.com/shop/amandarosebridal/policy It is long, but it breaks everything down so we all know what's going on from the beginning! :)

I have another shop I just opened for my new line, The Velveteen Raven... check it out!
https://www.etsy.com/shop/velveteenraven
*still under construction*
------------------------------------------------------------------------------------------------------------------------

One of the most beautiful weddings I have ever done: Check out the bridesmaid dresses:

http://www.eephotome.com/ee-photography-blog/2012/7/22/abbie-josh-abilene-wedding-photographer-perini-ranch-wedding.html

**Follow me on Facebook..upcoming events and special items-http://www.facebook.com/#!/pages/Amanda-Rose-Studios/104587589576709?ref=ts

*****Featured in Bride and Groom of the Space Coast Magazine- May Issue!!!*****

***Featured in this French blog- http://mariages-retro.blogspot.com/2010/08/etsy-les-robes-boheme-vintage-amanda.html ... I am soooo grateful and inspired!!!


***Please allow up to 2-4 months at this time for some custom orders...(some more, some less)........****

Check out my sister's shop:
www.sacredmoment.etsy.com
Announcement
Last updated on
Dec 29, 2015
Welcome to my shop!

***I am only accepting a limited amount of custom orders this year and my schedule is filling up super fast, so if you would like to get on the schedule for this year, contact me asap. I look forward to working with you!! Happy New Year!!***

*** If you would like to get on the schedule for a custom order, contact me to reserve your place on my calendar! If you do not hear back from me immediately, just know it's because I am super busy working on lots of dresses.....if you have ordered already, maybe I'm even working on yours! :) I receive so many emails a day, it sometimes takes me a few days to get back to you ...If you message me, just sit tight and know I will get back with you as quickly as possible! I appreciate you stopping by!! Thank you!!! xoxo
------------------------------------------------------------------------------------------------------------------------

I create beautiful wearable art made mostly from recycled and vintage materials. I pride myself in creating clothing and accessories that are not only beautiful and timeless, but affordable and comfortable, as well! If you have an idea that you don't see in my shop, contact me and I will be happy to help you come up with something you will feel amazing in! I love working with clients to design/create something just for them.....

If you purchase from me, please, please, please contact me upon receiving it if there are any issues..I can't help you if you don't let me. I, of course, want you to be happy with your purchase, so if you are not, please contact me first and let's see what we can do.

Most important: do not buy from me until you read my shop policies located here: http://www.etsy.com/shop/amandarosebridal/policy It is long, but it breaks everything down so we all know what's going on from the beginning! :)

I have another shop I just opened for my new line, The Velveteen Raven... check it out!
https://www.etsy.com/shop/velveteenraven
*still under construction*
------------------------------------------------------------------------------------------------------------------------

One of the most beautiful weddings I have ever done: Check out the bridesmaid dresses:

http://www.eephotome.com/ee-photography-blog/2012/7/22/abbie-josh-abilene-wedding-photographer-perini-ranch-wedding.html

**Follow me on Facebook..upcoming events and special items-http://www.facebook.com/#!/pages/Amanda-Rose-Studios/104587589576709?ref=ts

*****Featured in Bride and Groom of the Space Coast Magazine- May Issue!!!*****

***Featured in this French blog- http://mariages-retro.blogspot.com/2010/08/etsy-les-robes-boheme-vintage-amanda.html ... I am soooo grateful and inspired!!!


***Please allow up to 2-4 months at this time for some custom orders...(some more, some less)........****

Check out my sister's shop:
www.sacredmoment.etsy.com No items listed at this time
Reviews

I just received my bridesmaid dresses and glitter girl dresses! They are ABSOLUTELY the most beautiful unique dresses I've ever seen! Not only was it really simple to work with her, the price is so beyond worth the product and she worked really fast and made them each unique but match so the girls really don't have the same dress! My wedding isn't until the end of September but I will add a picture of each one! I honestly wish I would have had her made my wedding dress! I am SO SO jealous of my girls!!! Thank you so much for being amazing, awesome dresses and not a stress of planning my wedding!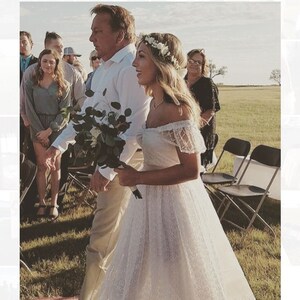 This dress was more than I could have dreamed of. I felt like the most beautiful bride in the world! And you should have seen my husbands face. He's never looked at me the way he did that day! I am so thankful for that! Amanda, you made my wedding so special! Thank you so much! God bless! ❤️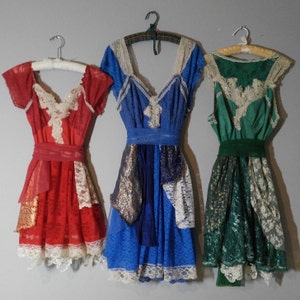 I wanted something unique and I cannot express how happy I am with this experience. Highly recommend, ranging from sizes 5-20 no alterations needed for any dress. Beautiful details. If you don't want cookie cutter dresses this is the place. Thank you so much!!!!!!
About
I create things. All the time.
My story as an artist started a long time ago.... I knew from an early age that I wanted to be an artist. I have been working at it since I can remember. The story of dressmaking... that began about 11 years ago(22 years ago, if you count when I first sewed on my grandma's sewing machine). I started out with a few dollars, a bunch of ideas and a cheap sewing machine that bounced across the table as I sewed.... I would have to lasso it back in every few stitches. i have finally worked my way up to a very old workhorse of a machine named 'Sue'. I still only have a few dollars and a bunch of ideas. At least my sewing machine landscape is looking better. ;)

It's taken many, many years of trial and error to get to where I am today... lots of hard work, but totally worth it to know that I get to get up every day and do what I love best.....Sometimes I can't believe it's happening..... but it is. I am living my dream!
Shop members
Amanda Rose

Owner, Maker, Designer, Curator

I am an artist, wife and mom... I love creating things.... when I am not sewing, I am thinking about sewing. It's just what I do.
Shop policies
Last updated on
April 18, 2013
Welcome to my shop... and thank you for stopping by! I have a major love for all things textile....especially vintage fabrics and lace..... They have such a history, a story to tell. I love taking old and turning it into something new, uniquely yours.

**I urge you- when considering ordering from me, please make sure you read my shop policies... and understand what you are getting before you commit to buy. If you don't have mad love for all things couture, lacey, antique, recycled, vintage and tattered(ie-RAW HEMLINES and previously loved materials), you will not love what I do. If you do love these things, then you are at the right place. I do not purchase mass quantities of fabric and lace from chain stores. My studio is not a sweat shop of machines and people to create and re-create cookie-cutter copies of dresses done before. It's just little ol' me with a studio full of bits and pieces of the most fabulous vintage tattered and recycled materials you could ever be in the presence of. :) When you order something, it has a SIMILAR feel to the original. It will never be able to be the exact dress..obviously.... But if you love the feel of what I do, you will love your finished product !! Thank you for appreciating true wearable art! :) xoxoxo

I use VINTAGE and RECYCLED(aka-previously loved/USED) materials, as well as fragile, frayed, antique bits and pieces of lace..(it's History and romance at it's best) so there MAY be a little spot on the lace, or some other perceived 'flaw'. I will never, ever use anything on a dress that would take away from the beauty and elegance, nor will I use anything that will appear 'dirty'...

I also dye all of my own fabrics. As anyone who has dealt with dye knows, there may be variations throughout the dyed piece.. lighter and slightly darker variations of the color... To me, that adds to the antique feel, and I will never send something that looks just plain bad.

When you receive your item(s), if there are any problems with fit (remember you are ordering online, long-distance without being able to try it on) or anything else, PLEASE contact me before leaving negative or neutral feedback. Give me a chance to right it and I will. Thank you.

Please read below before committing to anything. I have had much experience with buying and selling and all the things I mention below are for your sanity as well as mine.
Accepted payment methods
Payment
I accept Paypal and money orders. There is a one week grace period to pay your balance, upon completion, unless other arrangements are made.

If you pay a deposit on something, please note- deposits are non-refundable. The deposit secures your spot on my schedule. I take lots of time with you, emailing, sending sample pictures, making your vision/items happen for you. If you cancel your order, the deposit is non-refundable, as it simply covers a fraction of my time, hard work and materials(if the item is done). I will do everything within my power to make sure you are happy, but keep in mind, if you walk away after paying a deposit, it is non-refundable.

Remember when I create something for you, it will be SIMILAR TO, BUT NOT EXACTLY LIKE(I cannot stress that enough) the photos...unless it is stating you are buying that exact item. I am an artist who works with vintage and recycled materials, so I will very, very, very rarely be able to create the exact same item on custom orders, but I can guarantee it will be the closest replication humanly possible. If you show interest in my items, you obviously like my style. If you want something totally different from the style I do, there are thousands of artists and seamstresses here on etsy that will probably be able to do something more the style you are looking for.

I will get your items done as quickly as possible, and I will always be in communication with you. I allow one edit once I have sent you the photos of your completed custom item. Once I have edited, I will send final photos. Payment is expected upon receipt and approval of final photos, although I do allow 7 days to pay(as mentioned above).
Shipping
I usually ship first class or priority within the US and regular parcel post outside the US.. If you need the item quicker, please let me know and I will adjust the shipping rates for you. I am now only shipping once-twice a week because I am super busy with orders/custom items and cannot pry myself from the studio to go to the post office more often than that. If it is special conditions, we can work something out.
Refunds and Exchanges
Returns/Exchanges:
For ready-to-ship or samples: I will accept returns within 7 days of receiving for an exchange or instore credit only. Item must not be worn. Please notify me if you plan on sending something back.

For Custom items: If there is a defect with the item, I can exchange it for something else, fix it, or replace it for you with something similar.




When you contact me, you are doing so because you love what you see. From there, if it is custom, it is a matter of me making you something SIMILAR in your size and preferences(out of available vintage materials.). I will send you photos of the final item (keep in mind, computer screens vary and can cause slight distortion of the color) . Once you approve, you pay the balance, receive the item, and try it on. By this time, you already should know that you love the item, just make sure it fits properly. I go strictly by your size and measurements, so make sure you send me accurate info. Just know your body (your accurate size, what looks good on you, etc) and you will find what works beautifully for you. :) If you just plain hate your dress, even after I have done everything I can to make it right, I will give you in-store credit- or exchange it for something else, as long as you contact me immediately and send the dress back in it's original form and packaging. I must receive the dress within 7 days. If you wait longer than that to decide, there's nothing I can do. And please please please contact me before leaving feedback if there is an issue.

Alterations: I no longer do alterations after you receive the gown. Most of the time, alterations are not necessary, but you may want to make sure there is someone in your area that can do them for you, if you find you need it.. (Sometimes it may simply be that straps need shortening, or hem needs raising...usually, if anything, it will be very minor). With custom orders I use your measurements/sizing , but minor alterations may be necessary, as with most experiences buying a gown online from anyone. This will simply make sure you end up with the best fit possible! If you are local, I will be happy to do the measurements for you!
Additional policies and FAQs
I guarantee that you will truly love what you receive from me. I pride myself in quality work, beautiful fabrics, and gorgeous, timeless fashions that will last a lifetime. I am good at doing my art and I am so grateful to be able to share it with the world. I will work closely with you to help make your special day truly even *more* special...... Thank you so much for stopping by!