Reviews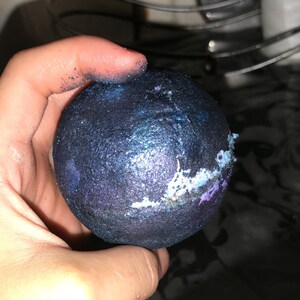 Very beautiful, nice scent. I love how much mica you added, it's gorgeous! The bath bomb unfortunately was squishy when I received it and sank to the bottom instead of floating and releasing its lovely bath art. I do love the end result and the color choices, so it's still a 5 Star 👍

Haven't had the chance to use this yet but I really don't like how it smells. Usually can't go wrong with Lavender Vanilla....but I don't like this scent at all.

Loved everything!!everything smelled so good
About
Professional cooks making the best bath products around
So, where to begin? Let's start with the cooking.

My wife and I both worked in kitchens for years. I worked my way up into a chef role while Krista worked alongside of me as a pastry chef. This is critical, as her experience in patisserie directly correlates to bath products. We'll come back to that here in a minute. As some of you might know working in a professional kitchen is hard work … very hard work. It is a tough path to follow forever, and we needed a new lease on life. I found my place in the world of computers and networking, my wife found herself looking at a series of major knee surgeries that would make it difficult to work. As I headed out into the world in a different capacity while my wife recovered, I quickly realized that I needed an after work creative hobby. Krista found an interest in making bath products at home, so I started helping her with that. At first it was just for ourselves, or I should say more for her. We learned about essential oils and other products like bentonite clay and the benefits of charcoal, then we started giving our creations as gifts to friends and family and we found that it was a lot of fun. We expanded our knowledge and started experimenting, and this is where working in kitchens came in handy – especially the skillset that my wife had developed. To have an understanding of ratios, what kind of reactions to expect when 2 ingredients are mixed, and a more then basic understanding of what will work in a recipe, all were invaluable. Now I know bath products are not food but the principals are much the same, learn your ingredients and you will always know what they are capable of, learn your basic recipe and expand on it with what you know about your ingredients. Our immediate results weren't bad, as a matter of fact they were pretty good. Physically my wife is getting better but still has a tough time some days so an Etsy shop is perfect, she does what she can when she can and I am always here to help (she can't take a picture to save her life). I came up with a name and a logo and she developed the menu, so to speak, and here we are.

Now, when we started our shop we had a couple goals.
- Use the best ingredients for the job. The same rule applies in the kitchen - if you don't use the best ingredients possible you will never put out the best product. You get out what you put in, also good life advice. We go through several suppliers because some have better ingredients than others. We use what each one does best. We try to be as all natural as possible but we are not obsessed with it. Some synthetic products, particularly scents and colors and made well, are completely safe and make amazing products. To anyone that faults us for not being 100% organic I have one thing to say – grizzly bears are 100% organic, and you wouldn't want to take a bath with one of those, would you?
- Offer a variety. In our home we don't just like a therapeutic bath, sometimes we (and by we I mean my wife) wants an obscene amount of bubbles in the tub. Bubbles that are green and smell like lemonade because it is fun and smiles are healthy so therefore still very therapeutic. To that end we offer 2 basic categories of products - the therapeutic, (mostly the all natural ones that also target a specific problem like sore muscles or detoxing), and the lighter side of life. The fun scents, bubble makers, and the colorful products. Granted many will fall in the middle of the 2 ideals but that is the gist of it.
- We're HONEST! We invite any potential clients to check our ingredients versus anyone else on Etsy. For example, our "milk, honey and oats" bath bombs have MILK, HONEY AND OATS AS INGREDIENTS, not "milk, honey and oats SCENTED". If it is in the title, it is in the product! We do not make our products cheaply, or mislead in any way. We do not skip putting in good ingredients because we could get away with it because nobody would know. There are so many misleading products, using a scent instead of the ingredient, or putting unnoticeable amounts of ingredients just to say they are there. We don't feel like this is good practice so we simply will NOT do it! You buy from us, and you buy the best!
- Lastly, and arguably most importantly, we wanted to share something that we could have fun with. So far this is a rewarding experience and something we plan to keep doing in the future.
If you have any questions about any of our products, specials, or special ordering, please don't hesitate to ask.
Thanks,
-Chad & Krista Hovrud,
Arcadia Bath Company, SF
Shop members
Krista Hovrud

Creator, Shipper, Owner

Chad Hovrud

Owner, Photographer, Designer
Shop policies
Last updated on
October 16, 2017
Thank you for shopping at Arcadia Bath Company!
We are creating bath and body products with the highest quality ingredients possible. Everything in our shop is either made to order or small batch, handcrafted in San Francisco. Many of our products are natural, all of our products are tested and most are used on a regular basis at home.
Accepted payment methods
Accepts Etsy Gift Cards and Etsy Credits
Returns and exchanges
I gladly accept returns and exchanges
Contact me within:
14 days of delivery
Ship items back within:
30 days of delivery
I don't accept cancellations
But please contact me if you have any problems with your order.
The following items can't be returned or exchanged
Because of the nature of these items, unless they arrive damaged or defective, I can't accept returns for:
Custom or personalized orders
Perishable products (like food or flowers)
Digital downloads
Intimate items (for health/hygiene reasons)
Items on sale
Questions about your order?
Please if you have any problems with your order.
Although it is rare items can get lost in the mail if this happens then we can submit a claim then either resend or refund your purchase. Please note items are not considered lost till they have been missing for 2 months. If a package is marked as delivered but you do not have your package we will submit a ticket with USPS to see if there was a mismarked delivery but when it is marked as delivered it is your responsibility to bring the package in. We can not be held responsible for unattended packages or incorrect addresses. We use Etsy shipping labels so please double check the address sent in with your order.
If your items are damaged upon receiving and are unusable send a picture with the packaging and we will work out a refund or replacement. Keep in mind with bath bombs especially are fragile and we do our best to package them so they arrive in one piece but they might not always make it, this is unfortunate and even though they are no longer a perfect ball they will still preform in the tub.
If you have a change of heart you have till we make your products to change your mind and and receive back 85% of your order, if we have sent it and you change your mind you can send it back to us at your expense then after we receive the items and they are in the same condition we will refund 75% of your order sans shipping costs. This is not an option on custom orders as soon as a custom item is made (either fully custom or from the pick your own scent options) there is no refund or exchanges available. We always do our best to be sure that you are happy with your purchase.
Payment
As soon as payment is received we get to work putting together your order. We accept PayPal, credit, debit, and gift cards.
Shipping
We ship your choice of USPS options. As soon as your order is ready, you will receive a tracking number. If you have any special shipping needs let us know and we will do our best to accommodate you. Most of the time we print shipping labels directly off Etsy so be sure you have the right address!!!! We will do our best to track down a lost item from a address mishap but there is no guarantee. You can request signature conformation but if you don't we wont add it. We use calculated shipping as it is normally the best option in some cases we will swap to flat rate boxes and refund any shipping overages we always use the best rate for the best box size a snugly but not overfilled box has the highest chances of arriving unbroken. We combine shipping on multi orders and refund all overages.
Additional policies and FAQs
Due to the nature of handmade items there may be slight differences in size and color. Bath bombs especially fall into that. We do our best to recreate the picture but it might not be 100% alike. That is the fun in hand made too. We take great care in making sure that you get the best possible bath and body products.
More information
Last updated on
Dec 30, 2016
Frequently asked questions
How are our products made?
Everything we make is made by hand in our smoke free and cat friendly apartment in San Francisco. We wear non latex, unpowered, nitrile gloves from start to finish including during packaging. We have dedicated bowls and utensils to create all of our products.
Care instructions
Care is easy! We double heat wrap our bath bombs to keep them away from moisture and hold the scent. As long as they are not in direct sunlight they will hold there color and scent for 6-12 months. Body butter should be kept at room temperature don't get it too hot it can melt. If your body butter starts to melt cool it in the freezer but don't store it there moisture can build up. If any products change in consistency or appearance let us know and we will do our best to help you bring it back to its former glory. We do not use preservatives so anything that comes in contact with water and is multi use (face masks, sugar scrubs) should be used regularly.
Sizing details
Our bath bombs come in several sizes! We have tiny to extra large. Each listing will have the weight listed so you have a good idea. Small is about the size of a ping pong ball, medium is about the size of a tennis ball, large is a bit bigger then a baseball. We use 1/2 mediums for some sample boxes. And mini daisy for toilet bombs. We are desperately trying to get a new mold that makes super mini bombs about gum ball size. We will get it some day but for now it hates us. Bubble bars vary a bit but the approximate weight will be in the listing. The sample bubble bars are 1/2 size.
Custom and personalized orders
We love custom orders! Most of our products are made to order so customization is not only an option but encouraged! The only exception to custom orders are bubble bars because of the way they are made but if you have your heart set on something let us know and we will see what we can do!
Wholesale availability
We can do wholesale to an extent. We are limited by space and in many cases our prices are already low so we don't have much room to work with but we can always try.
What is a bath bomb
A bath bomb or bath fizzy is a combo of baking soda, citric acid, scent, oil, and color that when it is placed in water will fizz and release the scent, color, and oils. We often add other beneficial ingredients to bath bombs to enhance your soak.
Salts are anti inflammatory and detoxing.
Clay helps open your pours and absorb oils as well as pull toxins.
Milk is soothing and moisturizing.
Butters are highly moisturizing.
Bubbles are just fun.
Residue can make the colors stick to your tub. To avoid this always use bath bombs in a clean tub. If colors do stick to you or the tub they will easily wipe off. Our colors will never stain you or your tub.
Our bath bombs are dense we pack them tight and they do sink in the water.
Gift wrapping and packaging
We don't offer gift wrapping but we do offer gift baskets that we will fill, add a note from you, and heat wrap the whole basket. Our packaging for each product is selected to be functional and get to you in tact. Items in jars are labeled on top and sealed with electrical tape if there is a risk of leaking. Our items in cello and in resealable stand up pouches will be heat sealed shut and in some cases wrapped twice. Our bath bombs, bubble bars, and soap are heat wrapped tight sealing in the scent and keeping them away from moisture. Some items get labeled boxes, some get organza bags we do put multiple items in organza bags to pack things closely. If you do not want the heat wrap we can use tissue but they will not be as protected.
What is a bubble bar?
A bubble bar is solid bubble bath. When they are broken up in running water they fill the tub with bubbles. Bubble bars are colorful and lovely to look at. They are not heavy in oil but there is enough to moisturize your skin. To get the most bubbles possible there are a few methods.
1- break them up and put them in the organza bag they came in, clean panty hose, or a muslin bag and place that under running water.
2- grind them up in a food processor and use the powder under running water.
3- grind chunks between your fingers into running water.
It can take a bit of work to get bubbles but they smell and look amazing.
Other great bubble makers include powdered bubble bath and bubbling bath bombs.
I'm allergic to an ingredient!
LET US KNOW! We do so many made to order items and we can sub/or leave out ingredients more often then not. We will also know to take extra care during drying and packaging.
Can you make a bath bomb that has 10 colors and makes bubbles with a animal eraser in the middle?
Sure! Tell us what your vision is for the most amazing bath bomb ever and we will do our best!