Reviews

I am giving 2 stars because after finally receiving my order I noticed that every single envelope was bent in one corner. Not one single envelope stayed closed when I tried to seal them so I had to tape every single one closed. I payed to have them addressed so I couldn't go get new envelopes. Many of the invitations were bent in one corner. It looked like her cutter wasn't very sharp when she was making them and a lot of the corners look sloppy. A lot of envelopes had something sticky on them. At this point I have no choice to mail them out to my guests because I received them less than a week before I had to mail them. Seller also said she was issuing a partial refund for all the frustration she gave me with my order. But I have yet to receive that!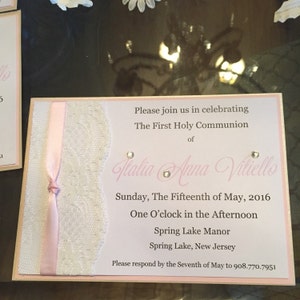 Beautiful invitations!! Thank you so much Alicia

Ordered January 19th for a party on February 20th. Was informed on February 17th that the post office had lost the package. I asked for another banner to be made and overnighted since I was 3 days out from the party, and was told I would only get a refund. Would not recommend buying anything from this seller unless you have ample time to get the product to you.

Alicia responded on Feb 22, 2016
Unfortunately, this item was lost in the mail and that was beyond my control. Upon being made aware of this I immediately issued a full refund and apology for any inconvenience. Customer did ask to have another created and shipped over night, and any other time I would have been happy to do so. However, I was in the middle of moving, everything was packed away and I would not have been able to create another that quickly not knowing where anything was. I explained this to the customer and apologized for being unable to make another. As you can see from my other reviews, I work very hard to provide excellent service and a great product!
This listing is no longer available
Shop policies
Last updated on
November 20, 2015
Welcome to my online shop! I work full time at an ad agency, but love to share my passion of creating things with others :) Please browse around and let me know if you have any questions. ~Alicia Rose
Accepted payment methods
Shipping
Please check shipping time listed per individual item. If you need sooner than time listed, please message me and I will do my best!
Refunds and Exchanges
Refunds available if item not shipped or item received was not as displayed. Although, since all items are hand crafted, there will be some slight variations, and refunds will not be granted for slight variations. No refunds available on custom orders.