Announcement HOLIDAY SALE
ALL PAINTINGS IN SHOP ON SALE!!
Nicolette Vaughan Horner
Unique Original Contemporary Modern Gallery Quality Textured Oil,Metallics and Acrylics, Palette Knife and Brush Paintings. Professional Abstract,Animals,Flowers,Figural,Trees,and Landscape Paintings in a fine art collector selection by internationally collected and published full time professional artist Nicolette Vaughan Horner originally from England.My paintings are known for being both touched with masculine and feminine features, thick rich texture, and most of all,lots of love and happiness goes in to each painting.
I recently suffered a very serious sudden loss in my personal life and I would like to thank so many of my customers for their wonderful kind words and deeds.I am now feeling stronger.
Every one-of-a-kind painting will come to you on high quality gallery canvas.All paintings come with a personally signed certificate of authenticity is signed, dated and comes to you ready to hang on your wall.
A note from Nicolette:
Welcome to my online gallery
I am a full time artist,I am originally from the UK and now reside in the beautiful state of Florida USA.I am doing what I love to do most in life,I feel truly blessed that God has given me this gift.
I treat every customer and every piece of art that leaves my studio with great respect,nothing is rushed,nothing is treated second best.
I use all professional packing materials to make sure your artwork gets to you safely wherever in the world you may reside.
********************************
INTERNATIONAL CUSTOMERS- please don't forget to include a reachable phone # in message box when checking out, it is required to go on the international shipping labels.

My paintings are made with love and happiness, I hope they bring your joy for a lifetime.
My art is on display in galleries and personal collections throughout the U.S.A. UK,Europe,Australia,and Asia,I also have art on display in many movies and TV shows.

I am thrilled to have had a selection of my art chosen to be in the 3D Warner Bros movie Dolphin Tale and Dolphin Tale 2 movies about hope and love,my favorite subjects.
Also check out my art on shows on TLC.

Shipping info domestic and international
Please just convo me for prices if not stated in listing.
***I am pleased to ship to most International locations including CANADA , UK and AUSTRALIA:
***USA: FedEx,UPS Ground Insured (expedited upgrades available)
*** Canada and UK: UPS ground insured (Canada) or USPS Priority Mail w/tracking Insured
***Australia: DHL or FedEx via Forwarder,I can only ship this way if the size restrictions will not allow regular carriers and shipping time will be approximately 7-12 depending mostly on customs.

**Please note**
Certain countries have size limits,and it is difficult to ship from the USA,please check with me before purchasing so that I can check for you.
I sell my original art online only on Etsy, a few select galleries around the world,and my website: www.nicolettevaughanhorner.com
I take extreme pride in each painting that I create,I spent many years at college studying art,and obtaining my degree.Art has been and always will be the passion and love of my life.

I treat every piece of art that leaves my studio with great respect,nothing is rushed,nothing is treated second best,I use all professional packing materials to make sure your artwork gets to you safely wherever in the world you may reside.
********************************
Announcement
Last updated on
Dec 1, 2016
HOLIDAY SALE
ALL PAINTINGS IN SHOP ON SALE!!
Nicolette Vaughan Horner
Unique Original Contemporary Modern Gallery Quality Textured Oil,Metallics and Acrylics, Palette Knife and Brush Paintings. Professional Abstract,Animals,Flowers,Figural,Trees,and Landscape Paintings in a fine art collector selection by internationally collected and published full time professional artist Nicolette Vaughan Horner originally from England.My paintings are known for being both touched with masculine and feminine features, thick rich texture, and most of all,lots of love and happiness goes in to each painting.
I recently suffered a very serious sudden loss in my personal life and I would like to thank so many of my customers for their wonderful kind words and deeds.I am now feeling stronger.
Every one-of-a-kind painting will come to you on high quality gallery canvas.All paintings come with a personally signed certificate of authenticity is signed, dated and comes to you ready to hang on your wall.
A note from Nicolette:
Welcome to my online gallery
I am a full time artist,I am originally from the UK and now reside in the beautiful state of Florida USA.I am doing what I love to do most in life,I feel truly blessed that God has given me this gift.
I treat every customer and every piece of art that leaves my studio with great respect,nothing is rushed,nothing is treated second best.
I use all professional packing materials to make sure your artwork gets to you safely wherever in the world you may reside.
********************************
INTERNATIONAL CUSTOMERS- please don't forget to include a reachable phone # in message box when checking out, it is required to go on the international shipping labels.

My paintings are made with love and happiness, I hope they bring your joy for a lifetime.
My art is on display in galleries and personal collections throughout the U.S.A. UK,Europe,Australia,and Asia,I also have art on display in many movies and TV shows.

I am thrilled to have had a selection of my art chosen to be in the 3D Warner Bros movie Dolphin Tale and Dolphin Tale 2 movies about hope and love,my favorite subjects.
Also check out my art on shows on TLC.

Shipping info domestic and international
Please just convo me for prices if not stated in listing.
***I am pleased to ship to most International locations including CANADA , UK and AUSTRALIA:
***USA: FedEx,UPS Ground Insured (expedited upgrades available)
*** Canada and UK: UPS ground insured (Canada) or USPS Priority Mail w/tracking Insured
***Australia: DHL or FedEx via Forwarder,I can only ship this way if the size restrictions will not allow regular carriers and shipping time will be approximately 7-12 depending mostly on customs.

**Please note**
Certain countries have size limits,and it is difficult to ship from the USA,please check with me before purchasing so that I can check for you.
I sell my original art online only on Etsy, a few select galleries around the world,and my website: www.nicolettevaughanhorner.com
I take extreme pride in each painting that I create,I spent many years at college studying art,and obtaining my degree.Art has been and always will be the passion and love of my life.

I treat every piece of art that leaves my studio with great respect,nothing is rushed,nothing is treated second best,I use all professional packing materials to make sure your artwork gets to you safely wherever in the world you may reside.
******************************** No items listed at this time
Reviews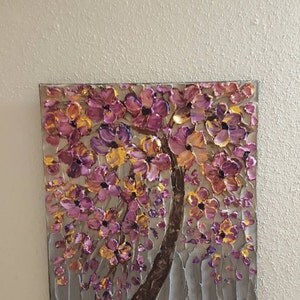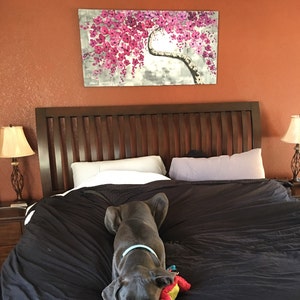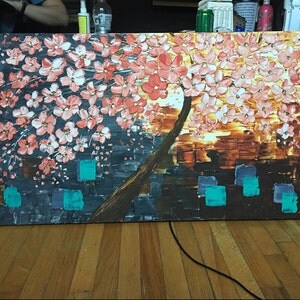 About
Palette knife art,unique designs in impasto oils and acrylics
Hello and welcome to my online gallery.I reside in the beautiful sunshine state of Florida.My paintings are created with palette knives and lots of thick impasto work.I only use the best quality paints and mediums so you will have your art for a lifetime to enjoy.
I am a listed,collected artist with collectors all over the world,UK,Europe,Japan,Hong Kong,China,Singapore,Saudi Arabia,to name just a few countries,and have sold over 2,500 paintings just online,plus many many sales through my gallery.
My paintings can be seen on TLC,in the movies Dolphin Tale and Dolphin Tale2 plus other Warner Bros movies,and one new one being released next year.
My art is totally unique,and I don't believe in staying with one style,why box yourself in when there is so much to explore.
You will not see me using prints as a base then over painting them and selling them as original paintings.My paintings are made completely by hand each one made with great care,your painting will not leave my studio until I am satisfied,yes,I am a perfectionist but I believe you work hard for your money,you should receive a good quality product.My canvas are all made of high quality canvas right here in the USA creating jobs for Americans.
I am so happy to have met such wonderful,kind people on Etsy,we all go through hard times in our lives be it health or other circumstances but if my art can make you smile and bring joy to you then I feel I have done my job,I have given back to you all the joy you have given to me.Thank you to all my collectors, you are a joy and a pleasure.
Shop members
Artmod-Nicolette Vaughan Horner

Owner, Welcome To My Online Gallery

Thank you so much for visiting my online gallery.I live in the beautiful sunny state of Florida.I hope you enjoying viewing my art as much as I enjoy making it.
Shop policies
Last updated on
November 10, 2016
Welcome to my online gallery,I hope you enjoy looking and purchasing my art as much as I love making it.If you have any questions you can email me at:
artmod at earthlink.net call:727 457 2054 or text me:727 4577157
Accepted payment methods
Payment
Payment information:
I accept payment via credit cards,Visa,Mastercard,Discover,American Express.I also accept checks(which must clear my bank before shipping takes place)Your payment is expected to arrive to me within 10 days if you are mailing a check.
Shipping
Shipping information:
Paintings will be shipped within 3-5 business days from receipt of payment,unless of course the painting is made to order in which case the time frame for shipping will be stated in the listing.Most of my paintings are shipped FedEx within the US,upgraded shipping is available on request.For smaller items(prints etc) I use USPS priority mail.For larger items shipping carrier will vary depending on destination.If you would like a tracking number for your UPS shipping please let me know and I will email it to you.
Refunds and Exchanges
Refunds and Exchanges
Returns: .Returns: My art is described accurately with color combinations stated in most listings,photographs are as accurate as possible.Variations are possible and colors vary from one computer monitor to another which makes it almost impossible for the painting to look the same on every computer. Returns are accepted if an artwork arrives damaged or in the case of accidental errors in my listing descriptions. I try to work with every customer to resolve any issues, but when no solutions may be available, my return policy is unconditional...
Exchanges: You can exchange artwork you receive as a gift for similar sized/valued artwork that is available in my shop, just e-mail me upon receiving and I will help you with the process.
No exchanges or returns on custom orders.
Please note:
I am not responsible for the customer not reading the information in the ad
All my listings are clearly written as Originals,Prints,Giclees etc.
Prints will arrive if stated in the ad ready matted for framing and in a clear protective bag. Please ask before purchasing if you have any doubt about what you are buying.

Customs, Duties, Brokerage Fees

Buyers outside the US are responsible for any possible customs and any related fees acquired in your home country regarding your shipment.
Additional policies and FAQs
Should you need any additional information please do not hesitate to contact me,I am here to answer any questions.I am a full time professional artist,this is a business to me,I want you to return as a happy customer,refer me to your friends,and enjoy your art from me,it comes from my soul and I want you to enjoy it:) Thank you once again for your interest in my art.