Announcement What is Baltic Amber and How Does it Work?

Baltic Amber is a resin that is like sap which formed over 45 million years old from the Baltic Sea region of Europe/Asia. It contains the highest quantity in nature (3-8%) of succinic acid, which produces its anti-inflammatory properties. When Amber is worn your body heat warms the resin then it releases its oil into your bloodstream to activate this healing powers.

How Amber can help your child?

Teething is a difficult process for infants, which can cost a fever, nappy rash, difficult sleeping, restlessness, drooling, fire red cheeks, pain and etc. Using an amber necklace to soothe a child's teething pain is a practice that been around the world for thousands of years. It also helps to calm ear and throat pain, growing pains and migraines.

Why you should choose us?

- We guarantee you the best price and quality

- Fast procedure while sending an order

- Good customer support gained thru experience

- Professional packing

- Large variety of styles, colors and sizes
Announcement
Last updated on
Oct 19, 2016
What is Baltic Amber and How Does it Work?

Baltic Amber is a resin that is like sap which formed over 45 million years old from the Baltic Sea region of Europe/Asia. It contains the highest quantity in nature (3-8%) of succinic acid, which produces its anti-inflammatory properties. When Amber is worn your body heat warms the resin then it releases its oil into your bloodstream to activate this healing powers.

How Amber can help your child?

Teething is a difficult process for infants, which can cost a fever, nappy rash, difficult sleeping, restlessness, drooling, fire red cheeks, pain and etc. Using an amber necklace to soothe a child's teething pain is a practice that been around the world for thousands of years. It also helps to calm ear and throat pain, growing pains and migraines.

Why you should choose us?

- We guarantee you the best price and quality

- Fast procedure while sending an order

- Good customer support gained thru experience

- Professional packing

- Large variety of styles, colors and sizes No items listed at this time
Reviews

Nothing!!! I placed my order on december 12, 2016 and still have not received it. This is ridiculous even for an international order. Do not order from them!!! I have tried to contact them with no reply!!

I love the quality of these amber beads and the package they were sent in were so cute!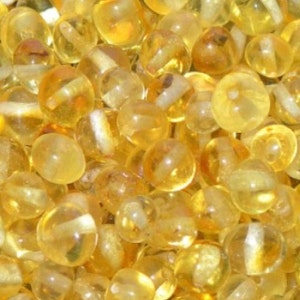 Beautiful high-quality beads! I'm very pleased.