Announcement MADE to ORDER - SMALL signs and Mini art blocks SHIP in 3 to 5 Business days. Larger signs will be painted and shipped in 5 to 7 business days. Signs that are going to be for Outdoor decor, will take 7 to 14 days for painting, curing and delivery.

I use a heavy body professional grade of acrylic paint that is UV Protective.

I apply a Sun Shield Wax as a finish on all the signs. If you want to put your art outside, I would recommend re-applying the Sun Shield Wax over the painting every few months to protect it from elements of nature. Thompsons Water seal is good too. You can get the Wax or the Water seal at Walmart or Lowes.

WATERMARKS SEEN ON PHOTOS WILL NOT BE ON THE ACTUAL PAINTING YOU RECEIVE.

We are a small Mom and Pop operation. I use a spare room in our house for my studio, but sometimes I venture out into the living areas of the home. I enjoy being where I can be close to the dogs and cook while I'm working too.

We appreciate the orders, as the extra chicken feed is good and it helps to pay for those darn paint supplies, they ain't cheep. So order now because you know the saying, "Here Today, Gone Tomorrow".

Susan and David Wymola
Announcement
Last updated on
Feb 6, 2018
MADE to ORDER - SMALL signs and Mini art blocks SHIP in 3 to 5 Business days. Larger signs will be painted and shipped in 5 to 7 business days. Signs that are going to be for Outdoor decor, will take 7 to 14 days for painting, curing and delivery.

I use a heavy body professional grade of acrylic paint that is UV Protective.

I apply a Sun Shield Wax as a finish on all the signs. If you want to put your art outside, I would recommend re-applying the Sun Shield Wax over the painting every few months to protect it from elements of nature. Thompsons Water seal is good too. You can get the Wax or the Water seal at Walmart or Lowes.

WATERMARKS SEEN ON PHOTOS WILL NOT BE ON THE ACTUAL PAINTING YOU RECEIVE.

We are a small Mom and Pop operation. I use a spare room in our house for my studio, but sometimes I venture out into the living areas of the home. I enjoy being where I can be close to the dogs and cook while I'm working too.

We appreciate the orders, as the extra chicken feed is good and it helps to pay for those darn paint supplies, they ain't cheep. So order now because you know the saying, "Here Today, Gone Tomorrow".

Susan and David Wymola The section doesn't exist
Reviews

Quick Delivery. Friend's birthday gift and I know she'll love it <3.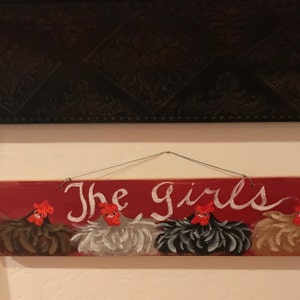 This is TOO CUTE! I love it. All of the little details. Very impressed. I'm sure we will order from you again. Thank you Susan.
About
My Story
I'm a Country girl Transplanted to Texas from New Mexico. My world of painting started when my daughter was one year old in the 70's. In Bedias, Texas, I took a class at the Civic Center. My teacher called it 'Country Painting'. It was actually decorative painting. I learned mostly from books and using patterns and instructions. I knew I would always Love painting. In the early 80's, I had a shop in Bedias,Tx, called 'The Hen House'. I taught classes there and My Mother was one of my students. My Dad cut wood and projects for our classes. My grandparents lived across the road from my shop. I remember going over to have lunch with them occasionally. My great Aunt and Uncle lived down the street and I would visit them for lunch sometimes too. My uncle made bird houses and doll houses and I would sell them in my shop. I have great family memories from my home town.
I think signs are always going to be popular, and there are endless ideas I still have in my head. When I started painting signs around 1989, I named my business 'This Board's For You'. My son was born that year and my daughter started College two years later. (I KNOW-Huge space of years between) I had to get busy making money somehow. Painting on old boards that were basically free was what I started working with. I like painting on lots of things but rustic weathered boards are my favorite. I try to find weathered wood, but I have to purchase new cedar when I can't find more weathered wood.
I like to paint many subjects, but Chickens and Flowers were my favorites that I could produce inventory very quickly, and they seemed to be popular. In 1995, I named my art business 'Cackleblossums'.
In 2005 I started designing painting patterns for others to learn, because I had people ask for my design/patterns of my Roosters and Chickens. 'Mr. Cackle' Rooster was my first design to offer.
I created more designs and was approached by the National Society of Decorative Painting magazine, to let them publish my designs. It was a thrill to get published!
My designs were in the July 2007 issue. I attended my first ever Painting Convention as a Vendor at the Houston Expo that year. It was fun, but I decided Conventions the stress of setting up a booth at shows was NOT FOR ME. Same goes for Art Shows. I am so happy we have Etsy, because I do NOT like the pressure involved in setting up at Shows. It is so much easier to sell online and Ship to my customers, and it's a HUGE WORLD WIDE WEB store where I can reach so many people right from the comfort of my home with dogs at my feet. I have been fortunate enough to meet wonderful shop owners who wanted to sell my art so that was a huge part of my income. I still sell wholesale. Inquiries please contact me at cackleblossums [!at] gmail.com
I do have a few listings that are Cheeper by the Dozen, shop owners or anyone who sells at shows can buy small quantities of signs and art to add to their inventory.
My Art has evolved into other directions, Mixed Media, Canvas Art, Watercolors, Abstract, etc. I just Paint what I Love and whatever mood strikes me in my own time frame, whenever I want.
Signs are still what people like so I will keep doing them as long as I can. My husband, David, is my #1 Partner in crime. He will do whatever needs to be done to keep the progress going. I like to paint lots of different subjects, but my customers have chosen Chickens to be my #1 subject!
When I am producing, I am Happy. Etsy sales keep me producing!
There are other websites that I am sure are great, but 'If It ain't Broke, don't Fix it',
which means I am doing pretty good here on Etsy, Why start another site?
Retirement? AGE is just a Number. Why would I ever quit painting? It's what I do. And I LOVE my job, and it's not WORK if you LOVE what you do.
Thank You for visiting my gallery. Tune in for changes in our adventure here we call LIFE.
Susan Wymola
Shop members
Susan Downey Wymola

Owner, Artist
Shop policies
Last updated on
October 3, 2016
I am happy to paint especially For You and Custom orders are Welcome.
Please convo me through etsy [contact seller] for any orders and custom requests. Please keep the messages in the same conversation and don't start a new message with each change or idea, so I can easily track the details and not miss anything.
Accepted payment methods
Accepts Etsy Gift Cards and Etsy Credits
Returns and exchanges
I do not have a refund policy. If an item arrives damaged, I will replace your item free of charge. I would expect photos and to be notified in a timely manner. I add insurance on all items to cover damage.
Payment
I accept all major credit cards and PayPal. You can use a credit card to pay for your order and you don't even have to have a PayPal account.
Shipping
In this busy rushed world, I have to take time for each painting and I am interested in Quality, not Quantity. I value my time and I like to make sure my customers like what I paint for them. I use USPS through ETSY billing. I ship Priority mailing, which is 2/3 days. If you are buying a gift for someone and you would like me to ship to them directly, just put the recipients name and address in the Send to box. I don't send an invoice. Your invoice will be in your purchase transactions.
Additional policies and FAQs
I paint original art and each one is hand painted, so the paintings will not be EXACTLY like the picture. I try to make it as close as I can. I Welcome Custom orders. Send me a note and I will reply and we can keep track of the conversation in etsy messages. Don't start a new message, keep it all together so I won't miss any details. I Love painting special custom signs so if you have phrases or ideas just send me a note and let's discuss Your special project.