Announcement Cape & Crown Creations is a formal clothing and accessory company based in Michigan. All my designs are professionally crafted by me and made in the U.S.A. I do everything from pattern creation to assembling the final product; these are not mass produced factory items. I began manufacturing my line of full-length satin/fur capes and matching muffs in 2006. Shortly after, I started taking special requests and custom orders. All fur used in my products is fake and made without harming any animals.
======= How to request Custom-Order Cape (RESERVED listing) =======
You must first contact the seller (Cape Maker) directly and request instructions for a RESEVED listing in your name (instead of buying an inventory item) . A custom-order requires a longer processing time and currently could take 3 to 4 weeks of waiting for cape(s) to be made according to your special measurements, colors and materials. Where all inventory items (any cape listed in my Etsy shop) have already been completely designed and no changes can be made to them.

================================
1.An Inventory item is what you can currently see in my Etsy shop and add to your shopping cart for immediate purchase
2.No changes can be made to the color, length or material of an Inventory item
3.Custom orders for all colors, lengths or materials are available by request before you buy
4.Ask me for Custom orders /RESERVED(can take up to 3 to 4 weeks ) instructions

================================

==============Good to know ===============
My capes are made according to body measurements; NOT according to age of a child or adult.
================================
=======Need RUSHED service ?====
By Paying a Rush-fee ($25 for the 1st cape + $10 for each additional cape ), your item can be processed and packaged faster, before it can reach to the post office.


====== Need Expedited Delivery by EXPRESS Mail? ===========
You may upgrade shipping by request (from Priority to EXPRESS) for an additional charge.
The buyer (YOU) must let me know if YOU need expedited shipping, and I can then revise the listing before you purchase, or invoice you by PayPal after you purchase the item.
Here are the additional charges you have to pay if you live in the following locations:
United States (1-2 days delivery) =$25 USD
Canada (5-7 days delivery) = $25 USD
Everywhere Else (5-7 days delivery) = $25 USD
==============================


As we head into the holiday season, please order as far in advance as possible to ensure that your items arrive on time. Currently the lead time for my products is 4-6 weeks. All capes are reversible, meaning they have two identical sides (both sides can be made in one or two different colors of your choice).
All capes are reversible (able to be turned the other way around);
Adult Female capes will fit sizes 6-18.
Adult capes are "one size fits all" and are not form-fitted to an individual's dress size.
================================
The following price list is in effect starting May 20, 2016
================================

About My Products: Over 20 different lengths, styles and variations
====== Adults- Female HOODED capes come in 9 different lengths ======
1) The Pageant-Train Cape
• Measures 96 inches from the shoulder to the end of the train.
• Shoulder to front hemline measures 52 inches.
• It is normally priced at $250.

2) The Semi-Pageant-train cape
• measures 83 inches from shoulder to end of train.
• Shoulder to front hemline measures 52 inches.
• Normally priced $220.

3) The Royal-Train Cape
• Measures 73 inches from the shoulder to the end of the train.
• Shoulder to front hemline measures 52 inches.
• It is normally priced at $195.

4) The Sweeping-Train Cape
• Measures 62 inches from the shoulder to the end of the train.
• Shoulder to front hemline measures 52 inches.
• It is normally priced at $165.

5) The Full Length Cape
• Measures 52 inches from the shoulder to the hemline all around.
• It is normally priced at $149.

6) The Knee-Length-cape
• Measures 45 inches from the shoulder to the hemline all around.
• It is normally priced $135.

7) The Mid-Length cape
• Measures 37 inches from the shoulder to the hemline all around.
• It is normally priced at $95.

8) The Hip-Length-Cape
• Measures 27 inches from the shoulder to the hemline all around.
• It is normally priced at $80.

9) The waist-Length-Cape
• Measures 20 inches from the shoulder to the hemline all around.
• It is normally priced at $65.

*******Junior Bridesmaid-Capes come in 2 lengths:
1) The Full Length- Junior cape measures 36 to 46 inches from shoulder to hemline. Normally priced from $99 to $120.
2) The Hip-Length- Junior Cape measures 26 inches from shoulder to hemline. Normally priced $70.
*******Children-Capes come in 3 lengths:
1) The Child-Cape measures 28/34 inches from shoulder to hemline. Normally priced $80.
2) The Baby-Cape measures 24/26 inches from shoulder to hemline. Normally priced $70.
3) The Infant-Cape Measures 18/22 inches from shoulder to hemline. Normally priced $60.

==============================


===== 4 style of neckline for capes =============


HOODED capes (Classic Bridal Capes with capacious hood for brides) are prices as listed above

NO- HOOD capes (with short collar) are available by request (Same price as hooded).

V-NECK capes (without hood or collar) are available for Pageant queens or Male/Grooms (Same price as hooded).

PETER-PAN collared capes are available by request (Same price as hooded).
================================

Attention:::: Faux fur trim is available in one color only, "Vanilla Mink." It matches closely to White as well as to Ivory.

=============================
~~~~ For Extra Warmth, please request FLEECE (for one side of your reversible cape) instead of SATIN ~~~~~~
FLEECE fabric is available in 3 colors (Ivory, White, Red + limited supply of Black & Pink) for additional fee of $15.
=============================
If requesting EXTRA LONG or EXTRA LARGE (size 20 or larger than 47-inch bust) cape, additional $20 fee will apply.

Also your Bust-Measurement and/or Over-Arm-Measurement will be required for an accurate fit.
==============================
Capes without-fur trim are available by order for %10 less than the normal price, based on the length.
==============================


******* Adult Male / Masculine Capes (with squared front or without fur trim) are available by request (prices vary)

==============================


======== FUR HAND MUFFS =======

All fur used in my products is fake and made without harming any animals.
The only color fur I use in all of my products is the "Vanilla Mink" color Faux Fur. It matches closely to White as well as to Ivory.


Not possible to line muffs with Fleece. There is enough insulation or batting between the fur layer and the satin lining.

1. Adult Muff (Hand warmer) = $20
2. Children Muff (Hand warmer) = $15

[[RUSH fee for multi order of muffs: Add $25 per first $60 order+ $10 for each additional $60.]]]

================================ =======
Warning: Under the Intellectual Property Protection Law, I forbid the use of any of my titles, descriptions, and especially the images of my products.

========== Need any cape FASTER / RUSHED =======
If you need my products during the busiest time of the year, you may have to request one or both of the following upgrades before purchasing any capes (meaning, you must FIRST provide some information in a message to me, then I can show you how to proceed):

A) Rush order upgrade ($20 additional fee + Normal price of the cape) this fee moves your order to the top of production schedule and reduces processing time (from normal 3-5 days to only 24/48 hours). This RUSH option will only get your cape finished, packed and ready for the next step, which is your shipping choice.

B) Shipping upgrade to EXPRESS USPS mail ($25 additional fee + Normal shipping fee to your destination) this will guarantee the fastest time in transit or delivery from my company to your address. With this upgrade your package will be delivered within 1-2 days for USA customers or in 5-7 days for International customers.
WITHOUT this upgrade, your package will take 2-3 business days for USA delivery OR 2-3 weeks for international delivery
==============
Announcement
Last updated on
Jan 28, 2017
Cape & Crown Creations is a formal clothing and accessory company based in Michigan. All my designs are professionally crafted by me and made in the U.S.A. I do everything from pattern creation to assembling the final product; these are not mass produced factory items. I began manufacturing my line of full-length satin/fur capes and matching muffs in 2006. Shortly after, I started taking special requests and custom orders. All fur used in my products is fake and made without harming any animals.
======= How to request Custom-Order Cape (RESERVED listing) =======
You must first contact the seller (Cape Maker) directly and request instructions for a RESEVED listing in your name (instead of buying an inventory item) . A custom-order requires a longer processing time and currently could take 3 to 4 weeks of waiting for cape(s) to be made according to your special measurements, colors and materials. Where all inventory items (any cape listed in my Etsy shop) have already been completely designed and no changes can be made to them.

================================
1.An Inventory item is what you can currently see in my Etsy shop and add to your shopping cart for immediate purchase
2.No changes can be made to the color, length or material of an Inventory item
3.Custom orders for all colors, lengths or materials are available by request before you buy
4.Ask me for Custom orders /RESERVED(can take up to 3 to 4 weeks ) instructions

================================

==============Good to know ===============
My capes are made according to body measurements; NOT according to age of a child or adult.
================================
=======Need RUSHED service ?====
By Paying a Rush-fee ($25 for the 1st cape + $10 for each additional cape ), your item can be processed and packaged faster, before it can reach to the post office.


====== Need Expedited Delivery by EXPRESS Mail? ===========
You may upgrade shipping by request (from Priority to EXPRESS) for an additional charge.
The buyer (YOU) must let me know if YOU need expedited shipping, and I can then revise the listing before you purchase, or invoice you by PayPal after you purchase the item.
Here are the additional charges you have to pay if you live in the following locations:
United States (1-2 days delivery) =$25 USD
Canada (5-7 days delivery) = $25 USD
Everywhere Else (5-7 days delivery) = $25 USD
==============================


As we head into the holiday season, please order as far in advance as possible to ensure that your items arrive on time. Currently the lead time for my products is 4-6 weeks. All capes are reversible, meaning they have two identical sides (both sides can be made in one or two different colors of your choice).
All capes are reversible (able to be turned the other way around);
Adult Female capes will fit sizes 6-18.
Adult capes are "one size fits all" and are not form-fitted to an individual's dress size.
================================
The following price list is in effect starting May 20, 2016
================================

About My Products: Over 20 different lengths, styles and variations
====== Adults- Female HOODED capes come in 9 different lengths ======
1) The Pageant-Train Cape
• Measures 96 inches from the shoulder to the end of the train.
• Shoulder to front hemline measures 52 inches.
• It is normally priced at $250.

2) The Semi-Pageant-train cape
• measures 83 inches from shoulder to end of train.
• Shoulder to front hemline measures 52 inches.
• Normally priced $220.

3) The Royal-Train Cape
• Measures 73 inches from the shoulder to the end of the train.
• Shoulder to front hemline measures 52 inches.
• It is normally priced at $195.

4) The Sweeping-Train Cape
• Measures 62 inches from the shoulder to the end of the train.
• Shoulder to front hemline measures 52 inches.
• It is normally priced at $165.

5) The Full Length Cape
• Measures 52 inches from the shoulder to the hemline all around.
• It is normally priced at $149.

6) The Knee-Length-cape
• Measures 45 inches from the shoulder to the hemline all around.
• It is normally priced $135.

7) The Mid-Length cape
• Measures 37 inches from the shoulder to the hemline all around.
• It is normally priced at $95.

8) The Hip-Length-Cape
• Measures 27 inches from the shoulder to the hemline all around.
• It is normally priced at $80.

9) The waist-Length-Cape
• Measures 20 inches from the shoulder to the hemline all around.
• It is normally priced at $65.

*******Junior Bridesmaid-Capes come in 2 lengths:
1) The Full Length- Junior cape measures 36 to 46 inches from shoulder to hemline. Normally priced from $99 to $120.
2) The Hip-Length- Junior Cape measures 26 inches from shoulder to hemline. Normally priced $70.
*******Children-Capes come in 3 lengths:
1) The Child-Cape measures 28/34 inches from shoulder to hemline. Normally priced $80.
2) The Baby-Cape measures 24/26 inches from shoulder to hemline. Normally priced $70.
3) The Infant-Cape Measures 18/22 inches from shoulder to hemline. Normally priced $60.

==============================


===== 4 style of neckline for capes =============


HOODED capes (Classic Bridal Capes with capacious hood for brides) are prices as listed above

NO- HOOD capes (with short collar) are available by request (Same price as hooded).

V-NECK capes (without hood or collar) are available for Pageant queens or Male/Grooms (Same price as hooded).

PETER-PAN collared capes are available by request (Same price as hooded).
================================

Attention:::: Faux fur trim is available in one color only, "Vanilla Mink." It matches closely to White as well as to Ivory.

=============================
~~~~ For Extra Warmth, please request FLEECE (for one side of your reversible cape) instead of SATIN ~~~~~~
FLEECE fabric is available in 3 colors (Ivory, White, Red + limited supply of Black & Pink) for additional fee of $15.
=============================
If requesting EXTRA LONG or EXTRA LARGE (size 20 or larger than 47-inch bust) cape, additional $20 fee will apply.

Also your Bust-Measurement and/or Over-Arm-Measurement will be required for an accurate fit.
==============================
Capes without-fur trim are available by order for %10 less than the normal price, based on the length.
==============================


******* Adult Male / Masculine Capes (with squared front or without fur trim) are available by request (prices vary)

==============================


======== FUR HAND MUFFS =======

All fur used in my products is fake and made without harming any animals.
The only color fur I use in all of my products is the "Vanilla Mink" color Faux Fur. It matches closely to White as well as to Ivory.


Not possible to line muffs with Fleece. There is enough insulation or batting between the fur layer and the satin lining.

1. Adult Muff (Hand warmer) = $20
2. Children Muff (Hand warmer) = $15

[[RUSH fee for multi order of muffs: Add $25 per first $60 order+ $10 for each additional $60.]]]

================================ =======
Warning: Under the Intellectual Property Protection Law, I forbid the use of any of my titles, descriptions, and especially the images of my products.

========== Need any cape FASTER / RUSHED =======
If you need my products during the busiest time of the year, you may have to request one or both of the following upgrades before purchasing any capes (meaning, you must FIRST provide some information in a message to me, then I can show you how to proceed):

A) Rush order upgrade ($20 additional fee + Normal price of the cape) this fee moves your order to the top of production schedule and reduces processing time (from normal 3-5 days to only 24/48 hours). This RUSH option will only get your cape finished, packed and ready for the next step, which is your shipping choice.

B) Shipping upgrade to EXPRESS USPS mail ($25 additional fee + Normal shipping fee to your destination) this will guarantee the fastest time in transit or delivery from my company to your address. With this upgrade your package will be delivered within 1-2 days for USA customers or in 5-7 days for International customers.
WITHOUT this upgrade, your package will take 2-3 business days for USA delivery OR 2-3 weeks for international delivery
============== No items listed at this time
Reviews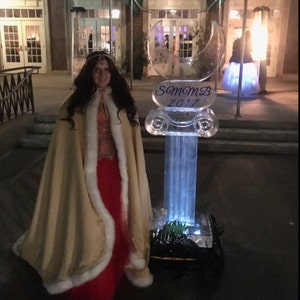 Amazing seller really helped my in a pinch and let me just say in -6 weather this really kept me warm. It was packed carefully and the seller was perfect on giving tracking information and care instructions. This is something I will use over and over again and I can't wait to have an excuse to buy her other colors ! Just wonderful

Wow! Not only did the cape arrive quickly, but it was exactly as pictured and incredibly well made! This was perfect for my Belle cape! The white fur lined cloak was full and beautiful! I felt like a princess! Thank you so much for the quality and care you put into my cape and for getting it to me so quickly! Would recommend the shop to anyone! FullSizeRender.jpg FullSizeRender.jpgFullSizeRender.jpg
About
Your story in one sentence.
How did you start your shop? How does it all work?
Shop members
Cape Maker

Owner, Maker, Designer, Curator

Cape & Crown Creations is based in Michigan. All my designs are professionally crafted by me and made in the U.S.A. I do everything from pattern creation to assembling the final products; these are not mass produced factory items.
Shop policies
Last updated on
December 19, 2015
I try to describe everything the best that I can and I usually take really good pictures. Fabric swatches are availble prior to placing your order.
Accepted payment methods
Payment
1) Payments by Paypal only:
I only accept PayPal, however Paypal allows customers to purchase securely via Credit or Debit card without creating a paypal account.
You can use a credit card without creating a Pay Pal account (see instructional link below).
http://www.etsy.com/storque/how-to/how-to-pay-with-a-credit-card-and-create-a-paypal-account-746/
2) Layaway Plan Details:
Layaway Plan Details:
We offer a 2 to 3-month layaway plan. Once I receive your request for a layaway order, I will compose a contract / quote and divide up your balance into 2 to 3 equal payments (50% to 33% down for each listing). Meaning, every month I will post a new listing for you until you make all of your 2 to 3 payments. Once you have paid 50% of your balance I will start making your order. The order will be shipped as soon as the balance is paid in full. The balance must be paid in full within 2 to 3 months. Also, there are no refunds for items on layaway.
http://www.etsy.com/shop/capeandcrown13/policy
Shipping
!!!!!!!Please read CAREFULLY before ordering for the Holidays or Special Events!!!!!!!

========= Speed of Shipping =======
If the item you want to buy is already available in my inventory (already listed in my shop), I will then ship out within 1-5 BUSINESS DAYS from time of purchase.
I ship all packages by USPS Priority mail (Domestic and International).
(2-3 days delivery in the USA)
(2-3 weeks delivery to all other countries).

========== Need any items FASTER / RUSHED =======
This is the busiest time of the year for my line of products. Many of my customers have placed their orders from 3-4 months ago and have been patiently waiting in line. The only possible way to receive this item any faster than usual is to request one or both of the following upgrades before purchasing this cape (meaning, you must send me a message):

A) Rush order upgrade ($20 additional fee + Normal price of the cape) this fee moves your order to the top of production schedule and reduces processing time (from normal 3-5 days to only 24/48 hours). This RUSH option will only get your cape finished, packed and ready for the next step, which is your shipping choice.

B) Shipping upgrade to EXPRESS USPS mail ($25 additional fee + Normal shipping fee to your destination) this will guarantee the fastest time in transit or delivery from my company to your address. With this upgrade your package will be delivered within 1-2 days for USA customers or in 5-7 days for International customers.
WITHOUT this upgrade, your package will take 2-3 business days for USA delivery OR 2-3 weeks for international delivery
==============

=======================
Duties for international buyers:
Import duties and taxes for luxury items are not included in the item price. These charges are the buyer's responsibility.
Before purchasing, please check with your country's customs office to determine what additional fees you have to pay your government to release your package.
These charges are normally collected by your country's customs (not by the seller) for IMPORTING merchandise from other countries .
Do not confuse these fees with shipping charges.
Refunds and Exchanges
Return policy
Satisfaction Guarantee: Your satisfaction is my #1 goal. If you are not happy with your purchased item within 2 days of receiving, you must notify me of the returning package and I will refund only your original price of the item (the shipping and handling-fees such as Rush-fee or Expedited-fee costs will not be refunded).

Gift Return Policy
Unfortunately, I do not offer any gift return policy. Meaning no returns will be accepted.
My reason:
Due to the nature of quick wedding ceremonies, every bride in the world would try to order capes for taking photos and then returning them for refund. In that case, I will be unable to run a profitable business. If you are a bride who is unsure about matching your colors, you can ask me to send you free color swatches before purchasing.
Please avoid purchasing from me if you wish to give it as a surprise gift to another bride. There will be no returns accepted in such cases.
Additional policies and FAQs
I have a full-time job in addition to capeandcrown13 , but will make every effort to respond to any questions within 1-2 business days.
======================
Michigan residents: No local pick-ups and no meeting in person is offered
More information
Last updated on
Nov 27, 2016
Frequently asked questions
How to request Custom-Order Cape (RESERVED listing)
You must first contact the seller (Cape Maker) directly and request instructions for a RESEVED listing in your name (instead of buying an inventory item) . A custom-order requires a longer processing time and could take (up to) 10 weeks of waiting for cape(s) to be made according to your special measurements, colors and materials. Where all inventory items (any cape listed in my Etsy shop) have already been completely designed and no changes can be made to them.
What is the difference between Inventory-Order vs. Custom-Order
1.An Inventory item is what you can currently see in my Etsy shop and add to your shopping cart for immediate purchase
2.No changes can be made to the color, length or material of an Inventory item
3.Custom orders for all colors, lengths or materials are available by request before you buy
4.Ask me for Custom orders /RESERVED(can take up to 4-10 weeks ) instructions
Need RUSHED service ?
=======Need RUSHED service ?====
By Paying a Rush-fee ($25 for the 1st cape + $10 for each additional cape ), your item can be processed and packaged faster, before it can reach to the post office.
You must contact me (Cape Maker) prior to purchase.
Need Expedited Delivery by EXPRESS Mail?
====== Need Expedited Delivery by EXPRESS Mail? ===========
You may upgrade shipping by request (from Priority to EXPRESS) for an additional charge.
The buyer (YOU) must let me know if YOU need expedited shipping, and I can then revise the listing before you purchase, or invoice you by PayPal after you purchase the item.
Here are the additional charges you have to pay if you live in the following locations:
United States (1-2 days delivery) =$25 USD
Canada (5-7 days delivery) = $25 USD
Everywhere Else (5-7 days delivery) = $25 USD
Can I order a cape based on age of child or adult?
Unfortunately, age is not enough information.
My capes are made according to certain body measurements; Not according to age of a person. Other factors such as height, body measurements (chest, neck, over-arm) and how long of a cape on that person - are also important elements when purchasing a cape.
Can I order a cape based on my bra size or pants size?
Unfortunately, NOT.
My capes are made according to certain body measurements; Not according to the size of your other clothing items. Other factors such as height, body measurements (chest, neck, over-arm) and how long of a cape on that person - are also important elements when purchasing a cape.
Custom and personalized orders
Please measure your child (or an adult person) from shoulder to top of their feet (for a regular FULL length cape) . In addition provide me with detailed information about your child (or an adult person) for capes that have trains . Here is what I will need from you to tell me:
1. Each child's height
2. Each child's measurement from shoulder-to-top-of-Foot (for front length of the cape).
3. Each child's measurement from shoulder-to-end-of-Train (for back, if needing capes with long trains).
4. Each child's measurement for around the chest.
5. Each child's age (whether this person is an adult or a youth).

In addition, I need you to provide the following information required before issuing a quote:
1. Your two choice of colors
Why you sent "Notice of Cancellation"?
Unfortunately, no changes can be made to the capes that are purchased from my inventory (Already have been designed and set to be shipped within few days).

I will cancel any inventory purchase with attached notes from buyer, asking me to make changes such as following examples:
-Please ship this item earlier that promised
- please change the color of this cape
- please make this cape shorter or longer
- please add Fleece on one side of this cape
-please send me 2 (or more) of this cape
-please make this cape with or without hood
........
Instead, customer should try to contact me in advance for a custom order cape.