Announcement Check out my newest items! Beautiful vibrant colors!

All my garments are Hand Made in the USA! Garments to make you say "This is Me!"

Wedding dresses need a longer turn around time... so ask/convo me before you place your order :)

Convenient Payment installments available!

If you need your garments very soon, please send me a convo first!

Everything in my shop is home made in my studio here in the USA!
All fabrics and notions were purchased at suppliers in the USA or my area.

Unique styles, Vintage, Traditional Cowgirl Western mixed in one!
Our Goal:
Clothes that will make you say... This is Me!

Please check our store policies concerning exchanges and refunds before you order.
Announcement
Last updated on
Jun 21, 2016
Check out my newest items! Beautiful vibrant colors!

All my garments are Hand Made in the USA! Garments to make you say "This is Me!"

Wedding dresses need a longer turn around time... so ask/convo me before you place your order :)

Convenient Payment installments available!

If you need your garments very soon, please send me a convo first!

Everything in my shop is home made in my studio here in the USA!
All fabrics and notions were purchased at suppliers in the USA or my area.

Unique styles, Vintage, Traditional Cowgirl Western mixed in one!
Our Goal:
Clothes that will make you say... This is Me!

Please check our store policies concerning exchanges and refunds before you order. No items listed at this time
Reviews

Words can describe how much I love this top, thank you Sandy for another beautiful garmet!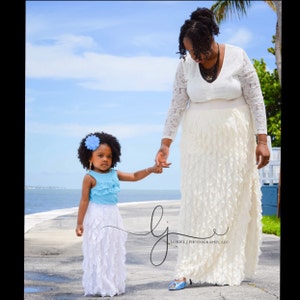 The skirts came out wonderful! My 2 year old daughter and I wore them for my 10th wedding anniversary photos. The fits were perfect and they were so comfortable. My daughter LOVED wearing her skirt, she didn't want to take it off!
About
From Kids clothing, jewelry and suddenly "I do..."
Sandy started her shop on Etsy in the summer of 2013.

In a nutshell, as a child, Sandy was one of those kids that was hand stitching clothes for her dolls and barbies and repaired her own clothes way before she even finished school;
As she wished to attend a trade school for creating and designing garments....
Designing was her dream!
With parents that did not believe in the qualities of a trade school, and all its good it has to offer she opted then for a school in the photography… Unfortunately those choices were to stay a wish that would not come true.

Working as an assistant or secretary in the world of offices, serving coffee and organizing dinners and lunches for CEO's, directors and executives was exciting, but not for long... and sitting behind a desk was really not what she wanted.

It was not until she started a family and had 2 daughters that she stepped away from that world to be at home and be a full time mom for her daughters.
When shopping for clothes for the little ladies, Sandy realized that the style and quality she was used to from her life in Europe was not easy to find here in America… And if it was, the price tag would be just too high.

It was out of sheer need and a tight budget that Sandy started sewing for her girls.
As her sewing career started on a kitchen table about 13 years ago she was soon receiving compliments from friends and strangers wherever they went.
Her unique style and incorporating lots of lace and romantic but unusual colors was easily to detect…
Born and raised in the Netherlands Europe, you will find touches of dreamy, beautiful countries as Italy, Spain, Ireland, France and Belgium, memories from her travels...
With camera in hand wherever they went... Soon requests to make garments or take pictures for her friends and of their children followed...

Boutique style garments made into personal handmade gifts for birthdays and baby showers were born!

Since then my family has grown!
I am Blessed to say that I have 6 kids...
And I can work from home doing what I have always wanted to do... Design and Create.

It is wonderful to see that we need to follow our dreams and what we feel inside.
Only then we can truly Bloom!
"I knew that a future behind a desk picking up a phone and typing all day was not really what I had in mind to do for the rest of my life".
My shoppe is all about who I am and what I enjoy the most!
"Love, Romance, Pretty things, Caring, family, Life...

This is truly a work of love that gets the whole family involved...
"My models are my daughters and the photo's are all taken by me"
I just felt that I knew best how to showcase my garments, so the best way to capture that was to do it myself…

I started by selling from my booth at a high end Marketplace/Romantic fair in Southern California...
Selling handmade Jewelry is what I started with on Etsy, but soon I decided to list as well my line of clothes for "little girls" and give that a try...
But Etsy already had so many wonderful designers that had gorgeous dresses for the special little girls out there!
As the demand for dresses and skirts for women grew bigger I gave those garments a try on my Etsy shop... when much to my surprise that took off, I had to choose... keeping my booth or continue with Etsy full time. I knew I could not do both...
I still miss not having a booth, cause I love to chat with my customers and feel and see the excitement when they enter the booth.

But what came next is something I did not even dare dream of...
In the fall of 2013 a bride to be insisted on me making her bridal attire for her wedding day!
Now she I am making dresses and skirts, beautiful garments that Brides will say those
two magical words in:
"I do…"

My garments were featured in Altered Couture Spring 2013
and Romantic Homes Magazine.
Shop members
Sandy Brown

Owner, Designer, Photographer

Hello this is me: Sandy. I love spending time in the city, that is where I get new unexpected inspiration then I take it home to the country and turn those ideas into unique designs.

Cheyenne

Model

Meet Cheyenne, my oldest daughter... She is one of my models for all the garments I design, but besides that she designs gorgeous tulle skirts for little girls. Science is her favorite and major subject!

Tyishia

Model

Introducing Tyishia ( pronounce Tie-eesh-shia), Tyishia is my second oldest daughter and for this shop she is my model. Besides that, she is a designer of amazing tulle skirts and is studying to become a "Make Up Artist"

Keturah

Little Princess, Model

And the youngest girl in my family! She loves to model all the skirts and dresses I make for our tiniest customers/flower girls! Also... she makes sure it is cuteness factor approved!
Shop policies
Last updated on
April 14, 2014
Thank you for stopping by at Sandy Brown designs/SBle Shoppe.
(SB stands for Sandy Brown - me as the designer.)
Where all items are unique and hand made.
We want you to have a great experience shopping with us.
That you are happy with your purchase makes us happy as well!

Mix Southern Western style some Vintage Flair and a Cowgirl, you will say "This is Me! Handmade items made with Love and Care!
Accepted payment methods
Payment
We accept Pay-Pal and major Credit Cards. We believe that this is a safe and secure transaction for both seller and buyer.
We like to serve you and understand if you need to make payments:
We welcome payments (50% when you order to cover materials needed and other 50% or last payment before shipping takes place).
Do not let your dream gown/garment pass you by...
Please ask us for payments if you need to, we really do not mind.

For Brides to be:
If you prefer to pay in payments:
Please understand that I can not start unless the first payment is received.
So we can purchase materials and supplies and schedule you in to start on time on your gown.
Once you paid you have reserved my time to make your garments.
Turn around time is needed because we work on more than one client at times and fit you in to make it work to finish each garment on time.
We will keep you up to date during the making of your gown.
Your gown will ship only when last payment is received and cleared.
Credit Card payments take longer to clear then Paypal.

Custom orders take at this moment 6 - 8 weeks. Unless otherwise noted to you.
As my shop is getting more and more popular the demand is getting higher and so my turn around time is also getting bigger.
I need this time to be able to serve you at my best.
We will start working on your order as soon as sizes/measurements and payments are received. We put a lot of care and our heart into making your items by hand. So we need this time of up to 8 weeks to get your custom order ready for you.
We will do our very best to get your purchased item(s) to you ASAP.

Sometimes I will receive orders that still allow 5 - 6 months before the Wedding day arrives.
Your deposit secures your place in my work schedule- this extends my turnaround time substantially for all other orders.
Also... it may seem still far away... however when your payment/deposit/down payment is received I start ordering your specialty fabrics and materials as well.
Since these items can be of a very personal nature I can not resell it as easy as other items.
Shipping
We always ship priority mail!

Your item will ship as soon as payment is received, if item is a "ready to ship order" Shipment will take place between 1 - 2 business days after payment is received by Sandy Brown Designs (seller). (Except for national holidays).
If you need an item at a specific date please send me a convo, so we can arrange something for you.


The item will arrive within 3 - 4 business days at your home.
All items shipped within the Continental of the U.S. will ship with tracking. We use USPS since we like and prefer their service, speed, and rates.

For Brides to be:
Wedding gowns will ship with insurance, confirmation of receipt, tracking.

For International shipping/items:
If you would like your item to ship with insurance but you are overseas?
If you would like this service, please write a note in the Message to Seller when you check out. I will send you an updated invoice from PayPal for the additional service.
Or I will make a special listing in my shoppe to add insurance to your order for you.

Orders that do not have a confirmed shipping address when you place an order will be canceled and payment will be returned to sender.

Shipments outside the Continental of the U.S. will require additional costs and insurance will be the responsibility of the buyer.
If you would like to have insurance for your order please send me a convo and I will make a special listing in my shoppe to add the cost of insurance to your order for you. Tracking is not possible for orders placed outside the U.S.

Your satisfaction is important to us.
If the item arrives as damaged, please send photo of the damaged garment and parcel attach it to a convo so we can help you with the issue.
Refunds and Exchanges
Please check the tracking of your item!

Please read store policies before placing your order.

All items are thoroughly checked before shipping.
We will not refund, but we will work with you to fix the problem or offer another item of the same or better value.
Please do note that if the item is not available at that time, we will make another item and we will need at least 3 - 4 weeks (sometimes more), because it becomes then a custom order.
However we believe that quality is important and we need this extra time to guarantee that to you. We are not a mass production business.
All items are made by hand or customized by hand at our home in a pet and smoke free environment.

Returns:

I can not guarantee "a look" on my customers.
An item you picked/purchased may or may not look the same on a customer as it does on our models.
All sample garments are made to the measurements and build/posture of our models, to ensure a great fit and perfect look on that model.
Therefore just because it looks different than expected we can not except exchanges for that given reason.

Please measure yourself or ask for measurements before you order.
Better? Grab a friend and have help to measure all areas that are needed.
Custom made items can not be returned or exchanged. Unless the mistake has been made by us (as the seller)
Custom made clothes are made by the measurements the buyer provides to us the maker/seller.
Returns or exchanges are rarely given and are evaluated case by case.
However:
We do not cancel custom orders or give refunds on custom orders.
Simply because custom orders are made upon your request and by the measurements a client gives me/seller.

Please understand that ordering online and long distance can only be done by great communication and accurate measuring.
We strive for a good/perfect/great fit! However we can not control weight gain, or errors that were made due to a mistake in measurements that were given.
You may have to keep in mind to have your garment undergo some minor alterations. Example: As in shortening a hem.
We do not refund alteration cost.
Additional policies and FAQs
Our goal is quality and care from the heart. As if we make it for ourselves.
All our products are made in a smoke free and animal free environment.
Customized denim jackets are pre washed before we ship them to you.
Since denim jackets are gently used and recycled/up-styled.

BRIDES TO BE... (Washing of Fabrics)
We purchase for our wedding dresses new fabrics. However we do not wash the fabric before we make it.
We have used the fabrics for our own clothing and sample gowns and have experienced how it reacts to several washings.
The fabric we use is a high quality fabric and easy in care if directions are followed properly.
To prevent allergic reactions to detergents we use, we decided to no longer pre-wash the fabric.
Also by not pre-washing your wedding gown the gown will still have a gorgeous pressed and brand new appearance.
All yardage is accurately checked on stains and cleanliness.
Some fabrics used for your wedding gown may be dry clean only.
Taffeta and laces.

SAMPLE GOWNS:
You will find wedding gowns in our shop ready for immediate shipping...
These gowns "are" washed and gently pressed before they ship to you.
The gown is brand new, but has been worn by "one" model.
We do not allow smoking and pets in our home and our studio!
Sample gowns are priced different then a custom order/gown that has added details and such.
It speaks for itself.
Sample gowns are the designers first creation/design to showcase in this shop.
A sample gown is made/designed and created in our own time/speed and by our choice of size.
When we choose a size for our samples it usually is a custom size to fit the model or a Medium size.
Medium works well for a sample gown since that is a size that still fits most, or is easy for us to alter to smaller or shorter.
The pro side of a sample gown:
If you have a size medium you purchase a brand new wonderful gown for a great price that is ready for immediate shipment.

FOR CUSTOM WEDDING GOWNS:
You can give us your inspiration photo's and share ideas accordingly to the inspiration gowns/sample gowns you saw in our shop or another shop.
For these changes we will set up a new listing and additional costs may apply.
Do note that sharing your inspiration photo does not mean I can make it exactly the same. I do try to get as close as possible to your inspiration.
I WILL NOT EXACTLY COPY ANOTHER DESIGNERS WORK!

We prefer that you give us 2 - 4 months turn over/turn around time from the moment you order (first payment is placed/received).
Just clicking "Request a Custom Order" is not ordering.
We do not work for 4 months straight on your gown, we prepare, purchase materials, plan, sketch, on your gown until it is ready for shipment.
Sometimes a fabric is not in our studio and then it needs to be specially ordered for you, the customer.
We like to ship your gown at least one month 3 - 4 weeks before your wedding date.
That gives you "the client" still plenty of time to do your fitting and you will have your gown in "on time".
We do not like to rush your order.
When you need to rush an order, please let us know before you order and we can make a special listing for you and plan in a turn around time that will work for you.
However, rush orders may need to take place, it is not recommended since it limits your time when you may need to have some alterations done.


GIVE US YOUR WEDDING DATE:

When you order please leave us your wedding date and all measurements at note to seller at checking out. Without this information we simply can not start.
Sometimes we will need additional measurements for a particular gown.
We love pictures of our Brides to Be... it makes it easier to work and take care of "problem areas".
Even for purchasing your fabric we need to know your measurements to purchase the right amount of yardage.


SHARE YOUR WISHES WITH ME:

It may sound weird, but please share your wishes with me.
If you feel you have a very heavy chest and rather not show it too much let me know.
But also let me know if you have areas on your body or shape that you really appreciate and love...
By letting me know I can pay extra attention to those area's and I will know what you like best.

CARE:

We believe that handmade clothing is as good or better than store bought however for longer life of your garments we think and advise that you use handwash/delicate cycle on your machine and NO bleach (Please do not use top loaders with agitators) and line dry. Most of the garments will have drawstrings, precious and delicate lace and/or handmade fabric covered buttons they will not last in a top loader washer or dryer.

For our Jewelry we work with several natural products and color or size may be slightly different from each other. (No pearl is the same.)

Please note that the color of your computer screen can be slightly different of the original colors of the items/listing. Still they are gorgeous!

I appreciate your positive feedback so my shop can grow!
We thrive to deliver a safe, fun and memorable experience while you shop and our goal is to give you the feeling you walked into a boutique.

My goal is for you to be satisfied with your purchase if you have any concerns or dislikes please contact us before leaving your feedback, so we can work on solving the issue for and with you! - We appreciate it.

We know that this is a lot of info to take in...
However... Now we can start on your order!

Thank you and Welcome to your boutique online!

Sandy Brown designs - This is Me...

Vintage Flair of the Past with Today's Love and Care and a lot of Country Charm!