Reviews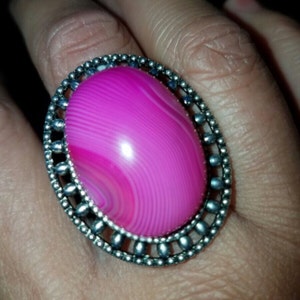 I ordered this item for a friend and she loved it. I'm posting her review and a pic of it on her. This ring is absolutely stunning. The color saturation, the pattern of the agate is simply phenominal. It's beyond beautiful. This ring is large, feminine, well made and gorgeous. There are not enough words to describe this beauty. Shipping was fast, and Charis is a sweetheart. Thank you Charis!!!

Amazing bracelet! It is beautiful and a unique gift that was appreciated by my stepmother.

Beautifully made! My 12 year old grandson loved it!
About
Bringing the Beauty of Bolivia to You
~~~ FREE SHIPPING anywhere in the USA on orders over $50.00. Just enter coupon code SHIP50 at checkout.

My name is Charis. I'm a translator/interpreter by profession and also the owner and webmaster of www.BoliviaBella.com, the world's largest English-language website about Bolivia for tourists and expatriates. More about me: https://www.etsy.com/people/CharismaBolivia#

I'm always looking for new and unique ways to tell the world about Bolivia, and one of the things I love about this country is its incredible ability to preserve its cultural heritage through art, music, festivals and an amazing array of artisans. Bolivia is known worldwide for its weavers, painters and artisans. Unfortunately, Bolivia is still a developing country and its artists, musicians and artisans have a hard time making a living that is sufficient enough to support their families.

In 2011, I approached a woman who made and sold jewelry on a little table on a sidewalk in the tropical city of Santa Cruz in eastern Bolivia. I'd seen her there for years and sometimes purchased from her and we always had friendly chats. Her handiwork was always a cut above the rest, but she used the same materials that most other artisans use for tourists (leather, seeds, nuts, pottery, aluminum wire, twine, etc.). I was about to make a trip to the USA and wanted to take some jewelry as gifts, but I wanted something more high end which would, at the same time, allow people to see the beauty and quality of the handiwork of Bolivian artisans. So I asked her, "If I purchase gems and stones, and all the materials needed to make a higher quality of jewelry in a completely different style than you are accustomed to, and if I design some pieces myself, can you assemble them for me?" She took me up on my challenge and for the next few months she came to my house every Saturday and taught me to make jewelry while also assembling pieces I designed.

We loved our Saturday afternoons together, became fast friends and had a lot of fun! She was happy too because I paid her per piece at prices above what she normally made with her tourist jewelry. She was also learning new skills as we progressed because she had never worked with the types of designs I was creating or used the materials I was purchasing. Each time we finished a piece, she would look at it in awe, many times saying "Did I really make this?" or "I never knew I could create something so beautiful." She told me she felt so proud of herself, something she'd never felt before! She was also really happy because she was earning above average, and with five children under 10 years of age, it was making a big difference in her ability to feed and clothe them. I... on the other hand, discovered that I absolutely LOVE to design jewelry, but don't necessarily like to assemble the pieces. I'm too hyperactive! I get completely overstimulated by all the colors and textures and I just can't sit still long enough and don't have the patience needed to assemble jewelry... LOL.

That's when I decided this could be a way not only to show the world what Bolivian artisans are capable of, but also to give back to the community that I live in. If Viviana could increase her income five-fold, other women could do the same. And that's when I established Charisma Bolivia as a company, designed a logo, and put together a business plan. Visit this page on my website to see why I chose the name Charisma as my brand (and it's not just because it's derived from my name). There's a reason I only make one of each piece: like each of us, each piece of jewelry available for sale is matchless and unique.

www.boliviabella.com/charisma.html

I design each piece using locally available materials and Bolivian artisans put them together. They are not my employees. Each is an independent self-employed artisan. My goal is to eventually earn fair trade certification for our work. You can feel comfortable knowing that when you purchase Charisma handcrafted Bolivian jewelry, you are helping to greatly improve the living conditions of a Bolivian artisan's family. I hope you will enjoy wearing them as much as we love creating them for you.

View our current collections here: http://www.charismabolivia.etsy.com

Charis
Shop members
Charis Irena

Owner, Designer

I'm American but grew up overseas, mostly in South America. Here's my story: http://etsy.me/1gB09pD
Shop policies
Last updated on
February 11, 2016
I personally designed each one of the jewelry pieces you'll see online. I love all things that are beautiful in a natural way and I'm fascinated with the colors and textures nature gifts to us. When you wear the jewelry I've designed, I want you to feel beautiful and worthy of admiration... not because you are wearing them, but because you believe in yourself. Each has been affectionately handcrafted and, like you, each is matchless and unique.
I design each piece using locally available materials and fairly employ Bolivian artisans to put them together. You can feel comfortable knowing that when you purchase Charisma handcrafted Bolivian jewelry, you are helping to improve the living conditions of a Bolivian family. I hope you will enjoy wearing them as much as we love creating them for you. Charis
Want the full story? Visit this page to see why I created Charisma Bolivia and how Bolivian artisans are earning a living by helping me make our jewelry:
https://www.etsy.com/shop/CharismaBolivia/about
Accepted payment methods
Payment
- You may pay for your purchase using a credit card, PayPal, or Etsy gift card. Easy!

- Our items are shipped within 1-3 days of purchase (usually, within 24 hours). Zoom-Zoom!

- Because we're so speedy, if you need to cancel your order for any reason, please do so within 12 hours of purchase.

- If you cancel your order after your items have shipped, we will ask you to return the items to us by mail within 7 days, with return shipping costs at your expense. We'd rather you didn't have to incur that expense because... ouchies!

- If we mailed your order before the 12-hour cancellation deadline, and you cancel your order, return shipping is on us!

- By purchasing for our shop, you agree to the above terms. Translation: you think we're awesome.

Thanks! The feeling is mutual =)

If you have any questions, please feel free to send me a message BEFORE you make your purchase. Just click on the blue CONTACT SHOP OWNER button.
Shipping
We do not mail your items from Bolivia. ALL ITEMS are mailed worldwide from California, USA. This enables us to offer you faster, more reliable shipping at a lower price to you.

WANT TO SAVE ON SHIPPING RIGHT NOW?

Get FREE SHIPPING on all U.S.A. orders over $50.00. Use coupon code SHIP50 at checkout. (Includes Puerto Rico, Alaska, Hawaii, US Virgin Islands, and other US territories serviced by the U.S. Postal Service.)

All USA and international shipping prices listed are via USPS (United States Postal Service) regular mail service. Shipping times vary depending by destination.

On international orders, shipping covers mailing costs only. They do not include or cover any customs fees your country may assess. A customs tracking number is provided, but you are responsible for any customs fees your country's authorities may charge. We cannot quote how much you will pay in customs fees, as each country's fees are different.

UK BUYERS: The UK postal system will assess a customs fee upon any package valued over £15.00 - please be aware that you may have to pay customs fees at your local post office, who will hold your package and not deliver it until you have done so.

INTERNATIONAL ORDERS: We cannot track packages mailed overseas once they have left U.S. territory and entered your country's postal system. Please be advised that we cannot be held responsible for, nor can we issue a refund, on items that are held by your country's Customs officials, or lost by your country's Postal Service.

AVERAGE SHIPPING TIMES (from date of shipment):

Within the USA:
Up to 2 weeks (usually takes 3-5 business days)
To Canada:
Up to 4 weeks (usually takes 10 business days)
Overseas:
Up to 6 weeks (usually takes 10-15 business days)

These are estimates based on my experience and are not to be taken as a guaranteed amount of time for your package to arrive.

Please contact me BEFORE you place your order if you would like a tracking number, insurance, or faster shipping method as the cost of these services will be higher.
Refunds and Exchanges
Returns and refunds minus shipping will be considered on items that are damaged upon arrival. Please contact me in the event this occurs. Items must be returned within 7 days for a refund. Charisma Bolivia cannot be held responsible for lost or stolen goods and cannot replace a returned item as we only create ONE of each item.