Reviews

Thank you so much for your great design! The event was successful!
Surbhi was wonderful to work with! She took the time to really listen to my vision and get a sense of my style, which she totally captured in my custom design. I'm so pleased! She was super-responsive throughout the whole process and turned my logo around in quick order. Many thanks!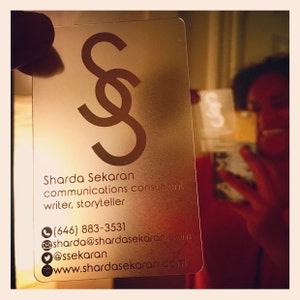 Super professional and great to work with! Excellent quality of work! Thank you Surbhi! I love these cards!
Shop policies
Last updated on
January 17, 2017
Welcome to my end of etsy-land! I am here to make your etsy store grab eye-balls! Let me help you market your store effectively.

MY PROMISE: It is my job to understand, interpret, and graphically convey your store's personality in a way that is honest, unique, and memorable. I take this promise very seriously - and do my best to help you build an everlasting business identity.

NEW PROMOTION : Like me on FACEBOOK:
http://www.facebook.com/colorfiesta OR
Follow me on TWITTER : https://twitter.com/colorfiestagfx
Leave a message on my wall/email me/tweet me, and get a MYSTERY COUPON code...Shhh!

STORE HOURS: M-F: 10AM-3PM PST, Saturdays, Sundays and holidays closed.
Accepted payment methods
Accepts Etsy Gift Cards and Etsy Credits
Payment
PAYMENT : I do not begin designing till items have been paid for, in full. Cleared payment is expected within 7 days of transaction. If you are non-communicative for that long, I will cancel the sale, and relist the item.
You have the following options of payment -
1. Google checkout(PREFERRED) : You can use your PayPal debit card and Visa, MC, AMEX and Discover credit cards to pay for your purchase. Just choose "Other" for your payment, mention google in "instruction to seller" and I'll email you a Google Checkout invoice.
2.PAYPAL : I am a Paypal verified merchant, so buy with confidence!
3.Cashier's check/Money order : Choose "Money Order" as payment selection and remit payment to address specified. I will deliver only after cleared payment.
TERMS OF USE: I reserve the rights of usage of my files. If you have purchased a banner design from me, and want to use(or modify) a part of it(or whole), in another design, lets say, your business cards or use it as a blog banner - STOP RIGHT THERE! Sorry for being loud - but its important that we get this clear :-) Please contact me to modify/alter/develop new designs matching any previous design. I always keep your work on file - and back it up too!
PRINTING: I do graphic design only. I can recommend a number of professional websites for all your printing needs. I recommend Mo at
printforbrand.etsy.com
and Dianna of
customcouturelabelco.etsy.com
- both printers offer high quality printing services at reasonable costs, right here on etsy!
PREMADE DESIGNS: I am offering here, some prefabricated designs as well, whose prices depend upon the amount of time I spent on the design.
COMMUNICATION: I'm online most of the day - every day. I normally have lots of questions for clients, so I am able to deliver your design ideas as accurately as possible. Unless the design discussions are complete, I do not proceed to design.
TURNAROUND TIMES: Most turnaround times can be found in descriptions, but if you're in a tearing hurry, please contact me before purchase. I can expedite your order for a small fee! I handle multiple design projects, sequentially and will inform you about the order in which I will be handling your design items.
SAMPLES: I do not provide any samples to proof before the final product is delivered. If you want samples, please purchase a logo design.
EDITS/UPGRADES: I have some listings with unlimited free edits. Besides those, edits are charged on case by case basis. If the modifications you require are minor, I do it free of charge. If it is a substantial rework, I will quote as required. I urge you to give me complete and clear specifications from the get-go to avoid any rework.
ONE ROUND OF UNLIMITED EDITS: This means that edits following the first draft delivered to you, are done free of charge. All the edits must be in one email following the sample, and it does not matter how many they are.
EDITS: What are edits? Edits are simple changes like color, layout, typography and removal or replacements of design elements. I will NOT redraw portions of drawings in my round of free edits. Please understand this policy before purchase.
EDITS AFTER FIRST ROUND: Only at Color Fiesta, will you find that edits in the first email following the design are free. I have found this method most effective in delivering to the clients needs, you should not have to pay for "fine tuning". Beware of professionals offering 2-3 revisions with their designs, they have "hidden costs"! Edits after the first round are almost never needed, but charged nominally on case by case basis, you are always taken care of at Color Fiesta.
FAQ ABOUT EDITS: What is the difference between ONE ROUND of unlimited free edits AND unlimited free edits?
Unlimited free edits means that I will do as many revisions as required to make you happy. One round of unlimited free edits means, that as long as you send me all(any amount) revisions, in one email, I will do it, free of charge. I do have listings with unlimited free edits and one round of unlimited free edits, and the price reflects that. Most professional graphic designers will start charging for edits right after the first draft, and I personally, do not agree with that philosophy because I feel that clients need at least one visual representation of their ideas before knowing exactly what they want. I find this process insures your satisfaction!
Shipping
Shipping is free and electronic. Since I do graphic design, I deliver high resolution JPEG/PDF image files, to the email address provided to me via etsy. If you require any other format for example, a .png or a .pdf file, feel free to request.
Refunds and Exchanges
REFUND AND CANCELLATION POLICY: Once purchase is made, it is a binding contract. Due to the custom nature of my products, I cannot offer refunds, because my time cannot be uncompensated. I work with my clients, very patiently and often go out of the way to accommodate requests. If you are not sure of what you are looking for, I am offering most listings with UNLIMITED FREE EDITS, which guarantee satisfaction. After the first round of free edits, if you are still not satisfied, I will quote based on the scope of the new upgrades you require. Your satisfaction is my goal and my promise. I also reserve the right to refuse service.

If work has not been started, but a round of communication has happened, and you choose to cancel, I will charge 15% processing fee and 85% of the project fee will be returned. Please understand and ask questions before you purchase, once a project starts, and I start committing my time to it, a full refund is not possible. If any digital artwork file has been submitted, there are no refunds at all. Please understand this policy before purchase.

NON-COMMUNICATION: I send out a design questionnaire via convo right after a design has been purchased. Unless otherwise notified, I wait upto 15 days, to cancel the sale and re-list the item on basis of non-communication. If you have abandoned our communication mid-way, your payment is forfeited in a 2 month time period. Your inputs are vital to the design process, I cannot make you a design without knowing what you want!
Additional policies and FAQs
CUSTOM ORDERS: I welcome any kind of custom orders! If its graphic design, I do it! Just send me the file dimensions required and I will be happy to quote.
USING YOUR PICTURES: Please note if you provide me with an image file to use on your designs, I assume you own the copyrights to the file. If you do not, please refrain from using it. You can be held liable for copyright infringement.
LOGO DESIGN: A logo design is the best way to give your business an identity! I can draw up a logo design unique to your business for 59.95. This includes one sample concept, and one round of free edits on the sample of your choice. I deliver the final logo in raster/bitmap formats. It includes the logo in 3 different dimensions, a transparent png, and a high resolution jpeg(300 dpi - perfect for print) for you to use on your promotional and marketing merchandise. If you need them vector master file, it is also available at an additional charge.
SMALL-SCALE ILLUSTRATION: What is an illustration and how is it different from a logo design? A logo design consists of a graphical and a textual element. The graphical element is small, simple and must be scalable upto a 1" square size. Hence, we try to keep a logo as symbolic as possible. A small-scale illustration need not be scalable, it is a visual representation of a drawing, and can bear details. My definition of small-scale is upto 5"X5" maximum dimensions. If you are unsure of whether your project is an illustration or a logo, please contact me with details before purchase.
RIGHTS OF USAGE: I reserve the rights of design elements used in my files. For example, if you purchase a logo design, you will receive your final flattened logo design only, not it's layers, or in PSD, AI or an editable format. If you'd like matching designs to your logo, or need to edit it in the future, I can always help you with that! If you need your master files, please contact me for a quote.
SAMPLE PRICES*: (For single sided, full-color, static files)
Banners/Avatars(etsy) - 12.95, 4.95
Etsy Banner and avatar combo - 15.95
Etsy Shop Icon - 12.95
Etsy Cover photo/header - 29.95
Reserved/Custom listing graphic(etsy - 550pxX550px) - 16.95
Banners/Avatars(outside etsy) - depends on size
Premade etsy banners - priced depending on time it took to design them
Business cards(single sided) - 34.95
Business cards(double sided) - 44.95
Moo cards - 19.95
Postcards(4"X6") - 39.95(single sided), 54.95(double sided)
Bookmarks(2"x5") - 34.95, 49.95(double sided)
Bookmarks(2"x6") - 39.95, 54.95(double sided)
Coupons(2"x3.5") - 18.95
Round sticker(upto 2") - 19.95
Round sticker(upto 3") - 29.95
Round sticker(upto 4") - 39.95
Notecards/greeting cards/thank you cards(upto 5"x5") - 29.95
Budget Logo Design - 59.95 : 1 sample concept and 1 round or free edits
Basic Logo Design - 79.95 : 2 sample concepts and 1 round of free edits
Premium Logo design - 129.95 : 2 sample concepts and unlimited free edits
Deluxe Logo design - 199.95 : 4 sample concepts and unlimited free edits
Small Scale illustration - 99.95 with 1 round of free edits
Patch design(4"x4") - 64.95
Address labels - 16.95
Clothing labels(upto 2.25"X2.25") - 24.95
Folded clothing labels - 34.95
Hang tags(upto 3.5"x2") - 34.95
Letterheads(8"X1.5") - 29.95
General Labels(upto 5"x5") - 24.95
Notepad(2"x2") - 19.95
Brochures - contact me with size, and no. of pages
Background tiles(100x100px) - 4.95
Tshirt design(4"X6") - 49.95
Small-scale illustration(only face and neck) - 99.95
Medium-scale illustration( full person/animal in activity - no details) - 129.95
Full-scale illustration(full body) - 199.95
Booth Banner design(upto 2'X6') - 64.95
Animated ads - $3 per frame less than 100x100px. $5 per frame for upto 500X500 px frames. $8 per frame for upto 1000X1000 px.
Web Design - $25 per hour, or contact with web page scope for quote.
*subject to change without prior notice.
MODIFICATIONS : These are estimates, please contact with scope for actual charges.
Website "fixing and repair" - $10/page/change(depends on scope)
Blog "fixing and repair" - $8/page/change(depends on scope)
Banner "fixing and repair" - $5 (depends on scope)
Photos "fixing and repair" - $2/pic(depends on scope)
Watermarking artwork - $2/pic (depends on scope)
Convo or email me at colorfiestagraphics [!at] gmail.com for pricing quotes for graphic design work not listed here. I also do full blown graphic design packages at discounted rates.
HOW IT WORKS: All payments must be made in full prior to designing. Also, I tackle projects in sequence of cleared payments received, and not the orders themselves.
STORE HOURS : I am a workaholic in the PST time zone, so there are no typical store hours. However, I do "try" to take weekends and major holiday's off.
Please visit my other stores for more info about my glass art.
http://colorfiesta.etsy.com/
www.colorfiesta.com