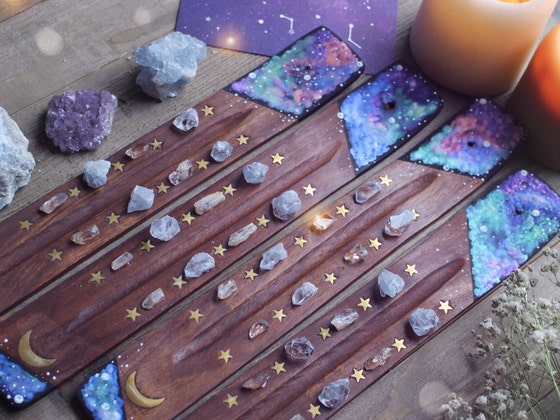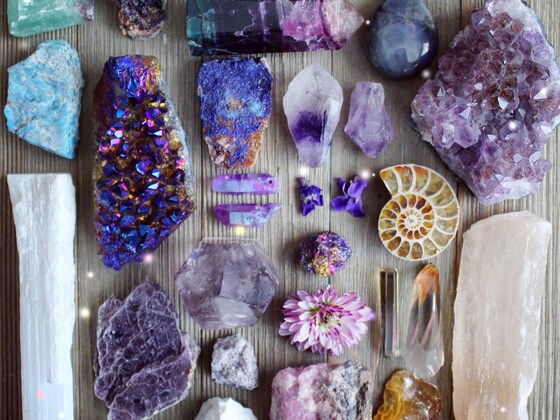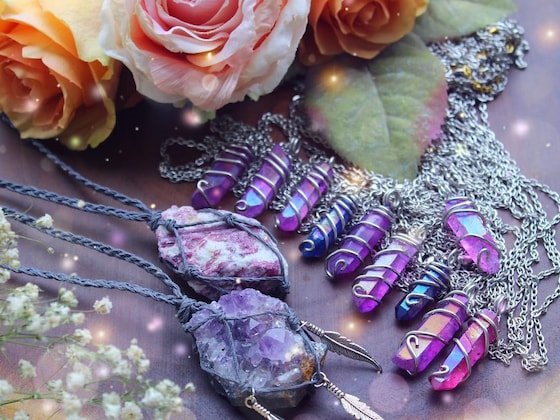 Announcement CELEBRATING 9 YEARS IN BUSINESS (Thank You!)! Hello and welcome to Crystals & Creations! Sign up for my email list at crystalsandcreations.com for your FREE introductory guide to working with crystals. Keep reading below for important information about this shop:

***Please allow extra time for shipping (up to 3 or 4 weeks in some cases) due to the sick season- I have 3 kids and we are all alternating being sick off and on. I apologize for any inconvenience this may cause, I am doing my best to ship orders and respond to messages as quickly as possible. Thank you for understanding.

***Etsy encourages shops to offer free shipping and include that cost in the item price. So while many items say free shipping, you may notice the prices are higher than they were prior to free shipping. This is due to the cost being included in the price as per Etsy's preference. Unfortunately there is no such thing as actual free shipping and the cost to ship items with USPS has recently increased. As a small business, I unfortunately do not have the ability to offer free shipping to all customers at this time. Please message me if you have questions.

How I am being covid safe for you:
-I am triple Moderna vaccinated
-I wear a kn95 mask and gloves when I pack orders in an isolated room with windows open on regularly disinfected surfaces.
-Crystals and shipping materials are not in contact with anyone else in my household

***Total (potential) wait time of approximately 4-6 weeks from order to delivery for made to order items (custom, intuitively chosen sets, art, terrariums). These treasures are worth the wait though- check out the reviews to hear what others think).

New petite crystal kits are unlabeled to allow for faster processing times. Intuitively chosen sets are custom, still individually labeled, and take longer to ship.

In addition to intuitively choosing Crystals, I also offer Crystal Healing workshops, private consultations/shopping assistance, Tarot readings, distance Chakra balancing, and more. Send me a message and let me know what you are needing- I'm sure I can help or point you in the right direction. Please note though, I am a busy Mama and it may take extra time to respond to these kinds of inquiries. Thank you for understanding.

PLEASE message me if you need your order by a certain date once you place an order (or before the order is placed) and I will do my best! If you need an order by a certain date but do not notify me until a couple days before you need it, this is not usually enough time. I am trying to hire an assistant but for now I run my shop by myself and have 3 children, one on the Autism spectrum (he is getting started on several therapies and there are a lot of meetings/applications/appointments that are very time consuming in addition to him having special needs that are very high maintenance around the clock). I am not able to offer expedited shipping options at this time due to the high volume of orders as well as the demands of running a special needs household. Responses to messages may be delayed right now as well. Please feel free to reach out to me again if you do not receive a response in a couple days. I'm doing my best and shipping orders as quickly as possible, thank you so much for your patience and understanding!

***If you need to cancel an order, please request as soon as possible. Generally, the money I receive for your order goes directly to purchasing materials needed and it puts me in a difficult position to issue refunds after that money is no longer with me. Message me with questions.

***If your order tracking says 'PRE- TRANSIT' for more than a day or two, usps has it. Please hang in there and wait for your order to arrive before leaving a review. Usps is taking longer and is unpredictable with scanning in packages. Some orders may remain in pre transit until they are delivered. It's all a bit unpredictable these days unfortunately but every order I ship comes with tracking and I can help you track down your package if it gets lost or ship you a replacement if it goes missing in transit. I know it's not fun to wait so long for your crystals but it will be worth it and I appreciate you so much!

***Due to ongoing delivery issues, I am not shipping internationally at this time from this shop. My apologies for the inconvenience but too many packages are being lost in transit.

***FREE SHIPPING on domestic orders over $35- no coupon code needed! Please note that Etsy encourages shops to offer free shipping and favors those shops in the search algorithm. They also encourage shops to include the cost of shipping in an item's price. This results in seemingly higher item prices but this is only due to the shipping price being included. Please message me with any questions about this. Thank you for understanding.

***New fees- Etsy has increased their transaction fees and this has unfortunately resulted in higher prices. Every listing includes the cost of Etsy imposed fees as well as shipping for items over $35.

***NEWSLETTER Sign up, Blog, Crystal Index, Beginner Resources: www.crystalsandcreations.com

***Genuine healing Crystals and Stones, Organic Herbs, Mineral Collections, Handcrafted Terrariums, Bohemian Jewelry, Decor, Galaxy Art, Gifts, and more crafted and curated by a certified Crystal and Vibrational Healer!

***Please note that most of the citrine sold in my shop is heat treated amethyst. This is pretty much the norm in today's market and most of the citrine available throughout the internet as well as at your local metaphysical shop is heat treated as well. It is still citrine though and is much more affordable than natural. It works just as well for healing. Although citrine gets picked on a lot these days, it is actually not uncommon for stones to be heated to alter the color. To learn more about how to shop smart and avoid fake crystals, visit my blog at crystalsandcreations.com

Thank you!
-Elica
Announcement
CELEBRATING 9 YEARS IN BUSINESS (Thank You!)! Hello and welcome to Crystals & Creations! Sign up for my email list at crystalsandcreations.com for your FREE introductory guide to working with crystals. Keep reading below for important information about this shop:

***Please allow extra time for shipping (up to 3 or 4 weeks in some cases) due to the sick season- I have 3 kids and we are all alternating being sick off and on. I apologize for any inconvenience this may cause, I am doing my best to ship orders and respond to messages as quickly as possible. Thank you for understanding.

***Etsy encourages shops to offer free shipping and include that cost in the item price. So while many items say free shipping, you may notice the prices are higher than they were prior to free shipping. This is due to the cost being included in the price as per Etsy's preference. Unfortunately there is no such thing as actual free shipping and the cost to ship items with USPS has recently increased. As a small business, I unfortunately do not have the ability to offer free shipping to all customers at this time. Please message me if you have questions.

How I am being covid safe for you:
-I am triple Moderna vaccinated
-I wear a kn95 mask and gloves when I pack orders in an isolated room with windows open on regularly disinfected surfaces.
-Crystals and shipping materials are not in contact with anyone else in my household

***Total (potential) wait time of approximately 4-6 weeks from order to delivery for made to order items (custom, intuitively chosen sets, art, terrariums). These treasures are worth the wait though- check out the reviews to hear what others think).

New petite crystal kits are unlabeled to allow for faster processing times. Intuitively chosen sets are custom, still individually labeled, and take longer to ship.

In addition to intuitively choosing Crystals, I also offer Crystal Healing workshops, private consultations/shopping assistance, Tarot readings, distance Chakra balancing, and more. Send me a message and let me know what you are needing- I'm sure I can help or point you in the right direction. Please note though, I am a busy Mama and it may take extra time to respond to these kinds of inquiries. Thank you for understanding.

PLEASE message me if you need your order by a certain date once you place an order (or before the order is placed) and I will do my best! If you need an order by a certain date but do not notify me until a couple days before you need it, this is not usually enough time. I am trying to hire an assistant but for now I run my shop by myself and have 3 children, one on the Autism spectrum (he is getting started on several therapies and there are a lot of meetings/applications/appointments that are very time consuming in addition to him having special needs that are very high maintenance around the clock). I am not able to offer expedited shipping options at this time due to the high volume of orders as well as the demands of running a special needs household. Responses to messages may be delayed right now as well. Please feel free to reach out to me again if you do not receive a response in a couple days. I'm doing my best and shipping orders as quickly as possible, thank you so much for your patience and understanding!

***If you need to cancel an order, please request as soon as possible. Generally, the money I receive for your order goes directly to purchasing materials needed and it puts me in a difficult position to issue refunds after that money is no longer with me. Message me with questions.

***If your order tracking says 'PRE- TRANSIT' for more than a day or two, usps has it. Please hang in there and wait for your order to arrive before leaving a review. Usps is taking longer and is unpredictable with scanning in packages. Some orders may remain in pre transit until they are delivered. It's all a bit unpredictable these days unfortunately but every order I ship comes with tracking and I can help you track down your package if it gets lost or ship you a replacement if it goes missing in transit. I know it's not fun to wait so long for your crystals but it will be worth it and I appreciate you so much!

***Due to ongoing delivery issues, I am not shipping internationally at this time from this shop. My apologies for the inconvenience but too many packages are being lost in transit.

***FREE SHIPPING on domestic orders over $35- no coupon code needed! Please note that Etsy encourages shops to offer free shipping and favors those shops in the search algorithm. They also encourage shops to include the cost of shipping in an item's price. This results in seemingly higher item prices but this is only due to the shipping price being included. Please message me with any questions about this. Thank you for understanding.

***New fees- Etsy has increased their transaction fees and this has unfortunately resulted in higher prices. Every listing includes the cost of Etsy imposed fees as well as shipping for items over $35.

***NEWSLETTER Sign up, Blog, Crystal Index, Beginner Resources: www.crystalsandcreations.com

***Genuine healing Crystals and Stones, Organic Herbs, Mineral Collections, Handcrafted Terrariums, Bohemian Jewelry, Decor, Galaxy Art, Gifts, and more crafted and curated by a certified Crystal and Vibrational Healer!

***Please note that most of the citrine sold in my shop is heat treated amethyst. This is pretty much the norm in today's market and most of the citrine available throughout the internet as well as at your local metaphysical shop is heat treated as well. It is still citrine though and is much more affordable than natural. It works just as well for healing. Although citrine gets picked on a lot these days, it is actually not uncommon for stones to be heated to alter the color. To learn more about how to shop smart and avoid fake crystals, visit my blog at crystalsandcreations.com

Thank you!
-Elica
Average item review
(6968)
See reviews that mention:
Loading

Crystals & Creations est. 2014
Shop members
Elica Alsup, CCH

Certified Crystal & Vibrational Healer, Artist, Owner/Operator

Loving life, crystals, and my two sweet boys! I do it all- customer service, photography, marketing, stone selection, shipping, painting, burning, and so much more.
Production partners
Printful

United States

Printful prints my art onto mugs and other merch. They also ship those items. They print and ship very quickly.
Shop policies
Last updated on May 16, 2018
Shipping
See item details for estimated arrival times.
Customs and import taxes
Buyers are responsible for any customs and import taxes that may apply. I'm not responsible for delays due to customs.
Payment options
Secure options
Accepts Etsy Gift Cards and Etsy Credits
Etsy keeps your payment information secure. Etsy shops never receive your credit card information.
Returns & exchanges
See item details for return and exchange eligibility.
More information
Last updated on
May 18, 2022
Frequently asked questions
What is the best way to store crystals at home?
Crystals love bathing in sunlight/moonlight so a windowsill is a great option (be sure to keep quartz out of direct sunlight as it can potentially be a fire hazard- think magnifying glass and sunbeam!). Personally, I enjoy keeping my crystals in a wooden bowl with sand. The sand holds them in place well so that they do not crash into each other, and it looks wonderful too!
Can you help me choose the best stones for my current situation?
I'm always happy to help but since it takes time to help choose stones for each unique situation, please purchase the 'intuitively chosen crystal set' (based on the number of stones you would like) and then message me with the details.
Can I wash my crystals if I need to?
In most cases, yes. However, Selenite is very low on the hardness scale and should not be put in water. The majority of other stones I sell enjoy a quick rinse and even look extra beautiful wet.
What if I live in the Eugene, Or area and want to pick up my order in person to avoid shipping costs?
Absolutely! Please message me and I will give you a special coupon code for free shipping and we can arrange a pick up time.
How do I use crystals?
Theres no wrong way to reap the benefits of crystals and stones- just follow your intuition! You may decide to use crystals to make grids, zen gardens, or keep them displayed around your home. Crystals are great for realigning our energy so meditating with them is a great option too! Carry them in your pocket/purse or lay with them on your Chakras (energy centers along the body). The possibilities are endless! TO LEARN MORE ABOUT HOW TO USE CRYSTALS, SIGN UP FOR MY NEWSLETTER AT WWW.CRYSTALSANDCREATIONS.COM
What if i want someone to be home and sign for my package?
This costs an additional $3. Please message me before checkout if you want a required signature for delivery.
Are the stones in this shop real or manmade?
All of the stones at Crystals & Creations are genuine creations of Mother Earth. Some have been altered in a lab with heat or dye, and some have been fuzed with precious metals in a vacuum chamber. However, ALL began as natural stones and I do not carry ANY man made stones. Please message me for more details.
How do i learn more about Crystals?
Sign up for my newsletter at www.crystalsandcreations.com to receive valuable information about holistic healing with crystals and stones, sneak peaks, special offers, and more!