 No items listed at this time
Reviews

Beautiful work as always!

Beautiful work! Korey gives fantastic customer service and communication, and I am really happy with my extra goodies!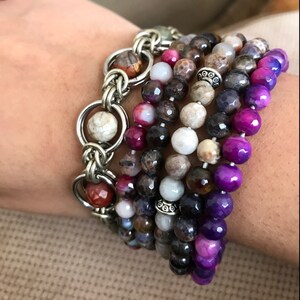 I was so excited to receive this bracelet, it's gorgeous!!! The seller contacted me regarding my wrist size, she wanted to make sure she was sending me the right size. She also told me that she was going to be sending me another bracelet for free!! The bracelets got to me in no time, I was so happy about that. When I opened the package I was surprised to see 5 beautiful agate beaded bracelets that I got send for free. Thank you so much!!! I love all the bracelets I received. I will be recommending this shop to friends and family.
About
3rd Generation Crafter
The story section in my shop is one ive always ignored. ive had this idea for many years that i wouldve loved to write an article or a story about my family & being a third generation crafter. My Nauni, Mother & I would take this professional photo of us all sitting together laughing, each with a project in our hands. My grandmother would of course be holding some exquisite knitting piece like this intriquite baby blanket or a pair of leg warmers, which she knitted me for my birthday every year when i was in my teens & early twenties, something my sister & cousin were jealous of. My mother would have a pair of reading glasses on, a needle with embroidery string in 1 hand & a piece of pleated fabric in the other. And i would sit behind them with some wire & beads, in envy of these two women who played such a prominent role in my life in becoming a crafter. While my mother was the first to introduce me to the world of "creating" with some sewing lessons, my grandmother really opened my eyes when she taught me how to knit in 3rd grade. I was homesick with her with pneumonia & had always been in awe of her ability to take this simple ball of yarn & turn it into this perfected piece, like a christmas sweater with a picture of a reindeer, as if it were purchased from a store. And on & off for many years i would pick those needles up only to start a project that would never be finished. It wasn't until my late teens that i really took it seriously; always running over to my Naunis house with a new pattern i wanted to dominate though very much in need of her knowledge & skills. I had always loved to wear beaded jewelry & it was because of knitting and my weekly trips to ac moore, that i opened my eyes to the craft of jewelry making. I hope that one day I can continue the tradition that my Nauni started for many generations to come, weather its teaching a child of my own how to be a "creator" or my 7 week old niece Emma Rose, whom my nauni was able to meet before She left us this past sunday august 7, 2016. And its with her passing that i take more of an interest in posting my story to my shop, wanting to share with the world that these pieces i make, i make because of her.