Announcement Now taking Layaway! Contact me for more details!

For more frequent updates on all things related to my work visit my facebook page!
http://www.facebook.com/creatornat

Got any questions, drop me a line here! :)
Regards, Nat
================================================================

Custom order questions? Scroll down to the bottom for all your custom info needs!

♥♥♥♥♥♥♥♥♥♥♥♥♥♥♥♥♥♥♥♥♥♥♥♥♥♥♥♥♥♥♥♥♥♥♥♥♥♥♥♥♥♥♥♥♥♥♥♥♥♥♥♥♥♥

And don't forget my sister store with my art prints and originals!
http://www.etsy.com/shop/natamon
-------------------------------------------------------------------------------------------------

♥♥♥♥♥♥♥♥♥♥♥♥♥♥♥♥♥♥♥♥♥♥♥♥♥♥♥
Thanks to these great Etsiers for adding me to their Treasuries!


♥♥♥♥♥♥♥♥♥♥♥♥♥♥♥♥♥♥♥♥♥♥♥♥♥♥♥
www.etsy.com/treasury/MjA0MDQ1OTJ8MjcyNDAyMDY4OA/time-to-coffe
♥♥♥♥♥♥♥♥♥♥♥♥♥♥♥♥♥♥♥♥♥♥♥♥♥♥♥
www.etsy.com/listing/75893207/queen-of-the-evening-pendant
♥♥♥♥♥♥♥♥♥♥♥♥♥♥♥♥♥♥♥♥♥♥♥♥♥♥♥
www.etsy.com/treasury/MzE0NTkxMjB8MjcyMTc4NTE0NQ/beautiful-black-jewelry..
♥♥♥♥♥♥♥♥♥♥♥♥♥♥♥♥♥♥♥♥♥♥♥♥♥♥♥
www.etsy.com/treasury/MjEyNDM4NTd8MjcyMDg0NzY5Nw/keys-to-the-kingdom
♥♥♥♥♥♥♥♥♥♥♥♥♥♥♥♥♥♥♥♥♥♥♥♥♥♥♥
www.etsy.com/treasury/MTY0MjAyMjF8MjcyMDg4MTg2Nw/blood-thirsty?ref=af_yo...
♥♥♥♥♥♥♥♥♥♥♥♥♥♥♥♥♥♥♥♥♥♥♥♥♥♥♥
www.etsy.com/treasury/MTc1Mzc3NzZ8MjcyMzUwODQxMA/a-cup-of-coffee-or-choc...
♥♥♥♥♥♥♥♥♥♥♥♥♥♥♥♥♥♥♥♥♥♥♥♥♥♥♥
www.etsy.com/treasury/NzcwNzE1MHwyNzIzNTAwMTE2/love-tender-passion
♥♥♥♥♥♥♥♥♥♥♥♥♥♥♥♥♥♥♥♥♥♥♥♥♥♥♥
www.etsy.com/treasury/MTA1NTEwMzB8MjcyMDk4MTg0NQ/happy-happy-joy-joyhapp...
♥♥♥♥♥♥♥♥♥♥♥♥♥♥♥♥♥♥♥♥♥♥♥♥♥♥♥
http://www.etsy.com/treasury/4c4f71bbbc0e6d916d0ab4fb/dia-de-los-muertos
♥♥♥♥♥♥♥♥♥♥♥♥♥♥♥♥♥♥♥♥♥♥♥♥♥♥♥
http://www.etsy.com/treasury/4c3a4de99be26d9117497ab2/if-nothing-ever-changed-thered-be-no?index=0
♥♥♥♥♥♥♥♥♥♥♥♥♥♥♥♥♥♥♥♥♥♥♥♥♥♥♥
----------------------------------------------


♥♥♥♥♥♥♥♥CHECK OUT MY FACEBOOK ART and JEWELRY PAGE!!♥♥♥♥♥♥
UPDATED OFTEN!
http://www.facebook.com/creatornat
♥♥♥♥♥♥♥♥♥♥♥♥♥♥♥♥♥♥♥♥♥♥♥♥♥♥♥

--------------------------------------------------

Have a special 'Dream Theme' you wish you could wear? Share it with me! Have a look at my bio page for more information. :)

=========================================
=========================================
Did you know outside of DreamTrappings I am an artist first? Yes! To view my whimsical, and often unusual art store, visit:
www.natamon.etsy.com

==========================

To see my highly illustrative, fantasy and sacred artwork, visit my gallery!
www.natamon.deviantart.com
===============================================================

I usually have a waiting list for my custom/commission work, so please contact me as early as possible for your ideas. For deadlines relating to those creations which are intended as gifts, booking early is a *a must*.
My mixed media paintings are priced as follows:

2.5x3.5..............45.00
3.5x5.................55.00
4x6.................75.00
5x7..................95.00
6x6..................95.00
8x10................195.00
8.5x11.............245.00
11x14...............295.00
(Larger sizes are made by request, and my pieces can also be captured in all ink, colored pencil, watercolor or acrylics. Acrylic pieces on canvas will be slightly more, to cover cost of canvas.)

FOR SCULPTURES:
-----------------------------

♥♥♥ (PLEASE NOTE: The are *approximate* prices. Price will vary depending on the level of detail required, body pose, accessories/clothes/adornments/armor/etc, wings, and so forth, being added.) ♥♥♥

For my sculpts, that varies, but in general, goes as follows:
2.5 inch sculpt, seated or reclining........119.00
2.5 inch sculpt, dancing, standing on one foot, in an action pose, with a stand...............165.00
3.5 inch sculpt seated, or reclining........219.00
3.5 inch sculpt dancing, etc, with stand..........249.00
5 inch sculpt seated or reclining............319.00
5 inch sculpt dancing, etc, with stand.............359.00

(Larger sizes are made by request. The base included in the prices above are for a basic, painted wooden base. Prices change for a sculpt with a more customized base, such as covered with clay shapes{like grass or flowers}, or shaped in a specific way-such as a pillow, cloud, etc.)

My shipping on any of my sculpts is determined after creation, based on weight. They always include insurance and tracking in the cost.

In both designs(art or 3-d sculpts), after payment is made, rough drawings are shared with you, for approval, before any main creation begins. This will give a loose idea of how the end result will turn out.

Finally, 1/3rd of the payment will be kept as a non-refundable deposit, should the customer need to cancel their custom transaction with me half way or more, through the creation process. This will cover the hours of fine detail and labor that I have already placed into their request. Anything left over from the total payment, I will refund.

*** I reserve the right to refuse any idea, that I do not feel I can capture in a confident manner.***

Got more questions? Feel free to drop me a line here on etsy and ask! I am happy to help. :)
Announcement
Last updated on
Aug 8, 2016
Now taking Layaway! Contact me for more details!

For more frequent updates on all things related to my work visit my facebook page!
http://www.facebook.com/creatornat

Got any questions, drop me a line here! :)
Regards, Nat
================================================================

Custom order questions? Scroll down to the bottom for all your custom info needs!

♥♥♥♥♥♥♥♥♥♥♥♥♥♥♥♥♥♥♥♥♥♥♥♥♥♥♥♥♥♥♥♥♥♥♥♥♥♥♥♥♥♥♥♥♥♥♥♥♥♥♥♥♥♥

And don't forget my sister store with my art prints and originals!
http://www.etsy.com/shop/natamon
-------------------------------------------------------------------------------------------------

♥♥♥♥♥♥♥♥♥♥♥♥♥♥♥♥♥♥♥♥♥♥♥♥♥♥♥
Thanks to these great Etsiers for adding me to their Treasuries!


♥♥♥♥♥♥♥♥♥♥♥♥♥♥♥♥♥♥♥♥♥♥♥♥♥♥♥
www.etsy.com/treasury/MjA0MDQ1OTJ8MjcyNDAyMDY4OA/time-to-coffe
♥♥♥♥♥♥♥♥♥♥♥♥♥♥♥♥♥♥♥♥♥♥♥♥♥♥♥
www.etsy.com/listing/75893207/queen-of-the-evening-pendant
♥♥♥♥♥♥♥♥♥♥♥♥♥♥♥♥♥♥♥♥♥♥♥♥♥♥♥
www.etsy.com/treasury/MzE0NTkxMjB8MjcyMTc4NTE0NQ/beautiful-black-jewelry..
♥♥♥♥♥♥♥♥♥♥♥♥♥♥♥♥♥♥♥♥♥♥♥♥♥♥♥
www.etsy.com/treasury/MjEyNDM4NTd8MjcyMDg0NzY5Nw/keys-to-the-kingdom
♥♥♥♥♥♥♥♥♥♥♥♥♥♥♥♥♥♥♥♥♥♥♥♥♥♥♥
www.etsy.com/treasury/MTY0MjAyMjF8MjcyMDg4MTg2Nw/blood-thirsty?ref=af_yo...
♥♥♥♥♥♥♥♥♥♥♥♥♥♥♥♥♥♥♥♥♥♥♥♥♥♥♥
www.etsy.com/treasury/MTc1Mzc3NzZ8MjcyMzUwODQxMA/a-cup-of-coffee-or-choc...
♥♥♥♥♥♥♥♥♥♥♥♥♥♥♥♥♥♥♥♥♥♥♥♥♥♥♥
www.etsy.com/treasury/NzcwNzE1MHwyNzIzNTAwMTE2/love-tender-passion
♥♥♥♥♥♥♥♥♥♥♥♥♥♥♥♥♥♥♥♥♥♥♥♥♥♥♥
www.etsy.com/treasury/MTA1NTEwMzB8MjcyMDk4MTg0NQ/happy-happy-joy-joyhapp...
♥♥♥♥♥♥♥♥♥♥♥♥♥♥♥♥♥♥♥♥♥♥♥♥♥♥♥
http://www.etsy.com/treasury/4c4f71bbbc0e6d916d0ab4fb/dia-de-los-muertos
♥♥♥♥♥♥♥♥♥♥♥♥♥♥♥♥♥♥♥♥♥♥♥♥♥♥♥
http://www.etsy.com/treasury/4c3a4de99be26d9117497ab2/if-nothing-ever-changed-thered-be-no?index=0
♥♥♥♥♥♥♥♥♥♥♥♥♥♥♥♥♥♥♥♥♥♥♥♥♥♥♥
----------------------------------------------


♥♥♥♥♥♥♥♥CHECK OUT MY FACEBOOK ART and JEWELRY PAGE!!♥♥♥♥♥♥
UPDATED OFTEN!
http://www.facebook.com/creatornat
♥♥♥♥♥♥♥♥♥♥♥♥♥♥♥♥♥♥♥♥♥♥♥♥♥♥♥

--------------------------------------------------

Have a special 'Dream Theme' you wish you could wear? Share it with me! Have a look at my bio page for more information. :)

=========================================
=========================================
Did you know outside of DreamTrappings I am an artist first? Yes! To view my whimsical, and often unusual art store, visit:
www.natamon.etsy.com

==========================

To see my highly illustrative, fantasy and sacred artwork, visit my gallery!
www.natamon.deviantart.com
===============================================================

I usually have a waiting list for my custom/commission work, so please contact me as early as possible for your ideas. For deadlines relating to those creations which are intended as gifts, booking early is a *a must*.
My mixed media paintings are priced as follows:

2.5x3.5..............45.00
3.5x5.................55.00
4x6.................75.00
5x7..................95.00
6x6..................95.00
8x10................195.00
8.5x11.............245.00
11x14...............295.00
(Larger sizes are made by request, and my pieces can also be captured in all ink, colored pencil, watercolor or acrylics. Acrylic pieces on canvas will be slightly more, to cover cost of canvas.)

FOR SCULPTURES:
-----------------------------

♥♥♥ (PLEASE NOTE: The are *approximate* prices. Price will vary depending on the level of detail required, body pose, accessories/clothes/adornments/armor/etc, wings, and so forth, being added.) ♥♥♥

For my sculpts, that varies, but in general, goes as follows:
2.5 inch sculpt, seated or reclining........119.00
2.5 inch sculpt, dancing, standing on one foot, in an action pose, with a stand...............165.00
3.5 inch sculpt seated, or reclining........219.00
3.5 inch sculpt dancing, etc, with stand..........249.00
5 inch sculpt seated or reclining............319.00
5 inch sculpt dancing, etc, with stand.............359.00

(Larger sizes are made by request. The base included in the prices above are for a basic, painted wooden base. Prices change for a sculpt with a more customized base, such as covered with clay shapes{like grass or flowers}, or shaped in a specific way-such as a pillow, cloud, etc.)

My shipping on any of my sculpts is determined after creation, based on weight. They always include insurance and tracking in the cost.

In both designs(art or 3-d sculpts), after payment is made, rough drawings are shared with you, for approval, before any main creation begins. This will give a loose idea of how the end result will turn out.

Finally, 1/3rd of the payment will be kept as a non-refundable deposit, should the customer need to cancel their custom transaction with me half way or more, through the creation process. This will cover the hours of fine detail and labor that I have already placed into their request. Anything left over from the total payment, I will refund.

*** I reserve the right to refuse any idea, that I do not feel I can capture in a confident manner.***

Got more questions? Feel free to drop me a line here on etsy and ask! I am happy to help. :) No items listed at this time
Reviews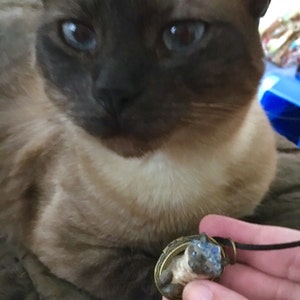 GORGEOUS pendant! Nat is a friggin goddess of polymer clay. Thank you so much again, my mom is going to adore this.

I adore this necklace. Not only because I am something of a vampire literature fan, but because the agate pendant is just so breathtakingly beautiful. I am thrilled. Thank you for so carefully packaging of my purchase to arrive undamaged from the rigors of shipment and in quite a timely manner. I will certainly be back.
About
About My Jewelry
Always a lover of fantasy and the ideal, I've been making art since I could hold a crayon.
The last several years brought about the introduction of jewelry making, and eventually, sculpture, into my artistic repertoire.
My lifelong passion for 2-D art gradually made it's way into my jewelry creations, which for me, became,'wearable art'. I love creating detail, and breathing life into a variety of whimsical ideas.

In addition to making my wearable works available in this shop, I also run a 2nd Etsy store, which holds my original mixed-media paintings, prints and sculpts. Feel free to visit this sister shop as well!

http://www.etsy.com/shop/natamon

Finally, I do take both painting and jewelry commissions year round. My custom order waiting list fills up fast, so booking me ahead is key. Prices vary depending on request, and complexity of the item, so feel free to contact me with your idea to receive a quote.
Shop members
Nat

Owner, Creator, Designer

Open since 2008, this shop is owned and operated by me-the artist-Natalie Ewert! I create all the jewelry seen here, and love what I do. <3 I also update it with new goodies monthly!
Shop policies
Last updated on
February 5, 2011