Announcement URBAN LACE TM - ( Free Shipping in US)

Urban Lace Jewelry specializes in making unique eco-friendly designer jewelry. Our one of a kind jewelry is created from recycled bicycle inner tubes collected from local bike shops. Our goal is to make high quality, high fashion, environmentally friendly products that people love to wear. We create elegant design with the planet in mind.

Inner tubes are not only durable, flexible, and waterproof, they can also be beautiful. Each year thousands of inner tubes are thrown into landfills in the US alone, where they will sit for hundreds of years. Urban Lace is committed to renewing those discarded tubes into wearable art.

Barbi Touron, the lead designer for Urban Lace, started out in a small garage below her apartment making jewelry for friends in 2006. As more and more people wore her jewelry and word of mouth spread, so did the demand for these unique creations. With orders growing beyond her ability to keep up, Barbi partnered with Aaron Shear and Urban Lace was born. They been working together since March 2011 making new designs for the up coming year 2012.

Urban Lace Jewelry is handcrafted, each piece is custom made. All or products have been carefully washed and are coated in an organic plant-based formula that Urban Lace has developed, giving each bracelet its lasting luster. This formula allows each piece to retain its soft texture and smooth appearance.

All designs have been copywrited, logo and the name Urban Lace, have been trademarked

To find out more about us check us out at Urban Lace website.
Thank you
Announcement
URBAN LACE TM - ( Free Shipping in US)

Urban Lace Jewelry specializes in making unique eco-friendly designer jewelry. Our one of a kind jewelry is created from recycled bicycle inner tubes collected from local bike shops. Our goal is to make high quality, high fashion, environmentally friendly products that people love to wear. We create elegant design with the planet in mind.

Inner tubes are not only durable, flexible, and waterproof, they can also be beautiful. Each year thousands of inner tubes are thrown into landfills in the US alone, where they will sit for hundreds of years. Urban Lace is committed to renewing those discarded tubes into wearable art.

Barbi Touron, the lead designer for Urban Lace, started out in a small garage below her apartment making jewelry for friends in 2006. As more and more people wore her jewelry and word of mouth spread, so did the demand for these unique creations. With orders growing beyond her ability to keep up, Barbi partnered with Aaron Shear and Urban Lace was born. They been working together since March 2011 making new designs for the up coming year 2012.

Urban Lace Jewelry is handcrafted, each piece is custom made. All or products have been carefully washed and are coated in an organic plant-based formula that Urban Lace has developed, giving each bracelet its lasting luster. This formula allows each piece to retain its soft texture and smooth appearance.

All designs have been copywrited, logo and the name Urban Lace, have been trademarked

To find out more about us check us out at Urban Lace website.
Thank you No items listed at this time
Reviews

I received the package as promised, but was disappointed to find that the bracelet inside is a "S" though I ordered "XS." I double-checked that I did select "XS," and "XS" is indicated on the enclosed shipping invoice as well. I emailed the seller for help a couple of days ago, but haven't heard back yet. I hope to revise this review asap with a positive outcome! UPDATE: Heard back from seller on 9/13 and she has offered a great resolution. She's been traveling, and this is the reason for delay in response. :) I am guessing the replacement item will maybe arrive near the end of next week. I am revising my rating accordingly.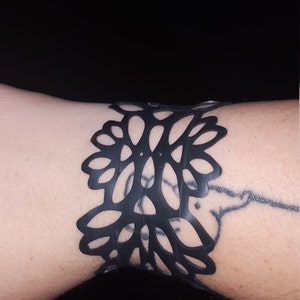 Just got it. Its amazing . Love there work. Definitely recommended .

The earrings arrived ahead of schedule. They are light and look GREAT on everyone who has tried them on! Thanks!
Shop policies
Last updated on
October 26, 2013
Refunds and Exchanges
NO Returns after purchase.
So Please Measure Your Wrist, Arm, Hips, Neck and Ankle Correctly.
Each Piece Should Be at least 1/4 to 1/2 inch larger than your actual size.

This policy is due to the fact that each piece is made by hand, and my hands get tired.
Thank You