Announcement Cute, unique, and stylish personalized Cat ID tags, Dog ID tags and Pet ID tags with your pets customized information on the back.

All tags are my original designs, illustrated and created by hand in my workshop.
They are 2-sided, made from high quality aircraft grade 3005 alloy
aluminum, and manufactured in the USA from 80% recycled material.

Other get uses for pet tags: Child ID Tags, Zipper Pulls, Sports Bag Tags, Backpacks, Lunch Box Tags, Key Chains, Medical Alert Tags, Cat Carrier Tags, Horse Halter Tags, Saddle Tags, pretty much anything you might not want to lose :)

** Even if your pets are microchipped they will come home faster if they have tags! Here's the proof from the ASPCA! http://tinyurl.com/37ezj7l **

ARE YOU PLANNING A TRIP WITH YOUR SMALL CHILD?
Recommended when traveling to a Disney Park.
- Check out #7: Using pet tags as kid ID tags for your younger children
https://www.undercovertourist.com/blog/preparing-to-visit-disney-world-with-kids/
Advantages of using my tags instead of pet store tags:
- My tags are available in multiple sizes, allowing you to choose the most convenient size for you child
- With the design on the front, it keeps you child's name & number hidden on the back.

Available at ebonypaws.etsy.com
LUGGAGE TAGS - Made from Fiberglass Reinforced Plastic (FRP), Available in Small (2.5 inches) and Large (4 inch)
PHONE CASES - iPhones, iPod & Samsung Galaxy

You can also find me on Facebook as Ebonypaws Creative
http://facebook.com/ebonypawscreative
Announcement
Last updated on
Mar 27, 2017
Cute, unique, and stylish personalized Cat ID tags, Dog ID tags and Pet ID tags with your pets customized information on the back.

All tags are my original designs, illustrated and created by hand in my workshop.
They are 2-sided, made from high quality aircraft grade 3005 alloy
aluminum, and manufactured in the USA from 80% recycled material.

Other get uses for pet tags: Child ID Tags, Zipper Pulls, Sports Bag Tags, Backpacks, Lunch Box Tags, Key Chains, Medical Alert Tags, Cat Carrier Tags, Horse Halter Tags, Saddle Tags, pretty much anything you might not want to lose :)

** Even if your pets are microchipped they will come home faster if they have tags! Here's the proof from the ASPCA! http://tinyurl.com/37ezj7l **

ARE YOU PLANNING A TRIP WITH YOUR SMALL CHILD?
Recommended when traveling to a Disney Park.
- Check out #7: Using pet tags as kid ID tags for your younger children
https://www.undercovertourist.com/blog/preparing-to-visit-disney-world-with-kids/
Advantages of using my tags instead of pet store tags:
- My tags are available in multiple sizes, allowing you to choose the most convenient size for you child
- With the design on the front, it keeps you child's name & number hidden on the back.

Available at ebonypaws.etsy.com
LUGGAGE TAGS - Made from Fiberglass Reinforced Plastic (FRP), Available in Small (2.5 inches) and Large (4 inch)
PHONE CASES - iPhones, iPod & Samsung Galaxy

You can also find me on Facebook as Ebonypaws Creative
http://facebook.com/ebonypawscreative
Reviews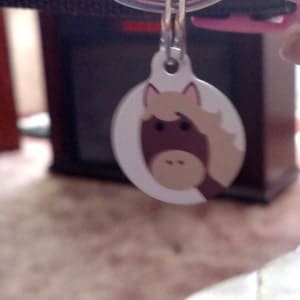 Looks great with the collar I got for my new puppy! Thank you!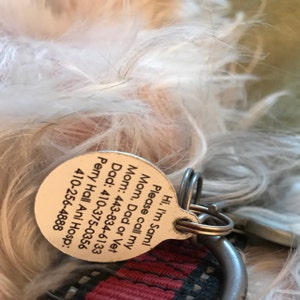 Prompt shipping, carefully and lovingly packaged, well-made. Engraving on the back was clear and legible. Will order from this seller again! Thank you!

Such an adorable pet I.D. tag! I liked this one and ended up getting a second one.
About
How Ebonypaws started
I knew no matter what I chose to do in life it would have to be something relating to animals. My intended career path when graduating from a Southern NH high school, was to be either a pet portraiture or a nature & wildlife photographer. Because I received a partial tuition scholarship, I found myself studying photography at the Art Institute of Pittsburgh, PA.

Right time, right place. On the way home from classes, waiting for the walk signal to change - a little black kitten was thrown out of a bar! I scooped him up, brought him home and named him Ebony (ebonypaws :). He was with me for almost 19 years before he crossed the rainbow bridge at the very beginning of 2013.

Somehow I ended up on the pre-press, retouching side of catalog print production (not animal related). Seeking a way to make a little extra money on the side, I opened my first shop on Etsy summer of 2007, mainly selling my photography and a few pet tags. After losing my job in 2009, with little hope of finding a new job in a dying industry, I decided to build on designs I already had and started making pet tags full time. I now have over 350 designs and have added several other products - all featuring my photography or illustrations.

The inspiration behind my ideas comes from all sorts of places but
many of my ideas come from experiences with my pets, so I consider them to be part of my staff :) For instance: Ollie is a Border Collie Mix rescued from St. Martin. He is why we can't have nice things.
Birdie Puggles has the vocal range of her Beagle side with a side of drama queen.
Jack the cat was the inspiration behind my tripping hazard tag after he tried to kill me at 2am by tripping me on the stairs.
Domino is just a fluffy hot mess.

For luggage tags, phone cases, photographic prints etc, please visit ebonypaws.etsy.com

If you want to keep up with my new ideas (design or product), you can find me at:
Facebook - www.facebook.com/ebonypawscreative
Instagram - www.instagram.com/ebonypaws/
Twitter - www.twitter.com/ebonypaws
Shop members
Stephanie

Owner, Maker, Designer, Curator

I went to school in Pittsburgh, PA for Photography (pre-digital). I spent over a decade working in the catalog printing pre-press /retouching industry but I find myself slowly working over to Illustration :)

Ebony

Namesake

Ebony • 1994 - 2013 Ebony was rescued off the Streets of Pittsburgh, PA in 1994 at the young age of 4 months. Even at 18.5, he still ran the house and kept the others in line (Ollie included).

Oliver

Touble Maker, Inspiration

Rescued from St. Martin. He has a nose for trouble. A good amount of my tags have been inspired by Ollie.

Birdie Puggles

Inspiration

Half Pug, half Beagle. Her vocal range is definitely from her Beagle side. Any tag that has to do with howling is inspired by Birdie, plus she is quite the little drama queen :)

Jack

Laptop Warmer

Big goofball that loves to put his paws on the laptop track pad while I'm working. Also a Tripping Hazard.

Domino

Photo Assistant

Rescued from Lowell, MA by a great organization, Kitty Angels. He's big & fluffy, his nicknames are Velcro & Fireball and he really loves to help with Photo shoots.

Finn

Inspiration

Our newest member. I have a feeling he might be my inspiration for new cat tags :)
Shop policies
Last updated on
July 11, 2016
A good amount of tags have been inspired by my own pets. For instance - Oliver is a foster failure/rescued, island dog, who's quirky, devious and a bit of a devil dog, who eats random things :) I also have 2 rescued kitties, Domino is a little odd and has a fluffy butt :) Jack is a giant, lovable, double pawed bowling ball :)

My shop is named after my cat Ebony who passed away in January 2013.

I love Appreciation Photos! Which I share on my Facebook page :)
Accepted payment methods
Payment
I except both PayPal and Etsy Direct Checkout.
** Echecks - Your order will be processed as soon as your check clears.
Shipping
• I do my best to have them in the mail within a week of of purchase. If you need them sooner please let me know. If you ask for Proofs: It can take 1-4 days before you see your proof (it depends how many orders are in front of yours) and you order starts processing after you approval.

US CUSTOMERS:
Your tag ships in a yellow padded bubble envelope.

* I ship USPS via ETSY with delivery conformation, Please DOUBLE CHECK YOUR ADDRESS, you are responsible for shipping if the package is returned to be because of an incorrect shipping address. That being said let me know ASAP if you have a different address.
* If you need your package ASAP please message me to so we can figure out what works best for you. For expedited shipping I offer Priority and Express Priority - Both are available for Domestic & International.

INTERNATIONAL CUSTOMERS:
Jan 2012 & again Jan 2016 - the USPS pretty much doubled international shipping postage to it's current ridiculous price :(
• I ship everything International First Class, most countries now have package tracking.
• If you would like me to send your package Registered International, please message me before you purchase.

All customs fees, taxes, duties, etc. that might occur at the time of delivery are your responsibility. I'm sorry but I will not accept any returns because of these fees.
Refunds and Exchanges
If your item arrives damaged, not at all, is defective or if your are unhappy with your purchase, please contact me. Tags can chip very slightly around the edges due to wear and tear. I will do what ever I can to fix the situation but unfortunately I cannot replace chewed tags.

PLEASE - double check your information for the back of your tags - I copy and paste it directly from what you type in the message to seller box - I cannot except returns when the information was provided with wrong spellings, phone numbers, etc.
Also your color selection, I will always go by the color number you supply not the name.

You are responsible for return shipping costs and for returning items in their original condition.
Additional policies and FAQs
PROCESSING TIME & SHIPPING: I do my best to have your order in the mail within a week of of purchase, payment or when I receive all the information needed to process your order.
- If you ask for Proofs: It can take 1-4 days before you see your proof (it depends how many orders are in front of yours) and you order starts processing after you approval.
- To speed up your order please provide your INFO right away.
- Echecks can take as long as a week to clear.
- If you need them sooner please let me know. If you do, please also pay for expedited shipping, such as Priority Mail.

• IF you forget to let me know the INFO for the Back of your tag please message me ASAP, otherwise it will ship blank on the reverse side.

• Custom orders are welcome.
__________________________________________________________________

** TIPS **
CHOOSING A SIZE:
Because pets come in all shapes and sizes, with varying degrees of fluff, it's hard for me to say this weight should get this size tag, etc.
US:
• Except for the XL, I have listed which coins represent the round part of the S,M & L sizes. **** Hold up the coins up to your pet, most of you will find that a quarter is not as large as you think :)
(Medium is my best seller online but Large is my best seller to people who purchase in person, at fairs)

SPACE ON THE BACK
I don't have a character count. I do my best to fit your info, to do that I have to
• Take out punctuation marks to save space
- for example:
--- quotes around pets name - "NAME" becomes NAME
--- periods at the end of street abbreviations - St., Dr., Ln. become St, Dr, Ln etc
• Abbreviate Street to St, Drive to Dr, etc
• If this is a tag that is going on your pet, your zip code is not needed. It usually ends up taking much needed space.

CUSTOM COLORS
• If you are choosing more than one color, please let me know which color goes with which part of the tag. For example: Chevron tags instead of just #22, 23 & 30, add a little more detail - Chevron stripes #'s 22&23, name stripe #30 with #22 text.
• When selecting custom colors, I will always use the number you provide not the color name ex: #34 - light pink. #34 is actually hot pink and is what will be on your tag.
__________________________________________________________________

• Unfortunately, due to issues in the past, I do not make phone calls.

• All designs, images, sayings and photography are copyrighted by Stephanie Paulus

• Using any images on this site, in any way without permission is a strict violation of copyright law.


WHOLESALE:
It is hard for me to offer these tags as wholesale since I have to add the custom info to the back of them at the time of ordering, so they can't really be pre-ordered.
• THAT BEING SAID - I can make both Aluminum and Stainless Steel tags, with my images on the front, that can be engraved on the back if you have an engraver or someone in your area that can engrave pet tags.
- Please contact me to purchase a sample tag for you or an engraver try out. (I will refund the cost of the sample tag once you place a wholesale order)
- Aluminum is available in the Large (1.25 inches / 3.17cm) only
Stainless Steel is available in the Large (1.25 inches / 3.17cm) & Small Bone (S- 1.5 x 1inch) only