Announcement Welcome! I am a mood jewelry artist. The color-changing stones I use are very special. They are of the highest and finest quality you could find in the world today, exclusively made in Germany for this collection only. These mood jewelry items stand out with their unbeatable variety of colors and amazingly flawless finish. They are handcrafted with much attention to detail and are designed to please even the most discerning eye!
*Please note my shop will be closed from November 1st 2016 to February 1st 2017*
Announcement
Last updated on
Jun 28, 2016
Welcome! I am a mood jewelry artist. The color-changing stones I use are very special. They are of the highest and finest quality you could find in the world today, exclusively made in Germany for this collection only. These mood jewelry items stand out with their unbeatable variety of colors and amazingly flawless finish. They are handcrafted with much attention to detail and are designed to please even the most discerning eye!
*Please note my shop will be closed from November 1st 2016 to February 1st 2017* No items listed at this time
Reviews

Verkäufer konnte nicht konstruktiv mit meiner Kritik am Artikel umgehen. Antwortete dann nicht mehr.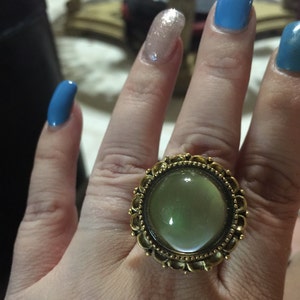 I love this ring!! The size the design,All the different colors ! Love love love!!
Shop policies
Last updated on
July 26, 2016
Shipping
STANDARD SHIPPING
Order processing time is 5 – 7 business days (or faster if your item is on stock).
Please expect your order to arrive within 5 days from the date of shipping.
Shipping agency is FedEx.
The shipments are insured and fully trackable online.
Shipping costs are 25 €.

ECONOMY SHIPPING
Order processing time is 5 – 7 business days (or faster if your item is on stock).
Please expect your order to arrive within 3 weeks from the date of shipping.
Shipping agency is Deutsche Post.
This service offers very limited tracking information. Usually you will be only able to track on which date the shipment was accepted by Deutsche Post. Please note that Deutsche Post does not answer any inquiries on the status of your shipment if 3 weeks have not passed yet.
Shipping costs are 8 €.
If you prefer economy shipping, please use the code SHIPPINGECONOMY at checkout.
Refunds and Exchanges
If you wish to return an item, please let me know about it within 7 days from receipt. Shipping costs are not refundable.
Additional policies and FAQs
CAN YOU MAKE YOUR MOOD RINGS WATERPROOF?
I would really love to(!!), but -for now-, it is just not possible. For no one. Even following the most scientifically advanced methods of making mood stones (which we in Germany certainly do), the mood stones just cannot be guaranteed to be completely waterproof.
"But I was on that other website, and the seller there advertised that HIS/HER moodstones are absolutely(!) waterproof!!"
Yes. Chances are you have visited the same webpages/sellers I have been made aware of by other customers; because of this issue of me apparently 'lagging behind' when it comes to water. Trust me - when it comes to my mood jewelry and it's quality, I am DEFINITELY not anywhere 'behind'. I should perhaps be a little more relaxed about this, but it makes me angry that other selles are either so clueless or are openly lying to make a quick buck as in the end, firstly, you, the customer, pay your hard earned money only to be disappointed, and secondly, my reputation gets tainted by completely unjust yet possible distant association as a fellow 'mood jewelry seller'. (Though I would like to distance myself from the lot as I work so hard to make each piece absolutely perfect that I see myself rather selling mood jewelry art)
Please believe me, there are no 'REALLY WATERPROOF' mood stones in the world today - and a true professional should, no, MUST always raise your attention to this detail and point this fact out so your mood stone is handled right and lives longer. Should you read the opposite, please know the seller is either inexperienced or unfortunately not being honest with you (and that their products most likely reflect their inexperience and/or dishonesty).
Before I made the decision of making mood stones in Germany, I thoroughly tested all kinds of mood stones available in the world. I still do so, today. Indeed, like my own special stones, many of the mood stones out there can withstand a certain amount of contact with water before they sustain irreparable damage and stop working. In the very best case, mood rings can even "survive" for several months when being regularly submerged in water.
I think this is the reason why some mood jewelry sellers are ignorant to the fact or tend to intentionally conceal the deteriorating impact water has on mood stones or even state their mood rings were *waterproof*.
"But the seller even offered a warranty!" Yes. Of course the seller did - to hide this quite elaborate deceit. Yet weirdly enough, the mood stones always stop working really soon after the warranty expires. But why should a quality mood stone stop working? Water damage is the answer in 99% of the time.
I don´t want to offend any seller on Etsy or anywhere else, but I really feel that this point had to be clarified. I really want you to enjoy your mood jewelry for YEARS, not only for a few months. That is also which is why I feel responsible for providing everyone of my customers with accurate instructions in regard to how to treat and care for your very special piece of beautiful mood jewelry so you will be able to enjoy it for as long as possible!

IS USING GLUE DAMAGING MOOD STONES?
This is a myth spread by jewelry makers who have not gained enough experience in working with mood stones. I understand very well how this myth might have been born: a few jewellers tried to glue mood stones which were irreparably damaged as a consequence of this action and thus concluded these stones do not bear any glue. But what if I have a solid background in mood jewelry chemistry and know the formula for a glue that not only does prevent any damage to the mood stones but even prolongs their lives? In this case which is mine it is very frustrating to learn how mood jewelry admirers are being misled by false statements. There is really NO advantage to the longevity of your mood jewelry piece when no glue was used. How often I see that really exprienced jewellers claim "no glue is ever used" when is comes to mood jewelry. I do not doubt thier jewelry skills but mood jewelry art does require a solid background in chemistry which 99% of the jewellers just do not poseess! And it is indeed possible to create mood jewelry using a high quality glue not only preventing damage to the mood stones but even giving them an extra protection. Since I am not taking any shortcuts when it comes to my mood jewelry art, I invested extensively into a very special, exclusive adhesive agent which was designed and created especially for the use with my mood stones. Both -my special mood stones and the compatible adhesive agent- are custom made in Germany for my company only and are not for sale!
(Except as a unified, photo-finished, single brilliant piece of art)

ARE GLASS MOOD STONES BETTER THAN ACRYLIC ONES?
I don't quite understand why some mood jewelry makers prefer glass to acrylic. Is it because many acrylic mood stones on the market are made of the cheapest materials and therefore look somewhat dusty and frosted? Is it because these mood stones have never had a shiny and new look? I have extensively tested both glass and acrylic stones and acrylic ones are my favorite. If properly made these stones can really have a brilliant gloss (just as glass or even more shiny), it's such a pleasure to watch color changes on the absolutely smooth surface of these mood stones! Glass is really not more scratch resistant than acrylic but acrylic has a big advantage in comparison to glass: if you accidentally drop your precious mood ring a mood stone made of glass will most likely break which will not happen to an acrylic mood stone.

DO YOU SELL YOUR MOOD STONES TO OTHER SELLERS ON ETSY OR ANYWHERE ELSE?
No, I am the manager of the mood stones production in Germany and I can tell you for sure that I do not sell my mood stones to any seller on Etsy or anywhere else. My customers raised my attention to the fact that some sellers on Etsy tell their mood stones came from Germany. This is not true.