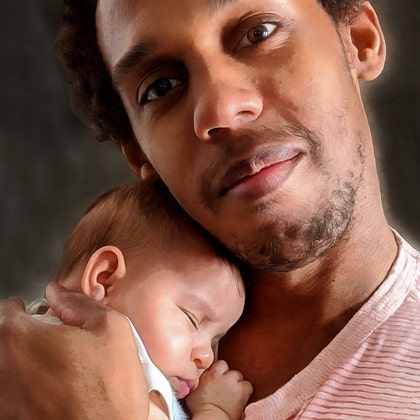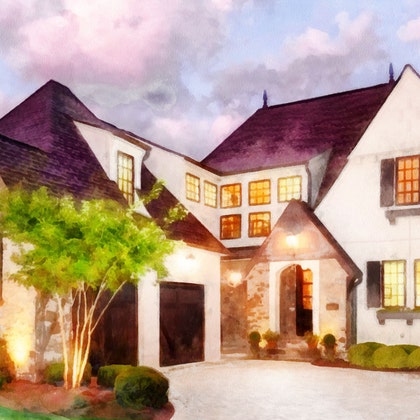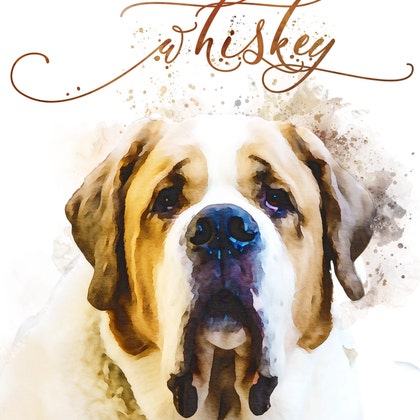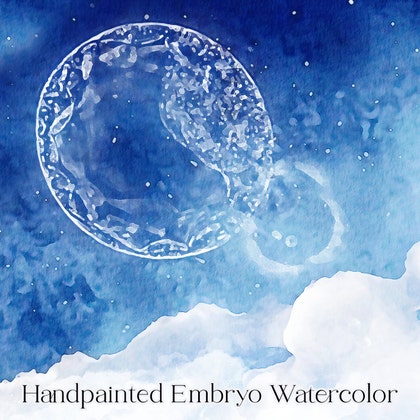 Announcement I'm an established artist with my pieces featured in galleries and art collections worldwide. My repertoire includes portraits of presidents and celebrities. While acrylic portraits used to be my main medium, I also excel in watercolors, pencil sketches, pastels, and sculpture.

Despite earning awards and foregoing an art scholarship at Emily Carr University to explore medicine, I ventured into becoming a high-end computer programmer and usability accessibility specialist. My programming skills enable me to uniquely combine the multiple layers in my paintings to achieve the final portrait. Each portrait involves meticulously aligning 3-7 layers, granting room for adjustments even when a small mistake occurs.

For the digital aspect of my work, I employ a large traditional Wacom tablet (without a digital display), crafting each stroke manually. There's no application of filters to your photo; instead, I create your portrait both on paper and digitally, allowing customization to any size you require.

See FAQ here: http://faq.favreaus.com

★ DIGITAL COPY ★
All portrait orders come with a full-size digital copy of your order. I can send it to a photo printing place near you if you don't want to wait for the mail. If you didn't get the GDrive link to your file please let me know.

★ TEXT ME DIRECTLY ★
You can text me, Danielle, at 314-225-5881. Please include your name and order number if you have it - a screenshot is fine. I may not reply after 9 PM CST.

★ SEND PHOTOS ★
Email photos to info [!at] favreaus.com, text to 314-225-5881, or send me a conversation with it - you must include your name and order number so I can match your photo with your order.

★ PROCESSING TIME ★
Processing is usually 5-7 business days (not including the say you order or weekends). Some artwork can take 1-2 weeks.

★ SHIPPING NOTIFICATION BUT NO PROOF? ★
If you have not received a proof then your order has not shipped. I only print the label when I'm ready to ship.

★ PHOTO EDITS - COMBINE PHOTOS ★
You can have any number of people in your portrait. I can combine photos, add the appropriate edit package AND the portrait listing: https://etsy.me/36BsasY

★ PROOFS & MAILING LABELS ★
I send proofs the same day or the day before shipping. If you do not reply by the deadline in the message I will ship what I sent. If, however, you have any issues with what I sent, contact me and I will fix it and make sure you get a new version.

★ DISCOUNT CODES ★
Military discount available. Send me a photo of the top left corner of your CAC or military ID. Family IDs count. First responder and teacher discounts are also available. Please message me at 314-225-5881 or on Etsy.

★ DAMAGED IN THE MAIL? ★
Should your print arrive damaged, please reach out, and I'll arrange a replacement. Share photos of the damaged print and its packaging so I can initiate a claim with the post office and adjust my packaging methods. Every print is shipped as a priority or express package and is insured against both loss and damage. If urgency is a concern, I'm happy to send the print directly to a location near you for in-person pickup. Alternatively, you can utilize the digital version to print it yourself. Although I package according to postal recommendations, occasional mishandling by carriers or machines may cause damage. Rest assured, I'll replace damaged prints for any domestic US order at no additional cost.

★ SHIPPING OVERAGES ★
On items that require shipping, I refund shipping overages so if the shipping cost seems high I will refund anything over what I pay. Large portraits will be crated for mailing and will incur additional shipping charges for crating and proper transportation. Discounts do not apply to shipping.

★ WHEN WILL I GET MY ORDER? ★★
Each order we receive is tailored to your specifications and crafted on-demand. Digital orders usually undergo customization within a few business days (or up to 10 during busy periods) and will be shared with you through messaging for approval, if needed. Paintings created with acrylics or watercolor on paper are skillfully painted on stretched canvas or watercolor paper. These pieces typically take between 2 to 6 weeks to complete.

Regarding shipping, please note that the actual delivery time is beyond our control. However, we ensure all our creations are shipped with tracking for your peace of mind.

★ LOWEST SHIPPING COST / SHIPPING REFUNDS ★
Most prints include free shipping for the domestic US. Canada and foreign shipping are often calculated higher but I will refund overages if it's $1 or more over what I paid. So if you pay $25 in shipping and it costs me $8 to mail it, I refund $17. Conversely, if shipping is more than Etsy lists I will invoice you for the additional shipping costs. If I forget to credit your shipping don't hesitate to remind me.

If you have concerns, contact me with the list of items you want and I will create a custom order with exact shipping for you.

★ INTERNATIONAL DIGITAL SHIPPING REFUND? ★
If you are ordering digital and are international, please contact me for the digital international code that will remove the shipping.

★ INTERNATIONAL SHIPPING AND CUSTOMS ★
Once a package leaves the US, I cannot take responsibility for it. If your tracked item is held up in customs, I won't send a replacement, as we can't ensure it won't face the same issue. But I will work with you to find a solution. If your package is in customs, please contact your local shipping authority to check its status. We'll need your case number for our follow-up as well. Please note, only one case can be opened per item. If we've insured the package, we'll initiate the case to replace it.

You are responsible for any customs, import, or duty fees incurred. Should your package be returned due to unpaid fees, we cannot refund your order due to the custom nature.

★ RETURNS / REFUNDS ★
Custom products, like portraits, are unique and can't be returned because they're created with care and time just for you. Since you'll get a digital version, refunds aren't possible, however, if you spot any issues, let me know so I can fix them! Don't hesitate to reach out before starting a case. I'm here to collaborate and make sure you're happy with your order.

If I need your approval before shipping, keep an eye on your email—I'll send the details via Etsy convo and email whenever possible. If you face any hiccups after receiving your purchase, please get in touch, and we'll sort it out together. You can text me directly at 314-225-5881 (though I might not answer late at night).

While I can't control customs matters, I'm willing to help with shipping delays. Need your digital print at a local printer? Just give me a heads-up, and we'll make it happen!

★ GIFTS ★
All packages are wrapped to avoid ruining any surprises. We are happy to more elaborately or custom gift wrap your art for the recipient and occasion. Be sure to leave a gift message. It is a legal liability for us to send an anonymous gift to a recipient. We reserve the right to include your email address on the gift receipt if you do not provide a gift message to limit our liability.

★ OUR ETSY STORES ★
Favreaus.etsy.com
TeslaBaby.etsy.com
Announcement
I'm an established artist with my pieces featured in galleries and art collections worldwide. My repertoire includes portraits of presidents and celebrities. While acrylic portraits used to be my main medium, I also excel in watercolors, pencil sketches, pastels, and sculpture.

Despite earning awards and foregoing an art scholarship at Emily Carr University to explore medicine, I ventured into becoming a high-end computer programmer and usability accessibility specialist. My programming skills enable me to uniquely combine the multiple layers in my paintings to achieve the final portrait. Each portrait involves meticulously aligning 3-7 layers, granting room for adjustments even when a small mistake occurs.

For the digital aspect of my work, I employ a large traditional Wacom tablet (without a digital display), crafting each stroke manually. There's no application of filters to your photo; instead, I create your portrait both on paper and digitally, allowing customization to any size you require.

See FAQ here: http://faq.favreaus.com

★ DIGITAL COPY ★
All portrait orders come with a full-size digital copy of your order. I can send it to a photo printing place near you if you don't want to wait for the mail. If you didn't get the GDrive link to your file please let me know.

★ TEXT ME DIRECTLY ★
You can text me, Danielle, at 314-225-5881. Please include your name and order number if you have it - a screenshot is fine. I may not reply after 9 PM CST.

★ SEND PHOTOS ★
Email photos to info [!at] favreaus.com, text to 314-225-5881, or send me a conversation with it - you must include your name and order number so I can match your photo with your order.

★ PROCESSING TIME ★
Processing is usually 5-7 business days (not including the say you order or weekends). Some artwork can take 1-2 weeks.

★ SHIPPING NOTIFICATION BUT NO PROOF? ★
If you have not received a proof then your order has not shipped. I only print the label when I'm ready to ship.

★ PHOTO EDITS - COMBINE PHOTOS ★
You can have any number of people in your portrait. I can combine photos, add the appropriate edit package AND the portrait listing: https://etsy.me/36BsasY

★ PROOFS & MAILING LABELS ★
I send proofs the same day or the day before shipping. If you do not reply by the deadline in the message I will ship what I sent. If, however, you have any issues with what I sent, contact me and I will fix it and make sure you get a new version.

★ DISCOUNT CODES ★
Military discount available. Send me a photo of the top left corner of your CAC or military ID. Family IDs count. First responder and teacher discounts are also available. Please message me at 314-225-5881 or on Etsy.

★ DAMAGED IN THE MAIL? ★
Should your print arrive damaged, please reach out, and I'll arrange a replacement. Share photos of the damaged print and its packaging so I can initiate a claim with the post office and adjust my packaging methods. Every print is shipped as a priority or express package and is insured against both loss and damage. If urgency is a concern, I'm happy to send the print directly to a location near you for in-person pickup. Alternatively, you can utilize the digital version to print it yourself. Although I package according to postal recommendations, occasional mishandling by carriers or machines may cause damage. Rest assured, I'll replace damaged prints for any domestic US order at no additional cost.

★ SHIPPING OVERAGES ★
On items that require shipping, I refund shipping overages so if the shipping cost seems high I will refund anything over what I pay. Large portraits will be crated for mailing and will incur additional shipping charges for crating and proper transportation. Discounts do not apply to shipping.

★ WHEN WILL I GET MY ORDER? ★★
Each order we receive is tailored to your specifications and crafted on-demand. Digital orders usually undergo customization within a few business days (or up to 10 during busy periods) and will be shared with you through messaging for approval, if needed. Paintings created with acrylics or watercolor on paper are skillfully painted on stretched canvas or watercolor paper. These pieces typically take between 2 to 6 weeks to complete.

Regarding shipping, please note that the actual delivery time is beyond our control. However, we ensure all our creations are shipped with tracking for your peace of mind.

★ LOWEST SHIPPING COST / SHIPPING REFUNDS ★
Most prints include free shipping for the domestic US. Canada and foreign shipping are often calculated higher but I will refund overages if it's $1 or more over what I paid. So if you pay $25 in shipping and it costs me $8 to mail it, I refund $17. Conversely, if shipping is more than Etsy lists I will invoice you for the additional shipping costs. If I forget to credit your shipping don't hesitate to remind me.

If you have concerns, contact me with the list of items you want and I will create a custom order with exact shipping for you.

★ INTERNATIONAL DIGITAL SHIPPING REFUND? ★
If you are ordering digital and are international, please contact me for the digital international code that will remove the shipping.

★ INTERNATIONAL SHIPPING AND CUSTOMS ★
Once a package leaves the US, I cannot take responsibility for it. If your tracked item is held up in customs, I won't send a replacement, as we can't ensure it won't face the same issue. But I will work with you to find a solution. If your package is in customs, please contact your local shipping authority to check its status. We'll need your case number for our follow-up as well. Please note, only one case can be opened per item. If we've insured the package, we'll initiate the case to replace it.

You are responsible for any customs, import, or duty fees incurred. Should your package be returned due to unpaid fees, we cannot refund your order due to the custom nature.

★ RETURNS / REFUNDS ★
Custom products, like portraits, are unique and can't be returned because they're created with care and time just for you. Since you'll get a digital version, refunds aren't possible, however, if you spot any issues, let me know so I can fix them! Don't hesitate to reach out before starting a case. I'm here to collaborate and make sure you're happy with your order.

If I need your approval before shipping, keep an eye on your email—I'll send the details via Etsy convo and email whenever possible. If you face any hiccups after receiving your purchase, please get in touch, and we'll sort it out together. You can text me directly at 314-225-5881 (though I might not answer late at night).

While I can't control customs matters, I'm willing to help with shipping delays. Need your digital print at a local printer? Just give me a heads-up, and we'll make it happen!

★ GIFTS ★
All packages are wrapped to avoid ruining any surprises. We are happy to more elaborately or custom gift wrap your art for the recipient and occasion. Be sure to leave a gift message. It is a legal liability for us to send an anonymous gift to a recipient. We reserve the right to include your email address on the gift receipt if you do not provide a gift message to limit our liability.

★ OUR ETSY STORES ★
Favreaus.etsy.com
TeslaBaby.etsy.com
All

98

Watercolor Portraits

15

House / Home Watercolors

8

Custom Wedding Portraits

1

Watercolor Car Portraits

3

Ultrasound Watercolors

2

IVF Embryo Watercolors

31

Diamonds & Gemstones

1

Photo Editing and Extras

8

Don't Forget to Be

9

Wedding Vow Log Slices

5

Scribble Baby Galaxy

2

Custom Wood Ornaments

10

Anniversary Art

3
Average item review
(876)
See reviews that mention:
Loading
I make your memories into things you can hold.
Shop members
Danielle Favreau

Owner

I grew up with an artistic mother who encouraged my artistic pursuits. From sketching and portraiture to watercolor and laser art. My goal is to help you make your life more beautiful while honoring your life and memories.

Erique Favreau

Shipper

I am fortunate enough to be married to Retired Sgt Favreau, who manages our other business, Tesla Baby and who gets all of your packages to the post office each day.
Shop policies
Accepted payment methods
Accepts Etsy Gift Cards and Etsy Credits
Returns & exchanges
See item details for return and exchange eligibility.
More information
Last updated on
May 19, 2022
Frequently asked questions
Go to faq.favreaus.com for answers to most questions.
Seller details
is considered a professional seller (known as a trader) in the EU. What's this?