Announcement Hi there! Welcome to Fine Thread Art!
- Current Turnaround: 3 weeks from the time order is placed until it is placed in the mail
- No Expedited or Early Ship Orders at this time! Thank you for your understanding!

****From August 17 through August 31, 50% of all profits from any of our state hats will be donated to our local flood relief organizations to benefit our community members who have lost so much in our recent flooding here in south Louisiana. Thank you so much for your patronage!****

**How can I find the Ship By Date that my order will be mailed??**
- Count exactly 3 weeks down the calendar (remember, we don't ship on weekends or holidays!)
- Look on your receipt that you received after placing the order. The date is on the top right.
- Log into your Etsy Account and go to your "Purchases" section. The Ship By date will be to the right of your order.

**Don't forget to check out our own online store, www.finethreadart.com, for MANY more items like fishing shirts, duffle bags, totes, koozies, and more!**

You can also find us here:
Facebook:www.facebook.com/finethreadart
Twitter: @FineThreadArt
Website: http://www.finethreadart.com
Instagram: @finethreadart
Newsletter Sign-Up: http://eepurl.com/CDYY1

Please remember the "Fab 5" when ordering:
1- Size of item
2- Color of item
3- Monogram font
4- Thread color
5- Monogram initials in the EXACT order you'd like them embroidered... remember, a monogram traditionally has your last name initial as the center/larger letter!!

Again, THANK YOU! We wouldn't be where we are today without your help.

-Jamie-
Fine Thread Art

Want to find out more? Check out this shop's About page.

***SHIPPING UPGRADES: There are a few lightweight items like hats, v-necks, the youth oxford, and the tote bags (not boat totes) that are light enough to ship First Class Mail. On these listings, you'll see the option to choose standard shipping, which will be First Class Mail and take about 2-5 days once in the mail, or Priority Mail, which takes about 1-3 days. These DO NOT shorten the length of your total turnaround time of 3 weeks. They simply give you an option for cheaper shipping prices, depending on how long you'd prefer to wait once your item is in the mail.****

**BLOG GIVEAWAYS/SPONSORSHIPS: I do not participate in blog giveaways or sponsorships at this time. Thank you for your interest, but we get asked so often that there's no way that we could run a business if we said yes to everyone!! So, we've decided that it is best to not participate in them at all. You're more than welcome to link back to our shop, but we do not send free products.**

**We DO NOT sell blank items. We have strict contracts and agreements with our wholesale vendors that require us to only re-sell items that are embellished in some way, so we do not act as a resale "middle man" type of business where we just turnaround and sell blank items. Thank you for your understanding!**

**Greek Lettering/Team Logos/Characters: We are not licensed to embroider Greek lettering or specific trademarked logos or characters for organizations, so we choose to not illegally embroider these graphics. These letters and logos are copyrighted and trademarked for a reason, and we respect those companies' intellectual property rights.**
Announcement
Last updated on
Aug 18, 2016
Hi there! Welcome to Fine Thread Art!
- Current Turnaround: 3 weeks from the time order is placed until it is placed in the mail
- No Expedited or Early Ship Orders at this time! Thank you for your understanding!

****From August 17 through August 31, 50% of all profits from any of our state hats will be donated to our local flood relief organizations to benefit our community members who have lost so much in our recent flooding here in south Louisiana. Thank you so much for your patronage!****

**How can I find the Ship By Date that my order will be mailed??**
- Count exactly 3 weeks down the calendar (remember, we don't ship on weekends or holidays!)
- Look on your receipt that you received after placing the order. The date is on the top right.
- Log into your Etsy Account and go to your "Purchases" section. The Ship By date will be to the right of your order.

**Don't forget to check out our own online store, www.finethreadart.com, for MANY more items like fishing shirts, duffle bags, totes, koozies, and more!**

You can also find us here:
Facebook:www.facebook.com/finethreadart
Twitter: @FineThreadArt
Website: http://www.finethreadart.com
Instagram: @finethreadart
Newsletter Sign-Up: http://eepurl.com/CDYY1

Please remember the "Fab 5" when ordering:
1- Size of item
2- Color of item
3- Monogram font
4- Thread color
5- Monogram initials in the EXACT order you'd like them embroidered... remember, a monogram traditionally has your last name initial as the center/larger letter!!

Again, THANK YOU! We wouldn't be where we are today without your help.

-Jamie-
Fine Thread Art

Want to find out more? Check out this shop's About page.

***SHIPPING UPGRADES: There are a few lightweight items like hats, v-necks, the youth oxford, and the tote bags (not boat totes) that are light enough to ship First Class Mail. On these listings, you'll see the option to choose standard shipping, which will be First Class Mail and take about 2-5 days once in the mail, or Priority Mail, which takes about 1-3 days. These DO NOT shorten the length of your total turnaround time of 3 weeks. They simply give you an option for cheaper shipping prices, depending on how long you'd prefer to wait once your item is in the mail.****

**BLOG GIVEAWAYS/SPONSORSHIPS: I do not participate in blog giveaways or sponsorships at this time. Thank you for your interest, but we get asked so often that there's no way that we could run a business if we said yes to everyone!! So, we've decided that it is best to not participate in them at all. You're more than welcome to link back to our shop, but we do not send free products.**

**We DO NOT sell blank items. We have strict contracts and agreements with our wholesale vendors that require us to only re-sell items that are embellished in some way, so we do not act as a resale "middle man" type of business where we just turnaround and sell blank items. Thank you for your understanding!**

**Greek Lettering/Team Logos/Characters: We are not licensed to embroider Greek lettering or specific trademarked logos or characters for organizations, so we choose to not illegally embroider these graphics. These letters and logos are copyrighted and trademarked for a reason, and we respect those companies' intellectual property rights.** No items listed at this time
Reviews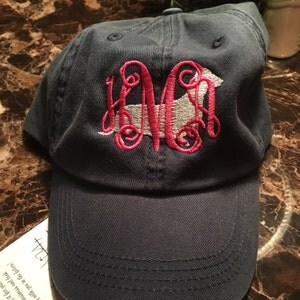 My hat arrived to me EXACTLY how I explained that I wanted it. The owner and I communicated directly to one another and she was very sweet and helpful in ensuring that I was getting exactly what I wanted. The owners response time to my message was quick, it's very obvious that she aims to make and keep her customers happy. My hat arrived packaged nicely in a box with a sweet little note from the owner herself, that's always a nice touch! My hat is simply perfect and I could not be more happy! I fully intend on doing business with the owner again, very soon actually! I would totally recommend this shop to anyone.

Very cute. The fit was a tad bit awkward but I still really like it.
About
Embroidery to Celebrate Every Day
Fine Thread Art was started in the beginning of 2010 with my dad's vision. He had faith that I could quit my 9-5 desk job in the accounting department of an oilfield company and transition to working in the embroidery business. There was a gigantic learning curve, (and I'm still learning everyday...) but I'm now the owner and operator of this business and feeling so proud of it.

I've always known that I wanted to work in a creative profession and have gone through a few big decisions to get to where I am today. I am a huge believer in the fact that if you don't like something about your life, it's up to YOU to change it. From starting college in visual arts to completing cosmetology school to working in a salon then office and now finally finding my niche in embroidery...it's been a journey. I come from a family of small business owners and have always admired them for doing things on their own terms. So, here I am... a part of the family tradition.

Growing up in South Louisiana has really inspired me in my work to create treasures that can be used to celebrate the gift in everyday. I am so touched and honored to get to have a little part in customers' weddings, birthdays, parties, and just everyday lives. To know that my guest towels are hanging in someone's home or that a bride is preparing for her wedding in a shirt that I embroidered for her or that a new student is walking across campus for the first time in one of my monogrammed sweatshirts... it just makes me overwhelmingly happy.

I'm so glad to be involved in a community like Etsy, and I look forward to working with customers both new and returning to create pieces that are both beautiful and practical. Thank you for taking the time to look through my shop. I appreciate my customers' parts in helping me to live my dream everyday.

Many thanks,

Jamie
Fine Thread Art
Shop members
Jamie

Owner, Maker, A Little Bit Of Everything.

I own & operate Fine Thread Art & love seeing an order from start to finish. I've always found comfort in creativity and have transitioned from a career of cosmetology to embroidery without a regret in the world. I am so grateful to do this everyday.
Shop policies
Last updated on
May 13, 2016
Hi there… Welcome to Fine Thread Art's Etsy shop! We are a custom embroidery shop based in south Louisiana. Our culture celebrates family and having a good time (Laissez les bon temp rouler!) as well as hard work to back it all up. The first question you get asked here is usually what your last name is, where you're from, or who your parents are. I guess that's why we're so enamored with monograms! It's a visual representation of who you are. I pride myself on one-on-one customer service and skillful monogramming using durable and high quality thread, stabilizer, and products. Thank you for taking the time to visit our little shop and support small businesses in our communities!

Don't forget to check us out on Facebook for up to the minute updates! www.facebook.com/finethreadart
Or if you prefer to tweet:
www.twitter.com/FineThreadArt
Instagram:
www.instagram.com/finethreadart

We also have our own website at www.finethreadart.com!
Accepted payment methods
Payment
:.:.:I accept PayPal, a credit card, or an Etsy gift card as my forms of payment. Payment is expected as soon as items are purchased. No items will be shipped until payment is received in full. .:.:.:

:.:Cancellation policy:.: If, for any reason, you need to cancel an order, you must do so within 24 hours of paying for your order. I always try to start on an order as soon as possible, so the sooner the better if you need to cancel: If you need to cancel an order after this time, please note there will be a 10% cancellation fee, which means you will be refunded 90% of what you paid. I try to give as much information as possible, so if it is because of something I left out, I'll be happy to fully refund your purchase. Please, please convo me with ANY questions BEFORE your order is placed to alleviate cancellations later!! If you place an order but do not leave all pertinent information that I'll need to complete your order, and I haven't heard back from you for at least 1 month from the time your order is placed, your order will be cancelled and 90% refunded..:

:.:Order Changes:.: If you would like to change something on your order, you must do so within 24 hours of your order being placed. After this time, I cannot change anything major (for example, changing your shirt color or size). If you'd like to change something simple, like your thread color or font, please let me know within 5 days of completing your order. If I have already started on your order, I cannot change what has already been embroidered.:.:
Shipping
I ship orders 3 weeks after payment is received, unless otherwise specifically noted. I don't ship on weekends or holidays. They will be shipped on the next business day. I ship all items through USPS. As soon as an order is complete, I will mark it shipped. Then, at the end of the day after finishing my embroidery for the day, I enter in all tracking numbers. So, you WILL receive a shipping notification and tracking number with every order.

***SHIPPING UPGRADES: There are a few lightweight items like hats, v-necks, the youth oxford, and the tote bags (not boat totes) that are light enough to ship First Class Mail. On these listings, you'll see the option to choose standard shipping, which will be First Class Mail and take about 2-5 days once in the mail, or Priority Mail, which takes about 1-3 days. These DO NOT shorten the length of your total turnaround time of 3 weeks. They simply give you an option for cheaper shipping prices, depending on how long you'd prefer to wait once your item is in the mail.****

When purchasing more than one item, shipping will automatically be combined in your shopping cart. If the actual shipping cost is more than a $4.00 difference, I will credit your account the extra shipping.

If you do not list all information that I need to complete your order, this turnaround time is no longer valid. I will hold your order until you get back to me with any additional information that I send a convo about. For example, if you forget to list the initials you'd like embroidered.

I always try to send out convo's within a few days of receiving your order if some information is missing… for example no thread color or monogram font. If I send a convo about either of these and do not hear back from you within a week, I will just use the monogram font and/or the thread color that is used in the main photo of whatever item you've purchased or use my judgement on what color/font that I think will look best. Also, if you just list 3 initials, I will embroider them in that exact order unless otherwise noted. If I send a convo to you asking a question about the initials listed, but I do not hear back within a week, I will just embroider the initials exactly as written. I send all correspondence through Etsy about these types of issues, so be sure that your Etsy account has notifications set up to send any Etsy activity straight to your e-mail!
Refunds and Exchanges
:.:.:Returns:.:.: In general, I do NOT accept any returns on personalized items. I cannot re-use the items after being embroidered. I am committed to your satisfaction with Fine Thread Art's items. If there is a mistake that I made with your order… embroidered the wrong initials, wrong color, etc., then please contact me ASAP so that we can figure out what needs to be done in order to get your order correct! If there is some sort of shipping damage, please contact me and we'll start the steps of filing a claim with the USPS. I take photos of every single piece that I embroider before mailing it out, so I'll always reference these photos when discussing any sort of defect or issue. If there is clearly no damage on the item before it was sent out, and there was no shipping damage, I'm sorry but I cannot offer a refund or exchange on any item that you may have damaged after receiving the order. Please be honest and fair with all return requests.

I am not responsible for any thread or item colors that may not be what you are expecting. I try to make sure that all photos on my listings are accurate and the correct color. Please understand that computer screens and brightness settings can distort this at times. If you are unsure about a certain color, please ask before your order is placed. I cannot refund or accept returns on any items because you think the color is different.

I have size charts and as much descriptive text as possible about sizing on each listing. If you have questions, I'll do my absolute best to help you figure out sizing BEFORE you place the order. Since items are personalized, I cannot accept returns or offer refunds. I cannot accept any returns if you order the wrong size. Please understand that I cannot suggest your exact size. You know yourself and how clothing fits you more than I would so please use the size charts thoughtfully, and I'll help with suggestions as much as I can, but I will not guarantee that a size will fit you.


Also, I clearly state on my listings exactly how monograms and initials should be sent to me for embroidery. If you send the wrong letters or order of the letters you'd like on a monogram, I am not responsible for your mistake. I will do my best to contact you before embroidering your order if I have a question about the message you sent to me. However, if I don't hear back from you in a timely manner, I cannot be responsible for shipping your order on time if I still haven't heard back. I just want your order to be correct!! I specifically ask for you to list your initials in the "jDm (Jane Marie Doe) format because it is very confusing when an initial is listed as the "middle"... I do not know whether you mean a middle name or the larger middle initial, so please help me out! Thank you for your understanding on this matter. Also, if no monogram style is specified, I will just use the same font that is in the main photo of the item you have purchased. The same goes for thread color unless I notify you otherwise.:.:
Additional policies and FAQs
In general, after I receive your order, I will only contact you if I have a question or there is an issue with your order. If you do not hear from me, don't worry!! If it is past the 3 week mark after you have purchased an item and you have not received a shipping notification or some sort of communication from me, please send me a message to check on your order! Also, if you ever have any questions at all, I'll get back to you as soon as I can. I try to answer convos Monday through Friday in the mornings and evenings. But again, unless otherwise noted, your order will ship 3 weeks after your order is placed.

---Remember, in a traditional monogram, the Last Name is the center letter which is larger. The easiest way to type this out is using lower and upper case letters (even though ALL letters will be embroidered as caps). For example, Jane Elizabeth Doe would be written as jDe. This just eliminates all confusion for me about which letter goes where. If you do not list monograms in this format, I am not responsible for letters being embroidered incorrectly and will not take any returns on these items. If you're unsure, just write the whole name out. Thanks so much for your help!!---


**Please note, we do not embroider any licensed or trademarked logos such as sports teams, cartoon or movie characters (including Disney), or product logos. For us to recreate these images and logos without permission is not right or legal since it is someone else's property, so we choose to not participate in this type of embroidery at all. I do not embroider sorority or fraternity letters (which are kept safe by the Greek licensing board). This is because I have to register with the Greek Licensing board for each sorority or fraternity, and the cost would be too high to charge per item. Thanks for your understanding!**

**I do not send giveaways or free products to review to blogs, instagram accounts, etc. at this time. I get quite a few requests each week, so I don't want to be unfair and pick one person over another!! Thank you for your interest though. I really do appreciate it.**

If no thread color or monogram font is listed when you order, I will always try to send a convo asking you about your preference within a few days of you placing your order. If I have not heard back from you after a week or at the end of my three week turnaround (whatever comes first), I will embroider your order with the monogram font and/or thread color that is in the main photo of the item you've purchased or use my judgment as to what color will be used. For example, if you purchase the long sleeve monogram pocket tee, and you don't list a thread color or monogram font, I will embroider your order in hot pink, script circle font. Remember, this is only if I try to contact you about your preference and you do not get back to me by the time I need to complete your order. If you list all information, I will absolutely follow your instructions.

You can also check out our website, www.finethreadart.com and our Facebook page, www.facebook.com/finethreadart to see the other items we offer as well as on Twitter: www.twitter.com/FineThreadArt.

If you have any other questions, convo me. I'll be here!!!

Thanks for checking in!

--FineThreadArt--