Reviews

BUYER BEWARE!!! If i could have given a ZERO star, I would have. Ordered 6 soap loaves and received ZERO and NO REFUND either after two months. It seems that something HORRIBLE is always happening to this seller. She gives a completion date and then doesn't meet deadline and doesn't contact you. When you contact her she will tell you it's about to be shipped. Then when it doesn't ship you contact her again and all of the sudden something TRAUMATIC happens. Then you get another ship date and the circle begins again. It's always life or death, traumatic life changes, needs a vacation. We all go through challenges and changes and MAJOR life events but don't expect your customers to go through your drama. We have our lives too and our businesses to run. VERY UNRELIABLE.

The reason this buyer did not receive her soap is because she prematurely filed a claim and then escalated it just before her soap was shipped. Many buyers don't realize that once a claim is filed, sellers have a very brief time to refund before a refund is automatically done by Etsy. I issued the refund and the buyer received it on 9/21. If I did not refund her, Etsy would not have closed the case. I sent three conversations to the buyer to see if she would be willing to work something out but she would not respond. That is shame because I was willing to send her order free of charge. She did wait a long time what I thought was patiently, both my parents passed away and I also got very sick. Saying "everything is life or death" is very mean. I am a human being, not a large corporation. I tried to resolve.

Gave out as party favors! Item is awesome – smells delicious and is so luxurious! Guests still raving about the soap weeks after the event! Seller was wonderful in working with me to customized my order as well as getting the order delivered to me by a specific day – even upgraded shipping at no cost to myself. Will definitely be purchasing soap form seller in the future for self and for party favors!!!!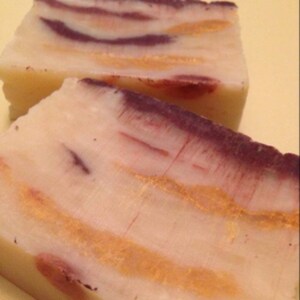 Thank you! Thank you! I love the four pound loaf of Hello Sugar soap I ordered. I received it today and while it has been awhile since I've smelled Hello Sugar I knew instantly that was the scent and it was perfect!!!!! And thank you for the extra gifts you sent along with the order. My daughter was so impressed. She wants a pound in Vanilla Bean Noel. I should have thought of that for her birthday which just passed, but Christmas is coming........
Shop policies
Last updated on
August 26, 2016
Hello! Starfire's Creations offers quality handmade body care and room scenting products at affordable prices. I am readily available by email, so please feel free to convo me with any questions, or custom requests.
Accepted payment methods
Payment
I accept PayPal and money order for payments. If you send an e-check via PayPal, I will start work on your order once payment has cleared.
Shipping
I always ship via Priority Mail with delivery confirmation, and use flat rate boxes whenever possible, for US buyers unless preferred otherwise. For international buyers, I usually ship international flat rate Priority Mail if possible, but can also provide a quote so that the buyer can decide which method of shipping they wish for me to use (since International shipping can be extremely expensive). Tracking is not available for overseas packages automatically - insurance will need to be purchased at the expense of the buyer. Please request a quote if you will want/need that service.

****VERY IMPORTANT**** Since my items are painstakingly handmade, please allow time for me to complete your order.... the standard turnaround time for me is between 2-6 weeks, but there may be other circumstances that decrease or increase the turnaround time. Unfortunately this is not my full time job (I wish it was) and I have a toddler, so that needs to be taken into consideration.
Refunds and Exchanges
Due to the nature of the items I sell, I do not accept returns unless I have made an error with your order.

I DO refund in full if you've decided not to purchase your order BEFORE I ship it. Also, in the event you do not receive your package, the best option is for me to remake and reship your items, since I will ONLY refund item cost, not shipping. Shipping cost is specifically for the purpose of shipping your package, and if your package gets lost -- it was still shipped and that part of the payment was used.

If you have issue with these policies, you must let me know before ordering. If you order, I assume you have read and completely understand my policies.
Additional policies and FAQs
If you have a hard deadline for when you need to receive the items, please let me know before ordering. I do my best to estimate how long orders will take, but there are many factors that come into play. Unless orders are placed a month or so before you need them, I usually cannot guarantee you will receive them in time, particularly if they are highly customized. Although I always try to help, last minute orders may not work out depending on my current volume.

Please note that I do not provide refunds due to not liking a fragrance you thought you might like but decided you did not. I feel the descriptions of the fragrances are accurate and the majority of them come directly from the manufacturer. Soap and candle making are both time consuming processes, and adding fragrance is a very small part of the process. Please try to choose fragrances you feel you will really like :)

I also do not provide refunds due to the color being different than you expected. If you request a certain color for your soap loaves or candles, I do the best I can to achieve the right color. However, a lot of factors go into how the color actually turns out.....for example, fragrances with a vanillan content will discolor a soap to tan or brown no matter what color is initially used. Shades of different colors are also hard to produce. Color shades can also vary between loaves.... if you order two loaves of lavender soap colored purple for example, the strength of the shade can be different between the two loaves. In particular, specific shades of purple and red are very difficult to do. Please know that I do the best I can, but cannot guarantee that the color will be exactly what you picture.

If you feel that you cannot leave positive feedback after receiving your order, please let me know. Something can be worked out, whether it be a discount on a future order, extra products with a future order, a partial refund, etc. Informing me of a problem by leaving negative feedback is not beneficial to either myself or you.