Announcement SPECIAL HOLIDAY NOTICE:
If you NEED an order prior to Dec 23rd, please purchase RUSH/FLASH shipping at checkout, as my deadline for STANDARD shipping has passed and I may cancel your order if you leave a note asking to have your order before X-Mas. I don't mean to be a jerk, but this will be my MO after issues with orders last year.

======

If you would like a free perzine (RFR#1), leave a note at checkout!
Orders over 20$ receive a free compilation CD - when in stock - of local So Cal bands.

======
Please follow the link for a small example of how stuff is made on FoxAlive:
https://www.youtube.com/watch?v=z-uOyUkK8LI
======

This is not Amazon Prime. All orders will take one to four weeks before shipping (people living in CA - this means you, too), unless you order a shirt, zine, or photo print alone. Because of this, I advise anyone who might be moving avoid ordering until AFTER they move; any change of address will result in a cancel/refund order due to past issues.

This is NOT because I am lazy and LOVE putting things off, but rather because FoxAlive is run by one-person who works 48-96 hour weeks, has a side-gig as a photographer, and has an all-around stressful existence that takes up a lot of spoons (not to mention I'm developing wrist pain from doing this for so long).

Please don't be a jerk about this, if you can't wait, don't order. I'd much rather give out a refund than jump through hoops for a buck.

I try my best to make things fast, but expect later rather than sooner due to the above reasons along with most things here being hand-made.

Please consider this before ordering; if you'd like next/same day delivery, there is an option for that, but be aware if you did not pay for that service and begin harassing me to ship sooner than the projected time, your order MAY be cancelled.

If there are any concerns about shipping, or your order, feel free to message me. I promise I won't bite. I may just be tired, in which case please don't mistake me as angry, or a robot.

When messaging, please await 48 hours for a response, and do so via Etsy (not my email, where messages are always lost to the spam filter). If you repeatedly message me within a short time frame, and get aggravated that I don't respond within a few hours, your order will be cancelled; no offense, but I don't just sit by the computer.

Non-Etsy users can contact me through the Twitter or Facebook links provided on this page.

=========================

FREE SHIPPING ON ORDERS OVER $100.
Enter Coupon Code: FREESHIPPING

Small bands: I'm looking for some smaller bands who'd like for me to distribute (for free) their music through Etsy. Get in touch for details!

=========================

ASK ABOUT HOW YOU CAN GET A FREE SMALL PATCH ON YOUR FUTURE ORDER.

INTERNATIONAL ORDERS NOW RECEIVE TRACKING INFORMATION.

Repeat customers (3 orders or more) can message me for discount codes.

=========================

Be sure to follow me on tumblr (skepticamongthefaithful), twitter, and Facebook for any news. I randomly put up coupon codes on those websites.

If you'd like to follow me personally, check out my Instagram: @Rev_5
Announcement
Last updated on
Nov 29, 2016
SPECIAL HOLIDAY NOTICE:
If you NEED an order prior to Dec 23rd, please purchase RUSH/FLASH shipping at checkout, as my deadline for STANDARD shipping has passed and I may cancel your order if you leave a note asking to have your order before X-Mas. I don't mean to be a jerk, but this will be my MO after issues with orders last year.

======

If you would like a free perzine (RFR#1), leave a note at checkout!
Orders over 20$ receive a free compilation CD - when in stock - of local So Cal bands.

======
Please follow the link for a small example of how stuff is made on FoxAlive:
https://www.youtube.com/watch?v=z-uOyUkK8LI
======

This is not Amazon Prime. All orders will take one to four weeks before shipping (people living in CA - this means you, too), unless you order a shirt, zine, or photo print alone. Because of this, I advise anyone who might be moving avoid ordering until AFTER they move; any change of address will result in a cancel/refund order due to past issues.

This is NOT because I am lazy and LOVE putting things off, but rather because FoxAlive is run by one-person who works 48-96 hour weeks, has a side-gig as a photographer, and has an all-around stressful existence that takes up a lot of spoons (not to mention I'm developing wrist pain from doing this for so long).

Please don't be a jerk about this, if you can't wait, don't order. I'd much rather give out a refund than jump through hoops for a buck.

I try my best to make things fast, but expect later rather than sooner due to the above reasons along with most things here being hand-made.

Please consider this before ordering; if you'd like next/same day delivery, there is an option for that, but be aware if you did not pay for that service and begin harassing me to ship sooner than the projected time, your order MAY be cancelled.

If there are any concerns about shipping, or your order, feel free to message me. I promise I won't bite. I may just be tired, in which case please don't mistake me as angry, or a robot.

When messaging, please await 48 hours for a response, and do so via Etsy (not my email, where messages are always lost to the spam filter). If you repeatedly message me within a short time frame, and get aggravated that I don't respond within a few hours, your order will be cancelled; no offense, but I don't just sit by the computer.

Non-Etsy users can contact me through the Twitter or Facebook links provided on this page.

=========================

FREE SHIPPING ON ORDERS OVER $100.
Enter Coupon Code: FREESHIPPING

Small bands: I'm looking for some smaller bands who'd like for me to distribute (for free) their music through Etsy. Get in touch for details!

=========================

ASK ABOUT HOW YOU CAN GET A FREE SMALL PATCH ON YOUR FUTURE ORDER.

INTERNATIONAL ORDERS NOW RECEIVE TRACKING INFORMATION.

Repeat customers (3 orders or more) can message me for discount codes.

=========================

Be sure to follow me on tumblr (skepticamongthefaithful), twitter, and Facebook for any news. I randomly put up coupon codes on those websites.

If you'd like to follow me personally, check out my Instagram: @Rev_5 No items listed at this time
Reviews

Item arrived in a very timely manner. Happy with the quality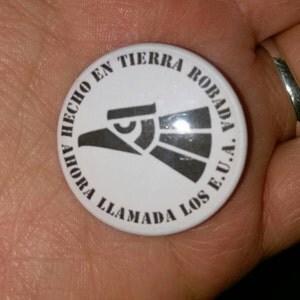 This pin is great! It shipped and arrived quickly!

Awesome quality, crisp printing, good size. Looks great on my jacket. Thanks!
About
Titles are hard sometimes.
Once upon a time, a friend purchased me a cheap screen-printing kit, and through a process of trial and error, here I am today.

(I promise to give a full detailed thingy ma-bober later when time allows)
Shop members
Manuel // Fox

Owner, Designer, Photographer

26. Xicano. Screen-printer. On/Off Writer. Photographer. EMS.
Shop policies
Last updated on
November 30, 2016
Creating patches and zines of art, people, bands, and ideas that seem to be completely underrepresented. Being a socially conscious person of color, I try to stay clear of bands/ideas that are problematic in nature. I will not create anything that further erases or marginalizes any oppressed group, and do not take kindly to people who act like I owe them something (I.E. I reserve the right to refuse service to anyone).

This shop is not yet completely eco-friendly, but is working its way to get there.
Accepted payment methods
Payment
I accept Paypal and Direct Check-out only.

Due to my work schedule, and an assortment of other responsibilities, I will not meet offline for sales.
Shipping
Please refer to the front of the shop for current shipping times, as I am not normally able to mail out orders within the week, unless it is a Flash/Rush order.

Shipping price is set to cover the cost of tracking information as well as insurance for higher priced orders. I apologize for the high cost, but this is for both of our protection.

You will receive an automatic email from Etsy as soon as your order has been marked shipped. Please allow 48 hours for your tracking information to update after being marked shipped.

If you would like items out faster, you have to pay for that service; either Rush or Flash order. If you do not pay for this service, but ask (read: harass me) your order to ship ahead of the projected shipping times, your order will be cancelled without warning.

Rush Orders are normally shipped with USPS Priority Mail shipping. Max four day turn around.

Flash Orders are normally shipped out with USPS Priority Mail shipping. Max three day turn around.

I cannot guarantee USPS shipping times, as they do not guarantee it themselves.

Any questions please message before placing order.
Refunds and Exchanges
No refunds will be available on T-Shirts, as they are made to order, and full disclosure was given on both sizes and "not perfect" centering of design.

Full-refunds on items are available for orders not marked "shipped," those not as described, or items lost by the USPS if notified within two weeks after shipment. All refunds will require a buyers affidavit to be completed within four weeks.

Full refunds will not be given for customers who change their minds about an order after shipment. Partial refunds will be given with items returned in unused/unopened condition; that is, the order total minus cost of Shipping and Handling. Refunds will not be issued until AFTER I receive items back. No exceptions.

I will not pay for you to ship items back to me.

Items that are returned used/worn/damaged will not be refunded.

No refunds will be given on orders four weeks after shipment, including reported non-delivery where tracking shows item as delivered, as I advise everyone to inform me of non-delivery after two weeks of shipment.
NO EXCEPTIONS now that tracking information is sent with every order.
Additional policies and FAQs
CUSTOM ORDERS: I will refuse to do anything I deem to be of an oppressive nature, or in support of someone who incorporates that same nature into their behavior/creations. I will also refuse to create anything I feel promotes drug culture for personal reasons.

Regular price is given only when designs are something I can repeatedly print.

If you find anything on here that offends you (and by that, I don't mean something that checks your privilege), just message me and let me know why; I'll take it down. I occasionally slip up on my own privileges and would appreciate being corrected.

Also, let me know if there is a band/artist up here that you know for a fact DOES NOT practice what they preach.
More information
Last updated on
Nov 17, 2016
Frequently asked questions
Care instructions
For patches, to avoid fraying of edges, please sew edges tight.
For BLACK shirts, please machine wash cold inside-out for prolonged life of designs.
Current fabric being used for patches?
As of May 2016, I use Canvas. For people unfamiliar with cloth patches, this is a durable fabric, but is subject to fraying with improper cutting and repeated washes depending on application.
Why do your patches cost so much? It's just cheap fabric and spray-paint.
No, it's not. And the reason it costs so much is because Etsy/PayPal fees associated with each sale. As well as this price range keeping the amount of orders down far enough to wear a single operator can actually handle it while going to school/work full-time.
Okay, then why does shipping cost more than an actual patch? Stamps are like 50 cents.
I'd love to charge less for shipping, but I have a long history of buyers losing orders and becoming irate with me, demanding tracking numbers (when they chose not to pay extra for it), and losing a lot of money in refunds. So now tracking information and insurance is non-negotiable for both of our protection, as sometimes the USPS does lose my packages, and I end up having to file claims with them. I'd like to make this stuff as cheap as possible, but this is honestly better than having people yell at me for "not shipping" out orders, as I can point to the tracking number for most issues.
I live nearby to Orange. Can I just come by your place and buy from you directly?
Q: Do you plan to make any more ____ patches?
If a patch I make is sold out, I either haven't had the time to renew the listing, or stopped making it because it is not an original piece and the artist/band could not be contacted for permission. And I don't like going behind artists backs for a buck, especially if they're still active and selling their own merch to continue doing what they do.
How long until I get my order? I live close/in California, will it still be X weeks?
Processing times not only reflect order volume and distance, but also personal circumstances.

As stated numerous times through-out the shop, FoxAlive is a solo operation run by ONE PERSON - not a collective - in over his head. Apart from the distro, I also work 48-96 hour weeks at my main job, go to school full-time, and happen to be a human being with dreams and goals beyond making patches and shirts.

I try to have stuff out asap, but considering I also deal with on/off depression, and wrist problems, I can only dedicate so much time to FoxAlive before my wrist burns out or I start feeling like I only exist to serve capitalism. So the X amount of weeks in processing time isn't meant to keep me lazy as it is to keep Fox, well, alive.
Can you make *this* patch bigger/smaller?
All design sizes are final. Unless you want to pay $50 for a custom order.
Can you make me a custom shirt/patch/button?
Yes, of course! I actually have a couple listings designated for shirts, patches, and buttons with step-by-step instructions on how to place an order. Please be aware, if you commit to an order, you are giving me a 30 dollar non-refundable deposit for my time in designing and/or prepping a screen for your custom order.