Announcement Availability - March - BOOKED
April - Schedule is open for April


Please note these are available MAIL dates, NOT event dates! You must still allow 4 days time (continental USA) for mailing to meet your event date.

If there is a cookie design you are interested in but you do not see in my shop, please check the Cookies album on my Facebook page for a portfolio of some other cookie designs, including color variants. If I do not have what you are looking for here or on Facebook just let me know - I am always excited to create something new just for you!

If you know your event date, and if you are certain about cookie design(s) and quantity needed, then I highly recommend you place your order immediately. This will minimize the risk that your date is taken by other customers who place an earlier order for the same date. It is never too early to reserve your spot on the schedule! :)

When placing any order, please include your event date in 'Note to Seller' section of order form. Your cookies will be baked fresh, decorated and mailed so delivery will occur 1-2 days before your event date unless you specify otherwise.

***If you need cookies shipped within the same week as you order, we charge a rush order fee of $40 if we are able to meet your request. There is a $20 fee for cookies placed within a 2 week period of your ship date. If you place an order for cookies when the date is unavailable, or within a week of the ship date before contacting us, we will need to return your money, or make other arrangements.

*BY PLACING AN ORDER, YOU ARE AGREEING TO THE PAYMENT AND CANCELLATION TERMS SET FORTH!

*Keep in mind cookie decorating is very time consuming and I have a maximum number of cookies I am able to produce within any given week. I prefer producing quality over quantity. I book 2-4 weeks in advance but am, on occasion, able to incorporate a smaller order with shorter notice. During holidays, graduations and teacher appreciation weeks, I frequently book 4-6 weeks in advance. Booking early is always best!

**CANCELLATIONS: I understand that sometimes situations arise where previously planned events must be changed or even canceled. I am also mindful that my schedule fills very quickly, often 1-2 months in advance, and very early each month I often must begin to reject more orders than I accept because my schedule is filled.

With that in mind, my cancellation policy is to issue a full refund for any paid order that is cancelled more than 14 days prior to the scheduled shipping date for your order. For cancellation requests received 7-14 days from the scheduled shipping date of your order, I will refund the entire postage charge plus one-half of the cookies total. Cancellations less than 7 days before the scheduled ship date of your order (or which occur after I have started baking your large order) will receive a refund of shipping costs only. In the event I am able to fill a bake date canceled with less than 7 days notice with an order from another customer, then I will issue a full refund (except in those cases where I have already begun to bake your larger order). THIS CANCELLATION POLICY ONLY APPLIES TO FIRM ORDERS ALREADY ACCEPTED BY ME AND ENTERED INTO MY BAKING CALENDAR. CUSTOMER WILL KNOW SHE IS ENTERED INTO MY CALENDAR WHEN SHE RECEIVES MESSAGE FROM ME SHOWING REVISED SHIP DATE FOR ORDER. For orders placed that I cannot accept due to already filled schedule, of course I will issue full refund of entire purchase price and shipping cost without regard to when such orders are actually placed.

If customers are not yet serious about event plans, or if they want to make an order only to hold a space on my calendar while decisions are made concerning whether or not to include my cookies, then other customers who do have firm plans are turned away because they cannot get into my filled calendar. There is also the potential that I am left with open blocks of baking time due to customers who make 'place holder' orders and then cancel at the last moment when new plans are made.


Please note that these items ARE NOT MADE IN AN ALLERGY-FREE KITCHEN. All of my items are prepared with equipment that may have processed or had contact with shellfish, peanuts, tree nuts, wheat, chocolate, eggs and dairy products. That said, I am able to make Gluten & Nut free cookies if desired.

COOKIE CARE INSTRUCTIONS:
Your cookies will arrive fresh from my kitchen and will remain so for 14-21 days if you follow these instructions: immediately upon receipt, if you choose to open the cookies from the cellophane, cookies need to be placed in an airtight container. Cookies can be frozen, however, careful care needs to be taken when defrosting. COOKIES NEED TO COME TO ROOM TEMPERATURE BEFORE BEING EXPOSED TO AIR. In other words, leave them in the airtight container for 24 hours and allow them to come to room temperature before opening the container. Condensation can form on the cookies which may cause colors to run or bleed.

QUANTITY DISCOUNTS: I am so sorry, but I do not offer a quantity discount on my decorated sugar cookies listings. Each cookie is hand piped and hand brushed with hand mixed royal icing in various colors. This is a time intensive process that is not very susceptible to economies of scale. In other words, the time needed to make 3 dozen cookies is approximately equal to 3x the time needed to make 1 dozen cookies. Unfortunately there is no time savings to pass to you, the customer. On the bright side, however, you can be assured I devote the same amount of care, time and attention to the first cookie in your order as I do with the last. :)


Thank you!!

www.Facebook.com/FrostedSweetPeas
Announcement
Last updated on
Feb 24, 2018
Availability - March - BOOKED
April - Schedule is open for April


Please note these are available MAIL dates, NOT event dates! You must still allow 4 days time (continental USA) for mailing to meet your event date.

If there is a cookie design you are interested in but you do not see in my shop, please check the Cookies album on my Facebook page for a portfolio of some other cookie designs, including color variants. If I do not have what you are looking for here or on Facebook just let me know - I am always excited to create something new just for you!

If you know your event date, and if you are certain about cookie design(s) and quantity needed, then I highly recommend you place your order immediately. This will minimize the risk that your date is taken by other customers who place an earlier order for the same date. It is never too early to reserve your spot on the schedule! :)

When placing any order, please include your event date in 'Note to Seller' section of order form. Your cookies will be baked fresh, decorated and mailed so delivery will occur 1-2 days before your event date unless you specify otherwise.

***If you need cookies shipped within the same week as you order, we charge a rush order fee of $40 if we are able to meet your request. There is a $20 fee for cookies placed within a 2 week period of your ship date. If you place an order for cookies when the date is unavailable, or within a week of the ship date before contacting us, we will need to return your money, or make other arrangements.

*BY PLACING AN ORDER, YOU ARE AGREEING TO THE PAYMENT AND CANCELLATION TERMS SET FORTH!

*Keep in mind cookie decorating is very time consuming and I have a maximum number of cookies I am able to produce within any given week. I prefer producing quality over quantity. I book 2-4 weeks in advance but am, on occasion, able to incorporate a smaller order with shorter notice. During holidays, graduations and teacher appreciation weeks, I frequently book 4-6 weeks in advance. Booking early is always best!

**CANCELLATIONS: I understand that sometimes situations arise where previously planned events must be changed or even canceled. I am also mindful that my schedule fills very quickly, often 1-2 months in advance, and very early each month I often must begin to reject more orders than I accept because my schedule is filled.

With that in mind, my cancellation policy is to issue a full refund for any paid order that is cancelled more than 14 days prior to the scheduled shipping date for your order. For cancellation requests received 7-14 days from the scheduled shipping date of your order, I will refund the entire postage charge plus one-half of the cookies total. Cancellations less than 7 days before the scheduled ship date of your order (or which occur after I have started baking your large order) will receive a refund of shipping costs only. In the event I am able to fill a bake date canceled with less than 7 days notice with an order from another customer, then I will issue a full refund (except in those cases where I have already begun to bake your larger order). THIS CANCELLATION POLICY ONLY APPLIES TO FIRM ORDERS ALREADY ACCEPTED BY ME AND ENTERED INTO MY BAKING CALENDAR. CUSTOMER WILL KNOW SHE IS ENTERED INTO MY CALENDAR WHEN SHE RECEIVES MESSAGE FROM ME SHOWING REVISED SHIP DATE FOR ORDER. For orders placed that I cannot accept due to already filled schedule, of course I will issue full refund of entire purchase price and shipping cost without regard to when such orders are actually placed.

If customers are not yet serious about event plans, or if they want to make an order only to hold a space on my calendar while decisions are made concerning whether or not to include my cookies, then other customers who do have firm plans are turned away because they cannot get into my filled calendar. There is also the potential that I am left with open blocks of baking time due to customers who make 'place holder' orders and then cancel at the last moment when new plans are made.


Please note that these items ARE NOT MADE IN AN ALLERGY-FREE KITCHEN. All of my items are prepared with equipment that may have processed or had contact with shellfish, peanuts, tree nuts, wheat, chocolate, eggs and dairy products. That said, I am able to make Gluten & Nut free cookies if desired.

COOKIE CARE INSTRUCTIONS:
Your cookies will arrive fresh from my kitchen and will remain so for 14-21 days if you follow these instructions: immediately upon receipt, if you choose to open the cookies from the cellophane, cookies need to be placed in an airtight container. Cookies can be frozen, however, careful care needs to be taken when defrosting. COOKIES NEED TO COME TO ROOM TEMPERATURE BEFORE BEING EXPOSED TO AIR. In other words, leave them in the airtight container for 24 hours and allow them to come to room temperature before opening the container. Condensation can form on the cookies which may cause colors to run or bleed.

QUANTITY DISCOUNTS: I am so sorry, but I do not offer a quantity discount on my decorated sugar cookies listings. Each cookie is hand piped and hand brushed with hand mixed royal icing in various colors. This is a time intensive process that is not very susceptible to economies of scale. In other words, the time needed to make 3 dozen cookies is approximately equal to 3x the time needed to make 1 dozen cookies. Unfortunately there is no time savings to pass to you, the customer. On the bright side, however, you can be assured I devote the same amount of care, time and attention to the first cookie in your order as I do with the last. :)


Thank you!!

www.Facebook.com/FrostedSweetPeas
Reviews

I made sure to order early because this shops books up quickly and for good reason! The cookies were absolutely beautiful an arrived on time, as promised, for our party! The perfect addition to the treat table and goodie bags! Thank you! Will be ordering again soon!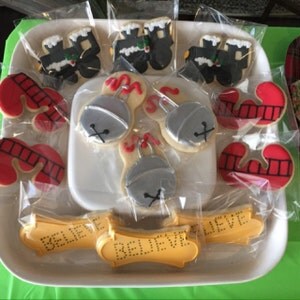 Unreal detail and very tasty!! Don't think twice order from this shop!

These were adorable!! They tasted great and they were shipped securely- no broken cookies!! Thanks
Shop policies
Last updated on
August 17, 2017
I am a teacher, turned stay at home mom, turned baker. My love of baking turned into requests for cookies from friends and preschool moms, and that is how Frosted Sweet Peas was formed. I am not a veggie fan, but I believe that anything (even peas - and especially my own two sweet pea boys) is made better with frosting on it. :)
Accepted payment methods
Accepts Etsy Gift Cards and Etsy Credits
Returns and exchanges
I don't accept returns, exchanges, or cancellations
But please contact me if you have any problems with your order.
Questions about your order?
Please if you have any problems with your order.
No refunds will be given for packages that the post office does not deliver in time for your event.

Photographs posted in my store or delivered specifically to the customer represent the general color of each item depicted in accordance with the camera used, its settings, ambient lighting and other factors which may or may not be a completely accurate match with the actual product shipped from my shop. I try my best to accurately match colors to the customer's request and to maintain precision among separately prepared batches of icing, but I cannot guarantee that the colors of my final product exactly match what you see in my photographs or any color samples that you send to me, or that there will be absolutely no color variation within one order shipped from my kitchen. Therefore, refunds will not be entered, as a matter of course, for incorrect matching of color shades, but ,may be considered on a case-by-case basis in the event of an exceptional errors in photographic depiction or color inconsistency within a single order.

If I have made a mistake with your order such as wrong item sent or incorrect color scheme then I will enter a refund for those items only, all other items in your order will not be subject to refund.

Unsolicited returns are not accepted, and returning an item to me without my prior authorization will not create a refund scenario for you.

Notwithstanding the foregoing, please contact me if there are any problems with your order, however. as I really want to please my customers and I am willing to talk with you to figure out what went wrong and what I can do to fix it. :)
Payment
I accept Paypal, major credit cards (and Cash for local pick-ups).

CUSTOM ORDERS: Please note that your order will NOT be final, and your spot in my baking schedule will NOT be reserved until payment is received. Discussing dates does not guarantee your spot. Until you actually complete the check-out process, you have not reserved your date. If custom listing is posted and customer does not purchase within 3 days of posting, it is possible the custom listing will be canceled in favor of another customer who may request the same date on baking/shipping calendar.
Shipping
All items are baked fresh and shipped USPS Priority Mail as standard, typically within 2-3 days of your event. It is not unusual for customers to reserve dates far in advance. When I have sufficient orders on those days, I will close shipping on those days.

Customers can always find the most current information concerning my baking and shipping schedules by looking at my Shop Announcement (top of shop 'home page' where all listings may be viewed). Shop Announcement will indicate whether any current ordering restrictions are in place.

Each of my listings warns customers to consult the Shop Announcement prior to placing orders. When an order is placed I will assume the customer has reviewed the Announcement, and if customer does not provide an 'event date' in the Note to Seller section of the order form, I will schedule shipment for the next open baking date on schedule, whether that be in 2 days or 2 months. Immediately upon placing an order on my baking schedule, I send a message to the customer advising of the expected ship date for that order; if the date does not meet the customer's needs please send me a convo and I will cancel and refund the purchase entirely.

Orders of more than 2 dozen cookies should request a special listing to save on postage. The postal service estimates 1-3 day delivery for zip codes in continental USA, but it is not guaranteed. If you require faster service or if delivery must be guaranteed by a specific date then you would want to either request an earlier shipping date than I assign to you (to allow for possible postal delays, but with the understanding your cookies will be older and possibly less 'fresh') OR you would use Express Mail which has guaranteed delivery dates and times. The cost of Express Mail is significantly higher than Priority Mail, but convo me and I will create a special listing for you if this is necessary.

Please enter the correct shipping address in proper field on the order form. I will ship to this address by default. If you enter another address in the "note to seller" area or if you have told me a different address during the course of our electronic conversations on this site I may not see the note or remember the conversation so please use the shipping field for its intended purpose.

I cannot be responsible for delays caused by the post office, incorrect address information provided to me in shipping field of order form, signatory unavailable or Acts of God.

I put a lot of effort into packing your items in a careful way using boxes, tissue/wax paper, bubble wrap and/or peanuts/shredded paper, 'Fragile' stickers, etc. In short, I do everything possible to ensure your items arrive in the same condition they leave my bakery. Once I pass custody of your package to the postal authorities I can no longer be responsible for the safety of your items. If something arrives broken I do not offer a refund or price adjustment. I insure all packages, should you want to file a claim with the post office.
Additional policies and FAQs
Please note that these items ARE NOT MADE IN AN ALLERGY-FREE KITCHEN. All of my items are prepared with equipment that may have processed or had contact with shellfish, peanuts, tree nuts, wheat, chocolate, eggs and dairy products. That said, I am able to make Gluten & Nut free cookies if desired.

COOKIE CARE INSTRUCTIONS:
Your cookies will arrive fresh from my kitchen and will remain so for 14-21 days if you follow these instructions: immediately upon receipt, if you choose to open the cookies from the cellophane, cookies need to be placed in an airtight container. Cookies can be frozen, however, careful care needs to be taken when defrosting. COOKIES NEED TO COME TO ROOM TEMPERATURE BEFORE BEING EXPOSED TO AIR. In other words, leave them in the airtight container for 24 hours and allow them to come to room temperature before opening the container. Condensation can form on the cookies which may cause colors to run or bleed.

***If you need cookies shipped within the same week as you order, we charge a rush order fee of $40 if we are able to meet your request. There is a $20 fee for cookies placed within a 2 week period of your ship date. If you place an order for cookies when the date is unavailable, or within a week of the ship date before contacting us, we will need to return your money, or make other arrangements.

*By placing an order, you are agreeing to the payment terms set forth.

*Keep in mind cookie decorating is very time consuming and I have a maximum number of cookies I am able to produce within any given week. I prefer producing quality over quantity. I book 2-4 weeks in advance but am, on occasion, able to incorporate a smaller order with shorter notice. During holidays, graduations and teacher appreciation weeks, I frequently book 4-6 weeks in advance. Booking early is always best!

**CANCELLATIONS: I understand that sometimes situations arise where previously planned events must be changed or even canceled. I am also mindful that my schedule fills very quickly, often 1-2 months in advance, and very early each month I often must begin to reject more orders than I accept because my schedule is filled.

With that in mind, my cancellation policy is to issue a full refund for any paid order that is cancelled more than 14 days prior to the scheduled shipping date for your order. For cancellation requests received 7-14 days from the scheduled shipping date of your order, I will refund the entire postage charge plus one-half of the cookies total. Cancellations less than 7 days before the scheduled ship date of your order (or which occur after I have started baking your large order) will receive a refund of shipping costs only. In the event I am able to fill a bake date canceled with less than 7 days notice with an order from another customer, then I will issue a full refund (except in those cases where I have already begun to bake your larger order). THIS CANCELLATION POLICY ONLY APPLIES TO FIRM ORDERS ALREADY ACCEPTED BY ME AND ENTERED INTO MY BAKING CALENDAR. CUSTOMER WILL KNOW SHE IS ENTERED INTO MY CALENDAR WHEN SHE RECEIVES MESSAGE FROM ME SHOWING REVISED SHIP DATE FOR ORDER. For orders placed that I cannot accept due to already filled schedule, of course I will issue full refund of entire purchase price and shipping cost without regard to when such orders are actually placed.

If customers are not yet serious about event plans, or if they want to make an order only to hold a space on my calendar while decisions are made concerning whether or not to include my cookies, then other customers who do have firm plans are turned away because they cannot get into my filled calendar. There is also the potential that I am left with open blocks of baking time due to customers who make 'place holder' orders and then cancel at the last moment when new plans are made.


Please note that these items ARE NOT MADE IN AN ALLERGY-FREE KITCHEN. All of my items are prepared with equipment that may have processed or had contact with shellfish, peanuts, tree nuts, wheat, chocolate, eggs and dairy products. That said, I am able to make Gluten & Nut free cookies if desired.

COOKIE CARE INSTRUCTIONS:
Your cookies will arrive fresh from my kitchen and will remain so for 14-21 days if you follow these instructions: immediately upon receipt, if you choose to open the cookies from the cellophane, cookies need to be placed in an airtight container. Cookies can be frozen, however, careful care needs to be taken when defrosting. COOKIES NEED TO COME TO ROOM TEMPERATURE BEFORE BEING EXPOSED TO AIR. In other words, leave them in the airtight container for 24 hours and allow them to come to room temperature before opening the container. Condensation can form on the cookies which may cause colors to run or bleed.

QUANTITY DISCOUNTS: I am so sorry, but I do not offer a quantity discount on my decorated sugar cookies listings. Each cookie is hand piped and hand brushed with hand mixed royal icing in various colors. This is a time intensive process that is not very susceptible to economies of scale. In other words, the time needed to make 3 dozen cookies is approximately equal to 3x the time needed to make 1 dozen cookies. Unfortunately there is no time savings to pass to you, the customer. On the bright side, however, you can be assured I devote the same amount of care, time and attention to the first cookie in your order as I do with the last. :)


Thank you!!

www.Facebook.com/FrostedSweetPeas