Announcement Welcome! My name is Bim Ditson and I have been making and selling my Chainmaille jewelry for fifteen years

I'm here to answer any questions you might have.

I started making Chainmaille at age nine. I started selling my work before I turned ten and have since been growing my talents along with my business. Now I'm proud to fully support myself by creating my handmade jewelry and accessories.

I came up with the name Bim for myself when I was learning how to talk--as a diaper-clad redheaded, toy roller-skate wearing, three year old. I had a knack for bashing on pots and pans each morning. And each morning, after sufficiently awakening my parents, a hearty Lego session with any one of my three older siblings in the Eugene Oregon rain would round out a good afternoon. Next might be some drawing in the craft room I so loved before refusing to wash up for dinner. Yep, I'd say a self-given name that was likely, subconsciously borrowed from a Dr. Seuss book, fits me just perfect.

I sell my jewelry at the Portland Saturday Market, The Oregon Country Fair, here on Etsy, and at several boutiques across the West Coast. I've worked on projects from the Twilight movies and for musical pop stars, to Chainmaille seat covers for motorcycles and everything in between. If it can be done with Chainmaille, I'm pretty sure that I can make it.

I'm always up to a challenge and I love innovating in my field so if you have a special idea or project let me know!

-Bim
Announcement
Last updated on
Dec 28, 2015
Welcome! My name is Bim Ditson and I have been making and selling my Chainmaille jewelry for fifteen years

I'm here to answer any questions you might have.

I started making Chainmaille at age nine. I started selling my work before I turned ten and have since been growing my talents along with my business. Now I'm proud to fully support myself by creating my handmade jewelry and accessories.

I came up with the name Bim for myself when I was learning how to talk--as a diaper-clad redheaded, toy roller-skate wearing, three year old. I had a knack for bashing on pots and pans each morning. And each morning, after sufficiently awakening my parents, a hearty Lego session with any one of my three older siblings in the Eugene Oregon rain would round out a good afternoon. Next might be some drawing in the craft room I so loved before refusing to wash up for dinner. Yep, I'd say a self-given name that was likely, subconsciously borrowed from a Dr. Seuss book, fits me just perfect.

I sell my jewelry at the Portland Saturday Market, The Oregon Country Fair, here on Etsy, and at several boutiques across the West Coast. I've worked on projects from the Twilight movies and for musical pop stars, to Chainmaille seat covers for motorcycles and everything in between. If it can be done with Chainmaille, I'm pretty sure that I can make it.

I'm always up to a challenge and I love innovating in my field so if you have a special idea or project let me know!

-Bim No items listed at this time
Reviews

It came so fast, and it was really pretty! A little too short, I need help to put it on, but it's my own fault, I didn't expected to claps to be that long. It is a great work, thank you!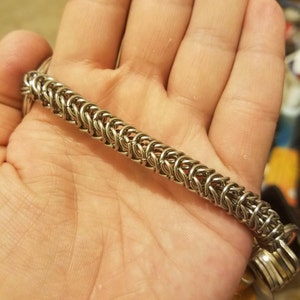 Very well made, love the design. I will definitely buy more things this store ! :).
About
Bim's been making Chainmaille every day since he was nine.
I started making Chainmaille when I was nine years old, as a hobby, the first thing I made was a Chainmaille vest that a wore on halloween. By the time I was ten I'd convinced my dad to help me make a booth for the Saturday market in Eugene, OR where I grew up. When I say "where I grew up" I mean at that Saturday market. Letting the people that I talked with at that market help shape my art, along with my personality and general outlook--be kind to those you know, and know that the best way to tell how rad you actually are is by watching how you treat complete strangers.

After selling in Eugene for 8 years it was time for me to move to Portland, OR to try out a larger city. I instantly fell in love with Portland and have lived here ever since. It's a place where you can succeed without cutting anyone's throat. I sell at the Portland Saturday Market every Sat/Sun, play in a band, go to local shows every night and see around 900 bands play each year. I ride my bike in the rain, sleep in on Mondays, and work 1,200 hours from June to August. In the summer I run a 32 band basketball tournament that's played all over the city on the regulation height hoop that I bolted to the top of my band's tour van.

So what does this all have to do with Etsy? Nothing. When I started my Etsy shop in 2009 I told myself that it would be an extension of what I already do every day, I guess if I were to put that into business terms I'd say that my brand is a lifestyle brand--no need to create an intangible ideal to sell my work. I'm a tangible, and my idea is to make things that can speak to my customers directly with no sales pitch. I've got roughly 49,000 hours of experience making my work.
Shop policies
Last updated on
October 16, 2014
Welcome to my shop!

Good things to know below.

- I make my Chainmaille jewelry full-time so I'm on here from morning to night to answer any question you might have.

- I hope people who buy my work will wear it all the time. I make my chains with that in mind and everything I sell is quite up to the challenge of long-term, daily wear. It's all waterproof and like any well crafted item, they get better with wear. I've had my favorite bracelet I made on for over eight years and I can't imagine ever going through a day without it.

- Jewelry can be frustrating to buy for people with unique wrist and neckline sizes. That's why I offer free custom sizing for anything I sell here in my store as well as custom works for those imaginative folks looking for something they had only dreamed possible.

Please let me know if there's something I haven't covered that you're curious to know and I promise I'll promptly respond with the answer.

-Bim
Accepted payment methods
Payment
You can purchase my work using any of the payment options available on Etsy. I don't have any preferences regarding payment methods other than it being whichever you're most comfortable with using.
Refunds and Exchanges
Of course I take returns! the only thing I ask is that the item be returned to me in it's original state within two business weeks for a full refund or trade for an item worth the same amount as what you're returning.

I also size everything I sell so if you let me know how long you need an item to be when you order it, I'll make sure to size it for you before I send it out. And if you receive an item from me and realize you actually wanted it slightly longer or shorter just send it back and I'll adjust it for you. I'll even pay to ship it back to you because when it comes down to it, my goal is for you to wear and enjoy my art.

-Bim
Additional policies and FAQs
If you're interested in purchasing my work wholesale or would to have some of my work on consignment at your store. Let me know what you're interested in working out and I'll be happy to quote wholesales prices, design a catered stock for consignment, or arrange any other larger orders you might have in mind.