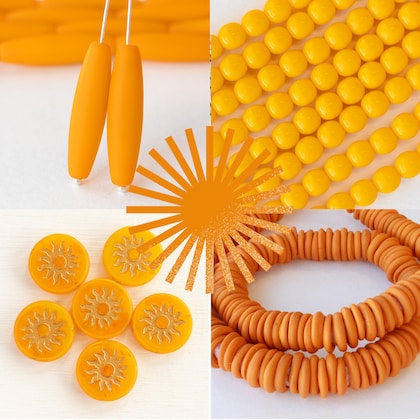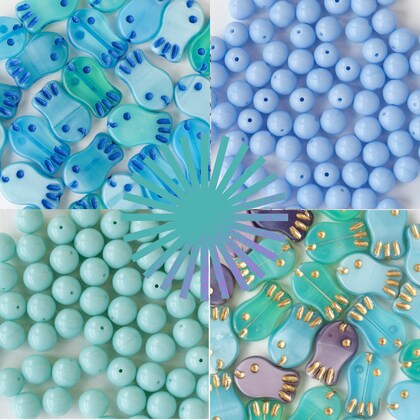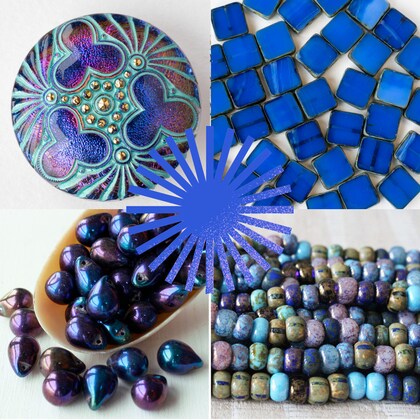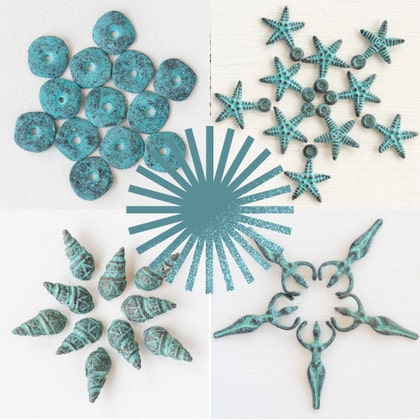 Announcement ATTENTION BUYERS - PLEASE note that your order has a "SHIP BY" date. We get our orders out 99.9% of the time well before that. I wouldn't be a star seller if my orders did not go out in time. Please try to refrain from asking when your order will be shipped. WE work very hard and are very busy and these questions from people who wanted their beads the day before they ordered take up our time and frustrate us when we are actually doing a great job. Please be patient. (It's a virtue) Thank you.

Welcome to Funky Pretty Beads! Check out the sale section.
Check out our other website at www.funkyprettybeads.com
There you can sign up to be on the mailing list and you will receive a 15% off coupon to use at that site.

Here at Etsy*********************************************
Etsy Daily Coupon Codes: (Please message us for codes) Not available for sale items.
10% off orders over $110
15% off orders over $175
** Codes need to be used when the order is placed. Thank you. Click where is says "Apply Coupon Codes" You will find that RIGHT above the shipping window at checkout. Please don't forget.😬

We offer a large variety of beads here in Funky Pretty Bead Land. Some beads stand alone as simply beautiful little objects. You will also find more basic bead elements. Successful designs need some elements to recede quietly into the background so that the focal parts can shine. These are the beads that we often don't think about when we go to buy our beads, but having them at hand when designing is crucial.
Our intention is to inspire you and help you create beautiful designs. Inspiration is a wonderful thing. It makes the adrenalin flow. The best part of my job is making you bead happy.

IMPORTANT SHOP INFO:
*** INTERNATIONAL customers PLEASE read FAQ's about the price and weight restrictions. You will find FAQ's at the bottom of this page.

I regularly add new beads. I think it's an addiction. Yea. No. It's definitely an addiction. The pile to photograph never seems to get smaller..... so check in often.
Have fun!
Be inspired! Live. Love. Be. Bead.
deb
Announcement
ATTENTION BUYERS - PLEASE note that your order has a "SHIP BY" date. We get our orders out 99.9% of the time well before that. I wouldn't be a star seller if my orders did not go out in time. Please try to refrain from asking when your order will be shipped. WE work very hard and are very busy and these questions from people who wanted their beads the day before they ordered take up our time and frustrate us when we are actually doing a great job. Please be patient. (It's a virtue) Thank you.

Welcome to Funky Pretty Beads! Check out the sale section.
Check out our other website at www.funkyprettybeads.com
There you can sign up to be on the mailing list and you will receive a 15% off coupon to use at that site.

Here at Etsy*********************************************
Etsy Daily Coupon Codes: (Please message us for codes) Not available for sale items.
10% off orders over $110
15% off orders over $175
** Codes need to be used when the order is placed. Thank you. Click where is says "Apply Coupon Codes" You will find that RIGHT above the shipping window at checkout. Please don't forget.😬

We offer a large variety of beads here in Funky Pretty Bead Land. Some beads stand alone as simply beautiful little objects. You will also find more basic bead elements. Successful designs need some elements to recede quietly into the background so that the focal parts can shine. These are the beads that we often don't think about when we go to buy our beads, but having them at hand when designing is crucial.
Our intention is to inspire you and help you create beautiful designs. Inspiration is a wonderful thing. It makes the adrenalin flow. The best part of my job is making you bead happy.

IMPORTANT SHOP INFO:
*** INTERNATIONAL customers PLEASE read FAQ's about the price and weight restrictions. You will find FAQ's at the bottom of this page.

I regularly add new beads. I think it's an addiction. Yea. No. It's definitely an addiction. The pile to photograph never seems to get smaller..... so check in often.
Have fun!
Be inspired! Live. Love. Be. Bead.
deb
Average item review
(54541)
See reviews that mention:
Loading
Color. Shape. Simplicity.
Shop members
Deb

Owner, Designer, Curator

I live in Portland Maine where it is beautiful all year round. I love color. Designing with color just makes my adrenaline rush. So much fun. I have a BFA and an MA in Art Therapy. I love to dance. I love to move.
Shop policies
Accepted payment methods
Accepts Etsy Gift Cards and Etsy Credits
Returns & exchanges
See item details for return and exchange eligibility.
More information
Last updated on
May 11, 2022
Frequently asked questions
Would you like to be on my mailing list to hear about sales?
Easy Peasy. Please just send me a mEssage through Etsy conversations.
Is the Sea Glass really from the ocean?
No. We call it "cultured" sea glass because it is made by humans. It is simply frosted or tumbled glass made to look like sea glass but you would never find anything like this at the beach. Some of my frosted glass beads are made from recycled glass. That's always a good thing.
INTERNATIONAL SHIPPING PRICING- PLEASE READ
The shipping rate, without insurance is approximately $14.50-18.50 to most destinations up to 8oz. Above 8oz the price jumps up $10 but.... that is the same price up to 2lbs! So if you purchase 9 oz it is not a good deal because you could pay the same amount of shipping all the way up to 2lb.
I will let you know if your order is slightly over 8oz so that if you want, you can remove an item or two to bring the shipping price down..... or add to your order to take advantage of the shipping fee up to 2lb. Please also not that the shipping fee that you see is an estimate. It could cost more... or less. I will need to send a link for extra payment if needed or I will refund if it goes over.
Is that shipping price accurate?
The price for the first item is reflective of the price that you will pay for just one item. However if you have a lot of items, there is a small shipping fee added on for each item and that can add up to way more than the actual price. In this case I always refund your money when I process your order.
Are The Listed Sizes exact?
Most sizing is correct but sometimes there are small differences. It is odd but I get beads that are called for instance 4x6mm by the manufacturer but each manufacturer's sizes are actually slightly different but not so much that I list it as different size. I generally list sizes in whole numbers.
My tracking says delivered but I don't have it!!!
Please call your local USPS carrier and give them your tracking number. The USPS does not consider a domestic package to be lost for 20 days, 40 das for international. If you still have not received your package at that time please contact me. We will make it right. No worries. Thank you.