Announcement ~NEW! Shop Website ~
http://www.HandiCraftKate.com

My brand, HandiCraftKate, has become a collection of whimsical felted creations, and for me "handmade" means craftsmanship, uniqueness, and personality. Handmade items are special items. Most of all, handmade means sharing. The sharing of joy and creativity.

~Visit my Blog~
http://www.handicraftkate.com/felt-wicked-blog

~Become a fan on Facebook~
http://www.facebook.com/HandiCraftKate

​
Announcement
Last updated on
Oct 20, 2015
~NEW! Shop Website ~
http://www.HandiCraftKate.com

My brand, HandiCraftKate, has become a collection of whimsical felted creations, and for me "handmade" means craftsmanship, uniqueness, and personality. Handmade items are special items. Most of all, handmade means sharing. The sharing of joy and creativity.

~Visit my Blog~
http://www.handicraftkate.com/felt-wicked-blog

~Become a fan on Facebook~
http://www.facebook.com/HandiCraftKate

​ No items listed at this time
Reviews
All reviews are from verified purchases
Verified purchase means that the person writing the review purchased the item from this seller on Etsy.
All reviews are from verified purchases

I received my Rainbow Hat today and I am overjoyed with my purchase. Parcel Force were a pain delivering said item. Regardless, the hat is a real work of art. I love it. Anyone considering purchasing one, just do it. It's worth every penny/cent. :) I highly recommend buying from the seller. The customer service was exceptional. Thank you Kate. You're a star.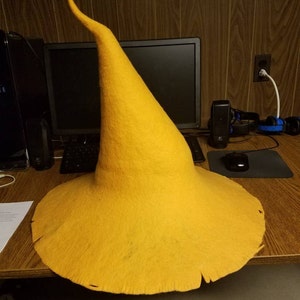 Absolutely amazing work. This is a custom piece for a cosplay that I've been wanting to do(the Black Mage from Final Fantasy) and Kate was more than happy to help with making sure this hat was exactly what I wanted.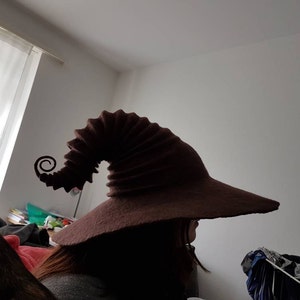 About
Just a Girl, an Ordinary Girl
Art has been apart of my life since I decided in 6th grade study-hall to illustrate a little book I wrote myself about unicorns. I have always loved fantasy, and it has always been the focal point for all my art.. I wandered away from art in my undergrad years, but rediscovered my love of it In grad school, and that's when I began felting. I think I was searching for the perfect blend of art and functionality. Wearable-Art just seemed so absolutely perfect. It wasn't until I combined my love of fantasy with my developing felting skills that I created my first Wizard Hat. I now am a full time artist and make hats for my lovely customers everyday. Who knew I had the magic in me all along.

When people ask me what I do for a living and I am delighted to tell them that I make wizard hats out of felt. At first I get a disbelieving look, then they perk up and usually say "oh you mean for children?" when I respond with "no for adults" I get a really great look of 'omg I am talking to a crazy person'. That is unless they are a geek too then it is a 'rock on!' look.

So how did this happen? How did I come up with my signature hat design? Really I can't toot my own horn, in the felting world the technique used to created the stacked wrinkles on my hats is common. However no fiber artist was ever geek-enough to use the technique to make a wizard hat quite like mine. Basically my life-long love of fantasy had a lovechild with my felting talent and out plopped my first Wizard Hat… Which I sold at a local craft fair a while back. I remember being so relieved when this really cool couple bought the hat. I remember thinking "...wow I am glad somebody bought that really weird hat...". I almost didn't make any more.

Luckily I did.

​When I say that these hats are "handmade" I mean it. I start with very basic raw materials and literally create my own fabric. You might be confused by the "felting" process as not many people know what "wet felting" is. Let me tell you it is a physically hard and time consuming process that gives me a sore back at end of every day. Basically I take raw wool and turn it into a seamless hat blank. I take that blank and hand-dye it either a solid color or a gradient and then I shape the hat blank over a hat block, this whole process takes about a day. The hat then needs to dry and be "babied" until it is just right. I am constantly checking in on my hats to make sure they are perfect, making little adjustments, reapplying shellac.

My brand, HandiCraftKate, has become a collection of whimsical felted creations, and for me "handmade" means craftsmanship, uniqueness, and personality. Handmade items are special items. Most of all, handmade means sharing. The sharing of joy and creativity.
Shop members
Kate Koprowski

Owner, Maker, Designer, Curator, Shipping

Indie Fiber Artist
Shop policies
Last updated on
March 31, 2017
Shopping at HandiCraftKate means you are buying directly from an independent designer. I alone make and photograph all of the items you see in my shop! I value quality workmanship and a beautiful, functional, unique and handmade product. I believe that "handmade" should be interchangeable with longevity and craftsmanship, and I only sell items that will endure the test of time with style. I sincerely hope you will like my designs and I will do my best to provide quality pieces and good service.

Please read the rest of my shop policies below and feel free to contact me anytime with questions or special requests. I'm always happy to help!
Accepted payment methods
Accepts Etsy Gift Cards and Etsy Credits
Payment
♥ I strive to make payment fast, easy, and convenient. After all, the faster I receive your payment the sooner I can send your purchase out to you!

♥ Methods - To keep things fast and simple I accept payments through PayPal and credit cards.

♥ Deadlines - Please submit payment within 24 hours of committing to a product purchase. Should I not receive payment with that period of time I will send you a reminder notice.

♥ Cancellation Polity - The transaction will be canceled if we receive no payment or communication within three days (72 hours).
Shipping
♥ Shipping Insurance – All pieces shipped in the US are sent with tracking numbers. If you want shipping insurance or a shipping upgrade please contact me about it otherwise your item will be sent first class or parcel post.

♥ International Policy – Where ever you are I will ship it to you! However I will not mark your package as "gift". As a licensed business I can face huge fines and potentially lose my ability to hold a tax id number which would prevent me from ever operating my own business again. I will be happy to refund your purchase if you would like to cancel but it is simply not worth it for me to falsify customs forms.

♥ Please Note - My shipping prices may include more than just the price to ship. Other charges such as price of the shipping box/tape and paypal/etsy fees are also included in the shipping charge. I refund for shipping if the difference is higher than 5 dollars.

♥ All other Custom Orders – Any other custom order will be shipped out within 3 to 6 weeks of payment.

♥ Ready to Ship Items – Items labeled "ready to ship" will be shipped out in 3 to 5 days after receiving payment confirmation.
Refunds and Exchanges
♥ FULL REFUNDS – Total refunds will ONLY be given due to a fault in the actual handiwork of the craft, meaning that I sent you something that is clearly damaged or falling apart as a direct result of poor craftsmanship or some kind of failure in the creation process. Sometimes though I will make special exceptions so please contact me with your problems and concerns.

♥ SIZING - Returns and exchanges will not be issued for orders where the customer provided incorrect sizing information. Customers should contact me with any questions about sizing and provide me as much information as possible at checkout (including a note of the measured numerical size of your head). Sometimes special exceptions will be mad here as well so please contact me.

♥ COLORING - Not all monitors and electronic devices display colors in the same way. While I do my best to accurately depict the item's color in my photos there may be some discrepancy. If the item you receive is a different shade/color in person then you thought it was based on the posted photos and you want to return the item please contact me as you will only be eligible for an exchange or store credit. (Some exceptions might be made on a case-by-case basis at the shop owners discretion so please contact me.)

♥ HANDMADE SPECIFICS - Each item I make is made entirely by hand. There is also some randomness to the wet-felting process. This means that the items I sell will be very similar (but not an exact copy) of what is pictured in each listing. I cannot make two pieces that are exactly alike. If the item you receive is different in size, shape, or general appearance in person then you expected based on the on-line photos and you want to return the item please contact me as you will only be eligible for an exchange or store credit. Please see my shop policies for further details, some exceptions will be made on a case-by-case basis at the shop owners discretion.

♥ SHIPPING DAMAGES AND LOSSES – Refunds will not be given due to damage or loss during shipping. This includes the package being damaged during transit or damaged, stolen, or lost after it arrives at your door. While I will do everything I can to help you locate your package should it become lost in transit I ultimately have no control over the package when it leaves my hands. If you are concerned about the safety of your package please contact me about purchasing additional shipping insurance.

♥ EXCHANGE SHIPPING - If an exchange is to be made the customer is responsible for paying the shipping for the item they are returning and the shipping of the new item that will be sent out to them. An invoice for the shipping will be sent and no new items will be shipped until the invoice is paid.

♥ REFUND TIMING - Full monetary refunds will be issued 1-3 business days after the returned product is received or as stipulated in any agreements reached by the customer and the shop owner. It may take several more days for the refund to appear in your bank or on your credit card depending on your banking institution's own policy (of which I have no control over).

♥ EXCHANGE TIMING - If an exchange is being made I will not make or ship the new item until I receive the old undamaged and unaltered item (unless stipulated). I will let you know how long it will take for the new item to be made and shipped. It can take as long as two months in some cases depending on the complexity of the item and the number of open orders I have.

♥ FAIR WARNING - DO NOT SIMPLY RETURN YOUR ITEM WITHOUT FIRST CONTACTING ME. Items sent back to me without my consent may be held without refund, return, or exchange or may simply be sent back without alteration, repair, refund, credit, or exchange using the least expensive shipping method possible.
Additional policies and FAQs
CUSTOM ORDER POLICY
If you would like me to make a hat of your own design, or a hat that is not already listed in my shop in some form, my custom order policy applies to your order. Please read the following items carefully. They are the rules that will define our creative partnership.
1. DESCRIBE IT - Though I have made many hats this does not mean I have any special insight into the sort of hat you may want. It is up to you to give me as many details as possible. Photos and drawings can really help too. Do not take for granted that I know what you want or that the vision in my head of your hat is the same as the vision in your head. The more details you give me the more likely it is that you will be happy with the result.
2. THINK TWICE - If you tell me that you want me to use my own judgment, to put my own spin on it, or to otherwise exercise my creativity I urge you to consider carefully what you are asking. There is risk in granting another person creative control. Often people have at least some sense of what they want and it is better to think carefully and tell me what you want rather than risk me making a hat that you might not like.
3. ONE HAT RULE - Each custom order represents a single hat. This means that when you have given me the full hat description and we have agreed that I can begin I will make you one hat. A second hat (a second attempt) will not be made. If you have forgotten to mention some details and your hat does not have those details this rule is still in force. If you do not like my creative decisions after telling me to use my own judgement this rule is still in force.
4. KNOW THE RISK - This is a creative process. That means that I will likely not be able to produce the exact hat you have envisioned. I will do my best based on the information you give me and the limitations of the felting process. But ultimately you as the customer are taking a creative and financial risk by ordering a custom hat. As mentioned, I will attempt to make your hat only once. Any creative dissatisfaction you have with the hat will not be enough of a reason for me to redo the hat or issue any sort of recompense.
5. NO REFUNDS/EXCHANGES/SECOND CHANCES - Because this hat is being made according to your own specific designs and specifications I will be unable to accept the hat for refund , exchange, or store credit. Some exceptions may be made on a case-by-case basis, especially if there is some evidence that there was a failure in the craftsmanship of the hat, so please contact me if you have any concerns or questions. Otherwise this is a permanent transaction so proceed with caution.
6. REPAIR AND REBLOCKING - Your hat may not be eligible for my free reblocking program depending on the complexity of the hat. Repairs may also be especially difficult if your hat is especially complex. Please contact me if you have any problems along these lines and I will tell you if I can do anything to restore your hat and what the next step would be.
I do not mean for this process to be unnecessarily complicated. I really do want to make you something that you will be proud to wear and to own. But after several customers have attempted to take advantage of me and my custom hat making I have had to put these new stricter rules in place. This is so that I can continue to have the resources I need to make you the high-quality and interesting hats that you have come to expect. If you have any questions or concerns at all please contact me.


♥ Special Instructions
All special instructions must be entered in the Message To Seller box at checkout or sent to me via convo. I cannot guarantee that special instructions left in Paypal will be seen.

♥ Shop's Consignment/Wholesale Policy
Sorry but HandiCraftKate has a NO CONSIGNMENT policy. I also am not interested in wholesale unless you are willing to do a 75/25 deal.