Announcement I have decided to re-open my Etsy shop at least through the holidays, so people who can not visit me in person can still purchase the products I create!

*HOLIDAY DEADLINES!*
International Dates:
Made to order: Nov. 24th
Ready to ship items - Dec. 1st

Domestic Dates:
Made to order: Dec. 6th
Ready to ship: Dec. 16th

Feel free to contact me with any shipping questions or concerns!

I have launched a new website that will be my main focus as I continue on, it is:
silverstallionhandmade.com
IG: silverstallionhandmade

You can find me vending in person for the most up to date items!

* Most Thursdays and Saturdays at Frenchmen Art Market 7pm until 1am (check my IG for the most up to date plans!)

* Second Saturday of every month at Solo Espresso from 10am - 2pm at the Black Market Art Market.

As well as occasional other pop ups and gallery shows, which will be announce on my IG and Facebook!

If you feel like following my travel/jobs/projects, and to be ahead of the game when it comes to new jewelry, please take the time to follow me on these avenues of sharing.
Thanks again <3 Kaiti, heavymetalvomitparty

IG - @heavymetalvomitparty
hmvphandmade.tumblr.com (Jewelry, travel, bone processing)
dirtanddecadence.tumblr.com (Personal)
Announcement
Last updated on
Nov 29, 2015
I have decided to re-open my Etsy shop at least through the holidays, so people who can not visit me in person can still purchase the products I create!

*HOLIDAY DEADLINES!*
International Dates:
Made to order: Nov. 24th
Ready to ship items - Dec. 1st

Domestic Dates:
Made to order: Dec. 6th
Ready to ship: Dec. 16th

Feel free to contact me with any shipping questions or concerns!

I have launched a new website that will be my main focus as I continue on, it is:
silverstallionhandmade.com
IG: silverstallionhandmade

You can find me vending in person for the most up to date items!

* Most Thursdays and Saturdays at Frenchmen Art Market 7pm until 1am (check my IG for the most up to date plans!)

* Second Saturday of every month at Solo Espresso from 10am - 2pm at the Black Market Art Market.

As well as occasional other pop ups and gallery shows, which will be announce on my IG and Facebook!

If you feel like following my travel/jobs/projects, and to be ahead of the game when it comes to new jewelry, please take the time to follow me on these avenues of sharing.
Thanks again <3 Kaiti, heavymetalvomitparty

IG - @heavymetalvomitparty
hmvphandmade.tumblr.com (Jewelry, travel, bone processing)
dirtanddecadence.tumblr.com (Personal) No items listed at this time
Reviews
No reviews in the last year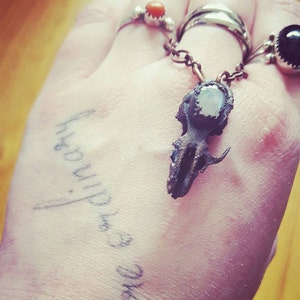 I absolutely love this piece! It comes with me everywhere. It is made incredibly well! I get compliments constantly!! Beautiful work!!


Stellar and stunning as always! LOVE! HMVP always wonderful design, craftsmanship and unique style. And the lady behind the creations is a real star :):)
About
finding comfort in the dirt and decadence of life
I grew up in a small town nestled at the base of the Santa Cruz Mountains. There was never a shortage of nature and wildlife. It wasn't until I moved to the city of San Francisco that I started seeing death in everything. Waste and disrespect for creatures and objects. It started my deep desire to pay respect to what was lost, and to create instead a new valued resting place.

My personal philosophy has always been "respect" and "rebirth". Using only found remains of animals, as well as industry.

I started making enough bone jewelry and art out of my collections to receive requests for pieces back in 2007. Once enough people were requesting custom work, and a few art shows had asked to include my work, I opened my etsy in 2010.

Living a free life on the road allowed a constant state of awareness of death, and an open heart to create. But at a certain point I sat still and I noticed the demand for this style of jewelry has outweighed its natural existence. Now I see a marketplace flooded, without the heart (save a very solid handful of incredible individuals). It discouraged me for a long time, to see what I felt in the city being portrayed by my peers.

I left my store vacant as I roamed and worked on my direction. It hasn't changed. My passion is the same, so is my philosophy. I intend to reopen, and hope to grow as a jeweler, but my core will remain. To aid in nature reclaiming the focus of peoples attention, by paying respect to the subtle details in the dirt and decadence.
Shop members
Kaiti

Owner, Maker, Designer, Curator
Shop policies
Last updated on
November 15, 2013
tran·si·ent (trān'zē-ənt, -zhənt, -shənt) adj. ::
- Passing with time; transitory: "the transient beauty of youth" (Lydia M. Child).
- Remaining in a place only a brief time: transient laborers.
- Decaying with time, especially as a simple exponential function of time.

I believe the definition of transient describes my shop's philosophy quite well. I love working with all discarded objects. All things have a shelf life. Be it one of nature's intricate creations, or man made trash, everything is here temporarily, and I just want to give these things a little bit longer in the spotlight.
Accepted payment methods
Accepts Etsy Gift Cards and Etsy Credits
Payment
I accept paypal and direct checkout. If you have any special requests, let me know and we will try and work something out. I will never ship an item until it has been paid in full.
Shipping
Due to many issues with rising postage costs, and being too generous with peoples wishes, I will be shipping all jewelry in a domestic priority flat rate box. There will be no additional cost for more items, as long as they can all fit in one box. I will happily ship out of the country but I will need to check postage costs, receive proper payment, and then ship your item. If you have special needs (ie. need an item by a certain date/want to add insurance/confirmation) I will happily mail to your specifications, but as I said, I will check the costs, and once payment is received, will then ship your item. Thank you for understanding.
Refunds and Exchanges
I currently do not offer refunds or exchanges, but if you have an issue with the product message me and we'll find a way to fix the problem.
Additional policies and FAQs
All animal parts I work with I've found, be it road kill, or in the middle of the woods, etc etc. You can rest assured I don't believe in the killing (or eating) of animals. I just want to keep the spirit of the animal in circulation.

Due to the nature of found materials (especially animal related), all pieces are unique. If you see something you like and are too late to purchase it, message me, and I'll try and make something similar if and when I find the appropriate pieces. But no items will ever be exactly the same.

Also, if you have any bones/teeth/feathers you'd like to have made into something you can wear or hang on your wall let me know!