Announcement ***END OF SUMMER SALE use code SUMMER to save 10% on AUGUST purchases***

>>>>>PLEASE READ BEFORE ORDERING<<<<<
~CHOCOLATE ITEMS WILL RETURN IN SEPT/OCT for fall shipping.
~VINTAGE ITEMS will continue to ship normally.
~Please convo with any questions.
****Thank you!****

NONPERISHABLE and VINTAGE ITEMS ARE NOW AVAILABLE IN ADDITION TO EDIBLE FAVORS!! Please note the nonperishable & vintage items WILL NOT ship in the same box as chocolates ordered UNLESS you convo me first to make sure it is possible.

!!!WARM WEATHER WARNING!!!
If you are in an area (or having the order shipped to an area) that is having warm weather (low to mid 70s or warmer) YOU SHOULD REQUEST EXPRESS shipping!
Express shipping guarantees a delivery date/time (overnight to most areas) whereas Priority is an ESTIMATED 2-3 day delivery (meaning it could arrive earlier or later, so it could have an additional length of time in the heat).
I DO NOT refund for items that melt during shipping.
IT IS THE CUSTOMERS RESPONSIBILITY to request upgraded shipping for best results when shipping perishable goods.

If you are looking for an item and you do not see it listed just convo me, as I have many items that are not listed on Etsy. Or if you are not sure exactly what you are looking for.. just let me know the theme/color scheme for your event and I will work with you to find the perfect favors!)
IF YOU ARE PURCHASING A LISTING PLEASE REMEMBER TO SPECIFY the date you need the items for AS WELL AS any other details not covered by the drop down boxes or listing (alternate ribbon or chocolate choices, etc).
NOT INCLUDING THESE DETAILS CAN DELAY YOUR ORDER so PLEASE take a minute to include them!!! If you forget convo them to me ASAP.

**PLEASE REMEMBER WHEN ORDERING PERISHABLE ITEMS/CHOCOLATES**
~I have to make your items (they are not sitting on a shelf waiting to be purchased, they are freshly made just for you)
~I have other orders as well that are already on my schedule to be made so convo me if you need them for a specific date within a short period of time
~shipping takes time, estimated USPS Priority shipping is 2-3 days ONCE SHIPPED (estimated means it can take longer if there are postal errors, storms, etc)
~I am NOT responsible for delays due to USPS errors OR bad weather so order as early as possible
~CONSIDER EXPRESS shipping if you are ORDERING LAST MINUTE so you can be sure to receive them in time (a Custom Order will be made just for you)


Thank you.
Happy Shopping!

*****************************************************************************************
Due to the items in this shop being of a fragile and perishable nature Hitsthespot unfortunately CANNOT offer refunds/exchanges for any damaged shipments/products. Great care and effort is put into packaging your order so it will arrive safely; however damage may occasionally occur during transit. Once an order ships, it is out of my hands...as a result, HitstheSpot cannot be held responsible for lost** or damaged packages, goods damaged in transit or due to recipient not being available at the time of delivery, or for product being left outdoors in warm temperatures or the weather itself.
**Tracking is included on all PERISHABLE orders to reassure both parties that items are received, this is figured in the shipping price. Most nonperishable items also have tracking included BUT if you want to add insurance convo me PRIOR to purchasing so I can adjust the shipping price.
*****************************************************************************************

I ALSO DO CUSTOM GIFTS, BASKETS, FAVORS, and LARGE ORDERS!

Hitsthespot has been featured in Martha Stewart Destination Weddings Magazine
as well as numerous emagazines, treasuries, blogs, fundraisers, giveaways, etc., and is used by a number of event/party planning companies...so please be sure to mention where/how YOU found us or who referred you! :)
Announcement
Last updated on
Aug 8, 2016
***END OF SUMMER SALE use code SUMMER to save 10% on AUGUST purchases***

>>>>>PLEASE READ BEFORE ORDERING<<<<<
~CHOCOLATE ITEMS WILL RETURN IN SEPT/OCT for fall shipping.
~VINTAGE ITEMS will continue to ship normally.
~Please convo with any questions.
****Thank you!****

NONPERISHABLE and VINTAGE ITEMS ARE NOW AVAILABLE IN ADDITION TO EDIBLE FAVORS!! Please note the nonperishable & vintage items WILL NOT ship in the same box as chocolates ordered UNLESS you convo me first to make sure it is possible.

!!!WARM WEATHER WARNING!!!
If you are in an area (or having the order shipped to an area) that is having warm weather (low to mid 70s or warmer) YOU SHOULD REQUEST EXPRESS shipping!
Express shipping guarantees a delivery date/time (overnight to most areas) whereas Priority is an ESTIMATED 2-3 day delivery (meaning it could arrive earlier or later, so it could have an additional length of time in the heat).
I DO NOT refund for items that melt during shipping.
IT IS THE CUSTOMERS RESPONSIBILITY to request upgraded shipping for best results when shipping perishable goods.

If you are looking for an item and you do not see it listed just convo me, as I have many items that are not listed on Etsy. Or if you are not sure exactly what you are looking for.. just let me know the theme/color scheme for your event and I will work with you to find the perfect favors!)
IF YOU ARE PURCHASING A LISTING PLEASE REMEMBER TO SPECIFY the date you need the items for AS WELL AS any other details not covered by the drop down boxes or listing (alternate ribbon or chocolate choices, etc).
NOT INCLUDING THESE DETAILS CAN DELAY YOUR ORDER so PLEASE take a minute to include them!!! If you forget convo them to me ASAP.

**PLEASE REMEMBER WHEN ORDERING PERISHABLE ITEMS/CHOCOLATES**
~I have to make your items (they are not sitting on a shelf waiting to be purchased, they are freshly made just for you)
~I have other orders as well that are already on my schedule to be made so convo me if you need them for a specific date within a short period of time
~shipping takes time, estimated USPS Priority shipping is 2-3 days ONCE SHIPPED (estimated means it can take longer if there are postal errors, storms, etc)
~I am NOT responsible for delays due to USPS errors OR bad weather so order as early as possible
~CONSIDER EXPRESS shipping if you are ORDERING LAST MINUTE so you can be sure to receive them in time (a Custom Order will be made just for you)


Thank you.
Happy Shopping!

*****************************************************************************************
Due to the items in this shop being of a fragile and perishable nature Hitsthespot unfortunately CANNOT offer refunds/exchanges for any damaged shipments/products. Great care and effort is put into packaging your order so it will arrive safely; however damage may occasionally occur during transit. Once an order ships, it is out of my hands...as a result, HitstheSpot cannot be held responsible for lost** or damaged packages, goods damaged in transit or due to recipient not being available at the time of delivery, or for product being left outdoors in warm temperatures or the weather itself.
**Tracking is included on all PERISHABLE orders to reassure both parties that items are received, this is figured in the shipping price. Most nonperishable items also have tracking included BUT if you want to add insurance convo me PRIOR to purchasing so I can adjust the shipping price.
*****************************************************************************************

I ALSO DO CUSTOM GIFTS, BASKETS, FAVORS, and LARGE ORDERS!

Hitsthespot has been featured in Martha Stewart Destination Weddings Magazine
as well as numerous emagazines, treasuries, blogs, fundraisers, giveaways, etc., and is used by a number of event/party planning companies...so please be sure to mention where/how YOU found us or who referred you! :) No items listed at this time
Reviews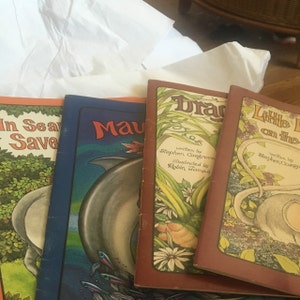 Thank you so much for these books. I had these growing up and have fond memories of sunny afternoons in the shade of my backyard tree reading these stories.

Very nice little box - just what I was looking for. Item is exactly as it was described and shown in photographs. It was shipped super fast and packed very well. Thank you :)

Erin's cookies and chocolate dipped pretzels were excellent, the perfect favor for my sons baptism! They are not only beautiful and so meticulously made, but absolutely delicious. I will order these again hands down.
Shop policies
Last updated on
June 19, 2016
Hello and thank you for browsing my shop!

If you haven't read my profile I'm a stay at home mom with 2 boys looking to share the goodies we enjoy (maybe a little too often) and possibly make a little extra income to help them be their best!
I love to bake and work with chocolate, I will be adding items on a regular & seasonal basis.
I hope you find something you'd like to try or share with a friend, if not, convo me and let me know what you are looking for...as I have A LOT of items that have not been listed and I love the challenge of coming up with favors for new themes!

I have also recently started offering older/vintage items and nonperishable crafts/craft supplies...a couple other things I love shopping & crafting ;)

Happy Shopping and Enjoy!
ERIN
Accepted payment methods
Payment
PayPal payments: Payments must be received within 3 days or sale will be canceled UNLESS we have made other arrangements via convo.

RUSH ORDERS:
~a "rush order" is usually an item that you need within a week, BUT the term also applies to orders needed for a specific date during extremely busy times (so it could be in a 2-3 week period)
~you MUST convo me PRIOR to purchasing so I can guarantee the quick turn around time (sometimes this is possible without the fee, sometimes it is not possible at all)
~there is a $5-$25 rush order fee...this fee may be waived (in full or partially) depending on size & time of order
Shipping
GENERAL:
~All items ship USPS PRIORITY (2-3 day shipping) with Tracking unless otherwise noted. This is the estimated arrival time once dropped off at the post office NOT the time frame in which you will receive your order after purchasing.
~If you would like the item shipped differently, please check with me BEFORE purchasing.
~If you are not home to receive a package your postman will make the decision to leave the package or return it to the post office (leaving you a notice). If they leave a notice and you do not pick the package up they will only hold the package for so long..please note that due to the perishable nature of our products Hitsthespot does NOT refund for items that are not picked up. If they are returned for any reason they are disposed of and the cost to remake/reship is on the customer.

CANADA SHIPPING:
~Items over 4lb. MUST SHIP Priority or Express. Items under 4lb. can ship 1st Class. Please convo me to work up a Custom Order. Please take both your weather and the weather of the area your items will pass through into consideration when choosing shipping method for orders under 4lb.

EXPRESS SHIPPING:
~Express shipping is also available at an additional cost.
~It is overnight to MOST locations (some locations are 2nd day guaranteed, meaning they could take a 2nd day to arrive)
~It is HIGHLY recommended for Sept/October and May/June shipments OR if you live in an area that has warm weather earlier or later please keep in mind you may still need Express shipping...also note that I do not know your weather conditions so it is your responsibility to request Express shipping.
~Express shipping must be paid by shipping date or items will ship via USPS in a manner that will be covered by shipping cost already paid. Hitsthespot is not liable for any damages (melting,delays,etc) caused by this substitution due to nonpayment of upgraded shipping cost. Hitsthespot also reserves the right to cancel an order due to nonpayment of shipping upgrade.

ICE PACKS:
~Ice packs are $1 each and are sold April-September, they are also available for purchase year round by request.
~They are reusable, nontoxic, and food safe. (great for coolers, first aid, etc)
~Convo for instructions on how to reuse the ice packs.
~If payment is not made by ship date (for additional ice packs) they will NOT be included. Hitsthespot is not liable for damages caused (melting,etc) by nonpayment of merchandise to be included.

GIFTS:
~If item is purchased as a gift, let me know where you would like item(s) shipped as there may be a difference in cost which could hold up shipping (if you gave a different zipcode when purchasing.)
~I will gladly ship directly to the recipient's address and add a free personal note.
~Some items are shipped in bulk shipping packages for safety, some gift packaging options are available please let us know if you prefer that so we can package appropriately.

SHIPPING COSTS:
~Due to using a blanket shipping rate (etsy requires a shipping charge listed and doesn't differentiate between zones for per weight shipping)...I will gladly write up a Custom Order with an estimated shipping cost for your zip code, just convo me!

REVIEWS:
~If you purchase an item that turns out to be a flavor/item that just isn't your "taste" it is unfortunate but please realize this is NOT a reason for a Negative review, everyone has different taste and until you try it you may not know. (for example if you buy a new item at the grocery store you don't stop shopping there just because you didn't like that one product)
~Please note that damage caused during transit, for lost or stolen packages, for product damaged due to no one being home at time of delivery, not picking up a package that a notice was left for, deciding to not use Express shipping and/or ice packs during warm weather, or any other reason NOT in Hitsthespot's control...are also not reasons for Negative reviews.
~If you have neglected to provide information for your order (need by date, ribbon color, correct shipping address, etc) and you therefore your order is delayed or incorrect please realize it was your oversight (my shop is covered in reminders to provide the information needed) and that this is NOT a reason to leave a low review.
Refunds and Exchanges
Hopefully this won't be needed as, our goal is 100% satisfaction and that every item 'HitsTheSpot'.

Hitsthespot unfortunately CANNOT offer refunds/exchanges for any damaged shipments/products, due to the items in my shop being perishable (and of a delicate nature).
I take the utmost care in packaging items so they arrive safely, but I cannot be held responsible for lost or stolen packages or goods damaged in transit, due to the recipient not being available at the time of delivery, due to product being left outdoors in warm temperatures, due to the package not being picked up by the customer when a notice is left*, or due to the weather.

Unfortunately there seems to be a growing number of scammers on etsy using this "front" as a means to get free product as well...please convo if you have questions about a product PRIOR to purchasing.

Please remember I'm here to share my delicious homemade goodies with other "lovers of all things sweet" so if your items are damaged in transit or because your postman left them in the heat....please remember items are out of my hands by that point. Besides, I only get to make more goodies if you enjoy them and come back :)

Every question, comment, and concern will be handled on a 1-on-1 basis.

*When a notice is left for a package to be picked up or have a scheduled delivery, the post office will only hold for so long before returning. If an item is returned Hitsthespot will contact you for reshipment (this additional cost is the customer's responsibility), we will hold your order for 30 days then the order is disposed of...we do NOT REFUND due to the perishable nature and that items are not able to be resold/reused.
Additional policies and FAQs
Hitsthespot is NOT responsible for incorrect/undeliverable addresses being provided, if upgraded shipping is needed due to delays caused by incorrect/undeliverable addresses being provided, or orders shipping/arriving late due to incorrect/undeliverable addresses being provided. So please make sure your information is entered correctly and that you check your Etsy convos around the ship date incase information is needed.
***********************************************************
Hitsthespot.etsy.com
IS TRADE FRIENDLY...even for other goodies that we don't make (we love goodies too!)
CANCELING AN ORDER:
~I will only cancel orders if items are not already started and/or supplies have not yet been purchased.
~There is a cancellation fee (an amount that will NOT be refunded, fee will be a minimum of $5) which will be based on price/quantity of order and time spent on order/listing/etc. This fee is to cover time spent on order and for using an opening that could have been filled by another customer.
~Canceling fees also apply if Hitsthespot has to cancel your order for any of the reasons listed in the next section.
~I will NOT cancel an order due to lack of correct information (need by date, correct shipping address, etc) being provided by the customer.
Hitsthespot RESERVES THE RIGHT TO CANCEL AN ORDER IF:
(1) you do not provide all the information needed to complete an order (date needed, chocolate choice, etc) and/or do not respond to convos requesting this information or questions about your selections/order
(2) you purchase a listing without contacting Hitsthespot first and there is not an available opening that coordinates with your requested receive by date/event.
(3) you request Express shipping and do not pay the additional amount by shipping date...your order may still ship via USPS in a manner that will be covered by shipping paid if it was already made. Hitsthespot is not liable for damages (melting, delays, etc) caused by this substitution. The same applies for ice packs.
(4) convos or reviews reflect an anti-Etsy or anti-seller manner
****************************************************
COUPONS:
Coupon codes must be entered when purchasing, discounts are NOT available once an item is purchased if you have not entered the coupon. Please be sure to use your coupons before they expire!