Announcement Human Memorials at My Website AshesInFusedGlass.com
Studio booking for March ~Spots filling Fast ~contact me
InfusionGlassArt.com

Cremation Memorial Glass Art, Cremation Jewelry, Cremation Glass Sculptures, Cremation Wind Chimes, Cremation Sun Catchers, Glass Candle and Mantle Displays all with cremation ashes inside the glass by Glass Artist: Joele Williams

Studio Booking for April : Spots Filling Fast
First Come First Serve from the time I get your ashes. Contact Me to Discuss Funeral Deadlines and Fast Tracking Orders. Studio appointment blocks are 7 days from creation to shipping. only 20 spots per studio block. Studio can be booked up to 60 days

All Special Designed with Cremation Ashes Infused into the Glass.
go to my Website InfusionGlassArt.com

Ash Collection Kits included
Read about the ash collection at InfusionGlassArt.com

Kiln Formed Memorial Glass is an ancient process of hand cutting and cold working sheet glass and then firing it at temperatures around 1400 degrees. this process is time consuming and takes anywhere from 2 to 5 days to create. the glass soaks in high temperatures to anneal the glass giving it the strength and durability to last generation to come. Patience is appreciated

Shipping including collection kit insurance and handling
All shipping overages for multiple items will be refunded after purchasing
Not all countries allow ashes to be shipped please check your countries postal laws. contact me to see if I ship to your area

100% handmade Pet Memorial, Cremation Jewelry, Cremation Wind Chimes, Cremation Sun Catchers, Candles and Mantle Displays, Military Memorials ... all Special Designed with Cremation Ashes Infused into the Glass. Cremation Ashes are Infused into Kiln Formed Glass.

Work one on one with Me as your Designer to find the keepsake for you. Cremation Infusion is a beautiful remembrance gift and can be handed down from generation to generation.

Imagine cremation ashes captured forever into an unbelievable work of art. Infused into glass that can be handed down from generation to generation. What better way to capture the spirit. I create one-of-a-kind works of art and jewelry that Infuses cremation ashes forever into glass.
I work one on one with you to help you choose the right cremation keepsake for you. I create each unique work of art with love. I am gentle and respectful of the cremation ashes you provide me, and return any unused cremation ashes. Designing a keepsake with me is more like an experience. It's not just adding something to your cart. it takes days if not weeks and multiple firings in the kiln to create, so I share progress photos each day to include you in the process.
Infusing cremation ashes in glass is a beautiful, respectful, and loving way to show your appreciation and remembrance for the life that brought you so much joy. A glass cremation keepsake is the perfect way to show your love and remembrance and can be handed down from generation to generation.
Feel free to send an e-mail to see how I can craft an unbelievable heirloom keepsake for your loved one.


Follow me and my Journey on Facebook :
www.facebook.com/Infusion.glass
www.facebook.com/AshesinGlass

My Blog The Art of Grieving : Healing through Art
http://infusionglass.wordpress.com/2014/02/25/ashes-to-glass-my-etsy-story/
Announcement
Last updated on
Feb 25, 2017
Human Memorials at My Website AshesInFusedGlass.com
Studio booking for March ~Spots filling Fast ~contact me
InfusionGlassArt.com

Cremation Memorial Glass Art, Cremation Jewelry, Cremation Glass Sculptures, Cremation Wind Chimes, Cremation Sun Catchers, Glass Candle and Mantle Displays all with cremation ashes inside the glass by Glass Artist: Joele Williams

Studio Booking for April : Spots Filling Fast
First Come First Serve from the time I get your ashes. Contact Me to Discuss Funeral Deadlines and Fast Tracking Orders. Studio appointment blocks are 7 days from creation to shipping. only 20 spots per studio block. Studio can be booked up to 60 days

All Special Designed with Cremation Ashes Infused into the Glass.
go to my Website InfusionGlassArt.com

Ash Collection Kits included
Read about the ash collection at InfusionGlassArt.com

Kiln Formed Memorial Glass is an ancient process of hand cutting and cold working sheet glass and then firing it at temperatures around 1400 degrees. this process is time consuming and takes anywhere from 2 to 5 days to create. the glass soaks in high temperatures to anneal the glass giving it the strength and durability to last generation to come. Patience is appreciated

Shipping including collection kit insurance and handling
All shipping overages for multiple items will be refunded after purchasing
Not all countries allow ashes to be shipped please check your countries postal laws. contact me to see if I ship to your area

100% handmade Pet Memorial, Cremation Jewelry, Cremation Wind Chimes, Cremation Sun Catchers, Candles and Mantle Displays, Military Memorials ... all Special Designed with Cremation Ashes Infused into the Glass. Cremation Ashes are Infused into Kiln Formed Glass.

Work one on one with Me as your Designer to find the keepsake for you. Cremation Infusion is a beautiful remembrance gift and can be handed down from generation to generation.

Imagine cremation ashes captured forever into an unbelievable work of art. Infused into glass that can be handed down from generation to generation. What better way to capture the spirit. I create one-of-a-kind works of art and jewelry that Infuses cremation ashes forever into glass.
I work one on one with you to help you choose the right cremation keepsake for you. I create each unique work of art with love. I am gentle and respectful of the cremation ashes you provide me, and return any unused cremation ashes. Designing a keepsake with me is more like an experience. It's not just adding something to your cart. it takes days if not weeks and multiple firings in the kiln to create, so I share progress photos each day to include you in the process.
Infusing cremation ashes in glass is a beautiful, respectful, and loving way to show your appreciation and remembrance for the life that brought you so much joy. A glass cremation keepsake is the perfect way to show your love and remembrance and can be handed down from generation to generation.
Feel free to send an e-mail to see how I can craft an unbelievable heirloom keepsake for your loved one.


Follow me and my Journey on Facebook :
www.facebook.com/Infusion.glass
www.facebook.com/AshesinGlass

My Blog The Art of Grieving : Healing through Art
http://infusionglass.wordpress.com/2014/02/25/ashes-to-glass-my-etsy-story/ No items listed at this time
Reviews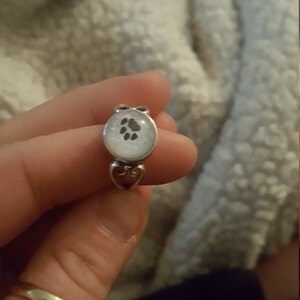 Best ring I own! I'm so happy with this ring. The quality is great and the process was so nice. Thank you so much!!!!
About
Ashes infused Inside Glass Cremation Jewelry & Memorials by Infusion Glass
Ashes to Art : My Etsy Story

In the 10 years I have been a professional artist I have always thought that I was following the right path. And now I know.
I began working with cremation ash about 6 years ago when a friends father passed and he asked if I could make him something with ashes. There had been a lot of buzz going on about using cremation ashes in fused glass at the studio at the time. Knowing it was possible I felt a calling to make him some cremation jewelry for his sisters. I was amazed at what a challenge it was to work with the ashes and spent over 3 years studying cremation ash and it's effects inside kiln formed glass by offering my service for free to family and friends. After my Mom passed away i stopped working with the ashes all together and felt unable to even look at hers. The grief I was going through was unexplainable. The loss of a Mother is like being cut from a cord that holds you to the ground. Floating, and lost. I had no interest in anything that had anything to do with cremation ashes. As the 1 year anniversary of her death was approaching, out of nowhere a lady had placed a custom order on my Etsy page for a custom design keepsake. I had even forgotten that I had the 1 listing on my page that at the time was filled with my paintings and jewelry. Her ashes arrived at my home on the anniversary day of my mothers passing. Ever since that moment I felt my Mother calling me to make this cremation art with her ashes.I finally had the strength to make art with my mothers ashes. And through that process I finally understood how healing this craft I do can be for people.Wearing my mothers ashes in a keepsake pendant makes me feel like she is with me. looking at the suncather I made from her makes me feel her spirt every morning. I knew then that not only could I do what I love, but maybe what I love doing could bring comfort and healing to others who have found grief from the passing of a loved one. So at the beginning of 2014 I changed my entire Etsy into a new business. making my ashes in glass available to the public. I continue to heal making crafts from my mothers ashes as many of the creations I have in my Etsy shop are made for my mom, for family, for friends and myself. I have always wanted to help people and what better way then to do it with art.

Feel free to send an e-mail to see how I can craft an unbelievable heirloom keepsake for you.
infusionglassart.com
email infusionglass at gmail.com
Find out more about Me and my journey through grief with cremation art
Read my Blog The "Art" of Grieving - Get and Inside Look Infusion Glass Studio
www.infusionglass.wordpress.com
Shop members
Joele Williams

Artist Owned And Operated

10 year Veteran Glass Artist. 100% Artist run business. everything from one on one communication, creation, design, photos, online office and shipping. Everything and everyone is connecting directly with the artist. Custom designs and Free Quotes available

Merit Cape

Featured Bead Artist, Beadwork Collaborations

Beadifull Handmade jewelry, bead embellishment, Peyote stitch, loom bead work- Hand crafted with semi precious gemstones, pearls ,crystals, and Czechoslovakia glass beads.
Shop policies
Last updated on
March 13, 2017
Things to know:
Human memorials available at AshesInFusedGlass.Com only. Etsy has pet only policy.
Message me any time. Messages and emails go right to my phone.
Email InFusionGlass [!at] Gmail.com
Shipping including collection kit insurance and handling
All shipping overages for multiple items will be refunded after purchase
or contact me to combine shipping in a private listing.
Studio Schedule
Your work is scheduled in studio blocks of 1 week. Start Monday shipping Friday. first come first serve from the time i get your ashes. Most small items take exactly 3 to 4 studio days to finish and 7 days to mail back to you in your studio block. Excluding Holidays and Busy Seasons. The studio can be booked up to 60 days back during busy times. Patience is appreciated.

insurance not applicable outside of U.S.. Not all countries allow ashes to be shipped please check your countries postal laws. contact me to see if I ship to your area

How much ashes do I need? Just a pinch. 1 small dime size amount of the powered ashes can make 10 rings and pendants. 1small teaspoon can make 50 rings and 10 larger items. I encourage you to send as little as possible. If you ordered 2 items don't send twice as much. Please. : )
Read more here
https://www.infusionglassart.com/pages/ash-collection-information

Human ashes go to InfusionGlassArt.com

Studio days are Monday through Friday- Closed Holidays All Shipping is on Monday OR Friday only unless it is a vial necklace.
It is important while designing your custom memorial that I can feel connected with you and the loved one being honored. I would appreciate a copy of a photo and any other information about your loved one when you send your loved one to help with the creation of your memorial. I am very respectful of spirit and light candles and hang pictures in studio and like to play music that your loved one would have enjoyed. I sincerely strive to make this emotional decision a warm and comforting experience. I want it to be a comforting experience. I understand sometimes there are no words or photos. during this instance I will still photograph the process and send the updates.
the process can be time consuming and takes days if not weeks to create. I am always available if you have any concerns or questions via email through Etsy.
Any unused ash will be returned along with your finished glass work.

NOTICE* no two items will ever look the same. each one is made by hand and will have its own unique look. I hold creative rights to make the art in my vision. I am creating MY vision of your idea. Including colors and how to execute without failed attempts. Some colors are reactive with other colors. changing end result. dichroic glass colors can not always be replicated and each hand cut item could have a different size or shape to it. Colors can move in the fire and Ashes cannot be controlled. I always do my best to make everything the same or make as requested but cannot control this outcome.
IMPORT FEE BY YOUR COUNTRY IN CUSTOMS.
CONTACT ME FOR OVERSEAS SHIPPING insurance not applicable outside of U.S.. Not all countries allow ashes to be shipped. please check your countries postal laws. contact me to see if I ship to your area or how to send privately. I can make you a custom private order. Collection kit takes 14-17 days to ship to areas overseas and have everything you need to ship back the ashes

Thank you
please Read My Payment and Shipping Policy Below
Accepted payment methods
Payment
by making payment you agree to all policies of infusion glass
READ ALL MY SHOP POLICIES
*If You have a photo Please send a copy or original photo to be hung in studio during the ash infusion. I understand not everyone can send a photo. If you do, you can print it in black and white or color on regular paper with your receipt. I send all of this back to you with the unused ash and your artwork. The photo is hung in studio and will be in the background of your photo update that I send to you via email or etsy. Please answer the questionnaire in your collection kit and send with the returned collection kit. Connection is important. if your honoring a pet please write to me about your pet if you like. I like to be respectful and feel connected to the spirit being honored. This is all about your healing. You can also just send the ashes. I want it to be a comforting experience. I understand sometimes there are no words or photos during this instance I will still photograph the process and send the updates.

No Expiration on sales. take all the time you need . I will always honor your order no matter how long it has been. ALSO SEE REFUND POLICY

TO AVOID SCAMMERS
there are no personal checks or cashiers checks allowed.. I will only sell my art through etsy or on my website infusionglassart.com

Etsy.com pet ashes only policies HUMAN ASH go to Infusionglassart.com
Etsy guidelines do not allow me to sell cremation jewelry with human ashes. HUMAN ASH go to Infusionglassart.com
Shipping
Shipping including collection kit insurance and handling
All shipping overages for multiple items will be refunded after purchase
IMPORT FEE BY YOUR COUNTRY IN CUSTOMS. please check with your countries post office for details

CONTACT ME FOR OVERSEAS SHIPPING insurance not applicable outside of U.S.. Not all countries allow ashes to be shipped. please check your countries postal laws. contact me to see if I ship to your area or how to send privately. I can make you a custom private order. Collection kit takes 14-17 days to ship to areas overseas and have everything you need to ship back the ashes

Ash collection kit ships within 24 hours to 5 days after purchase and comes with everything you need including shipping envelope ,tracking and instructions on how to fill the provided bags.Just send back with 6 regular stamps

How much ashes do I need? Just a pinch. 1 small dime size amount of the powered ashes can make 10 rings and pendants. 1small teaspoon can make 50 rings and 10 larger items. I encourage you to send as little as possible. If you ordered 2 items don't send twice as much. Please. : )

when sending the ashes please just place the ash in the requested baggies and don't place them in an additional box, urn or vessel.
no boxes or urns. ***I will not return extra urns or boxes – you will have to pay extra shipping to get boxes/urns/jars etc. returned to you.
::::::::LOST OR STOLEN MAIL::::::::::::
if your package is lost or stolen I can not return artwork, photos and ashes to you. I do always get a tracking # but cannot be responsible if it is lost or stolen in the mail. you will get the insured amount from the claim from post office. This is also why you should be keeping some ashes. And why I always use priority mail with insurance.
:::::HOLIDAY SHIPPING:::::
All Urn Beads and Gift Certificates purchased before December 19 will make it by Christmas. Ash Infusions Last Christmas shipping day is December 20st. Your ashes must be here by November 20th to make the last Christmas Studio Block . Infusion Glass is Closed Dec 20-to-January-8 each year
Refunds and Exchanges
SEE ADDITIONAL POLICIES BELOW FOR BROKEN BANDS/WIREWRAPS REPAIRS

NO EXPIRATION on any order .. I understand it can take a long time to collect the ashes. I will always honor your order no matter how long ago purchased.

REFUNDS.- By making payment for specialty work you are consenting for me to cook your ash into glass and know that it can never be returned to its original ash form. Ash can try to escape edges of the glass of wind chimes and some specialty work. this is apart of what is to be expected from the ash and can not be controlled. there will be NO full refunds.You will be charged 15$cancellation fee. you will be charged for any hours or time spent designing your art if you choose to cancel. As well as charged for supplies ordered. If you do not send me the ashes I can not do the work. Cancellations will be charged for my time spent on emails, designs, and custom order supplies before any partial refund will happen. it is the customers responsibility to provide me with the ashes to make these custom items if you do not send the ashes I cannot make your work.
ALL ORDERS AFTER 30 DAYS NO REFUNDS
You have 30 days for cancellation of order to receive a partial refund.
You have 7 days to cancel your order before supplies are ordered. After supplies have been ordered there is no refund for supplies. All Iron stands ordered will be non refundable. Amount per item changes with style and fashion size. All orders are charged 15$ cancellation re listing fee. All orders are no refunds after 30 days.
PEOPLE WHO NEVER SEND ASHES IN
Your order will stay open Forever.
I WILL ALWAYS HONOR YOUR ORDER -CONTACT ME ANYTIME! I know this is not easy and understand these things take years sometimes.
Thank you

Most of the rings and all urn beads are mounted with a high quality glass metal epoxy and should not be worn in tub, hot tub, shower, bed or when using nail polish remover. I make extra beads for the rings as a backup emergency replacement. I will replace ring cabs for free. Buyers responsible to save the backup cabs. Buyer wears any of my jewelry items or keychains at your own risk. Thank you

:::::::::::::::::::You Must Plan on KEEPING SOME ASHES::::::::::::::
*If you plan to scatter your loved one's ashes, please reserve one teaspoon of ashes aside in a safe place for creating your memorial art besides what you send me.

Some reasons to keep some ashes just in case:
- Lost in the mail: the artist does not receive the ashes or you do not receive the art
- You want to order more art
- art drops and breaks
Additional policies and FAQs
REPAIRS -----BROKEN RING BANDS/WIRE WRAP ----
Replacement Ring Bands and Broken Wire wrap policy for Infusion Glass on Etsy

WIRE WRAPs are delicate and should not be worn to bed. If your wrap should break or bend and need fixing I can and will replace the wire wrap FREE. "But"-you will need to pay for shipping back to you. not including 14 k gold.

RING BANDS can bend and break - I can remove the mounted cab and replace band at any time. You must buy the new band and pay for shipping.
Bands are 30-50$ sterling silver. Contact me for gold prices. FREE REPAIR plus shipping
If you buy a silver plated band and want to up grade at a later date just contact me we can order a new band. some bands have been discontinued.
The cremation stone can be removed and placed on a new band. This can be done for the cost of the new band plus shipping.
RINGS. I make extra beads for the rings as a backup emergency replacement. Buyers responsible to save the backup stones. Most of the rings and all urn beads are mounted with a high quality glass metal epoxy and should not be worn in tub, hot tub, shower, bed or when using nail polish remover Buyer wears any of my jewelry items or key chains at your own risk. Thank you