Announcement Beautiful Bohemian, Rustic, Modern, Luxury and Contemporary Art Collections for interior design.
Home Art, Hospitality Art, Healthcare Artwork, Hotel Art. Oversize Canvas Art up to 72".
Enjoy all my work here!
Shop Oversize Canvas Art Prints & Paintings For Your Home or Office Decor.
Waves Collection, Abstract Botanical Collection, Ocean Landscapes.

Irena Orlov Best Selling Affordable Canvas Art Prints - Large Abstract Wall Art - Canvas Art Print Up to 60" wide - Living Room - Posters - Contemporary Wall Art- Spring Flower Canvas Art - Photo Canvas Prints - Abstract Paintings - Home Wall Decor - Office Wall Decor - Flower Prints - Landscapes - Fine Art - Paintings - Coastal Art - Large Abstract Wall Art - Giclee Canvas Print - Vintage Canvas Prints - Abstract Floral Art - Teal and Yellow - Giclee Canvas Print of Original Acrylic Painting - Modern Wall Decor - Abstract Floral - Photo - Best Sellers - Urban Art - Beach Art - Palm Trees - Coastal Decor - Digital Mixed Media Collage - Wall Art - Red, Teal, Black, and White - New Media - Vintage Art Prints - Billiard Art - Car Wall Art - Original Mixed Media Collage - Digital Print - Blue and Orange - Painting - Line Art - Colorful Stripes Printed on Canvas - Large Modern Art - Nature Art - Poppy Paintings - Horse Art - Animals Print - City Prints - New York - Los Angeles Canvas Prints - London Canvas Prints - Paris Canvas Prints - Shells Art Prints - World Maps - Maps - Birds on Wire Prints - Architecture Prints - New Media Prints - Transportations - Acrylic Painting Reproduction - Modern Black + White - Decorative Art - Figurative Art - New Art - Art By Artist - Colorful Art Prints - Dog Art -
Limited Editions Art Prints - Abstract Maps - Color Block Art - Still Life Art - Wrapped Canvas - Wood Canvas - Wood Plank Canvas - "Wood plank" Canvas Prints - Vintage Photography - Succulents Art Prints - Beach Posters - The Plank Canvas - Expressionism Posters - Fine Art (Best Sellers) - Architecture (Fine Art) - Botanical (Fine Art) - Figurative (Fine Art) - Floral Still Life (Fine Art) - Floral & Botanical - Contemporary Fine Art Prints - Unusual Posters - Unique Art Posters‎ - Unique Canvas Art - Cities Art - Architecture Art -
Photography Art - Pop Art - Water Art - Trees Art - Cheap Canvas - Etsy Art - 24 x 36" Canvas - 30 x 40" Canvas - 40 x 60" Canvas - Large Wall Art- Nature Print - Digital - Home Decor


https://www.facebook.com/artirenaorlov
Announcement
Last updated on
Jan 26, 2016
Beautiful Bohemian, Rustic, Modern, Luxury and Contemporary Art Collections for interior design.
Home Art, Hospitality Art, Healthcare Artwork, Hotel Art. Oversize Canvas Art up to 72".
Enjoy all my work here!
Shop Oversize Canvas Art Prints & Paintings For Your Home or Office Decor.
Waves Collection, Abstract Botanical Collection, Ocean Landscapes.

Irena Orlov Best Selling Affordable Canvas Art Prints - Large Abstract Wall Art - Canvas Art Print Up to 60" wide - Living Room - Posters - Contemporary Wall Art- Spring Flower Canvas Art - Photo Canvas Prints - Abstract Paintings - Home Wall Decor - Office Wall Decor - Flower Prints - Landscapes - Fine Art - Paintings - Coastal Art - Large Abstract Wall Art - Giclee Canvas Print - Vintage Canvas Prints - Abstract Floral Art - Teal and Yellow - Giclee Canvas Print of Original Acrylic Painting - Modern Wall Decor - Abstract Floral - Photo - Best Sellers - Urban Art - Beach Art - Palm Trees - Coastal Decor - Digital Mixed Media Collage - Wall Art - Red, Teal, Black, and White - New Media - Vintage Art Prints - Billiard Art - Car Wall Art - Original Mixed Media Collage - Digital Print - Blue and Orange - Painting - Line Art - Colorful Stripes Printed on Canvas - Large Modern Art - Nature Art - Poppy Paintings - Horse Art - Animals Print - City Prints - New York - Los Angeles Canvas Prints - London Canvas Prints - Paris Canvas Prints - Shells Art Prints - World Maps - Maps - Birds on Wire Prints - Architecture Prints - New Media Prints - Transportations - Acrylic Painting Reproduction - Modern Black + White - Decorative Art - Figurative Art - New Art - Art By Artist - Colorful Art Prints - Dog Art -
Limited Editions Art Prints - Abstract Maps - Color Block Art - Still Life Art - Wrapped Canvas - Wood Canvas - Wood Plank Canvas - "Wood plank" Canvas Prints - Vintage Photography - Succulents Art Prints - Beach Posters - The Plank Canvas - Expressionism Posters - Fine Art (Best Sellers) - Architecture (Fine Art) - Botanical (Fine Art) - Figurative (Fine Art) - Floral Still Life (Fine Art) - Floral & Botanical - Contemporary Fine Art Prints - Unusual Posters - Unique Art Posters‎ - Unique Canvas Art - Cities Art - Architecture Art -
Photography Art - Pop Art - Water Art - Trees Art - Cheap Canvas - Etsy Art - 24 x 36" Canvas - 30 x 40" Canvas - 40 x 60" Canvas - Large Wall Art- Nature Print - Digital - Home Decor


https://www.facebook.com/artirenaorlov
Reviews

Gorgeous!😍😍😍😍😍 I cant stop looking at it. I am in process of painting my livingroom and this piece suits my fireplace well. Ill show u a pic when i get done painting. I love your artwork the best! Especially the colors in this piece just stunning. Thank you so much!

The colors are beautiful and quality is wonderful. We are just thrilled with our print. It finishes off the room beautifully. We could not be happier. Thanks!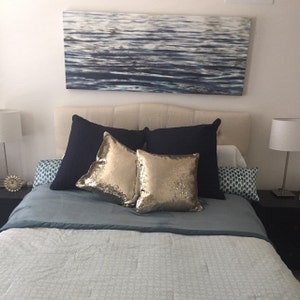 I couldn't be any happier with how this turned out. Irene even custom sized it for me. Thank you. It looks so perfect
About
Irena Orlov Art
I've been drawn by the magical beauty behind fine arts and design since childhood. Having a successful carrier in architecture and design for quite a long time, I began to deal with fine art.
I began to look for new ways to express my emotions and feelings. The process of creating art gave me what I wanted - endless ways of expressing myself.
During the creating process, I don't limit myself to a specific style or medium therefore my art is mostly represents mixed media. My creating process is based on my emotions and my mood. I'm very spontaneous. Today I might use photography to convey my feelings...tomorrow I might paint to express myself. My work is infused with spirit and energy I felt at the moment I created it. It encourages viewers to interpret it their own way. My art evokes different feelings in the audience depending on their individual experiences and memories.
Shop members
Irena Orlov

Owner, Designer, Photographer

I was and continue to be inspired by the beauty of the world around me and can spent hours to explore it.
Shop policies
Last updated on
September 22, 2016
Payment
I accept Paypal payments.
You may pay with a major CREDIT CARD even if you do NOT have a PayPal account. The payment is still processed through PayPal.
Shipping
Item is made to order.

US orders typically take 5-10 business days to produce before shipping.

***Hand Embellishing orders typically take 14-21 business days to produce before shipping.

Canadian and International orders take about 10-15 business days before shipping.
Transit times depend on your location and can take on average 5-10 days.
These shipping times are estimates and NOT GUARANTEES and might be affected by factors over which I have no control, including incorrect delivery addresses, customs delays and Post Office delivery restrictions.
Shipping times during busy holiday season MAY BE LONGER!

You will be notified by email once your artwork ships and you will receive a tracking number.

If your canvas is needed by a certain date, please contact me and I will set up a custom listing for you with the appropriate shipping charges.

***Customs, Duties, Brokerage Fess***

International buyers are responsible for any possible customs/duties/taxes/broker fees, once the item arrives in country.
Always include your phone number when checking out with PayPal as phone numbers are required for shipping labels and customs forms IN CASE your local carrier needs to reach you upon arrival.

****
All artwork is carefully packaged for safe delivery.
Any item that arrives damaged during shipping will be replaced at no additional charge. Please keep all packaging and contact us immediately for instructions on scheduling a return.
Refunds and Exchanges
A big thanks for purchasing from me and it is a pleasure to serve you!

You may return any new, unused artwork within 14 days of delivery for a full refund, minus the cost of shipping.

Unless your item is received damaged, or there was some error on our part, you will be responsible for all return shipping costs.

Because refunds will not be issued in full for items damaged in return shipping or returns that are never received, I highly recommend that you insure all return shipments and provide me with the shipment tracking number.

In order to receive a full refund the artwork must be in new, unused, undamaged condition, and packaged carefully. If returned artwork is received in a condition other than new, the refund amount will be adjusted to reflect the condition by a minimum of 15% of the cost of the item.

Most refunds are fully refunded in 3-5 days after we receive and process your return.

Custom orders are created to suit client's specific and individual needs so those purchases are final.
Additional policies and FAQs
A NOTE ABOUT COLOR: I have represented the print colors to the best of my ability, but color varies from computer monitor to monitor. So, it's very possible that the print you receive will be slightly different than what you are seeing on your screen.
****

Typographical errors

In the event a product is listed at an incorrect price due to typographical error or systems error, I have the right to refuse or cancel any orders placed for product listed at the incorrect price. I have the right to refuse or cancel any such orders whether or not the order has been confirmed and your credit card charged.

****
Correction of errors and inaccuracies

I endeavor to present the most recent, most accurate and most reliable information on the web site at all times. However, the information may contain typographical errors or inaccuracies and may not be complete or current. I therefore reserve the right to correct any errors, inaccuracies or omissions and to change and update information at any time without prior notice (including after you have submitted your order). Please note that such errors, inaccuracies or omissions may relate to product description, pricing and availability. I apologize for any inconvenience this may cause you.

.****
Copyright of the artwork does not transfer with the sale of any item.
.****
Contact me with any questions, wholesale inquiries or proposals.

****
Thank you for visiting my shop and I hope to see you again!