Reviews

Unfortunately the USPS lost this package so I did not receive my ring... no fault of Janice's. She was excellent to work with through it all. She was very helpful and good about following up with me. I placed another order with her and got the ring...no problem... via fed ex. It was beautiful!,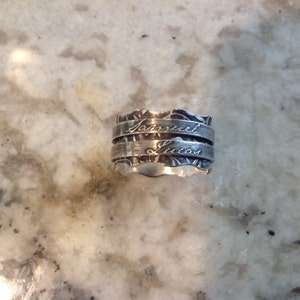 Janice is such an artist. I love the leaf spinner ring she made with my children's names on it. I will cherish it forever. She was great to work with even when the postal service lost my first order. She generously agreed to make me another. It was worth the wait. It's beautiful and exactly the right look and size. Thank you, Janice. Wendy..... Greenville,SC

About
My Journey in Metals
My Background:
I have a background in graphic design and worked for many years in corporate graphic design as well as freelancing.

My love of craft goes back to early childhood so it is no surprise that while working as a graphic designer, pottery making/throwing was a hobby for ten years, in addition to night school art classes completing a studio art degree. It was during this time that I took a few classes in jewelry and fell in love with working in metals. (I hope to at some point combine all three of these skills in a collection of containers.) https://www.etsy.com/shop/janiceartcreative

My Jewelry Making Story:
I invested in my jewelry studio in 2008, purchasing a water torch and began a journey of finding my aesthetic point of view knowing that I wanted to combine my love of graphic design, pattern and typography into metal jewelry.

My Process:
All of my work is completely fabricated by me from flat sheet, wire and tubing and is produced on a made to order basis. Every piece is a one off so customizations can be done. My designs are created on computer and chemically etched into flat sheet metal. Etching is a technique with origins in printmaking dating back to 15th century Germany. Other texturizing techniques employed are stamping, traditional hand engraving with a graver, roller printing and hammering.

Making Green Jewelry and Social Entrepreneurship:
In 2011, I went to using almost all reclaimed precious metals in my work and switching to a natural pickle. I am an environmentally conscious person, so reducing my footprint happens in the studio where I can. March 2016, I took a class at Mendocino Art Center on Galvanic Etching. This is an alternative to the chemical etch process and uses electricity and batteries with a solution that isn't toxic. I have finally got the sterling and copper/brass systems up and running and have fully transitioned to this new non-toxic etching method. Yay!

In mid 2015, I began, Janice Art Jewelry's "Tree Rings Project", in which a portion of ring sales go to Trees for the Future (trees.org) which plants trees and helps communities. I will be setting up a page on my website for tracking the progress. Right now you can learn more on my Facebook page.

I have become very interested in social entrepreneurship after reading "Do the The Kind Thing" by Daniel Lubetzky in 2015. My favorite publications for this are Salt Magazine and Conscious Company Magazine. I am excited about how this will inform my future endeavours.

My Life as an Solepreneur:
I work as a freelance graphic designer in addition to being a jewelry artist. My work days are split between packaging production/design, creating promotional campaigns for a credit union and making stuff...Filling orders on Etsy, custom design work and expanding into the gallery and show market, in addition to working on growing my lines. When not in my studio, I am going back and forth to help out my parents in Ontario, CAN as my dad was diagnosed with a devastating illness in 2010. Often, I shut my shop down for a month or so at a time. I am grateful that I have the flexibility to do this and the unwavering support of my partner. It is not as romantic as saying I am a mompreneur, but I like to think that I am part of a vast network of people around the globe that are also creating new work situations to help their families. :)

Where I Live:
Though I grew up in a small town in Southern Ontario, Canada near the shores of Lake Ontario, I have lived most of my adult life in Los Angeles, California. I currently live in Santa Clarita, California and share an art studio/home with my amazingly supportive and talented graphic designer/illustrator partner, http://madartiststudios.com, and our three cats, along with various backyard birds in our bird habitat/garden including a dove named Scruffy, who we hand fed when she was a fledgling and unable to fly.

My Education:
I have attended classes at Revere Academy of Jewelry Arts in San Francisco and Mendocino Art Center in Northern California. In addition, I have also studied jewelry and metal arts at both California State Fullerton and Pasadena City College. I hold a BA in Studio Art from California State University, Fullerton and a diploma in Packaging Design from Humber College, Toronto, Ontario, Canada.

Where I have Shown:

2013-2015:
• Orange County Creatives, Laguna Beach, California
• La Galeria Gitana, San Fernando, California
• Harriet's General, Culpeper, Virginia
• Mountain Nest Gallery, Black Mountain, North Carolina

2012:
• Manika Jewelry Gallery, San Francisco, California
• Galeria Boca Roja, Mallorca, Spain

Group Shows:
2015 Holiday RAWk Artist Showcase • Orange County, CA
2015 Chocolate and Art Show • Los Angeles, CA
2013 RAW Artist Showcase ENCOMPASS • Orange County, CA
2012 Revere@Manika • Manika Jewelry Gallery, San Francisco, California

Thank you!
Shop members
Janice Hagey-Schmidt

Owner, Maker, Jewelry Artist / Metalsmith

Janice designs and fabricates wearable art in reclaimed precious metals that are sold throughout the U.S. and internationally through Etsy and various galleries. Her work combines computer graphic design and metal fabrication from raw materials.
Shop policies
Last updated on
November 22, 2016
Hi there and welcome to my Etsy storefront. The following are my policies:
Accepted payment methods
Accepts Etsy Gift Cards and Etsy Credits
Payment
• Pay Pal
• Credit Card through Direct Checkout.
• Will accept valid money orders and personal checks.
Shipping
DOMESTIC: I ship First Class with insurance. If there is a rush, I can send Priority for the same cost, without insurance. If I am running behind schedule, I will send 2 day Priority with insurance.

INTERNATIONAL: I ship first class, however there is no insurance on this.
I can ship Priority International with insurance which is 25.00 for most countries, but will increase with the higher priced items. I have on various occasions picked up the rest of the cost. Please contact me if you need this. There is no tracking on this. The only tracking that can be done is through USPS Express Mail, UPS, or Fed Ex. This price is in the (US) 45.00-50.00 range. **PLEASE NOTE: I can't accept responsibility for any customs fees, duties and also delays in customs.
Refunds and Exchanges
RE-SIZING: I am always able to resize if there is a problem with the fit.

RETURNS: If you need to return a regular made-to-order ring, let me know what the problem is to see if we can find a solution. I give full refund minus shipping within 14 days AFTER I receive the item back. However there are some exceptions (see below)...

RESTOCKING FEE FOR RETURNS ON SOME CUSTOM ORDERS: If ordering a custom ring with gold, please be aware that I have to purchase gold in larger quantities than I need, so if you are returning, I may be out hundreds of dollars. Because of this, a 20% restocking fee for returns on these custom rings will be incurred. In addition, it may take a several weeks to return the money as I may have purchased materials and cannot reimburse the money to you right away. Be very mindful of this when deciding on a custom ring in gold.

If ordering a custom ring, please make sure you are sized either at a jewelry store, with a ring sizer or know your size. It isn't always as easy to resize a custom ring and there may be additional charges for this. And always make sure to add on to your size (at least a half size to 3/4 size) for the wider style rings when ordering.

******* PERSONALIZED ITEMS CANNOT BE RETURNED ***********
Additional policies and FAQs
F.A.Q.
Q. Does it come in a gift box?
A. Yes, each item comes in a linen pouch and gift box. If it is a gift, let me know and I will also supply a cute little tag that can be filled out.

Q What if I don't know my size?
A. I do offer a ring sizer for sale in my shop. You can also go to a jeweler and be fit for wide rings. If you buy a ring, I can snail mail the ring sizer to you for free.
IMPORTANT NOTE: Please make sure to add 1/4 size for 3/8 size rings ; add 1/2 size for 1/2" size rings; add 3/4 size or full size for 5/8" size rings. WIDE RINGS CAN FIT SNUG. Everyone is different (some people like looser or tighter fit) and some people may even require a shorter ring than is listed. Please message me to find out if the art on the ring you are interested in can be changed to be a custom fit for you.

Q. What if it doesn't fit?
A. I always accept returns on regular items within a reasonable time. (2 to 3 weeks). Your package will come with a ring sizer, for you to double check your size. I always recommend to add to your size for wider style rings for comfort as they can fit a bit snug. Please mail back with tracking as I can't be held responsible for your item being lost in the mail. If it is my error in size, than I will reimburse for your shipping costs.

Q. What if it I don't like it and want to return it?
A. On regular items, I can do a full refund, minus shipping cost if you return unworn in original packaging with all other items sent including care package. Regular custom items ( my regular items with a slight tweaking to it) with larger amounts of gold, I may need to retain a 20% restocking fee. It is on a case by case basis. It may take up to 3 weeks for the refund. For personalized or full custom items I DO NOT accept returns.
Also for United States DOMESTIC orders, PLEASE MAIL BACK WITH TRACKING and let me know the tracking number as I can't be held responsible for your item being lost in the mail and I won't be able to offer any refund.

Q. How do I care for the ring and will the patina come off?
A. Earrings and necklaces don't tend to wear too much but with rings the black will wear off. I include a care kit with every item. There are instructions for re-patinating your item. I can do it for a small fee.

Q: What if my item breaks or the spinner falls off.
A: I pride myself on quality, if however you have a defect, please let me know within a couple weeks and I can fix it for you for free and compensate for your shipping fee. If there is damage through wear and tear, also let me know, I may be able to fix for a fee.

Q: How thick are the rings?
A: Most spinner rings are made from 1mm sterling silver which is sturdy without being too thick. Some are 1.3 mm. Other rings should have specs on the listing. Spinners vary in width depending on design.

Q: May I switch out the spinner of one for a spinner with another or add more spinners? Change width of spinner etc.?
A: Absolutely. Let me know what you have in mind and I can let you know if there is a change in cost.

Q: May I have the inside of a ring inscribed?
A: Yes, for rings 3/8" and wider. I do etching, not engraving for the inside as well. I provide a proof with 3 to 4 options of the text with a couple of changes. The starting fee for this is $25.00. Please note: Personalized items CANNOT be returned.

Q: Do you have items in stock?
A: I do and will be setting up a category in my shop for these. They will ship within 2 to 3 days.

Q: Why do you charge sales tax in California?
A: I have a California Tax ID# therefore requiring that I collect sales tax for the State of California. If you need verification, let me know and I will provide it to you.

Q: Since you use reclaimed metal, can you melt down my jewelry to make a new piece?
A: Not at this time. My torch is not a casting torch. Although I do have a kiln, I have never tried melting metal. I purchase reclaimed metals from Hoover and Strong. They are a refinery that has been in business for 100 years and are a leader in green technology for the jewelry industry. I send in my scraps and do not do any melting down myself except for making little balls, as I do not have casting equipment to do this. They are the experts at reclaiming the metals.

Q: Can you set my diamond in a prong setting? Can you do pave, channel settings or other fine jewelry techniques?
A. No, not at this time. This requires fine jewelry training. I do bezel settings, tube settings and have learned and will be practicing flush setting. I do have some experience with setting stones in larger prong settings but not creating prongs from scratch. I do take classes at Revere Academy of Jewelry Arts in San Francisco and they do have a well rounded training program with traditional/advanced skills training. I may at some point get more training in some of these methods.

Q: Can you make the patterned rings in gold?
A. I have experimented with this and had mixed results. It uses aqua-regia chemical process which is a combo of nitric and hydrochloric acid. There are ways of doing it that are not super scary by using very small amounts. Sometimes they lose their potency immediately and the results are not great. I have had some good results but I don't feel comfortable enough with the process to offer as regular items except one item in Palladium white gold.
In addition, I don't want to be too involved in harmful chemicals as I am trying to really green my studio.
I don't cast my work, nor do I have a laser engraver. I have noticed laser engraving out here on Etsy recently, so I have been able to see the quality of their results on gold and silver. I have concluded that it may not be able to do the fine detailed etch that my work requires.

Q: Do you wholesale your jewelry?
A: Yes, however I am currently restructuring my business and taking a break from wholesale and consignment to focus on personal growth with my work. If you are really interested in developing a relationship, please e-mail me to discuss. I have shown in several galleries in the past five years and would like to again, but really want to push my work in new directions this coming year, so please follow me on Instagram.

Q, Do you do custom work?
A. Yes and no. If just an adjustment of work that you see on my site. Absolutely.
I have done a lot of custom work in the last eight years and have loved it, grown with it and learned a lot! BUT I realize I need to go back into my own personal space to see what I can do and learn through experimentation and development.


Thanks,
Janice