Announcement SHIPPING NOTES PLEASE READ BEFORE ORDERING <<
Mid August update orders are coming in for Christmas. Please order soon to guarantee Christmas delivery. DEADLINE WILL BE OCTOBER 1, 2017 once October first gets here I will know if I can take on more orders. Thank you

This is a busy time of year for kB Crafting Solutions. Right now orders are shipping out in 4-8 weeks. (If you have a deadline feel free to email me and I will see what we can do)
Why the big difference in ship out time? I am getting multiple orders which take longer to create. Please be patience for I am the only creator and custom orders take time. I do have a job outside the home and a husband that I adore and love spending time with. Thank you for your patience and enjoy the rest of your summer. Kit

**********************************************
PLEASE READ LISTING THROUGHLY BEFORE MAKING YOUR PURCHASE SO YOU UNDERSTAND WHAT YOU ARE BUYING. Do not forget to note custom embroidery request on items so there is no delay in completing your item on time.

You will find new creations in my shop so feel free to browse. If you don't see something you want please contact me I will see what I can do to create that custom item. Also be aware I have been unexpectedly busy these last few months, those that want to know ship out dates you will find that on your invoice. By reviewing your invoice this will save me from taking time away from sewing. Order can take up to 4 to 6 weeks to ship out. (If you have a ship out date in mind please let me know before you order). I would like items to go out quickly but with life and only me creating these custom items sometimes things might take a little longer than we would like. Thank you in advance for your patience.

<<<<<<<<<<<<<<<<<<<<<<<<<<<<<<<<<<<<<<<<<<<<<<<<<<<<<<<<<<<<<<<<<<<<<<<<<<< Please note custom items ship out approximately 4-8 weeks give or take from date of purchase. kB Crafting Solutions smaller creations may ship out sooner. *YOU WILL SEE ESTIMATED TIME OF SHIP ON YOUR INVOICE AS WELL. (On occasion orders may take longer pending work load. Feel free to email me if you have any questions before making your purchase.
>>>>>>>>>>>>>>>>>>>>>>>>>>>>>>>>>>>>>>>>>>>>>>>>>>>>>>>>>>>>>>>>>>>>>>>>>>>

All items are made to order and I am only one person making them, shipment times vary depending on business volume due to vacations, holidays and family issues that my arise. Weekends I try to take that time to spend with the hubby.

My items are made out of Marine Desert, Marine Woodlands, Army, Navy and Air Force military material which I have in stock or if you want a special something made out of a loved ones cammies I can do that as well. If you would like any made out of something other than military fabric please let me know.

If you have any questions or ideas for something you would like made feel free to send me a message and I will be happy to create it for you if possible. If you need to discuss something about your item you received please email kbcrafting [!at] gmail.com I will be more than happy to help you with your issue. I take pride in what I do and customer satisfaction takes high priority.

To see all my creations, giveaways and postings of new items on my Facebook page www.facebook.com/kbcrafting

Thank you,
Kit
USMC M♥m
kB Crafting Solutions
kbcrafting [!at] gmail.com
Announcement
Last updated on
Aug 14, 2017
SHIPPING NOTES PLEASE READ BEFORE ORDERING <<
Mid August update orders are coming in for Christmas. Please order soon to guarantee Christmas delivery. DEADLINE WILL BE OCTOBER 1, 2017 once October first gets here I will know if I can take on more orders. Thank you

This is a busy time of year for kB Crafting Solutions. Right now orders are shipping out in 4-8 weeks. (If you have a deadline feel free to email me and I will see what we can do)
Why the big difference in ship out time? I am getting multiple orders which take longer to create. Please be patience for I am the only creator and custom orders take time. I do have a job outside the home and a husband that I adore and love spending time with. Thank you for your patience and enjoy the rest of your summer. Kit

**********************************************
PLEASE READ LISTING THROUGHLY BEFORE MAKING YOUR PURCHASE SO YOU UNDERSTAND WHAT YOU ARE BUYING. Do not forget to note custom embroidery request on items so there is no delay in completing your item on time.

You will find new creations in my shop so feel free to browse. If you don't see something you want please contact me I will see what I can do to create that custom item. Also be aware I have been unexpectedly busy these last few months, those that want to know ship out dates you will find that on your invoice. By reviewing your invoice this will save me from taking time away from sewing. Order can take up to 4 to 6 weeks to ship out. (If you have a ship out date in mind please let me know before you order). I would like items to go out quickly but with life and only me creating these custom items sometimes things might take a little longer than we would like. Thank you in advance for your patience.

<<<<<<<<<<<<<<<<<<<<<<<<<<<<<<<<<<<<<<<<<<<<<<<<<<<<<<<<<<<<<<<<<<<<<<<<<<< Please note custom items ship out approximately 4-8 weeks give or take from date of purchase. kB Crafting Solutions smaller creations may ship out sooner. *YOU WILL SEE ESTIMATED TIME OF SHIP ON YOUR INVOICE AS WELL. (On occasion orders may take longer pending work load. Feel free to email me if you have any questions before making your purchase.
>>>>>>>>>>>>>>>>>>>>>>>>>>>>>>>>>>>>>>>>>>>>>>>>>>>>>>>>>>>>>>>>>>>>>>>>>>>

All items are made to order and I am only one person making them, shipment times vary depending on business volume due to vacations, holidays and family issues that my arise. Weekends I try to take that time to spend with the hubby.

My items are made out of Marine Desert, Marine Woodlands, Army, Navy and Air Force military material which I have in stock or if you want a special something made out of a loved ones cammies I can do that as well. If you would like any made out of something other than military fabric please let me know.

If you have any questions or ideas for something you would like made feel free to send me a message and I will be happy to create it for you if possible. If you need to discuss something about your item you received please email kbcrafting [!at] gmail.com I will be more than happy to help you with your issue. I take pride in what I do and customer satisfaction takes high priority.

To see all my creations, giveaways and postings of new items on my Facebook page www.facebook.com/kbcrafting

Thank you,
Kit
USMC M♥m
kB Crafting Solutions
kbcrafting [!at] gmail.com No items listed at this time
Reviews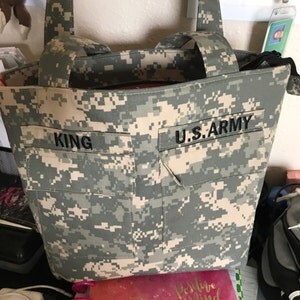 I love this!!!!! It is amazing and better than I had hoped for!!!


Love the collar but it took over a month to get. Slow shipping.
About
kB Crafting Solutions
kB Crafting Solutions is owned and operated by Kit,
a female designer. I has been crafting for many
years starting out in Sapulpa moving to Colorado for a
short time where crafting was put on hold and in 1994
My husband transferred his career to Ohio.
This allowed me time to develop a position in the dental
field for 13 years before moving back to Oklahoma with
My husband and son, leaving my daughter to finish
college in Cincinnati, OH. Which was one of the hardest things I have ever had to do.

In 2008, was laid off from my career in dentistry, at which
time I decided crafting is what I wanted to do full time. Marketing museums and specialty shops around the
state of Oklahoma with Rose Rocks, Oklahoma Red Dirt, offered myself time to learn what a great state Oklahoma has
to offer those that visit.

Alisha my daughter graduated and moved back to Oklahoma in 2009 to start her young career close to family once again.

In 2010, my son Blake joined the Marines, so what better way to show support and stay busy was to branch out and create Military items on my grandmothers 1935 Singer Sewing Machine. All my purses are made by me in a smoke free home here in Oklahoma out of material in stock or from your loved ones uniform. I keep my prices as low as possible while maintaining the highest quality so you can afford to make that purchase

Please enjoy viewing the shop here on Etsy and join me on my facebook page kB Crafting Solutions.
Shop members
kB Crafting Solutions

Owner, Designer

Being creative is not a hobby it is a way of LIFE ♥️
Shop policies
Last updated on
March 10, 2015
Hi my name is Kit  female designer / owner of  kB Crafting Solutions offering quality crafts made from the heart in Oklahoma since January 2009.   Items are hand made by Kit and sold here on etsy,  specialty  shops,  historical  shops  and festivals throughout the state of Oklahoma. You can find a wide variety of items on my website kbcrafting.com and military / other items on Facebook www.facebook.com/kbcrafting
Accepted payment methods
Accepts Etsy Gift Cards and Etsy Credits
Payment
Payment required through prefered payment method before any item is made, see listings. Custom orders are non refundable.
Shipping
kB Crafting Solutions ships via USPS or UPS within the UNITED STATES only. Estimated time of shipment is estimated 25 business days (Monday-Friday) give or take after payment is received, buyer will be notified if time is longer. DELAYS depends on time of year, material in stock, supplier stock, holidays and/or shipping service.
Refunds and Exchanges
No refunds on custom orders. Please ask questions, make corrections and review all orders before purchasing, these items are non refundable. If an error is on sellers end the item will be corrected free of charge.
Additional policies and FAQs
Thank you for shopping! Kit