Reviews

Growing up, I never really knew what racism was. I was blinded to it. But, it seems the older I get, the more prevalent it becomes--or at least the more I notice it. I know I am privileged because of my skin tone and the last thing I want to do is remain ignorant towards that like the masses. I can't begin to fathom the feeling that must come from racism, discrimination, and the likes, but I want to. I want to understand, stay aware, and combat it the best I can. I know this is only a sticker, but to me, it's a small step towards my journey of understanding the absolute best I can. Amazing quality and I love the aesthetic. Thank you katythezimmerwoman.

Love this sticker. Thank you.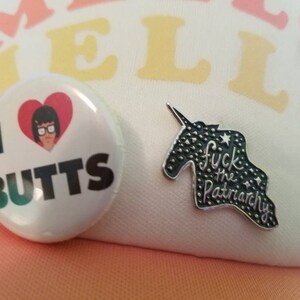 Love it! Gonna wear this proudly on my hat while I hike the PCT this summer. So beware patronizing dudes who feel the need to give me gear advice, cos I didn't ask. Great pin, quality made and everything I could have asked for.
Accepted payment methods
Accepts Etsy Gift Cards and Etsy Credits