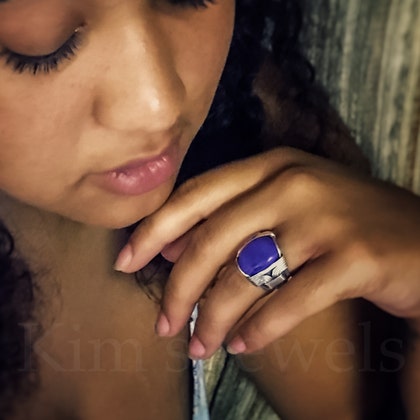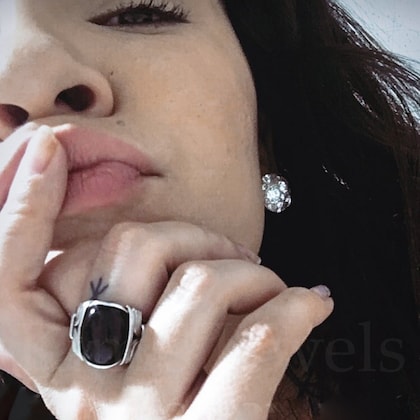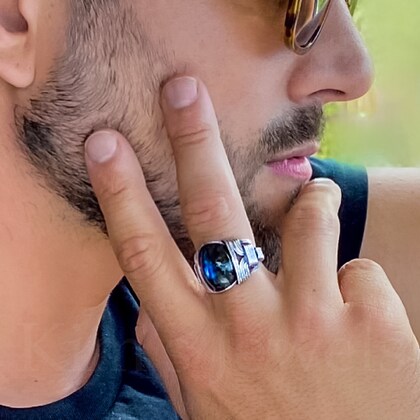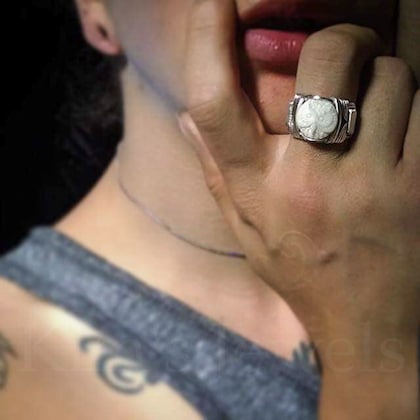 Announcement Welcome! I have been making jewelry for over 20 years with sterling silver wire, genuine gemstone cabochons & beads. Every stone I use is natural unless otherwise noted in the description.

¨¨¨¨¨°º©©º°¨¨¨¨¨°º©©º°¨¨¨¨¨°º©©º°¨¨¨¨¨°º©©º°¨¨¨¨¨°º©©º°¨¨¨¨¨°º©©º°¨¨¨¨¨°º©©º°¨¨¨¨¨°º©©º°¨¨¨¨¨

Orders are made in the order they are received, but if Priority Shipping is chosen, the order gets moved to the front of the line as well as being shipped Priority. Right now anything ordered today will ship in 5-7 days, unless Priority is chosen. Priority is currently shipping in 1-2 days, regardless of the timeline that Etsy will give you.

¨¨¨¨¨°º©©º°¨¨¨¨¨°º©©º°¨¨¨¨¨°º©©º°¨¨¨¨¨°º©©º°¨¨¨¨¨°º©©º°¨¨¨¨¨°º©©º°¨¨¨¨¨°º©©º°¨¨¨¨¨°º©©º°¨¨¨¨¨

🏵️YOUR JEWELRY HAS A LIFETIME WARRANTY!
Here is more info about the warranty: https://www.kimsjewels.com/warranty-info/

Please read "Shop Policies" and "FAQs" for purchase, shipping, return, exchange, warranty, and custom order information.

¨¨¨¨¨°º©©º°¨¨¨¨¨°º©©º°¨¨¨¨¨°º©©º°¨¨¨¨¨°º©©º°¨¨¨¨¨°º©©º°¨¨¨¨¨°º©©º°¨¨¨¨¨°º©©º°¨¨¨¨¨°º©©º°¨¨¨¨¨

🏵️RETURNS/EXCHANGES:
Items are eligible for returns or exchanges if they have not been worn or altered in any way, or if it's within 7 days of receiving the item. If the item doesn't qualify for a return or exchange, it is still covered by a lifetime warranty.

There is a $5 return shipping fee for all exchanges, warranty repairs, and re-ships for incorrect addresses. This helps me continue to offer free shipping on purchases over $35.

Please go to https://kimsjewels.com/terms for more detailed information about returns, exchanges, custom orders, warranty repairs, sizing, and other general inquiries.

¨¨¨¨¨°º©©º°¨¨¨¨¨°º©©º°¨¨¨¨¨°º©©º°¨¨¨¨¨°º©©º°¨¨¨¨¨°º©©º°¨¨¨¨¨°º©©º°¨¨¨¨¨°º©©º°¨¨¨¨¨°º©©º°¨¨¨¨¨

🏵️MANY OF MY STONES ARE ON THE SMALLER SIDE
The photos will always make the pieces look much larger than they actually are, mainly because the photos are literally much larger than the pieces. It can be tricky to visualize the size of a smaller piece through a screen with a large photo, but everything needed to determine the actual size of a piece is available in the item details and description, including measurements, wire gauge(s), bead & stone size, and photos of the pieces in hand or being worn. If you have any questions about size, please ask!

¨¨¨¨¨°º©©º°¨¨¨¨¨°º©©º°¨¨¨¨¨°º©©º°¨¨¨¨¨°º©©º°¨¨¨¨¨°º©©º°¨¨¨¨¨°º©©º°¨¨¨¨¨°º©©º°¨¨¨¨¨°º©©º°¨¨¨¨¨

🏵️SHOP UPDATES:

My jewelry making days (hopefully years) are numbered, as severe osteoarthritis progresses in my thumb. I was told by my doctor to stop working several years ago, but it's hard to quit your livelihood overnight! Surgery is an option that I am considering, but ultimately I need to slow down. My processing times will remain at least a week at all times, because as much as I hate to admit it, I can't make as many things as I used to in a day.

I finally made the hard decision to liquidate some of my bead, cabochon, and crystal supply, which is substantial. It's hard for me to part with my stones, and I've been putting off this decision for years. Ultimately I would rather see these getting used and enjoyed instead of sitting in bins forever. The quality ranges from very budget to very high-end.

If you would like to support my new venture, or just take a look at what I've been hoarding for decades, the link is: KimsCabsnBeads.etsy.com

To contact me for any reason, please use Etsy messages. Email is not a reliable way to contact me for Etsy orders. Thank you!

¨¨¨¨¨°º©©º°¨¨¨¨¨°º©©º°¨¨¨¨¨°º©©º°¨¨¨¨¨°º©©º°¨¨¨¨¨°º©©º°¨¨¨¨¨°º©©º°¨¨¨¨¨°º©©º°¨¨¨¨¨°º©©º°¨¨¨¨¨
Announcement
Welcome! I have been making jewelry for over 20 years with sterling silver wire, genuine gemstone cabochons & beads. Every stone I use is natural unless otherwise noted in the description.

¨¨¨¨¨°º©©º°¨¨¨¨¨°º©©º°¨¨¨¨¨°º©©º°¨¨¨¨¨°º©©º°¨¨¨¨¨°º©©º°¨¨¨¨¨°º©©º°¨¨¨¨¨°º©©º°¨¨¨¨¨°º©©º°¨¨¨¨¨

Orders are made in the order they are received, but if Priority Shipping is chosen, the order gets moved to the front of the line as well as being shipped Priority. Right now anything ordered today will ship in 5-7 days, unless Priority is chosen. Priority is currently shipping in 1-2 days, regardless of the timeline that Etsy will give you.

¨¨¨¨¨°º©©º°¨¨¨¨¨°º©©º°¨¨¨¨¨°º©©º°¨¨¨¨¨°º©©º°¨¨¨¨¨°º©©º°¨¨¨¨¨°º©©º°¨¨¨¨¨°º©©º°¨¨¨¨¨°º©©º°¨¨¨¨¨

🏵️YOUR JEWELRY HAS A LIFETIME WARRANTY!
Here is more info about the warranty: https://www.kimsjewels.com/warranty-info/

Please read "Shop Policies" and "FAQs" for purchase, shipping, return, exchange, warranty, and custom order information.

¨¨¨¨¨°º©©º°¨¨¨¨¨°º©©º°¨¨¨¨¨°º©©º°¨¨¨¨¨°º©©º°¨¨¨¨¨°º©©º°¨¨¨¨¨°º©©º°¨¨¨¨¨°º©©º°¨¨¨¨¨°º©©º°¨¨¨¨¨

🏵️RETURNS/EXCHANGES:
Items are eligible for returns or exchanges if they have not been worn or altered in any way, or if it's within 7 days of receiving the item. If the item doesn't qualify for a return or exchange, it is still covered by a lifetime warranty.

There is a $5 return shipping fee for all exchanges, warranty repairs, and re-ships for incorrect addresses. This helps me continue to offer free shipping on purchases over $35.

Please go to https://kimsjewels.com/terms for more detailed information about returns, exchanges, custom orders, warranty repairs, sizing, and other general inquiries.

¨¨¨¨¨°º©©º°¨¨¨¨¨°º©©º°¨¨¨¨¨°º©©º°¨¨¨¨¨°º©©º°¨¨¨¨¨°º©©º°¨¨¨¨¨°º©©º°¨¨¨¨¨°º©©º°¨¨¨¨¨°º©©º°¨¨¨¨¨

🏵️MANY OF MY STONES ARE ON THE SMALLER SIDE
The photos will always make the pieces look much larger than they actually are, mainly because the photos are literally much larger than the pieces. It can be tricky to visualize the size of a smaller piece through a screen with a large photo, but everything needed to determine the actual size of a piece is available in the item details and description, including measurements, wire gauge(s), bead & stone size, and photos of the pieces in hand or being worn. If you have any questions about size, please ask!

¨¨¨¨¨°º©©º°¨¨¨¨¨°º©©º°¨¨¨¨¨°º©©º°¨¨¨¨¨°º©©º°¨¨¨¨¨°º©©º°¨¨¨¨¨°º©©º°¨¨¨¨¨°º©©º°¨¨¨¨¨°º©©º°¨¨¨¨¨

🏵️SHOP UPDATES:

My jewelry making days (hopefully years) are numbered, as severe osteoarthritis progresses in my thumb. I was told by my doctor to stop working several years ago, but it's hard to quit your livelihood overnight! Surgery is an option that I am considering, but ultimately I need to slow down. My processing times will remain at least a week at all times, because as much as I hate to admit it, I can't make as many things as I used to in a day.

I finally made the hard decision to liquidate some of my bead, cabochon, and crystal supply, which is substantial. It's hard for me to part with my stones, and I've been putting off this decision for years. Ultimately I would rather see these getting used and enjoyed instead of sitting in bins forever. The quality ranges from very budget to very high-end.

If you would like to support my new venture, or just take a look at what I've been hoarding for decades, the link is: KimsCabsnBeads.etsy.com

To contact me for any reason, please use Etsy messages. Email is not a reliable way to contact me for Etsy orders. Thank you!

¨¨¨¨¨°º©©º°¨¨¨¨¨°º©©º°¨¨¨¨¨°º©©º°¨¨¨¨¨°º©©º°¨¨¨¨¨°º©©º°¨¨¨¨¨°º©©º°¨¨¨¨¨°º©©º°¨¨¨¨¨°º©©º°¨¨¨¨¨
Average item review
(7371)
See reviews that mention:
Loading
Affordable Sterling Silver Wire-Wrapped Gemstone Jewelry, made just for you.
Shop members
Kim Miraglia

Owner, Jewelry Design, Photographer, Graphic Design

I am a self-taught jewelry designer, specializing in affordable and customizable made-to-order, sterling silver wire-wrapped gemstone jewelry.
Shop policies
Last updated on Aug 27, 2022
Shipping
See item details for estimated arrival times.
Customs and import taxes
Buyers are responsible for any customs and import taxes that may apply. I'm not responsible for delays due to customs.
Payment options
Secure options
Accepts Etsy Gift Cards and Etsy Credits
Etsy keeps your payment information secure. Etsy shops never receive your credit card information.
Returns & exchanges
See item details for return and exchange eligibility.
More information
Last updated on
Nov 11, 2022
Frequently asked questions
Return/Exchange Policy: (copy and paste for all secure links below):
INFO>> https://kimsjewels.com/returns-exchanges/

Only unworn items are eligible for returns or exchanges.
Please contact me about returning or exchanging.
Is there a return shipping charge for exchanges?
Yes. The charge for return shipping on exchanges is $5.00. This is non-negotiable.
Can I choose the stone for my cabochon ring?
Yes, after the item is ordered. For many of the stones I will automatically send a photo. Leave me a note if you have specific preferences (light, dark, inclusions, etc).
How long to I have to return or exchange an item?
You have 7 days, from the day it is delivered, to return or exchange an UNWORN item. After 7 days, the item is no longer eligible for returns or exchanges, but will continue to have lifetime warranty protection.
Are my shipping charges refundable?
Shipping charges are non-refundable. Shipping charges go directly to the USPS for the service of shipping, and once the item has been shipped, the service has been used and cannot be refunded.
My tracking shows delivered, but I never received the package.
Refunds or replacements are not offered for packages that show as delivered. Contact your local post office to speak to the carrier that delivered it. Maybe they put it in a place that was overlooked. Also check with anyone that resides with you, or neighbors. In 99.9% of cases, that will solve the issue.
Is there a fee to return or exchange "made to order" items?
Yes and no. If you order a "made to order" item like a bead or cabochon ring that is made in your size, there is a 15% scrap fee for returns, and there is no fee for exchanges. If a worn item is returned, no refund will be issued.