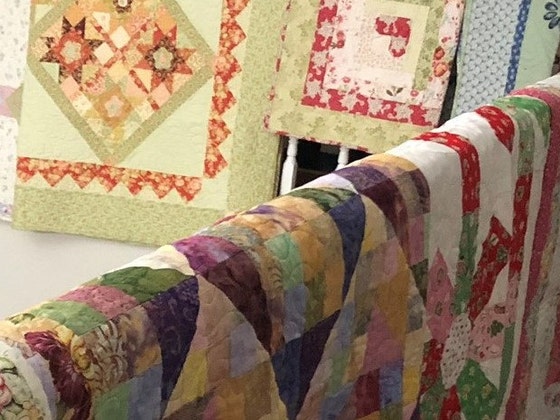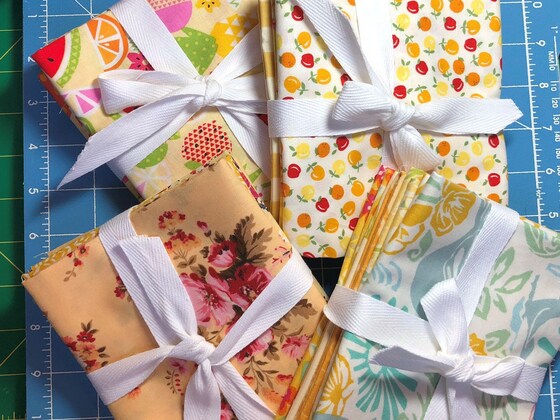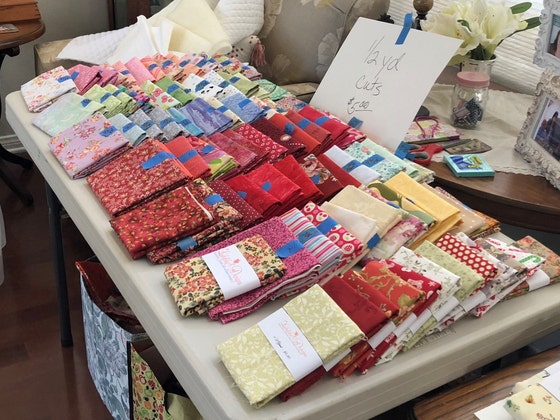 Announcement Welcome to my Etsy Store - I hope enjoy browsing through my quilts and gifts. Most of my designs are romantic and flowery, I also love the wonderful choices of batiks and vintage collections. I enjoy teaching quiltmaking and relish designing custom quilts for your someone special! Please check out my website to join my mailing list and see the latest styles and designs. www.ladylikedesigns.com or facebook
Announcement
Last updated on
Oct 17, 2019
Welcome to my Etsy Store - I hope enjoy browsing through my quilts and gifts. Most of my designs are romantic and flowery, I also love the wonderful choices of batiks and vintage collections. I enjoy teaching quiltmaking and relish designing custom quilts for your someone special! Please check out my website to join my mailing list and see the latest styles and designs. www.ladylikedesigns.com or facebook
This quilt arrived today and it is a very pretty quilt. The fabrics are a nice compliment to one another and the hearts just "pop".
The only disappointment was a stain within one of the white and blue floral squares. I spread it out and it caught my eye right away...I am currently laundering it in hopes that it will come out, but the OxiClean hadn't lightened it when I dropped it in on a gentle cycle. It looks a bit like coffee, but it is hard to say for sure. I suspect the vendor didn't realize; at least I hope not. That said, I had planned to use the quilt, and this will not lessen its usefulness. Just a little disappointing for a brand new item to have a stain. And handmade quilts are typically pricey. I love quilts and I collect them and I am not otherwise disappointed in this purchase.

I never received this item

Wow! Beautiful work! Love it!

WOW !!!!!!!!!! this is just sooooo colorful and very very BEAUTIFUL !!!!!!!!!!!!!!! just love it.....fast delivery.....thanks so much for sharing your talent !!!!!!!!!!!!!!!!!

Anonymous on Mar 27, 2013

This is a most beautiful quilt! The sewing on the quilt is absolute
nperfection! You have been a pleasure to work with. The quilt
nis just the way I wanted it to be. THANK YOU!!!!

Anonymous on Feb 27, 2013

First payment of 2 and all is working out just perfectly. Choosing
nthe fabrics really takes time but it will soon be done and so
nworth the efforts!!!! You have been so easy to work with and so
npatient trying to get just what I want. (appreciated)

Anonymous on Apr 15, 2012

I love all of her designs and am so happy to own one of her quilts. It is cheery, well made, and a pleasure to look at.

Is it possible to become addicted to Bev's quilts? We just bought our second and my husband and I are immediately going to follow-up with a 3rd. Bev's quilts are amazing, colorful, technically impressive and detailed... As an added bonus she's just an absolutely fabulous person to work and communicate with via email!

Anonymous on Mar 30, 2011

Excellent quilting, beautifully made. Would definitely recommend this seller'swork to anyone interested in the finer things for decorating.
I love all things pretty and romantic, quilting helps me express beauty.
I started my shop 8 years ago with the hope of conveying a sense of beauty and romance with all my quilts. I am naturally drawn to pretty things, and you'll find that my designs are presented in a graceful arrangement of charming colors and prints, carefully chosen from today's current fabrics, and arranged using my unique approach to color and value placement.

As time goes on I find that I cannot keep all my designs and make them available for purchase and for someone else to enjoy. I hope you can't resist taking one or two home with you! I like to know they are appreciated and enjoyed by others too.

I also have a website with more information and pattern designs for sale, please visit to sign up for my mailing list. I send information packed with new design updates, plus upcoming classes, lectures and workshops.

My website www.ladylikedesigns.com
My other Etsy site (pattern and kit sales) colorlady.com
Shop members
Bev Remillard

Owner, Designer

I spend my time designing quilts and meeting new people, especially quilters..... I've been sewing most of my life and love quilting. I have a very giving family who understands my passion for fabric and thread. Blessings, Bev Remillard
Shop policies
Last updated on
December 27, 2012
My general feeling about quilts is just that, a feeling! When I make a quilt, it becomes like a child to me - I create it, nurture it and love it! All my quilts are made with the finest quilted cotton fabrics and I only have 1 goal when I begin, make it pretty. I've learned thru the years to fine tune my skills as a quilter and I work hard to find the best method when constructing a quilt. I love making quilts for other people as well, its a joy to see their happiness and amazement at what it takes to make a quality quilt, that is satisfaction to me.
Accepted payment methods
Accepts Etsy Gift Cards and Etsy Credits
Returns and exchanges
Making my customers happy is very important to me. I want them to return and shop again. I'm happy to refund if unsatisfied with any of my quilts within 30 days. If a package is damaged or loss, I work with the customer to ensure their satisfaction in any way I can.
Payment
My payment methods is Paypal at this time, it it so easy and so secure. Paypal accepts all major credit cards and can process your payment for me! The accounts are free, so sign up today for easy payments.
Shipping
My shipping methods are USPS or UPS. My packages are sealed in a waterproof wrapping and secured in a box for safe keeping. I try to have a tracking number for the package and include insurance. I notify customer when item is shipped, give them the tracking information and an estimated time of arrival and ask for them to notify me when it arrives.
Additional policies and FAQs
Because I am a teacher and designer as well as quilter - I enjoy making custom orders for those who cannot, they appreciate the effort and time required and love the results. I have done a few custom orders and am happy to say they went well Since I am in the quilting business, I also have a website
www.ladylikedesigns.com
and blog
www.moderngirldesigns.com