Announcement This veg-shop was created to raise awareness for those that cannot be heard, help save our animal friends, the health of humans, and help our Mother Earth. This shop is not intended for profit, but to find a way to donate to charities. I sincerely want to try to help in my own way and your support helps this dream come true . . . dreaming of "World Vegan. World Peace".

♥ LONGER SHIPPING TIMES = 4 - 6 WEEKS
1.) Your item(s) will be shipped out 4 - 6 weeks from the date of completed purchase.
2.) Shipping is from Phoenix, Arizona, USA.
3.) You will always receive a email notification the day it is shipped.

♥ WHY IS THE SHIPPING TIME SO LONG?
I have 3 other jobs and this is the only way to keep the shop open and affordable. This is a one-woman-shop and all these are "Made to Order". If I have time, I may send out the order sooner.

♥ SHIPPING TIMES: CLOTHING / BAGS / HAIR CHAINS / ACCESSORIES
1.) Clothing & Canvas Bags will be shipped 4 - 6 weeks after completed purchase.
2.) Wristbands will be shipped 1 - 2 weeks after completed purchase.
3.) Hair Chains will be shipped 4 - 6 weeks after completed purchase.
3.) If you purchased any accessories including wristbands with clothing it will be 4 - 6 weeks.
4.) If you ordered 3 or more clothing items, it will take an additional 5 - 7 days.

♥ I do sincerely apologize for the longer wait time, but to make the clothes affordable (not for profit), keep the shop open, & work my other 3 jobs, the production & shipping time is longer. The last time I closed shop was one year from June 19, 2014 – June 21, 2015 and I don't want that to happen again. Thank you for your love & understanding.

♥ CHARITIES:
These items are not intended for profit, but to help our Mother Earth, and many lovely charities! By wearing these, you have contributed to several charities like Ocean Conservancy, Humane Society, Nature Conservancy, Savethechildren.org, and more! Thank you for being veg, going green, 2 save the planet

♥ You can read more details within the policies section:
http://www.etsy.com/shop/lamotif01/policy

♥ Check out the facebook page: https://www.facebook.com/pages/Etsy-Apparel-Love-Peace-Vegan-/150994014989092

♥ Check out more at http://linhla.com/.
If you have any questions, please email me at la [!at] linhla.com.

Sending Love & Light,
Linh
Announcement
Last updated on
Jun 8, 2016
This veg-shop was created to raise awareness for those that cannot be heard, help save our animal friends, the health of humans, and help our Mother Earth. This shop is not intended for profit, but to find a way to donate to charities. I sincerely want to try to help in my own way and your support helps this dream come true . . . dreaming of "World Vegan. World Peace".

♥ LONGER SHIPPING TIMES = 4 - 6 WEEKS
1.) Your item(s) will be shipped out 4 - 6 weeks from the date of completed purchase.
2.) Shipping is from Phoenix, Arizona, USA.
3.) You will always receive a email notification the day it is shipped.

♥ WHY IS THE SHIPPING TIME SO LONG?
I have 3 other jobs and this is the only way to keep the shop open and affordable. This is a one-woman-shop and all these are "Made to Order". If I have time, I may send out the order sooner.

♥ SHIPPING TIMES: CLOTHING / BAGS / HAIR CHAINS / ACCESSORIES
1.) Clothing & Canvas Bags will be shipped 4 - 6 weeks after completed purchase.
2.) Wristbands will be shipped 1 - 2 weeks after completed purchase.
3.) Hair Chains will be shipped 4 - 6 weeks after completed purchase.
3.) If you purchased any accessories including wristbands with clothing it will be 4 - 6 weeks.
4.) If you ordered 3 or more clothing items, it will take an additional 5 - 7 days.

♥ I do sincerely apologize for the longer wait time, but to make the clothes affordable (not for profit), keep the shop open, & work my other 3 jobs, the production & shipping time is longer. The last time I closed shop was one year from June 19, 2014 – June 21, 2015 and I don't want that to happen again. Thank you for your love & understanding.

♥ CHARITIES:
These items are not intended for profit, but to help our Mother Earth, and many lovely charities! By wearing these, you have contributed to several charities like Ocean Conservancy, Humane Society, Nature Conservancy, Savethechildren.org, and more! Thank you for being veg, going green, 2 save the planet

♥ You can read more details within the policies section:
http://www.etsy.com/shop/lamotif01/policy

♥ Check out the facebook page: https://www.facebook.com/pages/Etsy-Apparel-Love-Peace-Vegan-/150994014989092

♥ Check out more at http://linhla.com/.
If you have any questions, please email me at la [!at] linhla.com.

Sending Love & Light,
Linh No items listed at this time
Reviews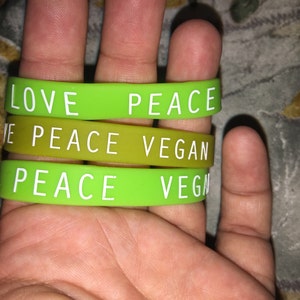 I love them 😍😍😍thanks for everything !!!!! 💜💜💜💜💜

I love my sweater, I'm sad that my landlord got red paint on it :(

Bought this shirt for my sister and she loves it! And, she looks awesome in it :)
Shop policies
Last updated on
September 28, 2015
Halo & welcome to the "Love Peace Vegan" Shop. This clothing line was created to raise awareness for those that cannot be heard, help save our animal friends, the health of humans, and help our Mother Earth. (This shop is not intended for profit)
Accepted payment methods
Payment
We only accept three forms of payment: Etsy Gift Certificates, Credit Cards, and Paypal.

Production and delivery cannot begin until full payment has been received.
Shipping
♥ LONGER SHIPPING TIMES = 4 - 6 WEEKS
1.) Your item(s) will be shipped out 4 - 6 weeks from the date of completed purchase.
2.) Shipping is from Phoenix, Arizona, USA.
3.) You will always receive a email notification the day it is shipped.

♥ WHY IS THE SHIPPING TIME SO LONG?
I have 3 other jobs and this is the only way to keep the shop open and affordable or I have to close it again. This is a one-woman-shop and all these are "Made to Order". If I have time, I may send out the order sooner.

♥ SHIPPING TIMES: CLOTHING / BAGS / HAIR CHAINS / ACCESSORIES
1.) Clothing & Canvas Bags will be shipped 4 - 6 weeks after completed purchase.
2.) Wristbands will be shipped 1 - 2 weeks after completed purchase.
3.) Hair Chains will be shipped 4 - 6 weeks after completed purchase.
3.) If you purchased any accessories including wristbands with clothing it will be 4 - 6 weeks.
4.) If you ordered 3 or more clothing items, it will take an additional 5 - 7 days.

♥ I do sincerely apologize for the longer wait time, but to make the clothes affordable (not for profit), keep the shop open, & work my other 3 jobs, the production & shipping time is longer. The last time I closed shop was one year from June 19, 2014 – June 20, 2015 and I don't want that to happen again. Thank you for your love & understanding.

♥ SHIPPING PROCESS:
1.) I always send small packages through First Class via USPS. If it over one pound, it will be shipped Priority via USPS.
2.) Domestic shipping includes packaging, handling, and email notification. Tracking #s for clothing only, not bracelets and are given upon requests.
3.) International shipping in packaging and handling with a confirmation # that states when it arrives within the country. Confirmation #s are only given upon request.

♥ DO YOU NEED IT RUSHED?
If it is a special occasion or you would like it rushed, I am sorry, I typically cannot rush. However, please message me and we will see if we can work anything out.

♥ EXTRA NOTES:
1.) Starting Jan 2013, the international shipping has gone up about 50% or more, so I had to increase my international fees too. (sorry...)
2.) If it is a gift or rush order, I typically cannot rush it due to my busy schedule, however, please message me and let's see what we can do.

♥ TRACKING NUMBERS:
I always try to purchase an additional tracking number service if allowed at the US Postal Office for clothing only. I do not include it for the bracelets. The tracking numbers are only given upon request.

♥ POST OFFICE TIME:
Sometimes the postal service is slow and we can't help how long an item can get hung up in customs for international items, so please allow about 1-3 weeks for delivery. (in rarely 4 weeks, mostly for Australia).
Refunds and Exchanges
I understand that every situation is special, so please contact me with any concerns and I will try my best to work out the best solution. :)

If you receive your order and find it not to be what you expected, you may exchange it within 1 week from the date you received the item. Unfortunately, you will have to cover the shipping cost to send it back. I'll make a refund or exchange after we receive it back.

The item(s) are non-refundable after 30 days from the date customer receives shipment notification, the day the item is shipped.
Additional policies and FAQs
These items are not intended for profit, but to help our Mother Earth, animals, healthier humans, and many lovely charities! By wearing these, you have contributed to several charities like Ocean Conservancy, Humane Society, Nature Conservancy, Savethechildren.org, and more!

Thank you for your love and support!

Sending love & light,
Linh