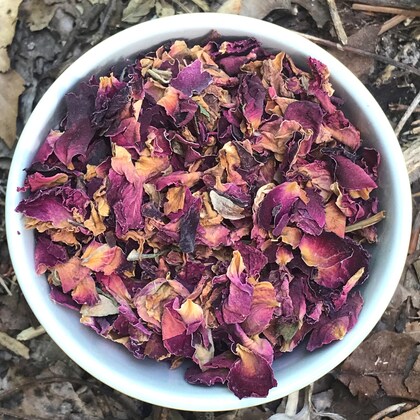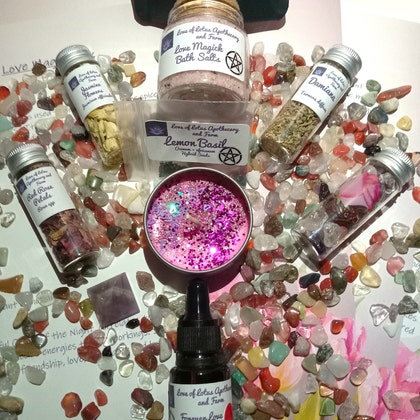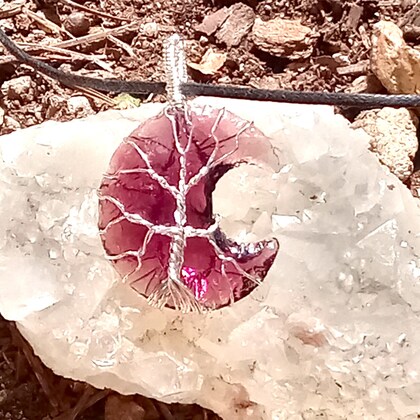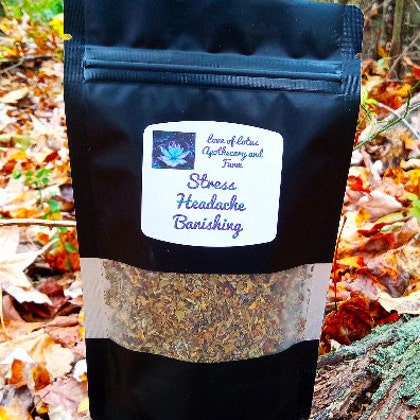 Announcement Hello My Loves,

You'll notice herbs returning to Love of Lotus. We have fresh, clean, healthy herbs ready to ship out to you! It will take me some time to get them all up so please check back often. If you're looking for anything specific, please let me know. Chances are I have it and it's not on Etsy yet or I know where to get it.

After many requests and conversations with my wonderful patrons, I've decided to get more natural magickal handmade tools in the shop. You can look forward to more incense, oils, crystals, herbs, salts, bottles, etc. I make every thing in an energetically and physically environment with love and positive intention. Please be advised, I do include information about the magickal items however, I do not write spells or incantations as I believe those need to come from within.

I'm happy to custom make what you may need for your magickal practice or for any occasion :)

More new products to come and some of the classics returning.

Thank you for being you!
Rainie Dae

There's been some changes at Love of Lotus Apothecary. We are now Love of Lotus Apothecary and Farm. We moved onto a nice piece of wooded land in East Tennessee, it's simply beautiful here!! Most of it will be kept as woods while some is being cleared for our off grid farm. My goal is to grow 80% of the plants we use. Although I do grow and forage for many of our herbs used in our products and sold in our shop, we didn't have the room to grow all I could. Now I've got all the room I need and plenty of land to forage.

I'm sure you've noticed many products missing in my shop, that's because we've been working hard to get this land ready for Spring planting. I will begin the exciting journey of getting our favorite products back up as well as some great new ones. Each ad will let you know if any ingredients come from our farm or foraged from the wild. 2022 is our first year farming so please be patient. We'll have failures as well as successes. I plan to blog about this on my website.

The most exciting thing for me about this is the control I have over the quality of our products. I have a great relationship with suppliers that provide us with great clean, organic, non-GMO products. I have a desire to be more hands on when it comes to the quality of ingredients I use. It takes time to grow these magickal, medicinal plants and process them. We do organic regenerative farming, permaculture and forest gardens. We use absolutely no toxic chemicals. I'm very open about my farm practices so please message me with any questions you may have.

I'm looking forward to the wonderful change to Love of Lotus Apothecary.

I'm certainly open to suggestions!

Merry Part,

Ranie Dae




Love of Lotus Apothecary does not support, engage in or condone separation of our fellow brothers and sisters, we're all on this planet together. I will not, under any circumstances, lower our fellow humans to the tools of separation that are so prevalent in certain parts of society. I treat everyone with love and respect and see all in a light in which the tools of separation can not exist. We're all Gods and Goddesses, that's how I see you, that's how I treat you, that's how I see and treat myself. I don't care what you look like, what you believe, how you live or where you come from. Those things are not my business nor should they be judged by anyone. I do not fight racism, that tool of separation has too many people giving their energy and power to it and fighting it is nothing more feeding the fire. Fighting only brings more to fight about, it's mindless and cruel. Nothing gets resolved when people fight and it makes them easier to manipulate and control. I'm on this planet to build the new, not only physically but in the realms we can't see. Let's all be an example of the new we want to see in the world. Treat others like racism doesn't exist, lift them up, love them and respect them. If you can't then at minimum just don't hurt or judge them.

With love,
Rainie Dae



I believe everyone should have access to good, healthy chemical-free food and growing your own is one of the best ways to get it. We're increasing our seed inventory, most are heirloom so you can save the seeds. A few are popular hybrids. All our seeds are fresh, organic or wild crafted and Non-GMO. These are the seeds we use in our own garden. To help everyone with their seed collections, we will include a free sample size seed packet with every seed order of 2 or more. Mix and match all you want!!! Your free seed pack will be a variety not in your order.

We're adding more seeds every week :)

Namasate,
Rainie Dae


Love of Lotus Apothecary is making changes!

Offering good, quality products made in a clean, peaceful environment by clean, happy herbalist is what we're all about. We've added a few new things to our protocol to ensure you receive the cleanest, highest quality product at an affordable price. Here's what we've added:

All our capsules and bath salts now come with a moisture absorber to help protect them in shipping and while their in your cabinet.

Our bath salts now come with a free organza bag to catch all the herbs and flowers that may be in them.

We're adding cool crop organic, wild harvested, Heirloom and non-GMO seeds to our shop and will be adding more as the seasons change. These are the same seeds we use.

It's the little things that matter :)

Have a blessed day.

Rainie Dae
Herbalist
Owner Love of Lotus Apothecary
Announcement
Hello My Loves,

You'll notice herbs returning to Love of Lotus. We have fresh, clean, healthy herbs ready to ship out to you! It will take me some time to get them all up so please check back often. If you're looking for anything specific, please let me know. Chances are I have it and it's not on Etsy yet or I know where to get it.

After many requests and conversations with my wonderful patrons, I've decided to get more natural magickal handmade tools in the shop. You can look forward to more incense, oils, crystals, herbs, salts, bottles, etc. I make every thing in an energetically and physically environment with love and positive intention. Please be advised, I do include information about the magickal items however, I do not write spells or incantations as I believe those need to come from within.

I'm happy to custom make what you may need for your magickal practice or for any occasion :)

More new products to come and some of the classics returning.

Thank you for being you!
Rainie Dae

There's been some changes at Love of Lotus Apothecary. We are now Love of Lotus Apothecary and Farm. We moved onto a nice piece of wooded land in East Tennessee, it's simply beautiful here!! Most of it will be kept as woods while some is being cleared for our off grid farm. My goal is to grow 80% of the plants we use. Although I do grow and forage for many of our herbs used in our products and sold in our shop, we didn't have the room to grow all I could. Now I've got all the room I need and plenty of land to forage.

I'm sure you've noticed many products missing in my shop, that's because we've been working hard to get this land ready for Spring planting. I will begin the exciting journey of getting our favorite products back up as well as some great new ones. Each ad will let you know if any ingredients come from our farm or foraged from the wild. 2022 is our first year farming so please be patient. We'll have failures as well as successes. I plan to blog about this on my website.

The most exciting thing for me about this is the control I have over the quality of our products. I have a great relationship with suppliers that provide us with great clean, organic, non-GMO products. I have a desire to be more hands on when it comes to the quality of ingredients I use. It takes time to grow these magickal, medicinal plants and process them. We do organic regenerative farming, permaculture and forest gardens. We use absolutely no toxic chemicals. I'm very open about my farm practices so please message me with any questions you may have.

I'm looking forward to the wonderful change to Love of Lotus Apothecary.

I'm certainly open to suggestions!

Merry Part,

Ranie Dae




Love of Lotus Apothecary does not support, engage in or condone separation of our fellow brothers and sisters, we're all on this planet together. I will not, under any circumstances, lower our fellow humans to the tools of separation that are so prevalent in certain parts of society. I treat everyone with love and respect and see all in a light in which the tools of separation can not exist. We're all Gods and Goddesses, that's how I see you, that's how I treat you, that's how I see and treat myself. I don't care what you look like, what you believe, how you live or where you come from. Those things are not my business nor should they be judged by anyone. I do not fight racism, that tool of separation has too many people giving their energy and power to it and fighting it is nothing more feeding the fire. Fighting only brings more to fight about, it's mindless and cruel. Nothing gets resolved when people fight and it makes them easier to manipulate and control. I'm on this planet to build the new, not only physically but in the realms we can't see. Let's all be an example of the new we want to see in the world. Treat others like racism doesn't exist, lift them up, love them and respect them. If you can't then at minimum just don't hurt or judge them.

With love,
Rainie Dae



I believe everyone should have access to good, healthy chemical-free food and growing your own is one of the best ways to get it. We're increasing our seed inventory, most are heirloom so you can save the seeds. A few are popular hybrids. All our seeds are fresh, organic or wild crafted and Non-GMO. These are the seeds we use in our own garden. To help everyone with their seed collections, we will include a free sample size seed packet with every seed order of 2 or more. Mix and match all you want!!! Your free seed pack will be a variety not in your order.

We're adding more seeds every week :)

Namasate,
Rainie Dae


Love of Lotus Apothecary is making changes!

Offering good, quality products made in a clean, peaceful environment by clean, happy herbalist is what we're all about. We've added a few new things to our protocol to ensure you receive the cleanest, highest quality product at an affordable price. Here's what we've added:

All our capsules and bath salts now come with a moisture absorber to help protect them in shipping and while their in your cabinet.

Our bath salts now come with a free organza bag to catch all the herbs and flowers that may be in them.

We're adding cool crop organic, wild harvested, Heirloom and non-GMO seeds to our shop and will be adding more as the seasons change. These are the same seeds we use.

It's the little things that matter :)

Have a blessed day.

Rainie Dae
Herbalist
Owner Love of Lotus Apothecary
Average item review
(178)
See reviews that mention:
Loading
My Passion Was Too Strong
Shop members
Rainie Dae

Owner, Designer, Maker

I'm a nature girl with a passion for natural health and happiness. I live in the woods where I forage and grow many herbs. Love and Lotus Apothecary and Farm provides apothecary and farm hand made products and spiritual t
Production partners
Hem

India

We source our high quaity incense from various companies

Karma Scents

India

We source our high quality incense from various incense suppliers
Trounistro

United States

We source our incense burners from reputable suppliers
Shop policies
Last updated on Aug 12, 2022
Shipping
See item details for estimated arrival times.
Customs and import taxes
Buyers are responsible for any customs and import taxes that may apply. I'm not responsible for delays due to customs.
Payment options
Secure options
Accepts Etsy Gift Cards and Etsy Credits
Etsy keeps your payment information secure. Etsy shops never receive your credit card information.
Returns & exchanges
See item details for return and exchange eligibility.
More information
Last updated on
Aug 12, 2022
Frequently asked questions
Does your entire shop offer free shipping?
We offer free shipping on all our items in our shop. You can expect your items to be well packed for safe arrival. We ship within 3 to 5 business days.
Do you have a physical store location?
We do not have a store location. We can be found at many craft and wellness shows, conventions, fairs, etc. We're also in This N That at the Mill in Genessee Depot, WI. We do enjoy meeting the like minded and communicating in a more organic way with those who bless us with their support, energy and business. It's a privilege to look into your eyes while talking, shake your hand and offer our gratitude for you. We do not have a permanent location. We post on Etsy, Pinterest, Twitter and Facebook as well as our own website where we will be. You're always welcome to message us and we'll be happy to tell you all we know :)
My item arrived damaged, do you accept returns or exchanges?
We package our item very carefully however, accidents do happen from time to time. If your items arrive in any way damaged, we will happily work with you to replace it. We will ask for pictures, this helps us determine where we can improve our packing as well as helps us have an understanding of what happen, words aren't always clear. In most cases, we will ask you to keep or throw away the damaged product and get a new one out to you right away.