Announcement Thank you for visiting my shop!
my lovies are:
-washable
-Approx. 8 1/2 - 9" tall
-hand embroidered
-stuffed with polyester stuffing and plastic pellets for a weighty, textured feel
-Lil teethers will love chewing on the hands which can be moistened and thrown in the freezer for extra soothing (hands come standard with each lovie)
-great first dolls for your baby (any small parts can be removed at your request)
-made of quality materials including the softest minkies on the market

**please note that each love will be unique as handmade items go and cannot be exactly replicated

Directions:
you are purchasing a custom item that you will detail. The more detail you give me, the better I can create what you had in mind. Check out the minkies I have available then answer the list of details.

see MINKIE selection-cut and paste the following link to a new browser:

http://loviesformybabies.blogspot.com/2009/08/new-minkie-colors.html

HERE'S A LIST TO HELP CUSTOMIZE YOUR LOVIE (just copy and paste this list to the "message to loviesformybabies" section at checkout with your answers):

1. color of MINKIE
2. color of skin
3. color of hair
4. color of bow in hair
5. expression (see last pic) - choose from sleeping(arch down), smiling(arch up), open eyes (what color eyes?), and mischievous smile (what color eyes?)
6. accent fabric for patch (heart or star shape)
7. name on patch

WARNING: some lovies may have small buttons. Although I do a very good job of securing them with a needle and thread, please use your judgment since some infants are very aggressive teethers/mouthers. If they are of this age when buttons are not appropriate, I will be happy to change the buttons to a bow or take them out all together at your request. Just leave a note on the "message to loviesformybabies" section.

<For purchasing more than one lovie, please convo me and I will reserve a listing for you. Thank you!>

PERSONALIZED EMBROIDERY is included with this listing and is placed on the lovie's rear, right side.

Thank you for looking and come back to visit us soon!
www.loviesformybabies.blogspot.com
Announcement
Last updated on
Aug 15, 2016
Thank you for visiting my shop!
my lovies are:
-washable
-Approx. 8 1/2 - 9" tall
-hand embroidered
-stuffed with polyester stuffing and plastic pellets for a weighty, textured feel
-Lil teethers will love chewing on the hands which can be moistened and thrown in the freezer for extra soothing (hands come standard with each lovie)
-great first dolls for your baby (any small parts can be removed at your request)
-made of quality materials including the softest minkies on the market

**please note that each love will be unique as handmade items go and cannot be exactly replicated

Directions:
you are purchasing a custom item that you will detail. The more detail you give me, the better I can create what you had in mind. Check out the minkies I have available then answer the list of details.

see MINKIE selection-cut and paste the following link to a new browser:

http://loviesformybabies.blogspot.com/2009/08/new-minkie-colors.html

HERE'S A LIST TO HELP CUSTOMIZE YOUR LOVIE (just copy and paste this list to the "message to loviesformybabies" section at checkout with your answers):

1. color of MINKIE
2. color of skin
3. color of hair
4. color of bow in hair
5. expression (see last pic) - choose from sleeping(arch down), smiling(arch up), open eyes (what color eyes?), and mischievous smile (what color eyes?)
6. accent fabric for patch (heart or star shape)
7. name on patch

WARNING: some lovies may have small buttons. Although I do a very good job of securing them with a needle and thread, please use your judgment since some infants are very aggressive teethers/mouthers. If they are of this age when buttons are not appropriate, I will be happy to change the buttons to a bow or take them out all together at your request. Just leave a note on the "message to loviesformybabies" section.

<For purchasing more than one lovie, please convo me and I will reserve a listing for you. Thank you!>

PERSONALIZED EMBROIDERY is included with this listing and is placed on the lovie's rear, right side.

Thank you for looking and come back to visit us soon!
www.loviesformybabies.blogspot.com No items listed at this time
Reviews

Thank you soooo much for our special request. My daughter is beyond happy!! ❤️❤️

You will never find anything better than this..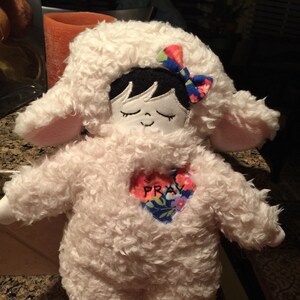 This is the cutest thing ever!!!
Shop policies
Last updated on
August 15, 2016
my lovies are:
-washable
-Approx. 8 1/2 - 9" tall
-hand embroidered
-"floppy" (stuffed with polyester stuffing and plastic pellets for a weighty, textured feel)
-Lil teethers will love chewing on the hands which can be moistened and thrown in the freezer for extra soothing (hands come standard with each lovie)
-great first dolls for your baby (any small parts can be removed at your request)
-made of quality materials including the softest minkies on the market
**please note that each love will be unique as handmade items go and cannot be exactly replicated
Directions:
you are purchasing a custom item that you will detail. The more detail you give me, the better I can create what you had in mind. Check out the minkies I have available then answer the list of details.
see MINKIE selection-cut and paste the following link to a new browser:
http://loviesformybabies.blogspot.com/2009/08/new-minkie-colors.html
HERE'S A LIST TO HELP CUSTOMIZE YOUR LOVIE (just copy and paste this list to the "message to loviesformybabies" section at checkout with your answers):
1. color of MINKIE
2. color of skin
3. color of hair
4. color of bow in hair
5. expression (see last pic) - choose from sleeping(arch down), smiling(arch up), open eyes (what color eyes?), and mischievous smile (what color eyes?)
6. accent fabric for patch (heart or star shape)
7. name on patch
WARNING: some lovies may have small buttons. Although I do a very good job of securing them with a needle and thread, please use your judgment since some infants are very aggressive teethers/mouthers. If they are of this age when buttons are not appropriate, I will be happy to change the buttons to a bow or take them out all together at your request. Just leave a note on the "message to loviesformybabies" section.
<For purchasing more than one lovie, please convo me and I will reserve a listing for you. Thank you!>
PERSONALIZED EMBROIDERY is included with this listing and is placed on the lovie's rear, right side.
Thank you for looking and come back to visit us soon!
www.loviesformybabies.blogspot.com
Accepted payment methods
Accepts Etsy Gift Cards and Etsy Credits
Returns and exchanges
if you are unhappy, please convo me and if I feel your issue is reasonable, I will be happy to refund you minus shipping and etsy costs.
Payment
Paypal and Credit Cards through Etsy direct pay
Dolls are started after payment is received
Shipping
A variety of shipping options will be available for you via etsy shipping.