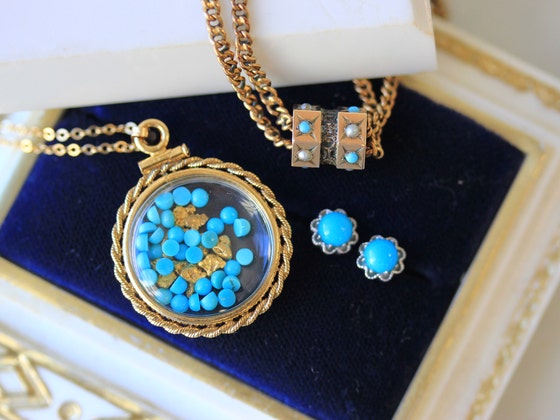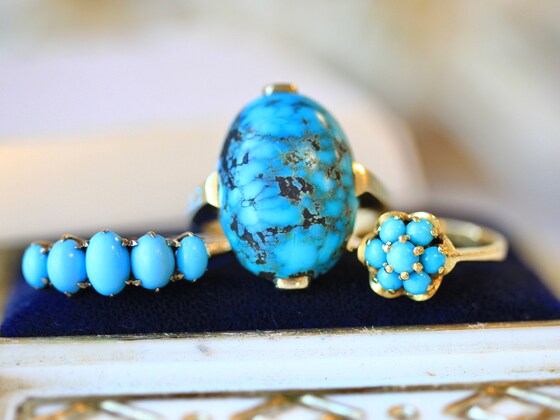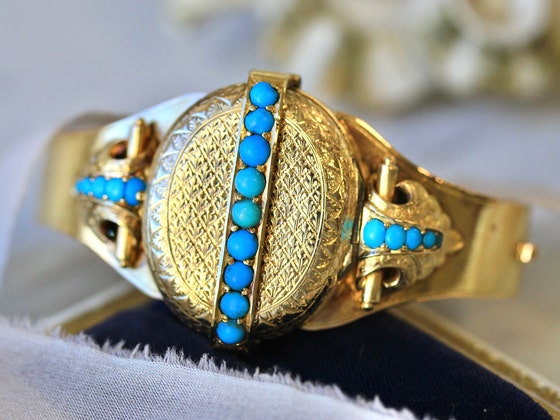 Announcement Maejean Vintage specializes in fine estate, vintage, & antique jewelry across the eras, as well as handcrafted designs. We offer Victorian, Edwardian, Art Deco, and Mid-Century Era pieces with a large selection of classic diamond engagement rings, alternative engagement rings, wedding bands, and antique lockets.

Please refer to our shop policies before purchasing: www.etsy.com/shop/MaejeanVintage/policy

Sign up for our newsletter (http://eepurl.com/bHd-D1) and connect with us on social media for sneak peeks of inventory and sale notifications.

We love seeing our customers wear their Maejean Vintage jewels! Share your photos with us on social media with the hashtag #MyMaejeanJewel

✦ Facebook - www.facebook.com/maejeanvintage
✦ Pinterest - www.pinterest.com/maejeanvintage
✦ Twitter - www.twitter.com/maejeanvintage
✦ Instagram - @Maejeanvintage
✦ Blog - www.maejeanvintage.com/blog
Announcement
Maejean Vintage specializes in fine estate, vintage, & antique jewelry across the eras, as well as handcrafted designs. We offer Victorian, Edwardian, Art Deco, and Mid-Century Era pieces with a large selection of classic diamond engagement rings, alternative engagement rings, wedding bands, and antique lockets.

Please refer to our shop policies before purchasing: www.etsy.com/shop/MaejeanVintage/policy

Sign up for our newsletter (http://eepurl.com/bHd-D1) and connect with us on social media for sneak peeks of inventory and sale notifications.

We love seeing our customers wear their Maejean Vintage jewels! Share your photos with us on social media with the hashtag #MyMaejeanJewel

✦ Facebook - www.facebook.com/maejeanvintage
✦ Pinterest - www.pinterest.com/maejeanvintage
✦ Twitter - www.twitter.com/maejeanvintage
✦ Instagram - @Maejeanvintage
✦ Blog - www.maejeanvintage.com/blog
See reviews that mention:

Our passion is jewelry of the past.
Maejean Vintage is owned by a team of GIA Graduate Gemologist sisters, Laura Mae & Amanda Jean, out of their studio in Lancaster, PA. MJV offers genuine vintage & antique items from the 1800s - late 1980s, including timeless pieces from the Victorian, Edwardian, Art Deco, and Mid Century eras.

Vintage items are special because they each have their own history. We love imagining the stories behind the unique pieces and unraveling as much of the history as we can through research. Did this Art Deco filigree ring belong to a 1920s flapper, fighting for women's suffrage? Was this 1940s locket once given to a WWII soldier's sweetheart before he left for war? We hope you find these one of a kind pieces as special as we do!

------

Be sure to sign up for our newsletter (http://eepurl.com/bHd-D1) to see sneak peaks of new inventory, get notifications about upcoming sales, and to read about our adventures in antique hunting!

Vintage jewelry love,
Laura Mae, GIA GG
Amanda Jean, GIA GG
Shop members
Amanda Jean

Owner, Gemologist

Amanda Jean is a GIA Gemologist, with an affinity for antique diamonds! She enjoys sourcing new inventory, and with a Business Management Degree from Temple University, Amanda tends to the "business" side of Maejean Vintage.

Laura Mae

Owner, Gemologist

Laura Mae founded Maejean Vintage over a decade ago! She first earned her B.S. in Education from Millersville University then obtained her Graduate Gemologist (GG) Degree from GIA. She has a passion for colored stones, antiques, & of course jewelry!

Dahlia Jean

Inventory Manager

Dahlia Jean is our trusted inventory manager and activities director, as well as a lead listing author at Maejean Vintage. She earned her AJP at The Gemological Institute of America. Outside of work, she can be found adventuring with her 10 year old!

Heidi Grace

Social Media

Heidi Grace is our social media associate and is responsible for most of the social marketing for MJV. Outside of the office, she enjoys spending time with her two sons and her friends. Thrifting is a strong second!

Becky Lane

Shipper, Administrative Specialist, Office Mom

Becky Lane is our newest team member, and is truly a gem! After retiring from a career in banking, she is now working at MJV with her daughters. Becky is the best bookkeeper around! When not at work, she loves spoiling her grand puppies.

Jess Lynne

Photographer/Digital Marketer

Jess is our photographer & digital marketer at Maejean Vintage. She loves taking photos of new pieces for the shop and social media. When she's not at MJV, she's probably spending her time swing/ballroom dancing or traveling and exploring new places!

Macy Alejandra

Associate Jeweler/Designer

Macy Alejandra is our Associate Jeweler at Maejean Vintage, and helps to get all of our amazing vintage pieces looking their best! Outside of the office she is usually visiting her favorite hiking spots with her dog, Olive.
Production partners
Julia's Gems & Jewelry

Lancaster, PA

Julia's Gem's & Jewelry assists us with resizing and conversion services. Julia also assists with fabricating custom designed Maejean Vintage jewelry!
Shop policies
Accepted payment methods
Accepts Etsy Gift Cards and Etsy Credits
Returns & exchanges
See item details for return and exchange eligibility.
Payment
✦ PAYMENT✦
We accept PayPal & credit cards. Etsy has a helpful article on how to check out here:
http://www.etsy.com/help_guide_checkout.php
✦ RESERVATIONS✦
We will reserve most items for up to 7 days without a down payment to customers who are fully committed to purchasing within time frame. Again, this service is only available to customers who are 100% dedicated to purchasing the items. Please contact us first if you have interest in reserving an item(s). If listing is purchased by someone other than the customer it is reserved for, the item cannot be sold and store credit of listing price will be granted; refunds will NOT be issued.
✦ LAY AWAY / PAYMENT PLANS ✦
Please message us if you are interested in our payment plan options!
✦ PA STATE SALES TAX✦
6% tax will be added to applicable orders for PA residents only. (Our business is located in PA, so we are required to charge state sales tax to our fellow residents.)
✦ OTHER STATE SALES TAX✦
Some US States / territories may charge state sales taxes per the newly passed Internet Sales tax laws. Before purchasing, please be familiar with your state's taxation policies. Maejean Vintage is not responsible for these taxes, and all taxes are collected and remitted directly by Etsy not by our shop.
✦ COUPON CODES ✦
Periodically, our shop runs sales and discounts are given with coupon codes. To receive the discount the buyer MUST enter the coupon code at checkout. We cannot refund the discount after the purchase is made. If you need any assistance with coupon codes, please message us BEFORE you submit your order.
Shipping
✦ SHIPPING ✦
Once an order is placed, it typically takes us one to two business days to process. (Unless it is a handcrafted MJV design, custom made for you - custom pieces take about 2 weeks production time.)

The package is then shipped out via USPS mail, based on the shipping method selected at check out. Any item over $100 includes complimentary insurance. We offer three different shipping methods:

1. Standard / First Class Mail: We offer this shipping service FREE anywhere in the US! This service typically takes 2-5 business days on average. (For international customers, this service varies by destination and customs, but can take up to 4-6 weeks)

2. Priority Mail: This shipping service is typically faster than first class mail, on average taking about 1-3 business days within the US. (For international customers, this service typically takes 6-10 business days for most major markets.)

2. Express Mail: Express mail is the fastest service we offer! Most US locations are guaranteed overnight to one business delivery. (For international customers, this service is guaranteed 3-5 business days for most major markets.)

When an item ships, you will receive an email confirmation with your tracking number. You can see how much shipping upgrades cost at check out.


✦ TAXES / CUSTOMS ✦
Please note - some countries may charge import taxes, customs, and fees. Before purchasing, please be familiar with your countries' import policies . Maejean Vintage is not responsible for these fees.

International customers - We are honest and lawful regarding items values on customs forms. Please do not ask us to alter these values, thank you!
Additional policies and FAQs
✦ RE-SIZING RINGS ✦
We are happy to re-size gold, sterling silver, and platinum rings through our reliable jeweler who specializes in antique jewelry. We offer re-sizing services on pieces priced at $100 and up.

Generally our jeweler is able to downsize gold, platinum, and sterling silver rings by a maximum of 3 sizes for $35. Our jeweler can typically increase the size of gold and sterling silver ring by a maximum of 3 sizes for $65 and can increase the size of platinum rings by a maximum of two sizes for $100. Rings with a shank smaller than 1 mm or larger than 3 mm may incur additional fees for resizing. Some rings have have sizing limitations.

Rings with eternity designs, intricate engraving or other special details are subject to an additional $30 fee for design replication. Our jeweler always does their best to replicate any and all designs and to not interrupt any patterns when possible.

Our jeweler typically completes re-sizing within 1-2 weeks. Of course, many rings can also likely be re-sized locally by your jeweler. Please note, all re-sized rings are considered final sale.

If you are interested in our jeweler's re-sizing services, please contact us BEFORE purchasing a ring.

Typically, our jeweler completes engraving within 1-2 weeks.

Resized pieces are not eligible for refund, return or exchange.

✦ ENGRAVING SERVICES✦
We are happy to offer engraving services on selected signet rings. Signet rings that are eligible for our jeweler's laser engraving will have a personalization option in the listing.

Fonts to choose from are able to be viewed in the last photo of each listing that is eligible. Laser engraving is a flat price of $50.

Typically, our jeweler completes engraving within 1-2 weeks.

Engraved pieces are not eligible for refund, return or exchange.

✦ MJV HANDCRAFTED BIRTHSTONE EARRINGS ✦
We recently unveiled a line of vintage-inspired earrings featuring each month's birthstone. Each pair of earrings, which are available in white & yellow gold, are made from recycled gold and ethically sourced gems.

✦ TREATMENTS ✦
Many gemstones on the market are treated or enhanced in some way. It is estimated that up to 80% of gems have had treatment. Gem treatments have occurred for centuries, including heat treatment which is one of the most common. Gemstone treatment is considered to be any process conducted by man beyond cutting and polishing a gem which can improve the appearance and durability. Please assume gemstones potentially have been treated unless the listing specifically notes otherwise. We always disclose all information to the best of our knowledge!

Pearls: Unless specifically noted in listing, all pearls are assumed to be cultured. In order to separate natural from cultured, pearls need to be sent to a laboratory. According to GIA, "Microradiography is the only definitive non-destructive way of seeing the internal structure of pearls".

✦ JEWELRY CARE ✦
Although vintage and antique jewelry has already stood the test of time, it deserves special care. We recommend removing jewelry prior to hand washing, vigorous activity, and prior to sleeping. Please note that some gemstones such as opals and pearls are particularly fragile and require extra care and precaution. Please take your occupation / lifestyle into account to help decide what kind of jewelry is best suited for you. If you would like any assistance with selecting a piece durable for your particular needs, please message us. We stand behind our jewelry 100% and guarantee it to be exactly as stated in the listing. After we ship the piece out, it is the buyer's responsibility to ensure proper care, maintenance, and possible repairs. We advise that jewelry worn frequently be inspected by a trusted jeweler every six months. This is a good preventative measure to confirm all prongs are intact and gemstones are secure.

✦ BABY / CHILDREN'S JEWELRY ✦
Items stated as children's / baby jewelry should only be worn by young children under close adult supervision. Small items may present a choking hazard to children. Baby rings were often worn for special events such as baptism or photoshoots, and were taken off right after.

✦ GEMSTONE WEIGHTS ✦
Gemstone weights are measured with stones in mounts, using size gauges and MM measurements, unless otherwise noted. For gemstone weights to be 100% accurate, the gemstone must be removed from the setting and weighed on a scale. Please note that our measurements are approximate.

✦ PHOTOGRAPHY / COLORS ✦
All of our jewelry is shot in daylight equivalent light. Please be aware that the appearance of colors can vary based upon your monitor & display settings. We always try to photograph & describe colors to the best of our ability.

✦ PRESENTATION ✦
Listings include a complimentary MJV logo gift box, as shown in last photos in listings. All other boxes pictured are for display only. Listings include the single item depicted and described. Some photos may show pieces next to additional jewelry for comparison and size reference, which are not included, but may be available for sale separately.

✦ VINTAGE AND ANTIQUE CHARACTER ✦
Maejean Vintage offers all genuine and antique items, not reproductions. Our items are pre-loved and beautifully aged. Please expect minor signs of wear and unique character. We describe and photograph all imperfections to the best of our ability. All our pieces are genuine vintage and antique with unique histories!

✦ AUTHENTICITY ✦
Each item in our shop has been hand-selected and inspected by a GIA Graduate Gemologist.

✦ RESTOCKING FEE ✦
Maejean Vintage reserves the right to charge a restocking fee for excessive cancellations / returns.
More information
Last updated on
May 18, 2022
Frequently asked questions
Can I see your items in person?
As much as we would love to meet you in person and show off our inventory, we do not have a brick and mortar at this time. We are always happy to send extra photos or videos to help you make your purchasing decision!
What is the difference between vintage and antique?
Typically, a vintage item is 20 years or older, while an antique item is 100 years or older. This varies depending on who you ask!
How do you know when an item dates from?
We are able to circa date pieces based on their design, style, casting methods, materials used, stone cuts, maker's marks, hallmarks, & their provenance / sources they were acquired from. We have been in the jewelry industry for over 10 years now and stand behind our pieces 100%. Both co-owners Laura Mae & Amanda Jean are GIA Graduate Gemologists and regularly attend continuing education events, and inspect each piece before it is listed in our shop.
What is a synthetic / created stone? Can it be vintage?
A created or synthetic stone contains essentially the same chemical composition & properties as its natural (genuine) counterpart, but was created by man in a lab. For the most part, created stones are typically more "perfect" than genuine gems because they are created in a controlled environment and tend to have fewer inclusions and clarity characteristics.

The first synthetic ruby was made in the late 1800s by Auguste Verneuil and was introduced to the market in 1902. The method was flame fusion, now often referred to as the Verneuil process.

Here's more information about created or synthetic gems:
www.gia.edu/gem-synthetic