Announcement Baby wearers, you have come to the right place!

Check out the CUSTOM ORDER listing to create your own design

WHY CHOOSE A SLING?

ₒₒ Great for newborns up to 35 pounds
ₒₒ Perfect for the little ones to keep them cozy
ₒₒ Great for toddlers who are always wanting up and down. Quick and easy to just slip baby right in

ₒ…ₒₒₒ₪ₒ…ₒₒₒ₰ₒ…ₒₒₒ₪ₒ…ₒₒₒ₪ₒ…ₒₒₒ₰ₒ…ₒₒₒ₪ₒ…ₒₒₒ₪ₒ…ₒₒₒ₰ₒ…ₒₒₒ₪ₒ…ₒₒₒ
I have 2 styles for my Ring Slings:

***The 'Simple and Unique' - One solid linen color, intricate vine stitching, and a pocket.***

***'Unique and Bold' - One solid line color accented with a pattern on the tail, intricate vine stitching, with option to add a pocket***
ₒ…ₒₒₒ₪ₒ…ₒₒₒ₰ₒ…ₒₒₒ₪ₒ…ₒₒₒ₪ₒ…ₒₒₒ₰ₒ…ₒₒₒ₪ₒ…ₒₒₒ₪ₒ…ₒₒₒ₰ₒ…ₒₒₒ₪ₒ…ₒₒₒ

Visit my website at www.mamakatesringslings.com
Announcement
Last updated on
Nov 3, 2015
Baby wearers, you have come to the right place!

Check out the CUSTOM ORDER listing to create your own design

WHY CHOOSE A SLING?

ₒₒ Great for newborns up to 35 pounds
ₒₒ Perfect for the little ones to keep them cozy
ₒₒ Great for toddlers who are always wanting up and down. Quick and easy to just slip baby right in

ₒ…ₒₒₒ₪ₒ…ₒₒₒ₰ₒ…ₒₒₒ₪ₒ…ₒₒₒ₪ₒ…ₒₒₒ₰ₒ…ₒₒₒ₪ₒ…ₒₒₒ₪ₒ…ₒₒₒ₰ₒ…ₒₒₒ₪ₒ…ₒₒₒ
I have 2 styles for my Ring Slings:

***The 'Simple and Unique' - One solid linen color, intricate vine stitching, and a pocket.***

***'Unique and Bold' - One solid line color accented with a pattern on the tail, intricate vine stitching, with option to add a pocket***
ₒ…ₒₒₒ₪ₒ…ₒₒₒ₰ₒ…ₒₒₒ₪ₒ…ₒₒₒ₪ₒ…ₒₒₒ₰ₒ…ₒₒₒ₪ₒ…ₒₒₒ₪ₒ…ₒₒₒ₰ₒ…ₒₒₒ₪ₒ…ₒₒₒ

Visit my website at www.mamakatesringslings.com No items listed at this time
Reviews
No reviews in the last year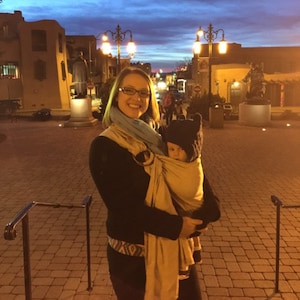 I am so in love with this ring sling!! It is made so well & so beautifully!! Absolutely go wit mamakate's!

Comfy, beautiful, and sooo useful. I could not wait for it to get here and was so pleased when it did (right on time). I am beyond happy with this purchase.

Beautifully made! Love this ring sling!!!!
Shop policies
Last updated on
May 14, 2014
I fell in love with babywearing, and decided to share this with other moms. Using a sling helped me to keep my son close and attend to his needs, while still having the ability to take care of other projects. While staying home with my 2 boys, making and selling these slings opened many other doors. I've found that I want to work even closer with moms by being a doula and birth assistant. After being a part of so many gorgeous births, I have decided that my next step is nursing school in order to work in labor & delivery, and possibly midwifery school in the future.
Accepted payment methods
Payment
I accept Paypal, credit card, or gift cards as forms of payment

Cancellations will be examined on a case by case basis.
Shipping
All shipping prices listed are for the estimates based on USPS Priority Mail (Domestic).

All orders will be shipped within 1-2 weeks following payment.
Refunds and Exchanges
I will offer a refund for any order that is not what the customer ordered.

I will offer a refund if the item is torn or ripped.

I will offer a refund if the customer is not happy with the purchase.
Additional policies and FAQs
If you have any questions or input on the slings, please feel free to send a message. I promise to respond within 2-3 days.

Feedback is much appreciated following a purchase from Mama Kate.

If you have any issue with your order, please contact me before leaving any negative feedback. I strive to please 100% of my customers.