Announcement Beachcombing has never been easier! Stroll a virtual shore of beach beauties in this Shop. Net your your favorite Mermaids Baubles for 30% OFF until 4/30/2017 by entering code: SPRINGFLING30 at Checkout. Or enter code "FREESWIM" at Checkout to get FREE SHIPPING* & FREE Sea-inspired Gift with Every Mermaids Baubles Purchase.

Check the Mermaids Baubles Facebook page for a sneak peek at the freshest new creations & oceans of other news :-)

ARE YOU LOCAL? Mermaids Baubles will be at the following Festivals, with the newest/freshest creations --and at 'sail-away' prices!
*Friday, April 21st: EarthFest @Roger Williams University, Bristol, RI. 11AM-2PM. (weather permitting)

*Friday, April 28th - Saturday, April 29th: Coastal Arts Festival at the Blue Ocean Event Center, Salisbury MA. Fri 6pm-9PM Sea Soiree (Advance Tix Recommended); Saturday 10AM-4PM $5/pp
2‑day indoor craft show and festival by the sea, at Blue Ocean Event Center, overlooking Salisbury Beach. 45+ coastal vendors, live music, raffles, demos plus other fun ocean‑inspired festival events and family activities


****
ABOUT:

Mermaids Baubles is where you will find Unique handcrafted works of art using Sea glass, Shells, Beads & genuine Gifts from the Sea.

I have always been intrigued by the exquisite love tokens given by a sailor to his beloved. Enjoy a gift from the sea with my one-of-a-kind Sailor's Valentine inspired creations.

I LOVE creating Custom Orders: If you don't see *exactly* what you are looking for, simply click on "Request Custom Item" ... I would find it delightful to create a sea-inspired item just for you.
- Melonie Massa


ARE YOU LOCAL??
Shop a selection of Mermaids Baubles at:
*The Landing Gift Shop & Chandlery in New Bedford, MA (98 Front St). Call (508) 642-9211 for hours.
*Whimsies in Warren, Rhode Island (Main St. to 4 Church St.)
*Sea Star in Bristol, Rhode Island (35 State St.) W-Sun 1-5PM
*Curated , 1783 Main Road in Tiverton (next to Coastal Roasters).
*Newport Scrimshanders, (14 Bowens Wharf, Newport, RI) 401-849-5680 for Hours.
*The Wickford Collection, (30 W. Main Street, North Kingstown, RI 02852) Mon, W-Sat 10 am-5 pm.Sun 11 am -4 pm.
*Seaport Studios in Watch Hill, 122 Bay Street, Westerly, RI. Hours: (401) 419-2030


New to Etsy? Shopping here is EASY and fun :-)
http://www.etsy.com/faq_buying.php


(*Free Regular Shipping within Continental U.S. Only. International & Shipping fees for Sailors Valentine Shadowboxes will Apply.)
Announcement
Last updated on
Apr 12, 2017
Beachcombing has never been easier! Stroll a virtual shore of beach beauties in this Shop. Net your your favorite Mermaids Baubles for 30% OFF until 4/30/2017 by entering code: SPRINGFLING30 at Checkout. Or enter code "FREESWIM" at Checkout to get FREE SHIPPING* & FREE Sea-inspired Gift with Every Mermaids Baubles Purchase.

Check the Mermaids Baubles Facebook page for a sneak peek at the freshest new creations & oceans of other news :-)

ARE YOU LOCAL? Mermaids Baubles will be at the following Festivals, with the newest/freshest creations --and at 'sail-away' prices!
*Friday, April 21st: EarthFest @Roger Williams University, Bristol, RI. 11AM-2PM. (weather permitting)

*Friday, April 28th - Saturday, April 29th: Coastal Arts Festival at the Blue Ocean Event Center, Salisbury MA. Fri 6pm-9PM Sea Soiree (Advance Tix Recommended); Saturday 10AM-4PM $5/pp
2‑day indoor craft show and festival by the sea, at Blue Ocean Event Center, overlooking Salisbury Beach. 45+ coastal vendors, live music, raffles, demos plus other fun ocean‑inspired festival events and family activities


****
ABOUT:

Mermaids Baubles is where you will find Unique handcrafted works of art using Sea glass, Shells, Beads & genuine Gifts from the Sea.

I have always been intrigued by the exquisite love tokens given by a sailor to his beloved. Enjoy a gift from the sea with my one-of-a-kind Sailor's Valentine inspired creations.

I LOVE creating Custom Orders: If you don't see *exactly* what you are looking for, simply click on "Request Custom Item" ... I would find it delightful to create a sea-inspired item just for you.
- Melonie Massa


ARE YOU LOCAL??
Shop a selection of Mermaids Baubles at:
*The Landing Gift Shop & Chandlery in New Bedford, MA (98 Front St). Call (508) 642-9211 for hours.
*Whimsies in Warren, Rhode Island (Main St. to 4 Church St.)
*Sea Star in Bristol, Rhode Island (35 State St.) W-Sun 1-5PM
*Curated , 1783 Main Road in Tiverton (next to Coastal Roasters).
*Newport Scrimshanders, (14 Bowens Wharf, Newport, RI) 401-849-5680 for Hours.
*The Wickford Collection, (30 W. Main Street, North Kingstown, RI 02852) Mon, W-Sat 10 am-5 pm.Sun 11 am -4 pm.
*Seaport Studios in Watch Hill, 122 Bay Street, Westerly, RI. Hours: (401) 419-2030


New to Etsy? Shopping here is EASY and fun :-)
http://www.etsy.com/faq_buying.php


(*Free Regular Shipping within Continental U.S. Only. International & Shipping fees for Sailors Valentine Shadowboxes will Apply.) No items listed at this time
Reviews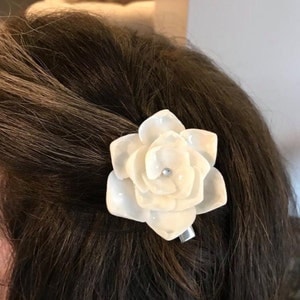 Thank you so much for the shell blossom clips! My mom and now mother in law loved them! They both decided it wear them in their hair on the day of the wedding and it looked so beautiful! They both couldn't stop raving about them! Plus they received many compliments as well 😊 and they are so happy they can wear them again any time! Thank you again 😊

I have purchased several pieces of jewelry from MermaidsBaubles. They are all beautiful, well made and unique! When I requested earrings, they were completed quickly and were exactly what I wanted...and delivered to my home, since the owner is local. What more could you ask for? Don't hesitate to purchase from this great shop!
About
Mermaids Baubles -- Genuine Gifts from the Sea
Years ago, I saw an exhibit of antique Sailor's Valentines on display and was utterly captivated by their romantic history ...and the exquisite artistry that went into each vintage framed piece.

I thought, "I just want to take one of those seashell flowers and WEAR it!"...
and so after much research & consulting some modern day Sailors Valentine artists, I began creating Mermaids Baubles for my own enjoyment.

Admiration by close friends, family & strangers alike (such as being asked while shopping, "Is that flower made of REAL seashells?", "Where can I get one?") led to me opening my very own Etsy shop in 2009. It was the perfect place to display and offer some of my unique, hand-crafted Seashell Blossom accessories. I called my creations "Mermaids Baubles" because they are frivolous, fanciful things...feminine sea-inspired baubles even the most discriminating Mermaid might wear!

Something about the Sea has always called to me, calmed me and rejuvenated me.

Since I was able to toddle, I have collected sea glass (ie: Mermaids Tears!) and seashells. Perfection & symmetry, they are one of God's amazing creations!
To me, seashells are the most fascinating of all art "mediums".

I tend to believe that it's something in my genes...
Giving proof to that theory is something that happened a couple of years ago. My mother was going through some of HER grandmother's craft boxes and came across a flowered wreath that her Meme had made with wire, silk leaves and blooming with, YES you guessed it, seashell flowers! There was even a pair of scrollwork embellished tweezers packed alongside it.

Sometimes when I'm working, I like to think that my great-Meme used those very same tweezers to also painstakingly form flower blossoms. With a fabulous pair of tweezers (and more than a little bit of patience) it's possible to create flowers using even the tiniest of seashells!

It makes me incredibly thankful to be doing something I absolutely love...something that allows me to work from home, raise and homeschool my 4 children and gives me permission to indulge in one of my favorite pastimes entirely guilt-free:
Beachcombing!
Shop members
Melonie Massa

Owner, Maker, Designer, Beachcomber

Blessed beyond belief to have lived by the Atlantic my whole life, surrounded by an "Ocean" of inspiration! I adore breathing the salt air, hearing waves & gulls and am happiest when beachcombing barefoot along the shore...especially after a storm!
Shop policies
Last updated on
February 3, 2011
Payment
I accept PayPal and money orders.

Paying by PayPal:
(Note: You do NOT need a PayPal account to use PayPal as a secure payment option!!)
If you purchase an item, it is expected that you make payment at that time. If payment is not made within 4 days the sale will be canceled and the item re-listed.
Please make sure that your PayPal information is correct and up to date. If your information is not current, it can delay your order by several days.

Paying by Money Order:
Please allow a few extra days for your money order to arrive at my shop. I will then immediately ship out your item!
Shipping
I will use First Class USPS shipping for your item. If you feel you would require insurance, confirmation or other special shipping options please let me know ASAP so that I can add this expense to the sale price.

If you would like to send your item as A GIFT, please let me know. Convo me with what you'd like as the Gift Message & the Name/Address where you'd like the package sent. I would be thrilled to package your item attractively and include a FREE CARD. (specify: Birthday; Congratulations; Thinking of You or other Greeting for the cover of the hand-crafted card)
Refunds and Exchanges
I would like to make shopping from me a pleasant and worry-free experience. If you are unsatisfied with item, please feel contact me!